The 9 best non-stick pans without Teflon to buy in 2022
Non-stick pans are essential tools in any chef's arsenal for day-to-day cooking. However, the unfamiliar chemicals in some non-stick coatings such as Teflon might cause a worry. Luckily, there's a wide range of highly effective non-stick alternatives available today which are free of Teflon entirely.
If you're interested in learning more about Teflon and other non-stick alternatives, or you're looking for the best non-stick pan without Teflon to buy in 2021, this is the place to look.
Best Overall – Michelangelo Deep Frying Pan with Lid
Best Budget Pick – Ozeri Green Earth Frying Pan
Best Value for Money – CS Kochsysteme Copper Nonstick Frying Pan with Lid
Best for Gas Hobs – T-fal Initiatives Fry Pan
Most Reliable – CS Kochsysteme Nonstick Frying Pan with Diamond White Coating
Things to consider when buying a non-stick pan without Teflon
We've put together this buyer's guide to help you understand more about Teflon and other non-stick coatings so you can make an informed decision when you buy your next pan.
Best Teflon alternatives for non-stick pan coating
Using a pan with a non-stick coating makes tossing, flipping, and turning foods far easier, and some more delicate foods like eggs are far easier to cook in a pan that they won't stick to. An added bonus of non-stick pans is that they're way easier to clean! However, it's important to know what makes your pan non-stick. There is a range of Teflon alternatives available.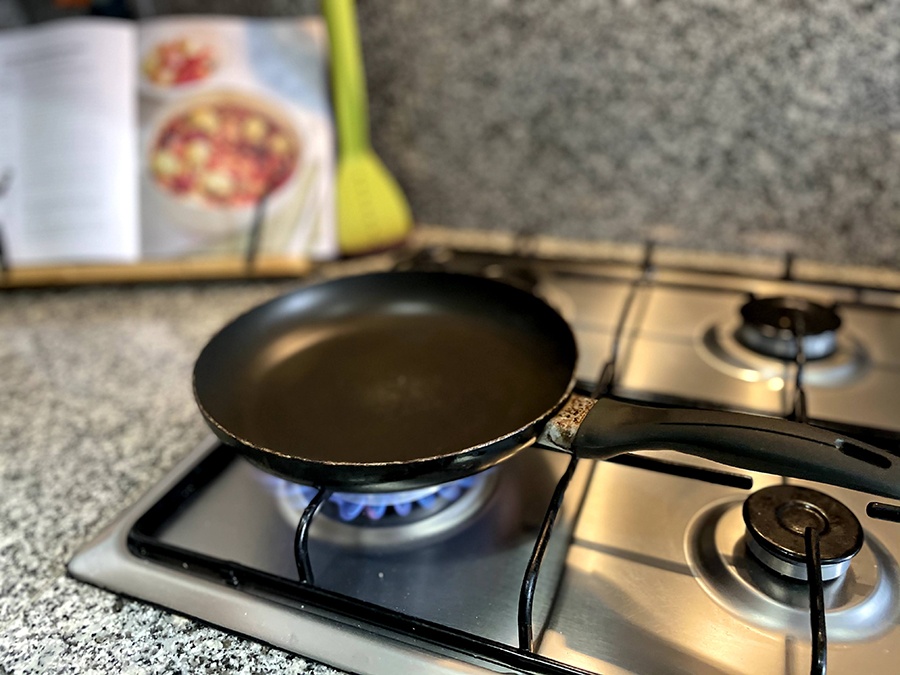 Ceramic is the most common non-stick coating found on pfoa and ptfe free non stick pans. Ceramic coatings provide a reliable non-stick surface and when cared for correctly, can last for years.
Other alternatives include silicone coatings, expensive, heavy porcelain enamel coatings, anodized aluminum coatings, or even a well-seasoned cast iron pan.
Construction materials (Pros Cons)
Aluminum is a lightweight material that can have a non-stick coating applied. It retains heat well and another bonus of aluminum is that it tends to be quite affordable. An aluminum pan might not offer the best non stick pan without Teflon, but it will offer a more budget-friendly option. Aluminum can react with acidic foods – think tomatoes, lemon juice, vinegar – and sometimes food can take on some of the metallic taste of aluminum. Anodized aluminum is sturdier, more durable, and more scratch-resistant than regular aluminum, and won't react with your food, but it's a bit more expensive. Aluminum is the most common type of material used for nonstick cookware.
Another alternative is cast iron, but despite its durability and often low price point, with a cast iron pan Another alternative is cast iron, but despite its durability and often low price point, with a cast iron pan you'll have to work harder to maintain the nonstick coating. Strictly speaking, cast iron pans are not non stick cookware and you'll have to apply the nonstick coating yourself. They will also react with acidic foods like aluminum pans. You could, however, go for enameled cast iron, which is easier to clean and less reactive to acidity, but more expensive, and crucially, its non-stick capabilities don't perform as well as a well-maintained cast iron pan.
A final alternative is stainless steel, which is non-reactive and heats up quickly but doesn't distribute heat so well. Another drawback is that food can easily stick to stainless steel.
If you're interested in the other types of pots and pans available, you might like to check out our reviews of green pans, blue diamond pans, or granite stone pans.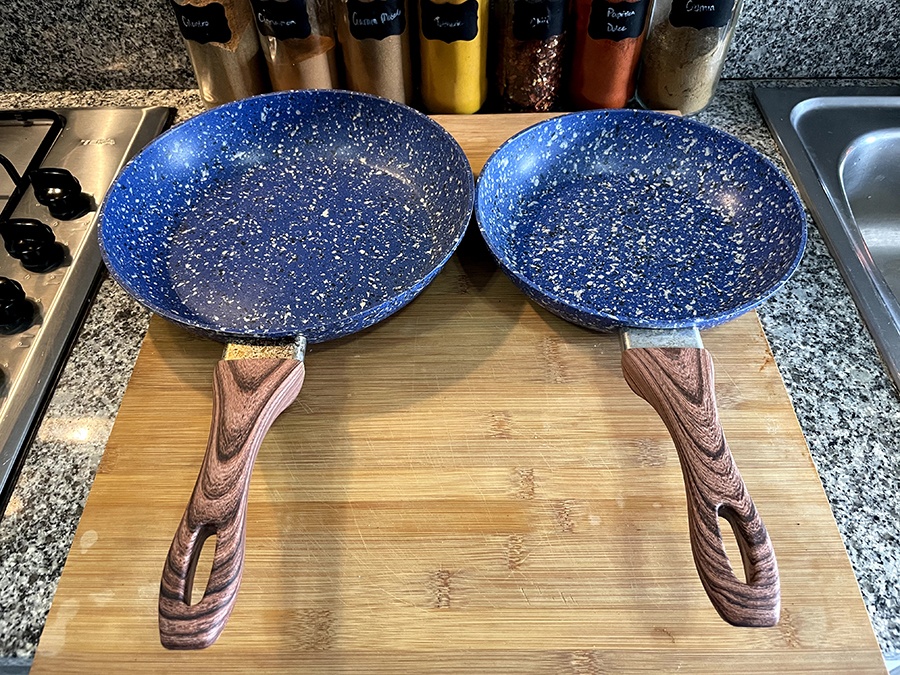 Cooking methods
Some methods of cooking with a pan will require a lid. It's a good idea to use the lid in any situations where you're trying to keep heat and moisture in your pan – such as boiling water, blanching veg, or steaming tamales. On the other hand, if you want to thicken a sauce or sear a cut of meat, you'd be smart to leave the lid off so that steam can escape. A number of the pans we've reviewed come with a lid, and this is a bonus as it expands the ways in which you can use your pan.
Often, you'll want to pop a pan in the oven, perhaps in order to bake something, or even just to keep food warm. In these situations, it's important to make sure your pan is oven-suitable to avoid any problems.
To use a pan in the oven safely though, you'll need to ensure that both its body and handle are safe. Pans with a body made from aluminum, cast iron, or ceramic are normally fine in the oven, just check the manufacturer's guidelines. Steel pans are usually okay too, but they don't conduct heat as well so aren't great for baking.
As for handles, stainless steel or iron are no problem in the oven, but be careful: they get hot! Bakelite handles are great, as they're comfy to use and stay cool on the hob. But be careful when using Bakelite handles in the oven – although they can take heat up to around 350 degrees Fahrenheit, extended use in the oven can cause them to melt or go brittle.
It's also important to check that your lid is oven-safe if you want to cook in the oven with it. Often lids have plastic components, which are best kept out of the oven!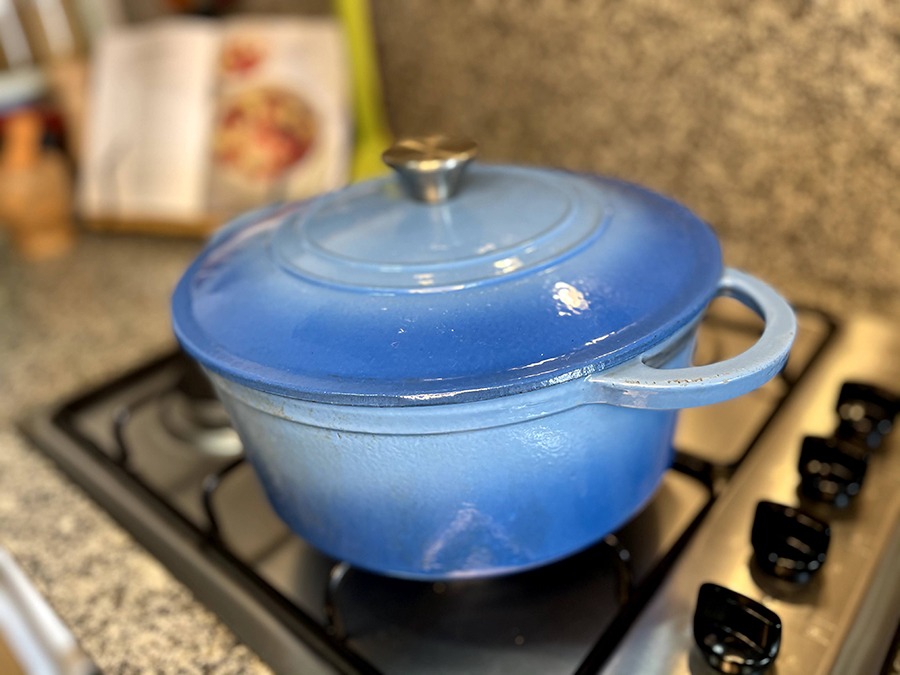 How to look after your non-stick pans
There are a few things you can do to make sure your non-stick pans last longer. For a start, it's best to stick to a low to medium heat – this will be enough to cook most foods, especially when using pans with good heat retention and distribution, so don't worry!
Heating pans sufficiently before use helps to prevent food sticking. When you heat up a pan, the metal expands, and this process can actually 'grab' your food if you don't give a pan time to expand fully.1 However, when preheating, try to remember to stick to a low heat, and avoid leaving an empty pan on a high heat for too long, as this can cause pan warping. For the same reason, avoiding sudden changes in temperature is also a good practice to extend the life of your pans.2 Increase heat gradually – most things cook effectively on a low- to medium-heat anyway.
It's also worth noting that you should give your pans time to cool after use, rather than washing them up immediately. With non-stick pans, you can often clean your pans simply by wiping with a paper towel, or by using water and mild detergent, saving the dishwasher for really tough stains.
A final recommendation for pan care would be to use plastic, wooden, or silicone utensils, as metal ones might scratch or damage the pan's coating, reducing its non-stick powers.3
For a more in-depth guide into everything, you need to know about pots and pans, check out our ultimate guide to cookware.
The Best NonStick Pan without Teflon And 8 More to Consider
Now we're clear on the benefits of a non-stick pan without Teflon, it's time to have a look at the top 9 pans available in 2021. We've categorized our favorites into different award categories, so you'll be able to choose which one suits you best!
Sizes Available: 9.5 and 11 inches
Material: Aluminum
Coating: Whitford Granite
Induction compatible: Yes
Special Features: 2.8 inch sides to reduce oil splattering
Michelangelo Kitchenware was founded in Hann, Germany in 1931, and has been manufacturing high-end cooking equipment ever since. Today, Michelangelo combines its high-quality German craftsmanship with innovative design to provide chefs all over the world with excellent cookware.
This non-stick pan has been crafted without Teflon. Michelangelo has instead opted to employ a Whitford Granite coating, which ensures a safe, healthy, and non-stick experience when you cook with this pan.
An aluminum body with a triple-layer base provides high levels of durability and heating consistency. This means that your food will cook evenly, no matter where it is on the pan. This deep frying pan is great for reducing annoying oil splatters and the robust construction results in a pan that is reassuringly hefty – the 9.5-inch model weighs 3.84 pounds and feels secure and reliable.
Michelangelo has also included a glass lid, which fits securely to ensure that your flavors stay in the pan. The small ventilation hole helps to let out steam, ensuring that you can always see through the glass.
The Bakelite handles on the pan and lid are comfortable in the hand and stay cool even when you're cooking at high heat. The woodgrain effect will look classy in any kitchen too!
Cleanup with this pan is a breeze – although this pan is dishwasher safe, in most cases, a simple wipe with a kitchen towel was enough to get rid of any mess.
This pan is compatible with all stoves, but Michelangelo does not recommend putting it in the oven, which is a bit of a disappointment as it does slightly limit what you can cook with this pan. But overall, Michelangelo Kitchenware has crafted a non-stick pan which might be the perfect choice for any chef looking for a high-performing, reliable, and Teflon-free pan to use on any type of stove.
Sizes Available: 8, 10 and 12 inches
Material: Aluminum
Coating: Ceramic
Induction compatible: Yes
Special Features: High-quality coating
Our best budget pick comes from Ozeri, a brand that specializes in products for the modern home, from kitchenware to healthy-living products. Ozeri's Green Earth pan range makes use of the company's Ecozeri technology, a 100% ceramic coating inspired by nature. Of course, this coating is completely free of PTFE and PFOA, enabling you to cook with peace of mind. For a great price, you're getting what could be the best ceramic non stick pan.
As well as being environmentally friendly and ultra-safe, this coating is actually more durable and scratch-resistant than other non-stick coatings, even outperforming other ceramic coatings. This enables you to use less oil, ultimately making your cooking healthier. Oh, and it ensures a quick and easy cleanup too!
The heavy-gauge, die-cast aluminum construction ensures an even cooking surface for you to cook on, and the magnetized base allows for rapid heating on induction stoves too.
Overall, Ozeri has delivered a range of pans with unparalleled non-stick properties at this price point, all without Teflon, PTFE, or PFOA. Our only little issue is that this Green Earth pan really is green, and the only available color option might not be to everyone's tastes. But with this pan, you're getting a serious bang for your buck, so it could be a great choice for any chef on a budget.
Sizes Available: 8 and 10 inches
Material: Aluminum alloy
Coating: Ceramic titanium
Induction compatible: Yes
Special Features: 5 layered coating, diamond powder!
Based in Solingen, Germany – also known as the 'City of Blades' – Carl Schmidt Sohn has been crafting outstanding kitchenware since 1829. The company's CS Kochsysteme imprint has been around since the 1990s and quickly became known for its high quality, great value cooking equipment. With its copper non-stick pan collection, CS provides a Teflon-free, reliable non-stick solution for your kitchen.
This pan is composed of five layers: an outer layer that ensures even heating, an aluminum alloy body for thermal insulation, two layers of reinforcement, and a ceramic coating that provides a reliable non-stick surface for your food, while remaining completely PTFE- and PFOA-free. This five-layer construction is effective – you can easily brown meat on a medium-high heat, and you won't have to worry about it sticking. The embedded diamond powder adds a bit of glamor to the pan too.
A wobbly handle can be annoying, but CS Kochsysteme is taking no chances here, securing the stainless-steel handle to the body of the pan with three secure rivets. The glass lid is an added bonus too and fits the pan well. This helps to keep moisture in the pan, while the ventilation hole allows steam to escape.
We would have liked this pan to be slightly deeper to enable you to cook more food and reduce oil splatter. The pan is a bit thinner than we were hoping too – this doesn't affect performance but doesn't inspire confidence either, perhaps leading to worries of potential warping after extended use. But overall, with a five-layered construction, included glass lid, and the addition of dazzling diamond powder to the ceramic coating, CS Kochsysteme has provided unmatched attention to detail with this pan, so it could be a perfect choice for any chef determined to get the best value pan for their money.
Sizes Available: 8.5 and 10.5 inches
Material: Aluminum
Coating: Ceramic
Induction compatible: No
Special Features: Pan heat indicator, dishwasher safe
There's a reason that the French cookware manufacturers T-Fal is the leading brand for kitchen appliances worldwide. Here the company has crafted the perfect Teflon-free pan for the modern chef.
One thing that sets T-Fal's pans apart from its competitors is its Heat Mastery System, a three-step checklist consisting of superior and longer-lasting non-stick coating, an even heat base with anti-warping properties, and its patented Thermo Spot technology, which ensures perfect preheating every time. The Thermo Spot heat indicator features a ring in the center of the pan that turns solid red to indicate when pans are fully preheated. A properly preheated pan can help to cook food evenly and seal in the natural juices and flavor of meat, poultry, and fish. This is a seriously useful feature, as it takes an element of the guesswork out of your cooking.
This pan has a silicone handle that is reassuringly non-slip, but the pan is pretty lightweight anyway, with the 10.5-inch model checking in at just 2.2 pounds – great for shaking, flipping, and tossing. And despite its lightweight construction, the use of durable aluminum results in fantastic heat-retention, and the scratch- and stain-resistant interior can handle a whopping 570 degrees Fahrenheit! This versatile pan is also oven-safe to 350 degrees Fahrenheit, meaning it can handle pretty much anything you throw at it. It's dishwasher safe too – but in most cases, it just needs a simple wipe to clean.
It's a real shame that this pan isn't induction-compatible, but we can understand why T-Fal didn't want to sacrifice the benefits of a lightweight pan by adding a heavy magnetized base, especially one as highly performing as this one! So, for any chef with a gas or electric hob, this pan is definitely worth considering.
Sizes Available: 10 and 11 inches
Material: Aluminum alloy with titanium interior
Coating: Ceramic
Induction compatible: Yes
Special Features: Included lid, 4mm base
Another offering from CS Kochsysteme, this time we've gone for their reliable Diamond White Coating frying pan. The excellent non-stick properties are all thanks to a ceramic coating, which is hard-anodized and scratch-resistant.
These pans are made of a trusty aluminum alloy with a super-strong titanium interior. The pan has a good depth, and the thick bottom with magnetized induction base heats quickly and evenly. At 4mm thick, you can be sure that it won't warp. This combination results in a reassuringly weighty pan that feels great to use. The handle is particularly comfortable and is actually slightly wider and longer than some of the others we reviewed.
CS Kochsysteme recommends that you use this pan at a low to medium heat, but not to worry – you can lock in the heat with the included glass lid, which fits the pan securely.
The beautiful rosy-pink color will catch your eye in any kitchen, and the stylish speckled white interior also looks great.
You can also trust this pan when it's time to wash up because, under most circumstances, all it needs is a wipe round with a kitchen towel. For tougher stains, you'll be fine with some warm water and a mild detergent – abrasive cleaners might harm the pan. Just be sure to let the pan cool down before you submerge it.
The base of the pan could be flatter, as oil does occasionally spill to the sides of the pan, leaving the center without oil. If you want a non-stick pan without Teflon you can rely on, this frying pan from CS Kochsysteme with a diamond white coating could be a great choice.
Sizes Available: 8, 10 and 11 inches
Material: Aluminum alloy
Coating: Whitford Granite ceramic
Induction compatible: Yes
Special Features: Different color options available
This Stone Earth frying pan marks the third and final entry from CS Kochsysteme. This time, they've gone for a Whitford Granite ceramic coating to protect this striking pan, and to keep it non-stick yet free of PTFE and PFOA.
The die-cast aluminum alloy body gives us a durable pan, and the base heats quickly and evenly on all types of hob, from gas to induction.
The most exciting aspect of this pan, though, is its fashionable looks! The pinkish-red body with black and white speckles brings to mind fresh-cracked black pepper and flaky sea salt. This pan also has a Bakelite handle with a wood grain effect and looks very chic when combined with the pan's eye-catching design.
But this isn't a case of 'style over substance' – the handle feels good and is secured to the pan at a comfortable angle, ensuring the pan is easy to lift even when full. CS Kochsysteme has crafted a pan with a good depth and nice weight – to give you an idea, the 10-inch model weighs 3.48 pounds.
You'll be pleased to hear that despite its classy looks, this is another low-maintenance, easy-to-clean pan. If a wipe with a paper towel doesn't cut it, just use warm water and a tiny bit of soap. No need to use the dishwasher!
Of course, we'd prefer it if this pan came with a lid, but on the whole, if you're seeking a stylish non-stick pan that will stand out in your kitchen, but don't want to sacrifice functionality, the CS Kochsysteme Stone Earth frying pan could be the one for you. We've looked at other granite stone pans here.
Sizes Available: 7 and 10 inches
Material: Recycled aluminum
Coating: Sand-derived ceramic nonstick
Induction compatible: No
Special Features: Softgrip handles, different color options available
We usually think of 'curing' as something we do to cast-iron pans – it means the same as 'seasoning' – but non-stick pans must be cured during the manufacturing process too.4 The unique sand-derived ceramic coating on this pan has a curing phase that creates 60% less CO2 than the curing phase for traditional coatings. And of course, it's free of PTFE, PFOA, lead, and cadmium too. This is good news because heavy metals such as lead and cadmium can have adverse health effects if they leach into your cooking.5
The interior is completely free of rivets, which prevents food buildup or utensil snags. Combined with the bright white interior which helps you to spot things that you might miss on a darker pan, this also means that this pan is the easiest pan to clean out of all of the pans we've looked at. A paper towel would work, but this pan is also dishwasher-safe if things do get messy!
GreenLife has also made use of recycled aluminum for this non-stick pan, reducing the impact on the planet even further. We're pleased to report that this has no impact on the pan's performance – it's reinforced with a wobble-free base for extra strength and even heating. Greenlife also offers a wide range of exterior colors, so you're bound to find something that will suit your kitchen. It's nice to see that the soft grip handles are colored too, unlike the rather boring black or metal handles on some of our other top picks.
Unfortunately, this pan can only be used on gas and electric hobs (as well as being oven-safe up to 350 degrees Fahrenheit). It seems quite counterintuitive for Greenlife to devote so much effort into making such an eco-friendly pan when it can't be used on induction hobs – the most environmentally friendly stovetops.6 For best results on gas or electric hobs, GreenLife recommends that you stick to a low to medium heat. We'd also like to add that it's best to avoid spray oils in this pan – not that you'll be needing need much oil though.
Overall, Greenlife has crafted a pan that is extremely comfortable in more ways than one – not only is it ergonomic and comfortable to use in your kitchen, but its environmentally friendly features are easy on the planet too!
Sizes Available: 8.5, 10 and 12 inches
Material: 35U hard-anodized aluminum
Coating: Triple layer ceramic-coated Eclipse coating
Induction compatible: Yes
Special Features: Unique raised lip
The first thing you're sure to notice about Rad USA's Radical Pan is its innovative shape. The patented high-rise lip is specially designed to enable even the most amateur chefs to flip food like the pros – and it works a treat.
But that's not all there is to this pan. Constructed from 35U hard-anodized aluminum – the strongest on the market – with a 3.5mm base, this pan boasts an excellent and even heat distribution, ensuring all of your food cooks evenly. It's oven-safe up to 500 degrees Fahrenheit too, which means you can really bring on the heat.
The triple-layer ceramic-coated Eclipse coating is ultra-durable and scratch-resistant. Rad USA even claims that it can be used with metal utensils (but we still wouldn't recommend it, just to be on the safe side).
The ergonomic handle ensures that the pan is comfortable to use, and its original V-Connect design ensures that it stays cool.
Cleanup is as easy as a wipe with a paper towel, or a simple warm water soak and hand wash for tougher cleaning, and the pan is dishwasher-safe too.
To top it all off, this pan comes with a lifetime warranty, which reassures us even further of its high quality.
If you're a chef searching for a functional, quality pan with an exciting, innovative design and high-quality construction, you'd be hard-pressed to find something better than the Radical Pan.
Sizes Available: 8, 10 and 12 inches
Material: Aluminum
Coating: Ceramic
Induction compatible: Yes
Special Features: Number of other products in the CeraTerra range, great for beginners
Drawing upon more than 30 years of cookware design and manufacturing experience, TeChef has developed the CeraTerra range of non-stick pans and cookware with ceramic coatings, completely free of Teflon, PTFE, and PFOA.
This pan is made from a sturdy aluminum body, which heats quickly and evenly. This goes for induction hobs too, thanks to the extra-heavy gauge base. The stainless-steel handle meets the pan at a V-shape, just like the Radical Pan, which ensures that it stays cool. Its ergonomic shape feels good in the hand too. These pans are also happy in the oven, up to 450 degrees Fahrenheit.
TeChef have also designed this range to be easy to clean, so a wipe with a kitchen towel will normally do the job. This pan is dishwasher safe for deeper cleaning too.
An included lid would have made this pan even more appealing to chefs of all abilities, but for beginner chefs looking for a great first frying pan that is 100% safe to cook with, we'd recommend TeChef's CeraTerra frying pan. And if you like it, you can deck out your kitchen with the rest of the range!
The Final Verdict
Even though three of our top nine pans were from CS Kochsysteme, we have to hand the top spot to the Deep Frying Pan with Lid from Michelangelo Kitchenware.
Overall, Michelangelo has delivered a non-stick pan without Teflon that will bring out the best in your cooking, so this pan has to be our top pick.
FAQs
Why is food sticking to my non-stick pan?
If your food is sticking to your pan, perhaps the non-stick coating has deteriorated or been scratched off in places. This can occur from cooking at high heats or using metal utensils which may damage the coating. It's best to stick to a low- to medium heat and make sure to only use utensils made of wood or silicone.
How do I store my non-stick pans?
To help your non-stick coating last as long as possible, gently wash your non-stick pans after they have cooled, then put them away. If you're stacking your pans, it's a great idea to place something in between the pans, such as dish towels, felt pan protectors, or even sheets of kitchen paper. This can help to prevent scratching your non-stick coating.
Can I use non-stick spray on non-stick frying pans?
Non-stick spray is definitely useful to have in your kitchen, but you should avoid using it on pans with a non-stick coating – it can actually damage the non-stick coating as it heats, and often voids your warranty if your pan comes with one.
Are copper pans non-stick?
Normally, red copper pans are aluminum pans with a non-stick ceramic-based copper coating applied to the pan. 
How can you tell if your pans have Teflon?
The easiest way to determine if your pans have Teflon is to see if they are advertised as such. Many pan manufacturers will advertise their pans as being "Teflon-coated."
Another way to tell is by the coating's color. Pans with Teflon coating will typically have a glossy, bluish-black finish. If your pan doesn't have this finish, it's likely not coated with Teflon.
References
1 Traverso, Amy, (1 January 2020). In Praise of Pre-Heating. Retrieved from: https://newengland.com/today/food/cooking-advice/kitchen-tips/in-praise-of-pre-heating/
2 Chef Chang, (23 January 2019). Why do Frying Pans Warp? (Plus How to Fix It). Retrieved from https://sliceofkitchen.com/why-do-frying-pans-warp-plus-how-to-fix-it/
3 Mifflin, Mariette, (27 June 2019). Using and Caring for Nonstick Pans. Retrieved from: https://www.thespruce.com/nonstick-pans-care-1908563
4 Mifflin, Mariette, (8 May 2019). How to Season or Cure Cast Iron Fry Pans. Retrieved from: https://www.thespruceeats.com/season-cure-cast-iron-fry-pans-1907479
5 Minich, Deanna, (25 January 2019). Toxins from Cookware: What Is the Best Option to Avoid Adding to Your Burden. Retrieved from: https://www.deannaminich.com/toxins-from-cookware-what-is-the-best-option-to-avoid-adding-to-your-burden/
6 Moritz, Katie, (30 January 2019). Induction Cooking is Eco-Friendly, But Can We Afford It? Retrieved from: https://www.pbs.org/wnet/peril-and-promise/2019/01/induction-cooking-affordable