The Best Granite Stone Pan Reviews and Buyer's Guide
Granite stone pans aren't only favored for their style. They also offer excellent non-stick properties, and without the use of potentially harmful chemicals. The rise in demand for safe cookware has seen an explosion in the production of granite pans, some of which are high quality, and others which are worth avoiding. We've looked at some of the best pans in our granite stone pan reviews below, and created our buyer's guide to explain what to look out for.
Top Pick – Ozeri 12" Stone Earth Non-Stick Skillet
Best Budget Pick – MOKIKA Non-Stick Skillet Pan
Best Value for Money – Miusco Nonstick Frying Pan Set with Lids
Most comfortable – Carote 3 Pcs Skillet Set Granite Nonstick Frying Pan
Most stylish – Sensarte 9.5-Inch Non-Stick Frying Pan
Buyer's Guide – How do granite stone pans work?
The innovative granite-based layer on granite stone pans help to prevent food from sticking to the base of your pan. But how does this work? And why is this preferred over Teflon pans by many? We'll explain all this and more below.
Are they really made of stone?
Granite stone pans use layers of food grade granite over a core metal base, and use a natural mineral coating to provide scratch-resistant non-stick properties. Some pans will use more layers of granite, while others use a thicker metal core.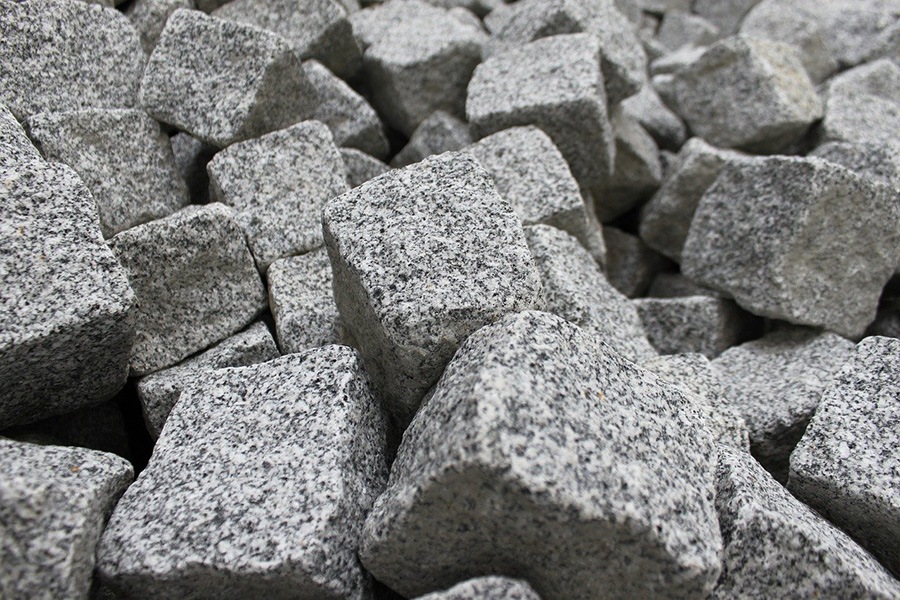 Most granite rock pans use aluminum as their core. This is a great choice, as aluminum is an excellent conductor of heat.(1) In layman's terms, this means that aluminum responds quickly to changes in heat – if your hob becomes hot quickly, your pan will too. This is most noticeable on hobs that can heat up quickly, such as gas stoves.
What makes granite stone better than Teflon?
You've probably heard of Teflon, which is a common non-stick coating applied to pans. You may not have heard of the health risks, however. Teflon is a brand name for a PTFE (polytetrafluoroethylene) coating. That name might be enough to give you a headache, but it's the health risks involved in cooking with these pans which are a cause for concern. Up until 2013, PTFE pans were often manufactured with the use of another chemical, called PFOA (Perfluorooctanoic acid). PFOA is a toxic chemical, and can cause serious illness.(2)(3) Since some amounts of PFOA remained on Teflon pans after manufacture, cooking with them could cause you to fall ill. If you have been using one however, we don't mean to panic you. Recent research has suggested that Teflon pans may not have contained enough to put you at serious risk(4), although it's probably best that you find an alternative to stay on the safe side.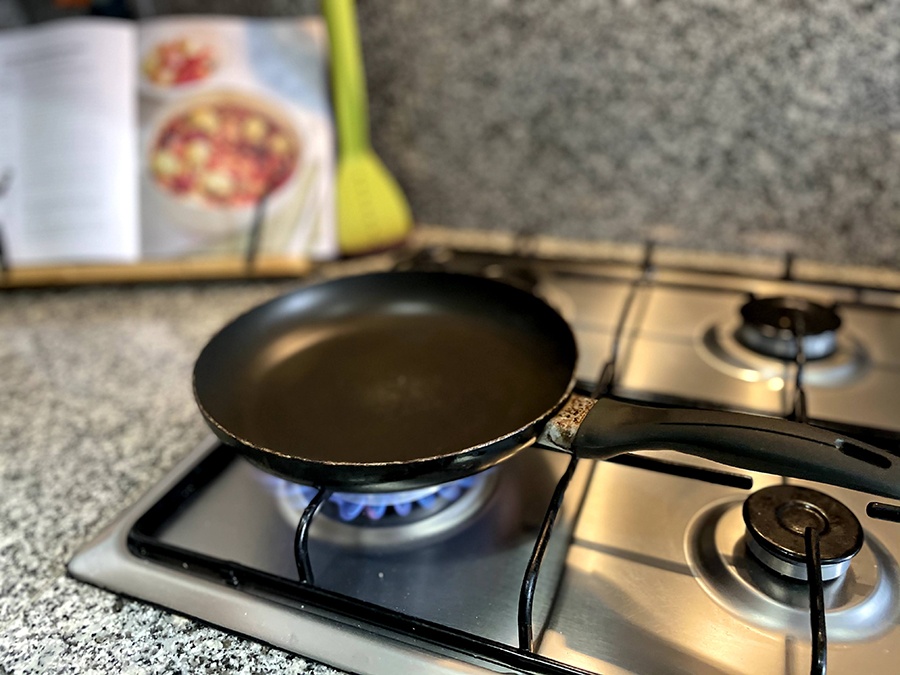 While Teflon pans produced after 2013 no longer use PFOA in their production, there are still additional concerns. At high temperatures (above 570 degrees F) Teflon begins to break down and produce fumes.(5) Prolonged exposure to these fumes can cause 'polytetrafluoroethylene toxicosis', also known as polymer flu or Teflon flu. Again, we don't intend to alarm you – it would take hours of cooking at a very high temperature to cause any illness. Understandably however, these health concerns have turned many customers away from these types of non-stick pans.
Are granite stone pans safe?
Granite stone pans don't use any PFOAs or PTFEs in their production. They are some of the best non-stick pans without Teflon. As such, there are no known health risks associated with granite stone pans, making them a great choice if you want a safe, non-toxic non-stick pan for your family. The pans use food grade granite, making them perfect for frying eggs, cooking steaks, or any other meal you wish to use them for.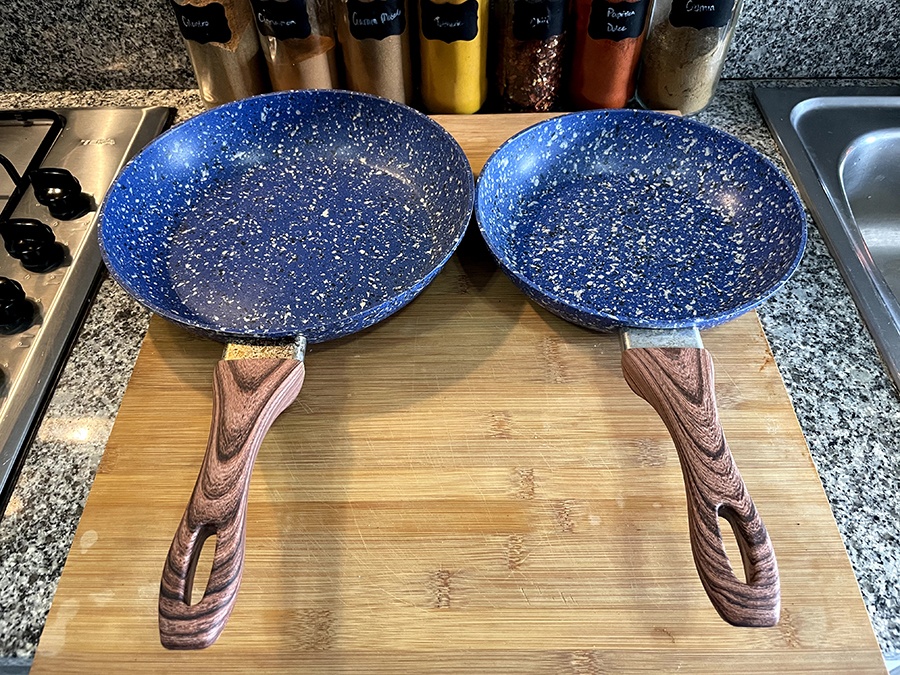 Other features to look out for
These pans use some excellent features to ensure they are tough enough to withstand the demands of a modern kitchen.
Many granite stone pans make use of a cast aluminum base, which helps to prevent the pan from warping over time. This ensures it maintains a good contact with your hob for optimum heat transfer. It's also common to see a magnetized base on quality stone pans, which allows them to be used on induction hobs. To learn more about this check out our guide to cookware.
Many of these pans are oven safe, but not all. It often depends on the handle. Metal handled pans are more likely to be oven safe, but if you aren't interested in using your pan in the oven then you should look for a pan with the material you find most comfortable for the handle.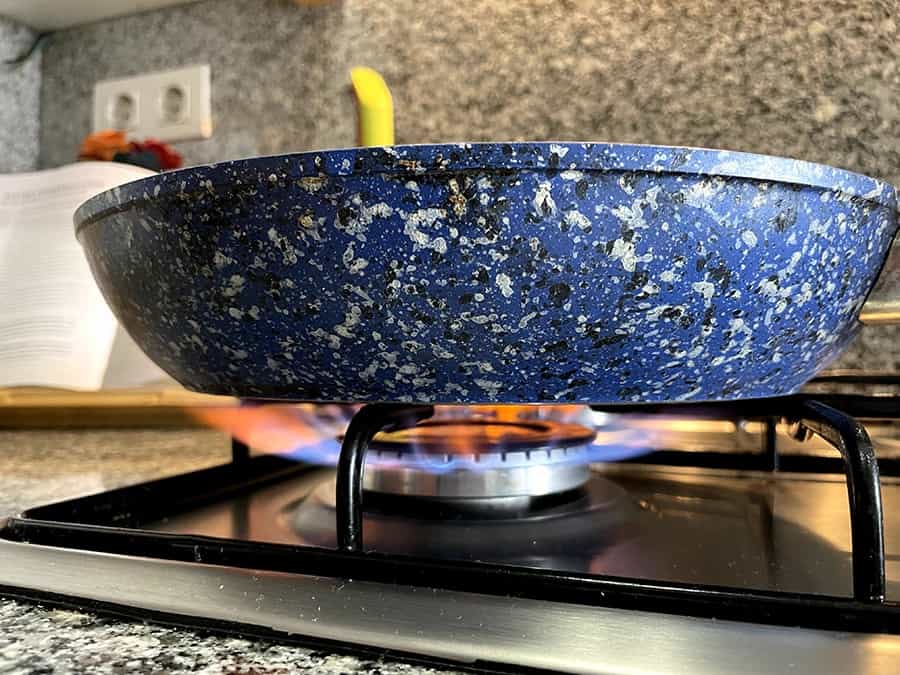 Care & use
Many of these pans are dishwasher safe, allowing you to clean them with ease. Regardless, we still recommend that you hand wash your pans if you have the time, as it's the best way to ensure they receive no damage. For frying, use a little bit of oil or butter and a medium heat – if the oil starts smoking or bubbling, lower the heat to ensure the pan doesn't overheat and damage the granite rock layer.
For when your pan needs a deeper clean, here's a video which explains some more advanced techniques:
The Best Granite Stone Pans
We've collected some of the best granite stone pans to help you start your search. Check out some of the best pans below.
● Pan type: Skillet
● Non-stick: Natural stone-derived coating
● Diameter: 12"
● Induction hob compatible: Yes
Ozeri's non-stick skillet is a safe and fully-featured piece of cookware. With non-stick capabilities, excellent heat conduction and induction hob compatibility, it has a feature set that will appeal to a broad range of chefs.
The non-stick coating on this pan doesn't contain any toxic chemicals. In fact, it's derived from stone. This innovative coating, pioneered in Germany, means you don't have to worry about any PFOA's, PTFE's or other complex and controversial chemical constructions. Despite this, the performance of this pan is excellent. Food glides around the pan, and it's easy to clean up afterwards, too.
Thanks to a scratch-resistant coating, this non-stick layer should stand the test of time. Typically, non-stick layers can be scratched by metal utensils or abrasive cleaning, leading to damage and poor performance. The extra layer on this Ozeri pan should ensure you don't have to use the same level of caution when you're cooking.
While the exterior of this pan is stone, the interior is aluminum, providing strength and excellent heat conduction.(6) There's even a magnetized base, making this pan compatible with conduction hobs. This pan is a great pick for the chef who wants a pan which can excel in any scenario.
● Pan type: Skillet
● Non-stick: Natural granite-derived coating
● Diameter: 8"
● Induction hob compatible: Yes
This smaller MOKIKA skillet gives you a great non-stick stone pan without breaking the bank.
The pan uses aluminum at the core of its construction, which provides the pan with excellent heat conduction. This means the pan get hot fast, letting you start cooking in record time. This aluminum is die-cast, making this pan durable and tough. On top of this aluminum is MOKIKA's golden granite rock coating, which lends the pan its excellent non-stick properties.
Like Ozeri's pan, the base of this skillet has been magnetized, which ensures it is compatible with induction hobs, as well as all other stovetops. We like the comfortable Bakelite handle, although this synthetic handle does mean that this pan isn't suitable for oven use.
The tough cast aluminum with its durable granite layer is topped off with a scratchproof coating, ensuring your pan can continue to perform well years after its purchase. This is a smaller pan, so you won't be able to cook for larger families, but for smaller households this size is ideal. It's a great pan for the chef who wants to save some money for his ingredients.
● Pan type: Skillet set
● Non-stick: Natural granite-derived coating
● Diameter: 10" & 12"
● Induction hob compatible: Yes
This sleek pan set from Miusco pairs excellent performance with value and style. We love how the elegant design is able look good as well as packing several high-tech performance features in, too.
As with the other pans in these reviews, this pan uses a granite-based non-stick coating, which gives this pan excellent and safe non-stick capabilities. Miusco have used a multi-layer granite coating, with the outer layers providing heat and scratch resistance, and the internal layers interfacing with the pan's durable aluminum core.
Although the pan is made from granite and aluminum, the base of the pan is magnetized, allowing it to be used with induction hobs.
One point to note is that you will need to screw on the handles to these pans upon arrival. All this takes is a screwdriver however – the handle and screws are provided. And the handles themselves are excellent. They have a great ergonomic feel, and the textured wood provides a natural touch.
This two-pan set is a great example of what makes granite pans so great. The non-stick properties mean these are easy to clean up, and the aluminum core ensures they heat up quickly and evenly. This set is ideal for the chef who wants performance at a great price.
● Pan type: Skillet
● Non-stick: Natural granite-derived coating
● Diameter: 10.5"
● Induction hob compatible: Yes
Soledad's skillet shows how tight the competition is in the cookware market. Soledad uses an advanced granite-based coating with five layers, which ensure this pan performs at a high level.
Four of these internal coating layers help to ensure the pan transmits heat evenly, which helps to prevent pesky hot spots from forming on your pan, as well as adding strength. The outer layer helps to stop food from sticking to the pan, as well as providing scratch resistance to help prevent your utensils from damaging these layers of granite.
Since these pans are free from PFOA-based coatings or Teflon coatings, there are no known health risks associated with using a granite coated pan. In fact, Soledad's granite coating can be heated up to 700 degrees F before it suffers any loss in quality, and it should provide no health risks if damaged, either.
A magnetized base ensures this pan is compatible with all types of hob, including induction hobs. We also like the inclusion of a glass lid, which makes this pan a versatile piece of cookware.
It's hard to fault this pan. It may not excel greatly in any one area compared to the other pans, but it's a excellent all-rounder. We can recommend this pan to any chef looking for some new cookware.
● Pan type: Skillet set
● Non-stick: Natural granite-derived coating
● Diameter: 8", 9.5" & 11"
● Induction hob compatible: Yes
Need a few new pans in your kitchen? This three-piece set from Carote is a great way to equip yourself with some easy-to-use cookware.
Carote use a German PFOA-free granite-based coating on these pans to ensure that food won't stick to the surface when cooking. This makes them easy to cook with, and you don't have to worry about toxic chemicals or any difficulties with cleaning.
Carote certify these pans as dishwasher safe, although we'd still recommend that you hand-wash these pans if you have the time to provide them with the best care. They are compatible with induction hobs, too.
This set comes with three pans, ranging from 8 to 11 inches in diameter. This gives you a diverse selection, perfect for when you need to make yourself a quick breakfast before work, or when you need to cook a larger meal for friends or family.
The synthetic handle means these pans aren't oven compatible. For most use cases this won't be an issue, but it's worth noting if you want a skillet that is oven safe. Overall, this is a great pan set for the chef who wants reliable non-stick performance.
● Pan type: Skillet
● Non-stick: Natural granite-derived coating
● Diameter: 9.5"
● Induction hob compatible: Yes
We like the aesthetic appeal of Sensarte's granite stone pan. The sleek grey granite, with its smooth curves and wood-effect Bakelite handle, give this pan a sophisticated air.
Despite this synthetic handle, Sensarte claim that this pan is still oven safe up to 302 degrees F, so it's a versatile pan. A magnetic base means that this pan is compatible with induction hobs, too. Sensarte produce this pan in multiple sizes, ranging from 8 to 12.5 inches, so you can choose the perfect size for your kitchen.
Sensarte has equipped these pans with a Swiss PFOA-free granite-based non-stick coating, making them safe for you and your family to use. The aluminum core gives this pan excellent heat conductivity too, and a strong construction.
You'll find this stone pan remarkably easy to clean, thanks to this non-stick layer. It's comfortable to use too, due to the wood grain effect on its Bakelite handle. Sensarte's elegant skillet is a great choice for the chef who wants a pan that's both easy to use, and good to look at too.
● Pan type: Skillet
● Non-stick: Natural granite-derived coating
● Diameter: 9.5"
● Induction hob compatible: Yes
The bright blue color of this granite stone pan by MICHELANGELO lets you introduce some vibrance into your kitchen. This pan uses a sleek, modern design, and combines it with modern materials to create an excellent piece of cookware.
The surface on this pan is truly non-stick. Food glides around the pan with low resistance, and that helps when it's time to clean up, too. Grease and debris come off with ease – and if you don't fancy spending time cleaning it, it's dishwasher safe, too.
The pan uses a triple ply base. A magnetic layer provides induction hob compatibility, and a thick aluminum layer ensures your pan won't warp over time. A final layer is designed to give optimum heat transfer, allowing your pan to heat up evenly.
The handle on this pan is quite large, so if you have smaller pans you may want to look at one of the other pans on this list. We love the wood effect on the handle and lid, though. This pan is a great all-rounder, and will perform well in any kitchen.
● Pan type: Saucepan
● Non-stick: Natural granite-derived coating
● Size: 5 quart
● Induction hob compatible: Yes
The natural non-stick properties of granite aren't only useful for skillets. We've included this saucepan in our list to show that granite stone pans are useful for other pan types, too.
This saucepan, as seen on TV, is from Granite Stone Diamond, specialists in granite non-stick pans. They've crafted a sleek, well-balanced saucepan that's perfect for cooking larger and liquid-based meals. The pan comes complete with a glass lid with a steel handle, making it easy to insulate your cooking.
The stone-based ceramic on this pan is infused with miniature diamonds, which aids both its non-stick ability, its strength and its heat transfer. Diamond infused non-stick layers are more scratch resistant, too, so you're less likely to damage them with metal utensils.
We like the ergonomic handle on this pan, which makes it easy to handle even when full of boiling water. The non-stick layer is PFOA free, ensuring your family stay safe, and the flat, magnetized base ensures this pan can work with any stovetop.
Why restrict the benefits of non-stick cookware to your skillets? This Granite Stone Diamond pan demonstrates that it works great across different types of cookware, too. It's a great pick for the chef who wants a saucepan that won't stick.
The Final Verdict
Our top pick was the 12" stone earth pan by Ozeri. We love the sturdy feel of this pan, and its excellent design choices. Plenty of the other pans in this roundup came close, but Ozeri's pan was a step above the rest.
Top Pick – Ozeri 12" Stone Earth Non-Stick Skillet
FAQs
Do you have to season granite stone pans?
You don't have to season granite stone pans. One of the main advantages of these pans is their natural, non-toxic non-stick properties, which ensure that these pans are protected from rust and from food sticking to them. As such, they don't require seasoning.
Should I use metal utensils with a granite stone pan?
Many of these pans include scratch resistant coatings to protect the granite layer. However, we still recommend that you use soft nylon or silicone-based utensils to avoid scratching these pans.
Can I use granite stone pans with an induction hob?
Induction hobs require a pan with a magnetized base, or a construction which involves magnetic materials such as steel or iron. All of the pans we've featured above use a magnetized base, so they are compatible with induction hobs. These are versatile pans and as long as you take care when using them you could use on induction, gas, and glass top stoves or even on the side burner of your backyard grill.
Is granite stone good for cooking?
Yes, granite stone is good for cooking. It holds heat well and can help food cook evenly. Granite is also easy to clean and is durable, making it a great option for the kitchen.
References
(1) (n.d.). Retrieved from http://hyperphysics.phy-astr.gsu.edu/hbase/Tables/thrcn.html
(2) S;, S. (n.d.). Cohort mortality study of workers exposed to perfluorooctanoic acid. Retrieved from https://pubmed.ncbi.nlm.nih.gov/23079607/
(3) A;, S. (n.d.). Perfluoroalkyl chemicals and chronic kidney disease in US adults. Retrieved from https://pubmed.ncbi.nlm.nih.gov/21873601/
(4) Shuster, K., Brock, K., Dysko, R., DiRita, V., & Bergin, I. (2012, February). Polytetrafluoroethylene toxicosis in recently hatched chickens (Gallus domesticus). Retrieved from https://www.ncbi.nlm.nih.gov/pmc/articles/PMC3276392/
(5) Shuster, K., Brock, K., Dysko, R., DiRita, V., & Bergin, I. (2012, February). Polytetrafluoroethylene toxicosis in recently hatched chickens (Gallus domesticus). Retrieved from https://www.ncbi.nlm.nih.gov/pmc/articles/PMC3276392/
Thermal Conductivity of Metals, Metallic Elements and Alloys. (n.d.). Retrieved from https://www.engineeringtoolbox.com/thermal-conductivity-metals-d_858.html