The 10 Best Charcoal Grills Under $200: Reviews and Buyer's Guide
The versatility of charcoal grilling has spawned a range of grill designs, with some adopting a simple approach, and others using complex designs to achieve unique benefits.  In this guide we're going to review the 10 best charcoal grills under $200, explaining all the latest features you can expect to see in these grills.
Important note: Although all these grills were under $200 at the time of review, prices do fluctuate so there is a chance some may be a little over $200 when you read this. We've also put together a list of the best charcoal grills under $100 and the best gas grills under $200 too.
What to look for when buying a charcoal grill under $200
Want to know your hibachi grills from your smokers? We've explained all the latest features and classic grill styles in our buyer's guide below.
The main types of charcoal grill
A grill is no longer just a grill. And that's okay – the wide range of grill styles available accommodates for every griller's needs. Whether you want a simple, functional grill, or want to take advantage of the latest features available, there's a charcoal grill for you.
Kettle grills offer simplicity. A spherical dome, opening at the middle with the lid, gives you a clean design with even heat distribution. These are best for the no-frills griller, who favors charcoal for its reliability.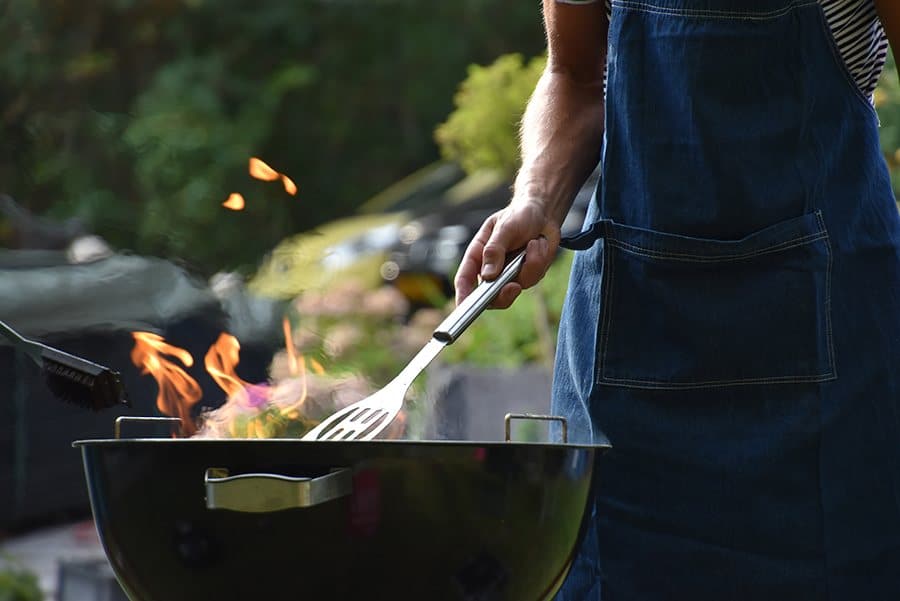 Tabletop grills usually operate on similar principles, but at a smaller size. A smaller cooking grate, combined with smaller or foldable legs make these grills great for smaller households, or leisure purposes such as camping or tailgating.
Smoker grills are designed for slower cooking over a longer period of time. They often include water pans to increase the moisture and flavor levels of your cooking. Two of the most common smoker grill designs are the vertical water smoker, or tower smoker, and the offset smoker.
Vertical water smokers use a tall, tower design to create a flow of heat, smoke and steam up towards your food. On the other hand, offset smokers use a long horizontal grill surface combined with a firebox offset to the side which introduces the heat. Vertical designs tend to be best for slower, smokier cooking, while offset designs provide the easiest access to food and charcoals.
Many grill designs are based on traditional Japanese grills. Japan has a long history of grilling (1), and many traditional Japanese designs still hold merit today. There's a great number of unique Japanese designs, but some of our favorites are the Hibachi grill, the Kamado grill, and the Shichirin Hida Konro.
Hibachi grills are small but extra tough, using cast-iron construction for excellent heat retention. Kamado grills are larger, typically using ceramic walls and an egg-shaped design to create an insulated funnel of hot air. A Shichirin Hida Konro grill, on the other hand, is a small, ornate tabletop grill made of baked earth. These grills are great as a unique, stylish offering. Japanese cooking traditions go beyond grills in our yards, with Japanese knives being particularly popular all over the world. Check out our favorite Japanese knives or click here to learn all you need to know about kitchen knives in general.
Where do you want to grill?
The type of grill that is best for you depends a lot on where you want to use it. Larger grill designs, including offset smokers and larger kettle grills, offer large cooking areas and a stable cooking platform. However, they lack portability.
Many choose more compact grills. These can be useful for camping, tailgating, or even smaller dinner parties and are much easier to store.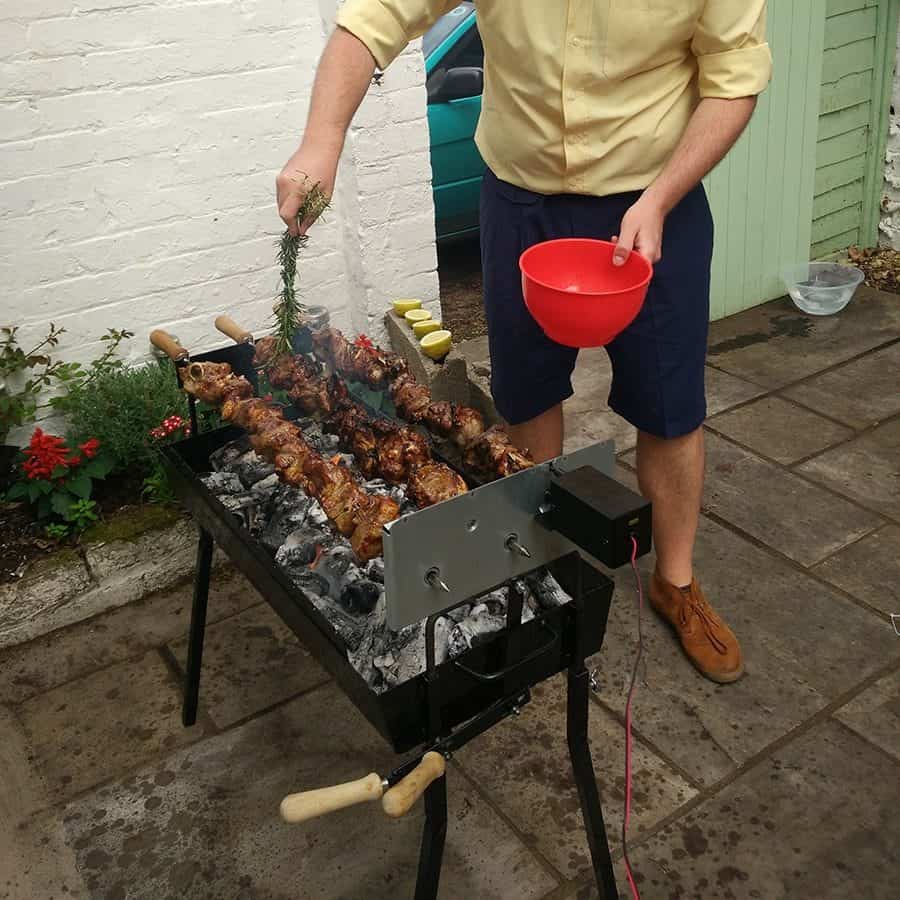 Charcoal vs gas grilling: what's the difference?
Despite the wonderful smells and simplicity of charcoal cooking, many find gas grilling to be easier.
Gas grills come packed with features such as electronic ignition, which allows you to ignite your grill with the press of a button. Typically you can easily control the heat of each burner on a gas grill too. Charcoal grills, on the other hand, can be a little more challenging to ignite. Check out the video below for a guide on how lighting charcoal is achieved.
However, even gas grill fans will often concede that charcoal grills offer richer flavors. American Propane Gas state that "charcoal gives a feel of the traditional, typical flavor that comes from wood chips."(2)
Charcoals offer a higher radiant heat level, which can offer faster cooking, stronger sear marks, and those familiar smoky flavors. It also offers an unrivaled level of simplicity – while gas offers modern convenience features, it also introduces complexity with gas hoses, propane tanks, burners, controls, and so on. At a fundamental level, a charcoal grill only needs a grate and some charcoal to be ready to go.
"When the drippings from your steak, chicken, or veggies fall on the hot coals, the drippings turn into flavor-packed steam and smoke that goes right back into the meat, resulting in the amazingly unique taste of charcoal grilling."

Kaila Harmon, Family Handyman (3)
We've put together a detailed guide to BBQ fuels.
The best charcoal grills under $200
We've selected the best 10 charcoal grills available for under $200, and given them awards based on their strengths to help you choose. Check them all out below.
Image
Product
Features
Price

Best Overall

Product dimensions – 39.5 x 22.5 x 27 inches
Cooking surface – 363 square inches
Construction material – Porcelain-enameled steel
Grill material – Plated steel
Special tech – Hinged grate, one-touch cleaning system

Check Price

Best Value

Product dimensions – 25.00 x 21.50 x 37.00 inches
Cooking surface – 351 inches
Construction material – Steel
Grill material – Chrome plated steel
Special tech – Converts into a portable grill

Check Price

Best Tabletop Grill

Product dimensions – 14.20 x 14.50 x 17.00 inches
Cooking surface – 147 square inches
Construction material – Porcelain-enameled bowl and lid, Heavy-gauge steel charcoal grate
Grill material – Plated steel
Special tech – Aluminum ash catcher & dampers

Check Price

Best Hibachi Grill

Product dimensions – 19 x 8.25 x 10.25 inches
Cooking surface – 142 inches
Construction material – Cast iron
Grill material – Pre-seasoned cast iron
Special tech – Coal door

Check Price

Most Portable Grill

Product dimensions – 12.20 x 21.00 x 14.50 inches
Cooking surface – 160 square inches
Construction material – Porcelain-enameled cast iron
Grill material – Plated steel
Special tech – Foldaway legs, ultra-lightweight design

Check Price

Best Kamado Grill

Product dimensions – 20.50 x 21.50 x 25.30 inches
Cooking surface – 153 square inches
Construction material – Triple-walled steel
Grill material – Cast iron
Special tech – Double dampers, extra-insulated walls

Check Price

Most Versatile

Product dimensions – 24.80 x 20.67 x 41.34 inches
Cooking surface – 636 square inches
Construction material – Steel
Grill material – Cold rolled steel
Special tech – Modular design, multiple access doors, two cooking grates

Check Price

Best for Dinner Parties

Product dimensions - 24.80 x 20.67 x 41.34 inches
Cooking surface – 62.7 square inches
Construction material – Diatomaceous earth, Paulownia wood base
Grill material – Zinc plated iron
Special tech – Ornate decorations, made in Japan

Check Price
Many of you will not be that surprised to see a Weber grill at the top of this list. They have made a strong name for themselves as premium grill manufacturers, and for good reason. This grill is no exception – it houses a host of features, which make grilling with this cooker a real pleasure.
Though this grill is based on the classic Weber kettle grill design, Weber has not stood still. The grill specialist has continued innovating on their original design, continuously developing to keep the Weber Original at the front of the field. One such feature is the one-touch cleaning system, which funnels soot and food debris into an aluminum ash pan housed beneath the grill. This can then be easily removed, making grill cleanup a simple process. The grill's cooking grate also features a handy hinge, which allows you to open the grill grate and add charcoal. This means if you have a separate place for lighting your coals, like a chimney starter, you can keep your grill going to feed all of your guests, without interrupting your cooking.
All the same quality construction materials that you may expect from a Weber grill are still here. The main firebox is made from porcelain-enameled steel, giving you both strength and rust resistance.
This modern incarnation of the classic Weber kettle design stays faithful to the simplicity of the original design, while also making cooking much easier for the modern chef. There's really very little we could fault it for. This grill is great for any chef who wants a grill that they can truly rely on. 
The innovative, modular design of this grill makes it a great choice for a range of cooks. By removing the middle section of the grill, the grill can be converted into a portable tabletop grill. This versatility, combined with a great value price, makes this our best value pick.
In its full-tower configuration, the grill is an excellent smoker. A tower design allows smoke and steam to flow up through the grill, creating a constant flow of heat and flavor. An included water pan allows you to augment this process with extra steam, letting you achieve those moist cuts of beef you've been dreaming of.
"You don't have to fill the water pan with liquid, but doing so will not only hydrate the smoking environment but go a long way toward helping you maintain a consistent smoking temperature"

Steven Raichlen, Barbeque Bible (4)
The grill also features a built-in thermometer, which lets you sit back with your guests, reassured by the knowledge that your smoking is going well. One criticism we have about this however is that we'd have liked to see precise units on this, as opposed to vague terms such as 'hot', to aid the more experienced cook.
If you're interested in camping or tailgating, this grill can be quickly disassembled into a portable tabletop kettle-style grill, providing extra versatility. For the griller interested in smoking, the cook on a budget, or the chef who wants extra versatility therefore, this grill is a great choice. 
Weber's Smokey Joe gives you a more compact version of the Weber Kettle Premium grill, which we ranked as our best overall pick. This grill gives you all the quality and ease of cooking you get from the classic Weber design, therefore, but in a more portable design. 
At only 14 inches wide (compared to the Kettle Premium's 22-inch diameter), this grill is substantially more compact. This makes it much more suitable for leisure purposes – here is a grill you can use to bring great flavors with you on your next camping trip, or that could be the centerpiece the next time you go tailgating. Or maybe you just want more space in your yard – it'll do for that too.
The grill still features all the premium features we've come to expect from a Weber grill – the bowl and lid are porcelain-enameled, so you won't get the peeling paint you often see on cheaper grills. An aluminum ash catcher means that cleanup is no chore too, and aluminum dampers provide reliable and easy temperature control. Keep your grill protected with one of the best grill covers.
As with any smaller grill, you should ask yourself if you can stomach the smaller 147 square inch cooking area. Cooking for larger groups on this grill would be a struggle, but if you are interested in cooking only for a few friends and family, this grill is ideal. For the griller who wants both portability and quality therefore, this tabletop grill is a great choice. 
Beautiful and tough. This hibachi-style grill shows that traditional grill designs still have a lot of merit, even when judged alongside more modern grills.
With full cast iron construction, this is a grill that could last you a lifetime. But cast iron can rust if not treated with care, so beware. Lodge has started this care themselves, however, pre-seasoning the grill. A seasoning coat of oil prevents rust, allowing your grill to stand the test of time.
Cast iron provides excellent heat retention, keeping your grill grates searing hot. And if it's too hot for your food, you can raise the grate to increase its distance from your charcoal, reducing the grilling temperature. Sometimes the simplest methods work best.
A flip-down door provides access to your charcoal, allowing you to stoke or add to your coals, meaning you don't have to worry about running out of fuel. A draft door also helps heat regulation, letting you cook your food at the pace that suits you.
"The hibachi is more than a nostalgic icon. It reminds us how uncomplicated and elemental grilling can be, requiring little more than a vessel to hold and channel the fire, and vents to control the airflow, and thus the heat."

Steven Raichlen, HuffPost (5)
We love the simple design and aesthetic principles behind this grill, but it does have a very small cooking surface at 142 inches, combined with a relatively heavyweight for its size at 27 pounds. Regardless, we think it is a great pick as a both stylish and incredibly durable grill.
Why leave the grill at home? This is the third Weber grill on this list, and once again it's thanks to a great grill design. Weber has rethought how to create a cooker with this grill, using an innovative design to maximize portability.
The plated steel legs fold upwards and over the lid, locking it in place for transport. This makes the grill sturdy when you need it, and compact when you don't. You can then carry the grill simply with the glass-reinforced nylon handle – after all, this only weighs 14 pounds.
The handle also features an aluminum heat shield, letting you or your loved ones lift the lid without fear of burns. Aluminum is also used for the two dampers featured on the lid, which provide easy, rust-proof temperature control.
While these features are made with lightweight materials to aid portability, extra weight is used in the use of cast iron for the grill's main body. This is a great feature, as cast iron's excellent heat retention helps the grill stay warm. Even with fewer charcoals, this grill should reach high temperatures, despite its small size. And a porcelain coating over this cast iron protects it from rust, letting you to worry about keeping yourself dry, instead of the grill.
We love the thought that has gone into the design of this grill. Its small size means it won't be for everyone, but if you're an adventurous chef, who wants to take the succulent smells of cooking wherever you go, this is a great pick.
Want a grill that will hold heat like nothing else? You want a Kamado grill. Kamado grills are traditional grills, based on designs that have been used in Japan up to 3,000 years ago.(6) Typically, they use ceramic walls to insulate the grill, helping to keep heat in, and therefore allowing the grill to reach higher temperatures.
However, to keep this grill affordable, Char-Griller has instead opted for triple-walled steel. This highly durable wall mimics the insulating properties of ceramics but at a lower price. A textured finish maintains the aesthetic appeal of a Kamado grill, and they even offer two colors for this grill – a charming royal red tone, or a classic black look.
The circular design makes hot spots even less likely, promoting even distribution of heat across the grilling surface. There's also modern convenience features, such as an ash pan for easy cleanup underneath the grill, and two large handles on either side of the grill to aid transport.
We love the aesthetics of this grill. Char-Griller has done a great job to make Kamado grilling affordable, and without cutting corners on durability. A porcelain coating on the inside of the grill should aid longevity, making this grill every bit as durable as a more expensive Kamado grill. This is a great choice for the griller who wants to experiment with traditional, high-temperature grilling.
Want to cook for a large family? With 636 square inches of cooking space, this grill will let you do so with room to spare. Realcook's Charcoal Smoker Grill uses two separate cooking grates, one suspended above the other, so that you won't ever have to feel cramped by your cooking space. Both these cooking grates and the charcoals can be accessed via two large access doors, making this grill easy to cook with.
The key feature on this grill, however, is its modular design. The tower structure of the grill can be disassembled, transforming it from a large smoker into a fire pit, or even two individual tabletop grills. These transformations are secured by locking latches, which allow you to firmly bind sections of the grill together, or take them apart. This gives you excellent versatility, ensuring that you aren't confined to cooking only in the style your grill allows.
All the other essential features are still present, such as dampers at the top and bottom, a built-in thermometer, and cool-touch Bakelite handles. Bear in mind however that the initial construction can take some time, so don't rush your assembly of this grill. Overall, this would be a great pick for the chef who wants a versatile grill to cook for a large variety of occasions, big or small.
Looking to impress your guests? Check out this authentic Japanese tabletop grill. This style of grill is known in Japan as a Shichirin Hida Konro. It is a style made of baked diatomaceous earth, providing a strong and stylish white base.
"A Shichirin Hida Konro is made of a porous clay called Keisodo 珪藻土. Keisodo is made from burning diatomaceous earth – a naturally-occurring soft, white siliceous sedimentary rock that is found everywhere in Japan, and it contains fossilized marine plankton and volcanic ash. When made into clay, Keisodo 珪藻土 is light, porous and conducts heat evenly and withstands up to 1700℃." (7)
The aesthetic appeal of this grill is also improved by the ornate lettering across the sides of the grill, making it a great conversation piece for a dinner party. "The Shichirin Hida Konro is often wrapped in decorated Washi 和紙 paper, the word just means "Japanese paper". Washi is tougher than ordinary wood pulp paper, so it stands the heat from the stove."(7)
This grill is only small however and will require careful handling to prevent damage. Regardless, this traditional grill would look great at any dinner party and would make a great practical conversation piece for you and your guests to enjoy.
The Final Verdict
Our best overall grill was the Weber Original Kettle Premium Charcoal Grill. Though Weber's kettle design is now over 50 years old,(8) it has been improved with continuous innovation to keep it ahead of the competition. A host of modern features makes this grill a great all-purpose pick for all grillers.
FAQs
How durable is a charcoal grill?
This can depend on the materials used in the construction of your grill, as well as on overall quality.
Some materials, like stainless steel, aren't necessarily the toughest but offer great rust resistance. This means that a stainless steel grill may be the most durable material if you don't wish to spend time maintaining and caring for your grill.
Other materials, such as steel or cast iron, are tougher but can rust. If looked after however, these can last a long time.
The overall quality of your grill can also have an impact of course. A well-designed grill can last a long time, even if it doesn't use the strongest materials. It's hard to give an objective answer, therefore. Ultimately it depends on the grill itself, and how you care for it.
When do I open grill vents, and when do I use the lid?
It's best to experiment with these. Opening grill vents on the hood can let hot air and smoke escape, lowering temperatures. However, some vents, especially beneath a grill, allow fresh oxygen to enter the grill, which aids combustion and raises temperatures. Equally, you may find you prefer to roast with the lid on, or to grill more actively with the lid off. Some manufacturers will even specify the optimum vent positions for different temperatures. It's best to experiment with your grill to find the cooking style you prefer.
Are charcoal grills expensive to run?
The short answer is no. The main expenditure, besides your grill and food, is your charcoal fuel. Charcoal prices vary by location and time of year, but on the whole, charcoal tends to be very affordable. If you are in any doubt, we recommend you check the prices near you.
Is grilling with charcoal better than gas?
There are pros and cons to both charcoal and gas grilling. For flavor, many people believe that charcoal produces better results. Gas is easier to use, though – you just turn a knob and the flame is automatically regulated. With charcoal, you have to start a fire and then adjust the heat. Of course, one way around this dilemma is to buy a gas charcoal combo grill, which would give you both options.
References
The Delightful Goodness of Japanese Yakiniku: YABAI – The Modern, Vibrant Face of Japan. (n.d.). Retrieved from http://yabai.com/p/2199
Charcoal vs. Propane Gas Grill: Which Is Better According to a Bon Vivant. (2018, May 08). Retrieved from https://www.americanpropanegas.com/blog/2018/5/8/charcoal-vs-propane-gas-grill-which-is-better-according-to-a-bon-vivant
Harmon, K. (2020, May 20). Battle of the BBQ: Charcoal vs. Gas Grill. Retrieved from https://www.familyhandyman.com/article/charcoal-grill-vs-gas-grill/
Raichlen, S. (2014, September 18). A Guide to Charcoal Water Smokers. Retrieved from https://barbecuebible.com/2014/09/09/guide-charcoal-water-smokers/
Raichlen, S. (2014, September 24). Essential Pros, Cons, And Tips For Hibachi-Style Tabletop Grilling. Retrieved from https://www.huffpost.com/entry/pros-cons-and-tips-for-hi_b_5620286?guce_referrer=aHR0cHM6Ly93d3cuZ29vZ2xlLmNvbS8
WHAT IS A KAMADO GRILL? (n.d.). Retrieved from
H. (2017, September 14). Enjoy the Art of Japanese Table Grill with a Traditional Shichirin… Retrieved from https://carryitlikeharry.com/enjoy-art-japanese-table-grill-traditional-shichirin-hida-konro-七輪飛騨こんろ/
The History Of Weber: Official Weber® Website. (n.d.). Retrieved from https://www.weber.com/GB/en/company/the-history-of-weber/weber-48979.html