The Best Chef's Knife Under $100: Buyer's Guide and Top 10 Reviews
The chef's knife is the most important tool you'll take with you into the kitchen, so this is likely your most important purchase as a chef. Kitchen knives can look the same on the outside, but they're not. We're here to help you sort the sharp from the pointless. Our buyer's guide will explain all the little differences that set a low-quality knife apart from the best and we've also reviewed some of the best knives available. If you're looking for the best chef's knife under $100, you've come to the right place.
Top Pick – GLOBAL 8″ Chef's Knife
Best Budget Pick – Rada Cutlery French Chef Knife
Best Value for Money – Kai Wasabi Black Chef's Knife
Best 6-inch Chef's Knife – Wüsthof Classic Cook's Knife
Best Gift Chef's Knife – MOSFiATA 8″ Professional Chef's Knife
Buyer's guide – So what makes a good knife?
There really is a lot to learn about kitchen knives, so let's get started. The key to finding a good knife is in understanding the processes that go into producing it, and how they can improve or hinder a knife's strength, sharpness, balance, and longevity. Once you find a knife with all the right qualities, you'll find yourself enjoying your time in the kitchen much more.
Isn't the best knife just the knife that's the sharpest?
Sharpness is of course important, but there are several other factors at play that will make your knife do its job effectively. The sharpness of your knife fresh out of the box, also known as the factory sharpness or stock sharpness, can be a good measure of the overall quality of your knife. A knife that lacks factory sharpness isn't useless, however, as long as you know how to use the best knife sharpening stones. You should sharpen your knives periodically anyway, to maintain their edge, and practicing this process on a brand new knife will do no harm.
The other factors you should be considering are balance, toughness, style, weight, comfort, and aesthetics. We'll cover these factors in the rest of this buyer's guide.
What actually is a chef's knife?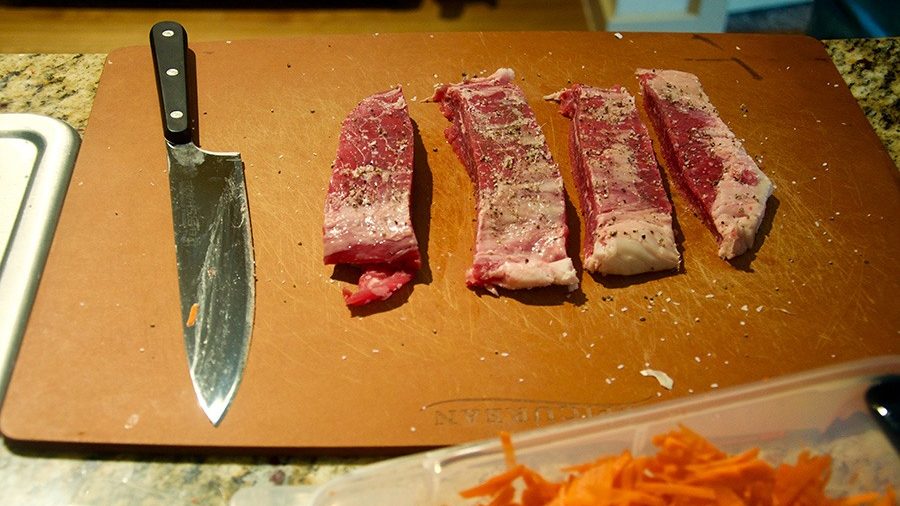 The two main schools of knives
Knives are still guided by the knowledge preserved by tradition. Several countries have their own tradition of kitchen knives, but the most influential schools today are Japanese and German cooking knives.
There are two common types of Japanese chef's knives, known as Gyuto and Santoku, tend to follow a lightweight philosophy.(1) A thinner blade, combined with a smaller or absent bolster (see below), makes the best Japanese knives very light in the hand. They also tend to use harder steel, which will need sharpening less often, but will also be more brittle, meaning they are more likely to chip if dropped, for example. Japanese knives also tend to use a 15-16 degree edge to their blade, shallower than German knives.
German chef's knives tend to be heavier, using a full bolster and tang (see below) to facilitate a heavier, but balanced, cutting action. The softer German steel will need sharpening more often, but in some ways, it's stronger, as it is less brittle and less likely to snap. German knives will need sharpening in a different way to Japanese knives, as they typically use a 20-degree blade angle.
Preference is, as in many things in life, largely personal. Some prefer the lightweight, precise handling of a Japanese style knife. Others prefer the heavy, reliable feel of a balanced German knife. And you may even notice that some manufacturers offer knives that combine traits from each style, producing a hybrid style knife.
Bolsters and tangs – what are they, and what do they do?
A knife's bolster sits at the bridge between the steel blade and the handle.(2) Some knives use no bolster, merging from blade to handle with no metal junction. Others use a small bolster, with the metal swelling up before meeting the handle. And some knives, typically from German brands, use a full bolster, which acts as a finger guard covering off the end of the blade.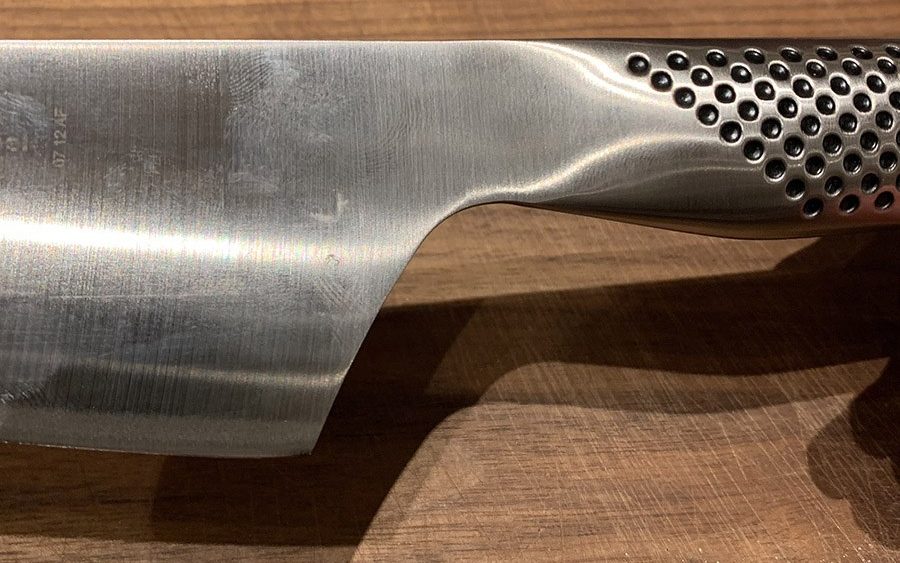 Bolsters add weight, making a knife heavier. This isn't necessarily undesirable, as some prefer a heavier cut. It can help balance a knife, producing less strain on the wrist. A bolster also makes many knives easier to sharpen, as it stops the blade at the end, keeping your fingers safe.
The tang of a blade is the part that extends into the handle. As with a bolster, this can add weight and affect balance. Typically a full tang, extending all the way to the end of the handle, was a sign of knife strength, but with modern knives and advances in quality, there's no real risk of a failure here, so there's no massive need to worry about that. Many still prefer the comfort of knowing they have a full tang blade though, and it can be a display of fine craftsmanship.
What type of steel is best?
Steel is available in thousands of different grades and alloys. Some types of steel are more common than others in kitchen knives, though. High carbon steel alloys are preferred by kitchen knife manufacturers, for example, as they provide knives with extra strength.(3)
You shouldn't only consider the grade of steel, however. The process by which it is constructed is also significant. Steel working can be a complicated process, but there are two main ways to produce a kitchen knife: stamping and forging.
Forged knives, although more expensive than stamped knives, tend to be stronger. Forged knives are produced from a single piece of steel, which is heat-treated and hammered to produce a very strong end product.
Stamped knives instead are cut from steel, just as you cut a cookie out from the dough. These can be perfectly capable, although many prefer forged knives for their strength.(4)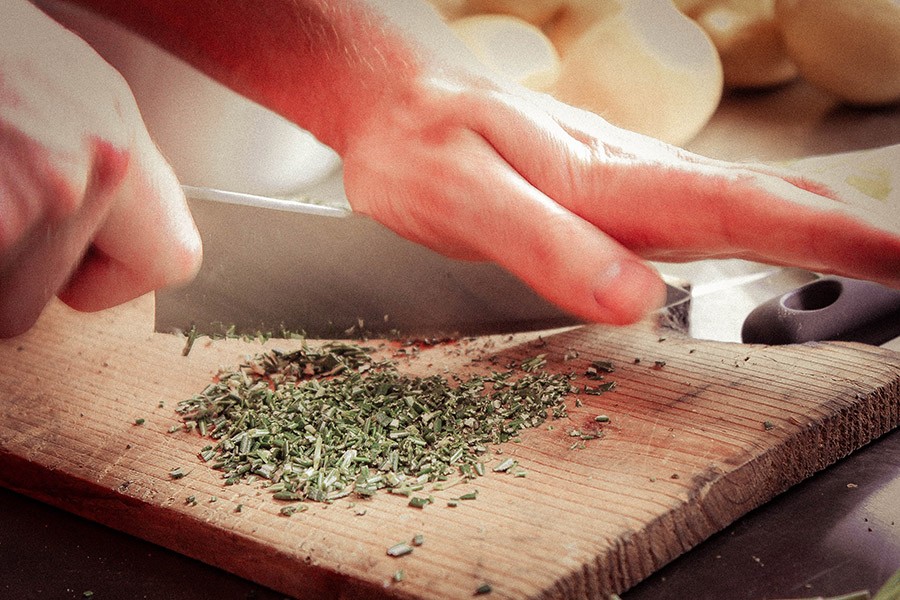 The best chef's knives under $100 (2022)
We've sorted the 10 best chef's knives under $100 into different award categories so that you can find the knife that suits you.
Blade size: 8 inch
Weight: 7.8 oz
Bolster and tang: No bolster, full tang
Material: Stainless steel
GLOBAL has experimented with the traditional form of a chef's knife here. In fact, you could say it has a cutting-edge design. The steel blade seamlessly fuses into the steel handle, creating a sleek, ergonomic handle. The grip is provided by the dimpled texture over the handle, giving you firm control over your knife.
GLOBAL has used its Chromova 18 stainless steel alloy to give this knife a strong edge. They keep the exact mixture used in the alloy as a trade secret, but whatever they are using, it's working. The blade provides a sharp, effortless cut through even thicker foods like melon while retaining its sharp edge excellently. A Rockwell hardness rating of 56-58 testifies to the quality of this construction.
The knife provides excellent balance in the hand, ensuring your wrist isn't likely to feel strained by repeated use. We are also happy to see the knife feature a lifetime warranty, covering any defects or breakages – it's a good show of GLOBAL's faith in their craftsmanship.
Despite the unconventional handle, this knife is very comfortable in the hand and has excellent sharpness. We recommend this best overall chef's knife under $100 to the serious chef who wants a comfortable, well-balanced cooking knife that will last a lifetime.
Blade size: 8 1/2 inch
Weight: 5.6 oz
Bolster and tang: No bolster, short tang
Material: High carbon T420 stainless steel
Rada's simple chef knife gives you a simple, sharp blade at a great price. This knife follows the French tradition. The key difference between French and German chef's knives is the shape – French knives traditionally use a straighter line along the rear of the knife, and tail upwards at the tip. The difference between these styles is minimal, and your preference is likely to be personal.
At 8 ½ inches, this knife is slightly larger than the standard 8-inch chef's knife, allowing for the unique curved tip. This curved tip allows you to make quick, precise cuts into even the smallest vegetable pieces. The large surface area along the side of the knife is ideal for crushing garlic, too.
The metal used is a high carbon stainless steel, granting excellent rust resistance and sharpness. The knives themselves are hand-sharpened, giving an excellent, effortless cut through even the densest vegetables and foods. And a lifetime warranty gives reassurance that this blade should keep on chopping for as long as you can.
This knife offers a lot of quality for its great value price. It's a great option for any chef to speed up their kitchen prep times, allowing you to spend more time enjoying good food with your family.
Blade size: 8 inch
Weight: 5.1 oz
Bolster and tang: No bolster, short tang
Material: High carbon forged steel
As a contrast to our top pick, this Kai Wasabi knife follows a lightweight design philosophy. In keeping with the Japanese kitchen blade tradition, this knife focuses on sharpness and low weight to provide a clean, effortless cut.
In order to provide this lightweight handling, this knife doesn't feature a bolster and has a shortened tang. This affects the balance of the knife, but not necessarily in a negative way – it's all about preference. Some chefs will prefer the forward balance of a knife such as this, which leans towards your food. Others may prefer the heftier, but less nimble, feel of a German-style knife.
High-carbon Japanese steel should give this knife extra strength and an edge that will keep its sharpness for longer than a German steel knife. Bear in mind, however, that Japanese stainless steel's strength also makes it more brittle – you will want to treat this knife with the care it deserves.
The knife is completed with a synthetic polypropylene handle, providing strength and comfortable, lightweight handling. And the durability of this knife is backed up by a limited lifetime warranty, too. Kai Wasabi's chef knife is a great pick to serve as an all-round kitchen knife, making your prep work a breeze, without chopping up your wallet in the process.
Blade size: 6 inch
Weight: 6.4 oz
Bolster and tang: Full bolster, full tang
Material: High carbon stainless steel
We had to find a way to include a Wüsthof knife on this list. As one of the most respected knife manufacturers, they produce very high-quality products, but their name also tends to carry a hefty price tag. As a compromise, we've included this excellent 6-inch Wüsthof chef's knife, which gives you all the quality Wüsthof is renowned for, in a safe, compact design. The only caveat here is that we can't guarantee that at the time of your purchase that the price will be under $100.
The smaller size and full bolster make this knife great for beginners. A shorter overall length makes it well balanced in the hand, and easy to maneuver. And the full tang improves this balance further, while the bolster protects your fingers from sliding into the edge of the blade.
The knife-edge is factory sharpened using Wüsthof's renowned PETec system (precision edge technology), which uses lasers to ensure the edge of every knife is sharpened to an extreme degree. The steel itself is forged, as opposed to stamped, which gives improved strength to the blade.
"Wüsthof blades are made from a single piece of chromium-molybdenum-vanadium steel and are very sharp due to a laser-controlled sharpening process called PEtec. It takes 40 different processes to make a Wüsthof forged knife from start to finish. And while much of the process is automated, there are still 300 workers in two separate factories who ensure that every knife is absolutely perfect."

Julia Platt Leonard, The Independent (5)
As with any Wüsthof knife, you can be sure that you're getting a quality product. This 6-inch knife showcases the versatility of a smaller design, offering lightweight handling and precision cuts for the chef who wants an easy-to-use blade.
Blade size: 8 inch
Weight: 11.2 oz
Bolster and tang: Short bolster, full tang
Material: 4116 stainless German steel
This beautifully crafted professional chef's knife is a great gift to complement any budding chef's arsenal. With this MOSFiATA blade, you get more than just the knife. MOSFiATA presents its knife in a beautifully trimmed gift box, complete with a finger guard, knife guard, and sharpener. This gives the recipient of this blade everything they need to use their knife safely and effectively.
We like the inclusion of a sharpener with this gift set, which will teach a beginner chef to look after his blade. There's also a tremendous focus on the presentation of this product. The blade itself is decorated with a beautiful imitation of Damascus steel, though it should be noted that this is not the real thing. Instead, it is etched on, but this is forgivable, since true Damascus steel is difficult and expensive to produce, making it rare at this price point.
The sturdy micarta handle gives you a great ergonomic grip on the knife, and the full tang provides a beginner-friendly balance to the blade. The super sharp edge to this blade should easily break through your vegetables, without breaking the bank. Whether it's a gift for a loved one, a sibling, a friend, or indeed yourself, this beautiful MOSFiATA knife gift set is sure to impress.
Blade size: 7.9 inch
Weight: 7.5 oz
Bolster and tang: No bolster, short tang
Material: Stainless steel
Victorinox, best known for producing their world-famous Swiss army knives, have used their knowledge from making utility knives to design equally high-quality kitchen knives.
In keeping with the compact philosophy of the Swiss army knife, the Victorinox Fibrox Pro knife is a remarkably lightweight design. You'll notice this in the hand – it is light, easy to maneuver, and precise. The TPE (thermoplastic elastomer) ergonomic handle sits well in the palm and makes the blade easy to guide. The extra-wide blade design helps this balance too, making it easy to guide the blade through vegetables and food.
As you would expect from Victorinox, the blade is extra sharp. It's ideal for carving through big cuts of meat effortlessly. The curved blade will rock along your chopping board too, making tasks such as dicing feel effortless. The lightweight design doesn't lend itself to all tasks, however. You may find that when crushing garlic, for example, the blade can flex, making this task more difficult. You'd be best using another knife in your kitchen for this, just to stay on the safe side.
The Victorinox Fibrox Pro knife offers a remarkably simple design. It's lightweight, sleek, and sharp. What more could a beginner need from a kitchen knife?
Blade size: 8 inch
Weight: 7.9 oz
Bolster and tang: Short bolster, full tang
Material: 4116 German 5Cr15Mov forged stainless steel
This PAUDIN chef's knife is the perfect workhorse for your kitchen, which can compete among the best. Despite the excellent price, PAUDIN has used some great craftsmanship on this blade, using high-end techniques to create a high-performance blade.
The steel used in this blade is a 4116-grade German stainless steel. The alloy composition is known as 5Cr15Mov, a popular choice for kitchen knives due to its excellent stain resistance.(6) The full tang gives the blade an excellent balance, and the short bolster makes cleaning easier by preventing any food debris from being trapped between the blade and the handle.
"4116 is fine-grained, stainless steel made by ThyssenKrupp in Germany… The balance of carbon and chromium content give it a high degree of corrosion resistance and also impressive physical characteristics of strength and edge holding. Edge retention in actual cutting tests exceeded blades made of the 420 and 440 series of stainless steels."

Knife Center (7)
The handle itself is a stylish wooden design, which complements the imitation Damascus steel effect on the blade. However, while it is very comfortable, it won't give you the grip of a synthetic handle, so be careful that you maintain a firm hold on the handle. Overall, this is a great chef's knife, which will help your cooking prep become a joy.
Blade size: 8 inch
Weight: 11.6 oz
Bolster and tang: Short bolster, triple-riveted full tang
Material: VG10 steel core, 64 layer folded Damascus steel
Allwin has used some incredible craftsmanship to produce this blade. It's Damascus steel-like finish produces a beautifully layered patterning on the blade, which not only looks good but also enhances the knife's performance.
"Compared to stainless steel, a standard knife blade material, Damascus steel holds its edge longer and is harder to break"

Vegas Forge (8)
Each side of the blade uses 32 layers of steel to create this beautiful Damascus pattern. These 32 layers are composed of 17 layers of soft steel, and 16 hard, giving the blade excellent resistance. Indeed, the blade scores 62 on the Rockwell hardness test, which is a very strong score.
"Any value ranging in the mid-50s and above on the Rockwell C scale is considered hard" York Saw & Knife (9)
This strength is not only achieved by these layers of steel, but also by the metal at the heart of the blade. Allwin Houseware has used a VG10 steel core, a legendary Japanese steel grade.
"VG-10 stands for V Gold 10, a truly fitting designation for what is widely recognized as the gold standard of superior-quality clad stainless steel."

Brett Wilkins, Digital Journal (9)
You should bear in mind that Damascus knives have to be stored carefully to prevent rust – make sure you keep it dry when not in use, for example. But if you care well for this knife, it will take care of your cooking prep with ease. It's a great choice for the chef who wants his tools to look as good as his food. And with an included gift box, it makes a great present for any loved ones, too.
Blade size: 8 inch
Weight: 8.8 oz
Bolster and tang: Short bolster and full tang
Material: High carbon forged steel
Mercer's Culinary Genesis knife is a great all-round performer. This German-style knife is a tool that should serve you well in the kitchen for years to come.
As a German-style knife, this tool has a thick blade, with durable steel. The metal used is high carbon steel, forged in Germany, to give great durability and precision. Chromium, alloyed within the steel, makes it easy to clean and stain-resistant, too. And if you're still worried about any quality issues, the durability of this blade is backed up by a limited lifetime warranty, giving you peace of mind with your purchase.
Mercer has forged this knife with a short bolster, giving the blade improved balance in the hand without restricting your cutting style with a more intrusive full bolster. A full tang improves this balance further, and theoretically grants the knife better strength, although you shouldn't be cutting anything hard enough to break it anyway. The handling is topped off with a comfortable Santoprene handle, which is a high-performance rubber-like material. A synthetic handle should last longer than traditional materials such as wood, ensuring that this knife is a product your children might even see use with.
Mercer's Culinary Genesis 8-inch knife is a great, balanced kitchen knife, with excellent sharpness even from the factory.
Blade size: 8 inch
Weight: 13.8 oz
Bolster and tang: No bolster, full tang
Material: Damascus VG-10 Stainless Steel
This stunning chef's knife with genuine Damascus steel is sure to impress any guests at a dinner party. Despite the excellent price, WEKIT has used some of the finest metalworking practices and materials to produce this knife.
The core of this blade is Japanese VG10 steel – the "gold standard" of Japanese steel.(10) This provides the blade with ample strength, as testified by an impressive score of 62+ on the Rockwell hardness test. As opposed to cheaper stamped designs, this blade is forged, which typically aids blade strength.
"Its ability to hold an exceptionally sharp edge and withstand oxidation have made VG-10 a top choice among knife enthusiasts"

Brett Wilkins, Digital Journal (10)
The beautiful exterior to the blade is achieved by carefully layering 66 coats of high-carbon stainless steel, producing high-quality Damascus steel. And the elegant handle is made of G10, a strong synthetic material that sees use in applications where a strong grip is essential, such as on handguns.(11)
It's not all aesthetics with this knife. The stock sharpness on the edge of this knife is excellent, allowing you to glide through your meat and vegetables. This might be one of the more expensive knives in this roundup, but it has the specifications to justify it. It would make a great addition to any chef's kitchen, or indeed a beautiful gift for a friend.
The Final Verdict
Despite some stiff competition, our top pick was the GLOBAL 8″ Chef's Knife. The GLOBAL is a great all-rounder, providing a sharp blade, tough steel, and excellent handling. It doesn't have the flashy aesthetics of some of the other knives on our roundup, but what it does have is a sleek exterior, and strong, reliable performance. It's a great pick for both beginner and expert chefs.
Top Pick – Global 8″ Chef's Knife
FAQs
Can I put my knife in a dishwasher?
Dishwashing a chef's knife is not recommended, as it can actually damage the blade's edge. However, manufacturers are aware that many still prefer the convenience of a dishwasher. Many will state that their handles are dishwasher friendly to help these users. If you are going to put your knife in the dishwasher (as opposed to hand washing), make sure to dry it quickly afterward to prevent rust. You may find that German knives, or other knives with softer steel, are more resistant to dishwashing damage, as they are less brittle, but we can't make any guarantees when it comes to dishwashing.
How do I care for my knife?
As stated above, avoid using a dishwasher to clean your knife, and instead hand wash carefully to avoid damage. When storing your knife, ensure it is dry to avoid rust. You should also know that chopping boards aren't used to keep your countertop clean. They actually exist to avoid blunting your knife's edge on hard surfaces. As such, don't ever use a marble chopping board with your finest knives, as this could chip the blade's edge.
What do I do if my knife doesn't cut as well as it did when it was new?
This is normal, so don't worry. Even the finest knives will need periodic sharpening, to maintain their edge. There are multiple ways to do this. Whetstones will provide the best edge, although their use requires some skill. You can also use handheld sharpeners, which will keep your blade at the right angle automatically, making sharpening easier. Before sharpening your chef's knife, make sure you check the angle your blade needs to be sharpened to, as it can vary by manufacturer.
What are the 3 most common kitchen knives?
There are countless kitchen knives on the market, but the three most common knives are probably the chef's knife, paring knife, and serrated knife. Chef's knives come in a variety of sizes, but they're all designed to cut through meat, poultry, and fish with ease. Paring knives are small and typically used for peeling fruit or vegetables. Serrated knives have a toothed blade that can be used to cut through bread, tomatoes, and other foods with a soft exterior and a hard interior.
References
Campbell, G. (2019, December 17). What's the Difference Between German and Japanese Knives? Retrieved from https://www.thekitchn.com/whats-the-difference-between-german-and-japanese-knives-234598
Mifflin, M. (n.d.). What Is a Culinary Knife Bolster? Retrieved from https://www.thespruceeats.com/bolster-cutlery-knife-bolster-1907619
Steel types for kitchen knives. (2017, October 31). Retrieved from https://www.knivesandtools.co.uk/en/ct/steel-types-for-kitchen-knives.htm
Forged vs. Stamped Kitchen Knives Comparison Guide and Differences. (2018, February 18). Retrieved from
Leonard, J. P. (2017, May 26). How the 'city of blades' came to make the wusthof kitchen knives. Retrieved from https://www.independent.co.uk/life-style/food-and-drink/wusthof-knives-kitchenware-kitchen-knives-a7754976.html
GB 5Cr15MoV Knife SteelComposition Analysis Graph, Equivalents And Overview. (n.d.). Retrieved from http://zknives.com/knives/steels/5cr15mov.shtml
Knife Blade Materials. (n.d.). Retrieved from
Harber, J. (2018, October 22). The Beauty of Stainless Damascus · Vegas Forge. Retrieved from https://vegasforge.com/general/beauty-stainless-damascus/
Rockwell Hardness Guide: What it is, How to Measure, & More. (2019, September 25). Retrieved from https://www.yorksaw.com/rockwell-hardness/
Wilkins, B. (2015, April 02). VG-10: The gold standard of Japanese stainless steel (Includes interview and first-hand account). Retrieved from http://www.digitaljournal.com/business/business/vg-10-the-gold-standard-of-japanese-stainless-steel/article/429773
Connelley, L. (1970, January 01). Use of G10 Material for Knife Handles – Handles, Grips, Scales & More. Retrieved from https://www.knifeart.com/g10-knife-handle-material.html