German Perfection: Buyer's Guide and Reviews for the Best Wüsthof Knives
Wüsthof knives have gained a worldwide reputation for quality. Thanks to over two centuries worth of experience, the Wüsthof range has grown to hundreds of different products, which can make it hard to choose. We've reviewed some of the best Wüsthof knives in our roundup below. Also, to help you choose the best knives for your kitchen, we've produced a Wüsthof knives buyer's guide to help explain what makes them so special.
Best Overall Knives – Wüsthof Classic Series
Best Budget Knives – Wüsthof Gourmet Series
Best Value for Money Knives – Wüsthof IKON Series
Best Craftsmanship – Wüsthof Epicure Series
Best Knife – Wüsthof Classic 8 Inch Chef's Knife
Buyer's Guide – What makes Wüsthof knives special?
Wüsthof knives have earned their reputation for world-class quality through decades of faultless craftsmanship. To understand how they have achieved this, and what features you'll need in your Wüsthof knife, check out our buyer's guide below.
Old traditions, new technology
Wüsthof was founded in 1814 – to put that in perspective, this was when the Napoleonic wars were still in effect. Wüsthof soon expanded from a basement operation to a fully fledged factory, but throughout its history it has remained as a family business.(1)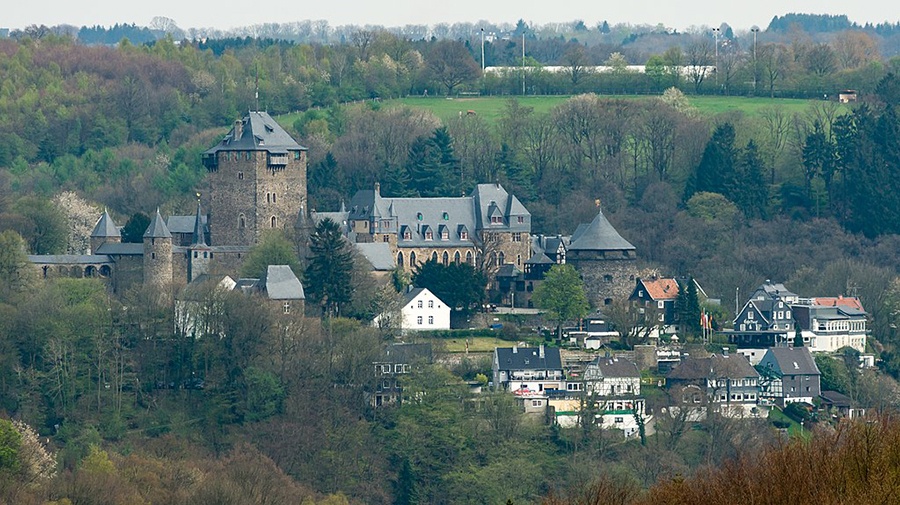 Wüsthof has also remained in one place since its inception – Solingen, the 'city of blades'. Evidence of blacksmiths' smelters has been found in Solingen dating back over 2,000 years, and today it is home to brands such as Wüsthof, Zwilling JA Henkels and Marsvogel.(2)
Wüsthof has not survived so long just by standing still. While old blade-crafting traditions are still respected, modern technologies and processes are used to ensure Wüsthof knives stay one step ahead of the competition.
One such technology is their patented PETec technique. PETec stands for Precision Edge Technology, and it is a process whereby lasers are used to sharpen a blade to perfection. Lasers measure the exact shape of the blade's edge, allowing the angle of sharpeners to be automatically adjusted before sharpening.(3) This ensures that blades can be sharpened to an incredible level of precision, and also ensures that no blade leaves their Solingen facility without a razor sharp edge. In fact, the efficiacy of PETec was reviewed by the independent research group FGW (Forschungsgemeinschaft Werkzeuge und Werkstoffe, a German research group focused on tools and materials), which supported the technique.(4) To learn more about knife technology check out our kitchen knife guide.
Knife jargon explained – Bolsters? Tangs?
Knives are often differentiated by their construction. Different design choices can affect comfort, balance and strength.
Bolsters are the part of the blade where the metal of the blade swells to meet the handle. A full bolster covers the end of the blade, acting as a fingerguard, while a half bolster does not. As well as acting as finger guards, bolsters can provide comfort for a forward grip on the blade, and importantly they can help balance a blade. However, knives without bolsters will be lighter.
A knife's tang is the part of metal that extends from the blade into and underneath the handle. This provides strength and rigidity to a blade.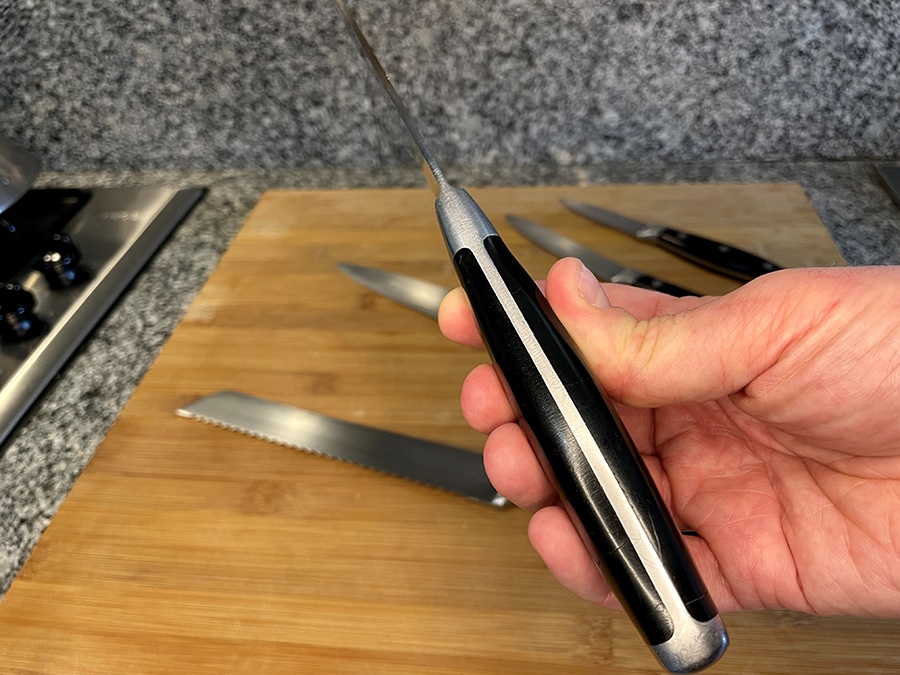 A hollow edged blade uses indented scallops in a blade to help prevent food from sticking to your knife. These scallops hold air pockets, which reduce food adhesion and friction, providing you with an easier and lighter cut.
We should also talk about the steel Wüsthof uses. Wüsthof steel is renowned for its quality. Their German stainless steel is typically honed to a Rockwell hardness of 58, which is a very respectable score.
"A high Rockwell C rating means the tested steel is high-strength. Any value ranging in the mid-50s and above on the Rockwell C scale is considered hard" -York Saw & Knife(5)
As for specific types of knife, we'll explain their uses in the reviews below. Wüsthof have provided a video guide on how to best cut and chop with different types of Wüsthof knife, which you can watch below.
The best Wüsthof knives
We've chosen a selection of the best Wüsthof knives to showcase their incredible craftsmanship. We'll cover four of their main knife series, giving mini reviews of some of the knives these series offer. Check out what knives we've chosen, and what awards we gave them, below.
Wüsthof Classic Series Knives – Best Knives Overall
The Wüsthof Classic series showcases the design principles that made Wüsthof famous. Classic series knives are fully forged from a single piece of stainless steel, with a full bolster and tang.
The full bolster on these knives acts as a finger guard, protecting your fingers from the sharp end of the blade. This lets you cut with confidence. It also improves the balance of the blade, acting as a counterweight to the blade. The other factor improving balance is the full tang, which adds strength and pulls the balance rearward, into the handle of the blade, putting the control of your knife firmly in your wrist.
Above this tang is a Polyoxymethylene (POM) handle, which provides excellent strength and comfort. As for the metal itself, Wüsthof use German X50CrMoV15 steel, a steel which possesses excellent stain and corrosion resistance thanks to its high chromium content. Classic series knives are great performers, with a hefty cut, superior strength and quality craftsmanship.
● Knife type: Chef's knife
● Knife length: 8-inch
The most important knife for any kitchen has to be the chef's knife. These substantial knives are excellent workhorses for any kitchen, performing as great all-rounders. The Wüsthof Classic chef's knife is a perfect example of everything that's good about the Wüsthof Classic series.
The Wüsthof PETec technique, as explained in our buyer's guide, ensures that this knife has an incredibly sharp edge straight out of the box. We also like the hefty cut this knife delivers, thanks to its substantial construction. It's a great chef's knife pick for any kitchen.
● Knife type: Utility knife
● Knife length: 6-inch
Utility knives are great for those in-between tasks, where a chef's knife proves too cumbersome, and a paring knife too small. This too is where this Wüsthof knife excels.
The fully forged construction lets you cut with confidence, leaning on the blade when you desire to. Moreover, despite the smaller size of this knife, Wüsthof has still used a triple-riveted handle, demonstrating their commitment against compromise.
● Knife type: Paring knife
● Knife length: 3 1/2-inch
Going one step smaller is the Wüsthof paring knife. At only 3 1/2 inches, this knife is ideal for kitchen tasks that require the daintiest precision, such as peeling fruits or de-veining shrimps.
You'll appreciate the premium features, such as a full bolster, when working this close to your food, as it helps to keep your fingers safe from that sharp edge. It's a great knife to reach for when your larger knives feel too cumbersome.
Wüsthof Classic IKON Series Knives – Best Value Knife Series
The main alternative to the Wüsthof Classic series is from the largely similar Classic IKON series. The key difference between the Classic and Classic IKON series is in the handle and bolster.
Instead of using a full bolster, the Classic IKON uses a shorter half bolster, making these lighter knives. The handle is also re-profiled, using a smooth, ergonomic curve. This results in a lighter, more manoeuvrable knife, with a comfortable hold.
The steel is the same grade that is used in the Classic knife series: German X50CrMoV15 steel, tempered to a Rockwell hardness of 58. The handle too uses the dense synthetic material Polyoxymethylene, which provides a tough, easy to clean handle.
Classic IKON knives are a great alternative to the Classic series for the chef who wants a lighter knife with a more stylish, curved hold.
● Knife type: Chef's knife
● Knife length: 8-inch
This Classic IKON chef's knife makes it easy for us to compare the differences between this series and the Classic series.
This Classic IKON knife's sleek, curved handle makes a striking aesthetic difference to the Classic chef's knife. It provides the knife with a modern style, making it stand out from the other knives in a kitchen.
The half bolster is crafted in order to create an ergonomic profile, perfect for forward grips on your blade. Combined with the same premium craftsmanship used in the Classic series, and a full tang, this is a very competent chef's knife.
● Knife type: Serrated utility knife
● Knife length: 5-inch
Serrated utility knives are perfect when you need a quick and simple way to cut your food. They are also extremely versatile – they are great for cutting soft foods, such as sandwiches, which might get crushed by a straight edged knife.
This Classic IKON knife uses the Wüsthof PETec technique to provide the blade with a super sharp edge. Serrated knives tend to perform for longer between each sharpening however, making this a great dependable knife for the low-maintenance chef.
● Knife type: Serrated utility knife
● Knife length: 2 3/4-inch
This unique paring knife showcases the diversity available within the expansive range of Wüsthof knives. This paring knife uses a smaller design to the Classic series paring knife we showcased, making it perfect for smaller tasks where the utmost precision is required.
The curved blade matches the sleek contours of the handle, giving this knife a refined look. And the fully forged, full tang construction gives you a great feeling of control when handling this blade. It's a great knife for the chef who wants unparalleled precision for smaller peeling work.
Wüsthof Gourmet Series Knives – Best Budget Knife Series
The Wüsthof Gourmet series provides a great way to get your hands on quality Wüsthof knives, without spending a fortune. These knives make some compromises in their construction in order to remain affordable, but their overall performance is excellent regardless.
The key difference between gourmet series knives and the other knives featured here is that they use a stamped design. Stamped knives are generally considered to be lower quality compared to forged knives, but when made by a respected manufacturer such as Wüsthof, they can reach a similar level of quality, making these perfectly capable knives.
Stamped knives are usually lighter, and that includes these knives. This makes them great for the chef who isn't a fan of the heavier feel of Wüsthof classic knives, for example. They also lack a bolster, which makes them lighter still. A finger guard is included as part of the handle, however.
These knives still get the Wüsthof PETec treatment, still use a full tang, and still feature a triple-rivet POM handle. They offer great quality, at great value.
● Knife type: Santoku knife
● Knife length: 7-inch
The lightweight handling of the gourmet series is perfectly suited to santoku knives. Japanese knives, such as the santoku, traditionally are built around a lightweight philosophy, prioritising the handling that comes with a light knife. This Wüsthof gourmet santoku knife provides that nimble feel that is associated with Japanese knives, allowing you make deft cuts like a pro.
This 7-inch santoku features a hollow edge – the blade has scallops in its surface, which help to prevent thin slices of food from sticking to your blade by introducing air pockets. Wüsthof have also equipped this blade with a shallow 10-degree edge, in keeping with Japanese blade tradition. Japanese knives typically use a shallower edge angle compared to Western blades, which can provide an extra-sharp cut.
Wüsthof have also combined this knife with features from the German knife crafting tradition however – it features a full tang, which gives you superior balance, as well as German steel and a riveted handle. We love the hybrid of German and Japanese qualities in this blade. It's a great pick for the chef who wants a dependable santoku.
● Knife type: Bread knife
● Knife length: 8-inch
Bread knives use a long, serrated blade to let you cut through soft bread without crushing it. Sharp knives can easily crush soft bread before they slice it, which is why we always use serrated knives for bread. This Wüsthof gourmet bread knife gives you a simple, manoeuvrable knife for cutting through your loaves of freshly baked bread without tearing its delicate insides.
With a Wüsthof gourmet knife, you can be sure that you're getting a knife with an extra sharp edge and quality construction. And thanks to the value afforded by the gourmet series, it won't cost you too much either.
● Knife type: Boning knife
● Knife length: 5-inch
Boning knives use a narrow blade with a narrow point to deftly remove the bones from poultry, meat and fish. The lightweight Wüsthof gourmet boning knife gives you the precision you need to remove bones carefully, without damaging the texture of your meat with unnecessary cuts.
Strong German steel lets you cut with confidence, knowing that your knife will keep up with the commands your wrist issues it. And the Wüsthof PETec sharpening process ensures this knife can cut through your meat with ease. It's a great choice for a boning knife.
Wüsthof Epicure Series Knives – Best craftsmanship
The Wüsthof Epicure offers a uniquely styled Wüsthof experience. These knives depart from the synthetic handles used by all of the other knives reviewed here, instead using a fibre composite to replicate the look, texture and feel of a wooden handle. By using sustainable smoked oak fibres instead of untreated wood the Epicure series remains easy to clean, as the densely packed fibres resist any food debris or juices from entering the handle.
Like many of the other knives featured here, Epicure knives feature a brass-riveted handle and a full tang, giving these knives a reliable stability. The knives also use full bolsters, providing a finger guard and excellent balance, and a fully forged design. This is where the similarities end however, as the Epicure knives are home to several unique design choices.
You'll notice that many Epicure knives have unique profiles compared to the other Wüsthof knives featured here. With the Epicure series, Wüsthof took inspiration from Asian kitchen knife traditions, providing these knives with straighter, wider blades. These knives also feature a translucent ceramic coating on the blades, which increases hardness without compromising the quality of the steel. By combining the straight edges and natural fibers of Japanese knives with German steel and Wüsthof PETec sharpness, Wüsthof has created a decisive, dependable knife series that emerges as something new entirely.
● Knife type: Serrated utility knife
● Knife length: 8-inch
The Wüsthof Epicure Chef's knife is a great demonstration of everything that makes the Epicure series special. This large, well-balanced chef's knife is great at chopping, dicing, and allowing you to take control in your kitchen.
The knife arrives displayed in a stylish gift box, making this a great present to gift. Once you pick up the knife, you're sure to be impressed by the natural feel of the fiber handle, and the perfect balance of the knife. It's a knife you can pick up and chop well with straight away, without needing time to adjust to its feel.
This Epicure Chef's knife is a great, stylish alternative to the other chef's knives offered by Wüsthof. It's a knife we'd recommend that any chef consider.
● Knife type: Santoku knife
● Knife length: 5-inch
The Epicure series' take on the santoku offers a compelling, premium alternative to the Gourmet series santoku knife. With the Epicure Santoku, the blade's profile is expanded, providing a more cleaver-like heft to the knife.
The blade features a hollow edge, with a long line of scoops in the blade introducing air pockets to your cut, helping to prevent food from sticking to the blade. The ergonomically shaped handle lets you cut with comfort too.
This great all-rounder is a solid challenger to the Epicure Chef's knife. If a hybrid of Japanese and German tradition interests you, this is a great pick.
● Knife type: Paring knife
● Knife length: 3.5-inch
The Epicure formula doesn't only excel at larger knives. Epicure's design decisions translate well to smaller knives such as this 3.5-inch paring knife, too.
This versatile knife is great for peeling fruits and vegetables, and deveining shrimp. The large, sculpted bolster lets you cut close to your food with comfort, allowing you to make precise motions with ease. And a razor-sharp edge is always welcome, too. It's a great, versatile, stylish knife.
The Final Verdict
Some things don't change. The best Wüsthof knife has to be their timeless Classic 8-inch Chef's Knife, which cuts just as well as it did when they produced it decades ago. In truth, their design hasn't stood still – modern techniques such as PETec has ensured that this knife is no relic from the past. It's this combination of traditional design and modern technology that makes this knife exceptional. This knife would make a great addition to any chef's kitchen.
Best Knife – Wüsthof Classic 8 Inch Chef's Knife
FAQs
Are Wüsthof knives the best German knives?
Wüsthof, alongside Zwilling J.A. Henckels, are widely revered as one of the two best German knife brands, and indeed these are two of the best knife manufacturers in the world producing top chefs knives for years. When you get to this level of quality, personal preference is the biggest differentiator. Neither of these manufacturers is prone to mistakes, or anything less than the highest quality craftsmanship.
Are harder knives better?
You will often see knives bragging a high hardness rating. Wüsthof knives, for example, tend to have their steel treated to a hardness of 58 on the Rockwell scale. Other knives, especially Japanese knives, will use even harder steel, often in the 60s on the scale. Harder steel will hold a sharp edge for longer without needing sharpening, and can be more rigid with less steel, making a lighter blade. However, hard steel is also brittle. This means that if steel is particularly hard, it will be easy to chip. In extreme cases, this can happen even when chopping against a bone, and could definitely happen if you drop your knife or chop on a hard worktop. As such, softer steel is in some ways stronger, as it is less brittle.
How should I care for Wüsthof knives?
Firstly, we recommend that you hand-wash your kitchen knives instead of cleaning them in a dishwasher. Unfortunately, dishwashers can sometimes chip the edge of a blade. Once your blade is clean, make sure to dry it quickly, and store it dry. While Wüsthof knives are highly rust resistant, exposure to water over long periods can still sometimes cause rust. Lastly, you should make sure that you sharpen your knives regularly to maintain a sharp edge. While these knives in your knife set will be sharp when new, even the best knives lose their sharp edge over time. There are many different tools available for sharpening, from whetstones to automatic sharpeners. It's best to choose the sharpener that matches your budget and skill level, and follow the manufacturer's instructions.
Are Wüsthof knives any good?
Yes, Wüsthof knives are generally considered to be good quality knives. They are made in Germany and are precision-forged from a single piece of high-carbon stainless steel, which gives them their sharpness and durability.
References
(1) Company. (n.d.). Retrieved from https://www.wuesthof.com/en-jp/company/company/
(2) Germany Holidays: Solingen, city of blades. (2020, September 16). Retrieved from https://germanyiswunderbar.com/western-germany/germany-holidays-solingen-city-of-blades/
(3) PEtec – technologie W. (n.d.). Retrieved from https://www.wusthof.cz/PEtec/
(4) Wusthof Petec. (2015, February 18). Retrieved from http://www.wusthofknifesharpener.com/wusthof-petec/
(5) Rockwell Hardness Guide: What it is, How to Measure, & More. (2019, September 25). Retrieved from https://www.yorksaw.com/rockwell-hardness/