Buyer's Guide and Reviews for the Best Japanese Knives 2022
Japanese knives are renowned for their quality. Their lightweight construction, and ornate designs, have enamored western consumers for decades. Moreover, the unique traditions of Japanese blade crafting offer unique benefits and knowledge. Japan has a unique knife heritage complete with specialized knives and the techniques needed to produce them. We'll get into Japan's knife heritage, and show you how to best choose a Japanese knife, in our buyer's guide and reviews below.
Buyer's guide – What makes Japanese knives unique?
Japanese blades are not only visually different. Japan has many of its own types of steel that go into its blades, each with their own unique properties. We're not just talking about the best sushi knives here either or simple fillet knives. The best Japanese knives tend to follow a different philosophy compared to western kitchen knives, prioritizing different qualities. And on top of this, Japanese blades will require a different level of care to typical western knife designs. That is why we think it's important that you know your way around a Japanese knife, and that's why we've created our buyer's guide below.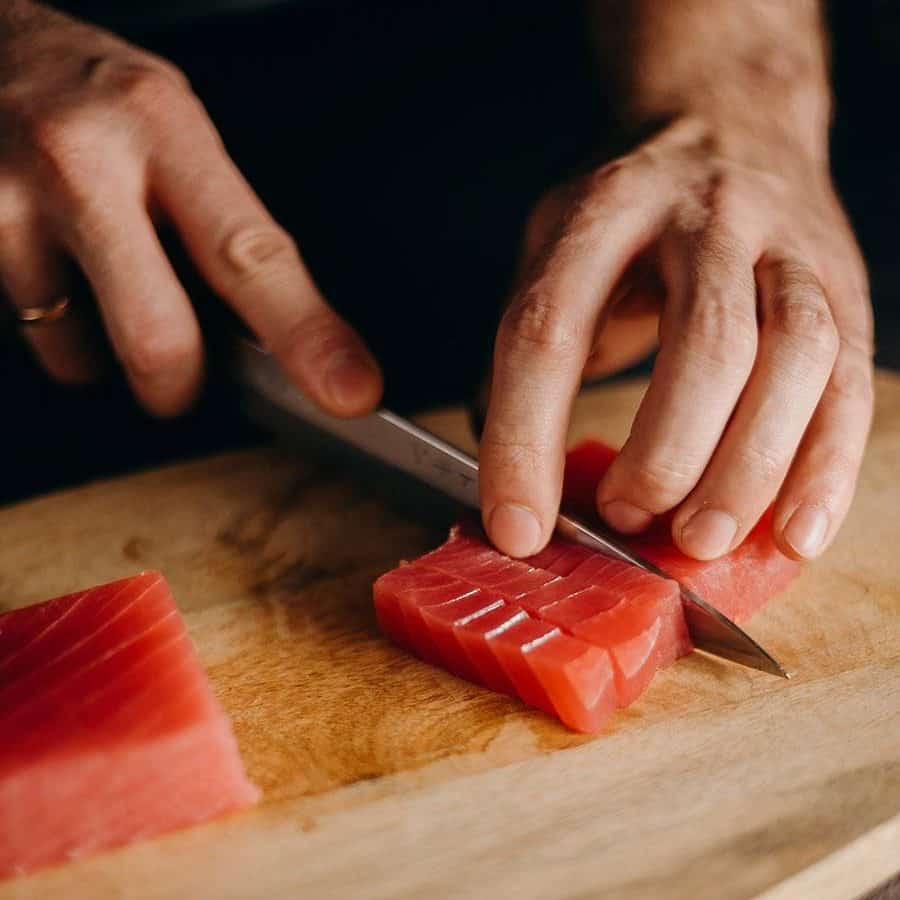 The Japanese blade philosophy
Japan's knife-making skills have been preserved and developed in hundreds of years of history and tradition. This has developed in parallel and separate from western blade crafting. As such, the best Japanese knives and the best Japanese knife sets are often remarkably different from their western kitchen knife set counterparts. Japanese knife brands are unique.
German knives, for example, are renowned for their heft. You can typically expect a thick blade, a full 'tang' (the part of the blade that extends into and under the handle), and a large bolster (the metal that separates a blade from its handle). Japanese knives instead tend to follow a lightweight philosophy. Shorter tangs, smaller or absent bolsters, and smaller but harder steel make Japanese knives considerably lighter. This makes them great for agile, precise cuts and movements.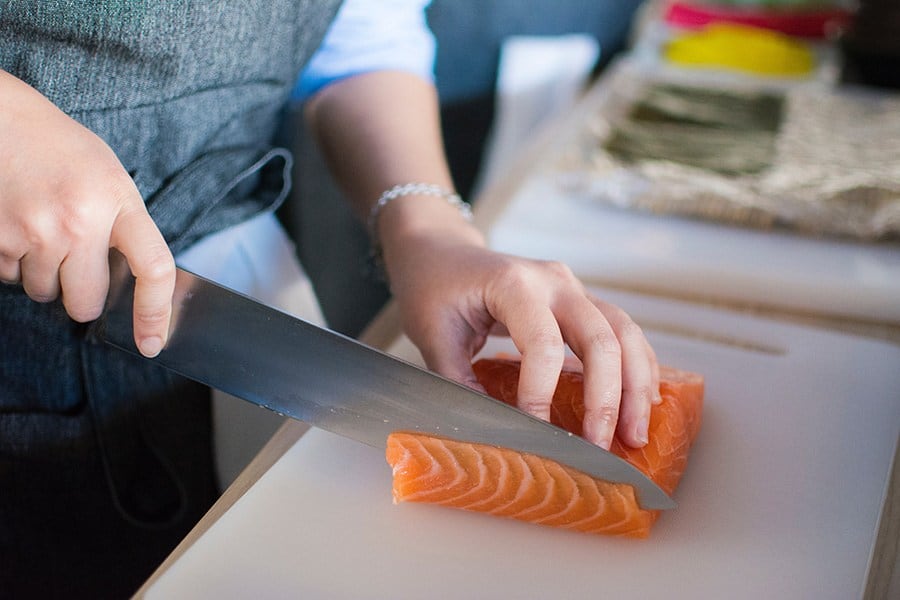 The best Japanese knives are different right down to the details, too. While German knives (I use German as an example, as they are the most prominent and influential form of western knives) tend to be sharpened to an angle of 17 degrees.(1) Japanese knives, by contrast, are often ground to more shallow angles, usually in the 10 to 15-degree range, providing a super-sharp cut. Do you want to read our Kakikoto knife reviews?
Many of the best Japanese knives have what is known as a single bevel. This means that the edge is only sharpened into one side of the blade, as opposed to the typical double-sided v-profile edge found on most western knives. Super-thin slices are easier to achieve with a single-bevel knife, although left-handed users sometimes prefer to find a knife that is double-beveled, as a single bevel can provide some discomfort when used in the left hand (unless it is designed to accommodate them).
Check out the Helpful Chef Kitchen Knife Guide for more information.
Main types of Japanese knife
Japan also has its own styles and types of knives. There are a huge number of variants, but for the purposes of this article, we will cover the main types you're most likely to see.
A Santoku is often compared to a chef's knife, as it too is a good general-purpose kitchen knife. There are several key differences, however. Santoku knives tend not to have a pointed end, with the top of the blade instead curving down towards the edge. They also tend to have a flat edge, so you can't always chop by rocking the blade along its edge.(2) But like chef's knives, they tend to be around 8 inches in length and excel at a wide variety of kitchen tasks.
Gyuto knives are even closer to a chef's knife. Like a chef's knife, they have a curved belly and a pointed tip. This makes them great all-purpose knives.
Some of the big names making the best Japanese knives include Shun, Yoshihiro, and Tojiro, so these are great names to look out for when shopping for a dependable knife.
Nakiri knives are like mini cleavers that are specially designed for chopping and slicing vegetables. You can learn all about the best Nakiri knives here.
Japanese steel
The best Japanese knives are often made from steel alloys which are unique to Japan. Steel can come in thousands of different alloy compositions, so we can't cover all of them here, but we can explain the qualities of the most common ones.
VG10 is a common choice of steel for high-performance Japanese blades. This tough alloy uses a high amount of chromium and vanadium to create a very hard steel end product.
"V Gold 10, a high quality cutting stainless steel, is made from highly-selected pure iron material and is worked by best technology, thus VG10 has ductility and shows workability and forgeability."

Takefu Special Steel Co. Ltd. (3)
The best Japanese knives often have VG10 cores, with a specialty stain and rust-resistant steel used for the outside of the knife. Japanese manufacturers often do this by creating Damascus steel knives. These knives create an ornate patterning by layering steel over a tough core, leaving a beautiful rippled effect on the blade. These ripples aren't purely cosmetic, however – Damascus steel is a skilled practice that results in a very tough blade.
Japanese steel is also selected differently from the steel typical to western knives. German steel tends to be softer, resulting in a blade that needs sharpening more often (check out the best knife sharpening stones here). However, Japanese steel is typically harder, so your blade will hold its edge for longer. However, while this makes the steel less likely to bend, harder steel is also more brittle. You will need to be careful that you don't drop your blade, for example, as this is more likely to chip the knife.
Japanese blade craftsmanship is a wonder to behold. Check out how these blades are produced in the video below:
The Best Japanese Kitchen Knives
To demonstrate the craftsmanship of these knives, we've collected the best Japanese knives. You can see the quick overview table immediately below and then scroll further to read the reviews of each knife.
Image
Product
Features
Price

Top Pick

7-inch Blade

Damascus steel

Pakkawood Handle

VG-Max Steel Core

Check Price

Best Budget Pick

8-inch Blade
Daido 1K6 high carbon stainless steel
Polypropylene Handle

Check Price

Handcrafted Knife

8.2-inch Blade

Damascus Steel

Maple Burl Handle

VG10 Steel Core

Handcrafted by Japanese Smiths

Check Price

Best Value for Money

7-inch Blade
Damascus steel
Mahogany Handle
Full Tang

Check Price

Most Comfortable

8.2-inch Blade
VG10 Steel Core Blade
Ecowood Handle
Waricomi construction

Check Price

Most Beautiful

9 1/2-inch Blade
Aus-8 High Carbon Steel
Rosewood Handle
Double Ebony Bolster

Check Price

Most Lightweight

8-inch Blade
Damascus steel
G10 Handle
Full tang

Check Price

Best for a Gift

9 1/2-inch Blade
Damascus steel
G10 Handle
Aus-10V Steel Core

Check Price

Best Small Knife

6-inch Blade
VG10 Steel core
Textured TPE Handle



Check Price
This beautifully designed Shun blade showcases the best that Japanese craftsmanship has to offer. Shun has gone to great lengths to create a blade that will not only cut through almost anything you throw at it but also stand the test of time, too. When you think about the best Japanese knives, you'll be picturing something like the Shun.
What you first notice about the blade is the beautiful, reflective finish on the blade. The dappled effect is produced by the use of layered Damascus steel, which isn't used only for cosmetic reasons – it has excellent hardness, too.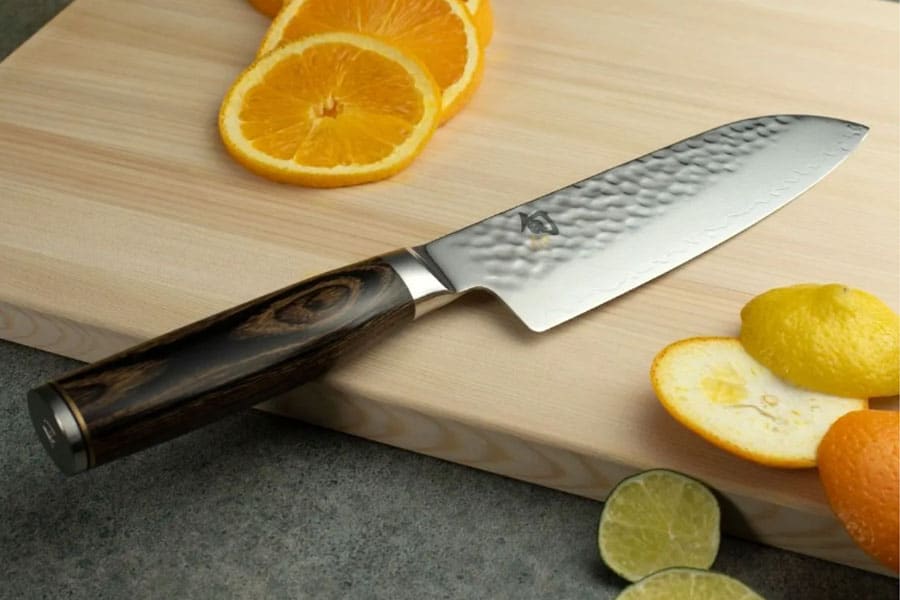 At the core of this blade is VG-Max steel – a special variant of VG-10 steel, patented by Shun, with increased chromium content, which helps prevent corrosion.(4) A hardness rating of 61 on the Rockwell scale shows that this core is strong, too.
The handle is made of rich, dark pakkawood, giving the knife an elegant finish. The handle sits comfortably in the palm, too. The knife follows the Japanese tradition of lightweight blades, and as such is easy to maneuver and deliver precise cuts with. The curved edge lets you roll the blade down slowly for clean, even chopping.
This is a thin blade that you will need to treat with care. The exceptional hardness of the blade's edge means you will have to sharpen it less and makes it very lightweight but is also responsible for the blade being brittle. As long as you use this knife responsibly, however, you should encounter no issues. It's a great knife for the chef who is keen to sample the best of Japan's incredible forging talent.
At the other end of the price spectrum is Kai Wasabi's simple, sleek chef's knife. This knife offers all you need in a high-performing Japanese chef's knife, and with no excess.
The blade is made of Daido 1K6 high carbon steel, an alloy that is rich in chromium, allowing it to excel at stain and rust resistance.(5) This makes it a great knife for the more casual chef, who doesn't want to worry too much about looking after his knife. It also grants the knife good edge retention, meaning you'll need to sharpen this knife less often than many other blades.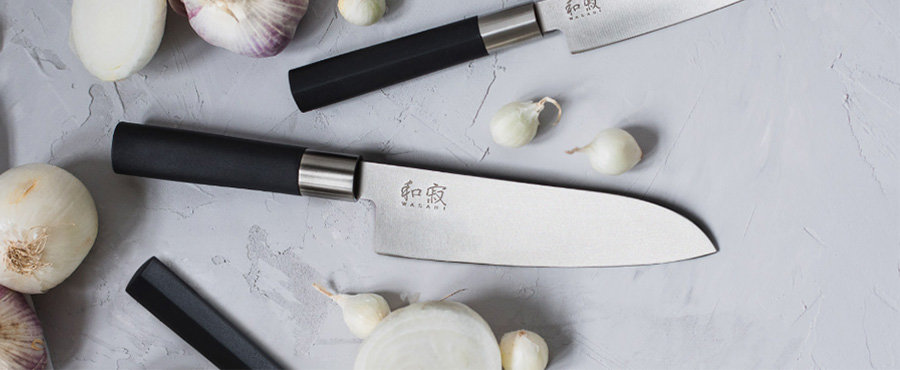 Durability is also offered by the polypropylene handle, which is dense enough to resist stains and odors effectively. The handle is blended with bamboo powder to enhance its strength, too. We also like the Japanese characters engraved into the blade, which spell out 'wasabi' in Japanese.
This knife doesn't come with an ornate wooden handle, and nor does it feature the patterned design of Damascus steel. But its simple aesthetics and excellent performance make it a great budget pick for your kitchen.
The handcrafted Sakai Kyuba Gyuto Chef's knife is a stunningly beautiful knife that heralds from Sakai, near Osaka in Japan. The parent company, Oishya has partnered with independent blacksmiths from the region to bring their handmade knives to western markets. The partnership really has produced fantastic results. Read our full review of the Gyuto Japanese Chef's knife here.
"Our mission is to bring beautiful, premium quality and unique handcrafted products that last. In a time of fast-paced technology and disposable fashion, we are proud to support groups of small artisans who pride themselves on vigilance and respect for the craft that no machine can replicate. All Japana products are handcrafted using the finest materials and created in small batches to check for quality and ensure they are made to last. We do not use ready-made materials and we do not mass-produce."

Oishya Website
These knives truly have been built for generational use with only the highest quality materials being used for their construction. They are truly beautiful pieces too. The handles are eye-catchingly beautiful as are the blades with the ornate Damascus steel waves and the smith's hammer marks that are unique to every blade.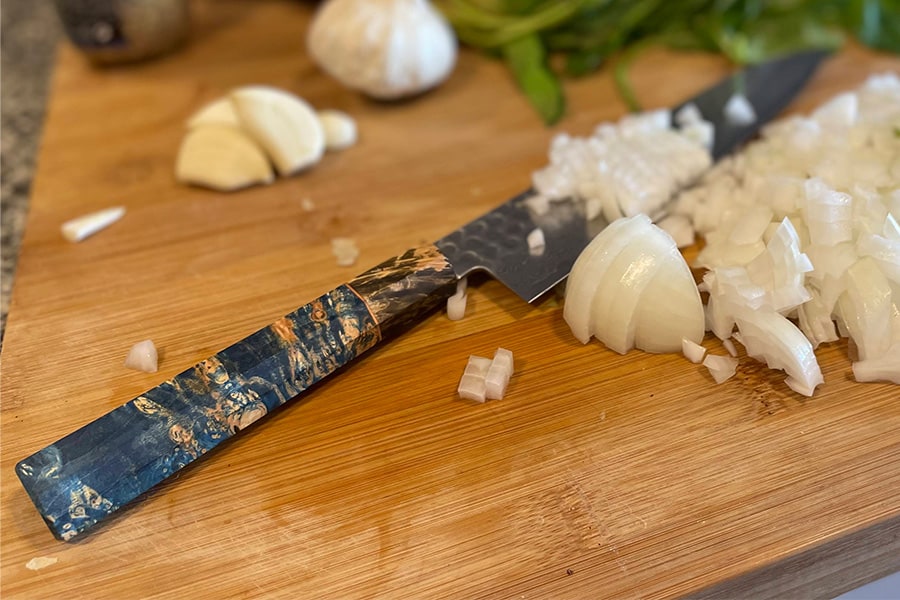 The Sakai Kyuba does come with a steeper price tag than the rest of the knives we cover here, but the price only reflects the artisanal nature of the product. If money is no option, and you want a knife that you can hand down to your children, this is the knife for you.
This beautiful Yoshihiro Damascus steel santoku is a perfect workhorse for any kitchen. With its stunning layered steel finish and the rich mahogany handle, it's sure to impress your guests at dinner parties.
The rippled Damascus effect is produced from 16 layers of steel, which adds both hardness and aesthetic appeal to the blade. This finish is then hammered, creating dimples that reduce blade friction and help to prevent food from sticking to the side.
Underneath this Damascus finish is a VG-10 stainless steel core (the 'gold standard' of Japanese steel(6), which has an exceptional Rockwell hardness of 60. This means that the blade will hold its edge for a long time before needing sharpening, and is also a sign that the blade is dense, allowing it to be thin and light without sacrificing strength.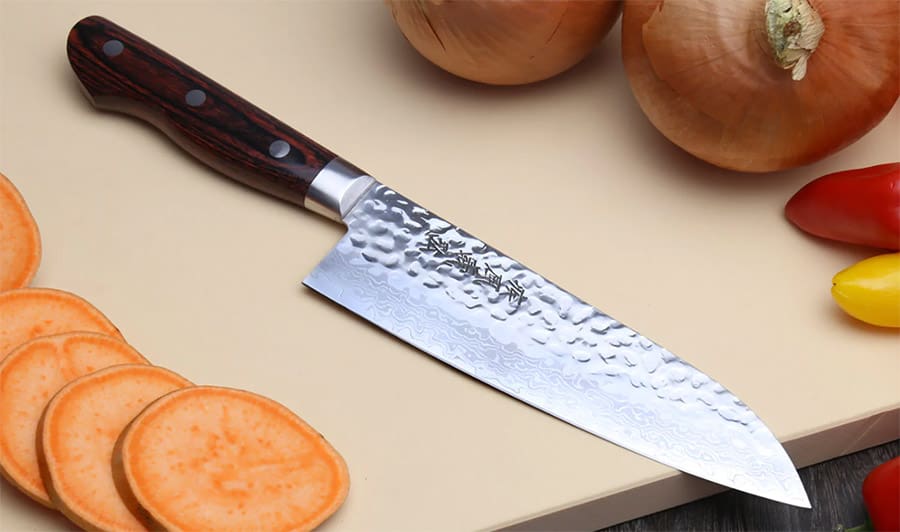 While the blade style and steel are Japanese, the handle takes inspiration from western knife design. A dark, elegant mahogany handle is secured to a full tang by three rivets, giving excellent strength, comfort, and aesthetic appeal.
You will need to take some care with this thin blade, as the hard steel is also brittle. But this is one of the best-looking knives we've reviewed, and it performs very well, too. It's a great pick for the chef who wants a knife that can stand out in the kitchen.
This Tojiro knife has some great specifications for the price. High-quality steel, combined with a great handle and performance, make this a great choice for a wide range of chefs.
The knife uses a VG10 steel core for the blade, which provides the blade with excellent strength. This steel core is heat-treated to a Rockwell hardness of 62 and then encased in steel in a technique known as Waricomi.(10) Nankan cutlery describes how this ancient Japanese practice is performed here on their website, but in short, the technique involves splitting a piece of steel so that a strong steel core can be inserted, and then heat-treating and refining the blade to perfection.
The result is a blade that is remarkably strong, with an exterior that is polished and stain-resistant. We also like the handle, which uses the innovative composite of ecowood. This is a combination of compacted sawdust and resin, which provide the grip with both a natural wooden strength and a waterproof, lacquered finish.
Tojiro has crafted a knife that provides excellent cutting and chopping qualities. If you prefer a heavier blade, this definitely isn't for you. This is one of the lighter knives in this roundup, and won't provide the weighty feeling behind cuts that western knives often do. But if you prefer the nimble agility provided by Japanese knives, this is a great pick.
Yoshihiro has looked to nature for inspiration with this elegant kitchen knife. This type of knife is traditionally known as a gyuto, which is largely similar to a santoku, but with some traits that are closer to a western chef's knife, such as a pointed tip and a more distinctly curved edge.(8)
The striking handle is created from rosewood, which is crafted into a modern octagonal shape. This handle is secured on both ends by ebony. Ebony also forms the bolster for the blade, creating a contrast with the lighter rosewood.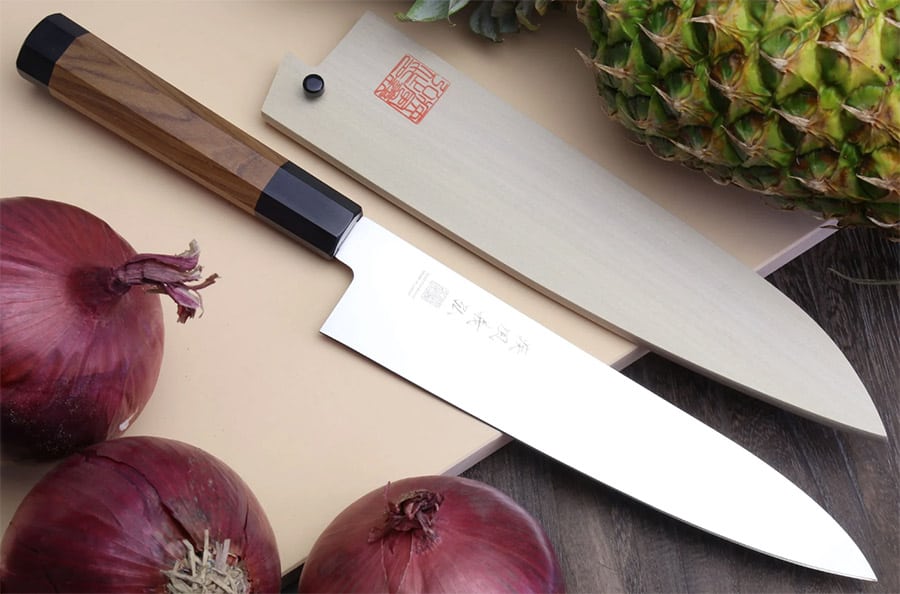 The blade itself is made from Aus-8 steel, which provides excellent hardness, rust resistance, and edge retention. This steel is ice-hardened, a process that uses sub-zero temperatures in order to refine the hardness of the steel.
"Japanese-made AUS 8 stainless steel is an extremely hard, rust-resistant metal capable of acquiring a razor-sharp edge to satisfy any knife-maker or lover. The exceptional balance of qualities offered by the steel sets AUS 8 aside from many other high-grade steels"

Blade Ops(9)
We like the included magnolia wood sheath, which features a lacquered finish to ensure it can protect the blade for years to come. One thing to note is that this knife is best suited for right-handed users – although left-handed users can still use the knife, the blade's edge is ground more on the right side, making it easier to make a balanced chop with this hand.
This stylish knife does come with a steep price tag too, but the knife's durability means that this is a long-term investment for your kitchen. It's a great knife to pick for the chef who wants a naturally styled knife.
This Kitory chef's knife gives you Japanese chopping quality at a great price. Damascus steel knives often feature heavy price tags, but Kitory has created this knife to allow you to experience Damascus steel without breaking the bank.
Despite the low price, Kitory has endeavored to use the finest materials in the construction of this knife. VG10 steel is used for the core of the blade, giving the blade excellent strength. This core is coated with 67 layers of Damascus steel, creating the blade's beautiful finish. The sides of the blade are then polished to give the blade a smooth, gleaming edge.
"Its ability to hold an exceptionally sharp edge and withstand oxidation have made VG-10 a top choice among knife enthusiasts"

Brett Wilkins, Digital Journal(6)
The handle of this knife is made from durable G10 and secured to the tang with two large rivets. G10 is a glass-based epoxy resin, which is very strong and easy to clean, making it a great choice for a knife handle.
"Many say that G-10 is the ideal material for making knife handles because it is light, easily workable, does not expand or contract due to normal temperature and moisture exposure, and extremely rugged."

Larry Connelley, Knife Art (7)
This Kitory knife offers a lot of value for the price. It's a great pick for the chef who wants a high-performing knife without spending a fortune.
DALSTRONG has named this knife series after the medieval rulers of Japan, the Shoguns. But this knife is no piece of history. DALSTRONG has combined traditional techniques with the best of modern materials to create a premium kitchen knife.
The Aus-10V steel core used in this blade is a recent creation and has rapidly gained respect for its remarkable qualities. Aus-10V has a very high amount of carbon, even compared to other high-carbon knives. This gives it superior strength to other knives.
"The hardness of AUS-10 steel is mostly caused by the incredibly high carbon content of approximately 1.05. As a result, the knives can easily be sharpened leaving you with razor-sharp results."

Knives and Tools(11)
This steel is then coated with 66 layers of high carbon steel, giving the blade its beautiful Damascus texture. To provide the finished cutting edge, it is then honed by the traditional Japanese Honbazuke method, which involves using three stages of rotating stones.(12) The end product is a high-performing kitchen knife, which will cut and slice what you throw at it with ease.
The G10 handle provides excellent strength and stain resistance and is fitting for a knife bearing the military Shogun name, as G10 is often used on handgun grips.(13) We also like the angled bolster, which makes forward grips on the knife comfortable and ergonomic. The included sheath isn't great, however – we'd recommend purchasing a different one if you were keen to use this, as the glue it uses is a little weak. Overall, however, this is a high-performing knife with premium materials. We recommend it to the chef who wants quality.
If you're keen to experience Shun craftsmanship without breaking the bank, their Sora series knives are a great option. Offered in both 6 and 8 inches, they provide Shun's recognized quality at a great value price.
Shun has used a composite blade, with a VG10 steel center to provide core strength, and a 420J stainless steel exterior to protect the thin blade from corrosion and staining. In Japanese, Sora means 'sky'. And if you tilt the polished edge of this blade to the window, you might even be able to see the sky in its reflective sheen.
Shun has equipped this blade with a textured TPE handle, providing a firm grip and a reliable handle. We also like the shaped bolster, which is comfortable to fold your fingers over, and the gentle wave pattern etched into the side of the blade. It's not as ornate as Damascus steel, but it has its own simple aesthetic style.
The curved shape of the blade is great for a rocking-style chopping technique, allowing you to roll the knife down along its curved edge. The Shun Sora blade provides sky-high value with a tough core, firm handle, and razor-sharp edge. It's a great pick for the chef who wants a reliable knife at a great price.
The Final Verdict
One knife from our reviews was a cut above the rest. The Shun Cutlery Premier 7-inch Santoku knife showed excellent performance, with a sharp cutting edge, precise handling, and excellent aesthetics. High-quality materials should ensure that this is a knife that will stay in your kitchen for a long time to come. We recommend this knife to any chef looking for a high-performance Japanese kitchen knife.
FAQs
How should I clean my Japanese knife?
As a general rule, we recommend that you don't use a dishwasher to clean your kitchen knives. Dishwashers can actually damage the edge of blades, so we recommend that you hand wash them instead. Some knives will even use coatings on their handles that can be damaged by a dishwasher, so if you do intend to use a dishwasher, you should check if the manufacturer has specified the knife as dishwasher safe. Treat your knives like your best pans and wash them by hand.
After you have cleaned your knife, you should dry it, and ensure that you store it dry. Prolonged exposure to water can make even the best stainless steel knives rust.
My Japanese knife is chipped – what do I do?
If the chip isn't too big, you can restore the blade by sharpening your blade until the chip is removed. There are several methods of sharpening, each with different techniques and skill levels required, but you will likely want a fairly abrasive sharpener to remove a chip. If the chip is large, you should check if the damage will be covered by a manufacturer's warranty.
It's also best to consider what may have caused the damage so that you can prevent it from happening again. Japanese steel is brittle and needs to be used carefully to avoid damage. Chopping on hard surfaces, such as marble worktops, can easily damage a blade. For this reason, you should always cut on a soft chopping board. Dropping a blade will, of course, damage a blade too. Even dishwashers, as I've explained above, can damage a blade. Of course, it's also possible, although unlikely, that a manufacturer defect was involved.
Are the best knives the sharpest?
If you take one thing away from this guide, let it be that there's much more to a knife than sharpness. Any knife can be sharpened post-purchase by the user, and every knife will require regular sharpening when in use. But a knife's balance, edge retention, strength, comfort, shape, and weight are all key characteristics that will significantly change how you use the knife, and how much it suits your cooking style. Ultimately what balance of these characteristics you prefer will be up to you.
How can you tell a good knife?
There are a few things you can look for when trying to identify a good knife. First, pay attention to the blade. It should be made of high quality steel and have a sharp, even edge. Second, take a close look at the handle. It should fit comfortably in your hand and be made of durable materials. Third, consider the overall construction of the knife. It should be well-made and feel solid in your hand. Finally, consult with experts or other experienced users to get their opinions on specific knives before making a purchase. By following these guidelines, you can ensure that you buy a quality knife that will serve you well for many years to come.
References
Strong, A. (2017, May 30). What's the Difference Between Japanese & German Knives? Retrieved from https://www.tastingtable.com/cook/national/japanese-versus-german-knives
Inagaki, T. (2018, March 12). The Difference Between a Chef's Knife and Santoku Knife. Retrieved from https://kamikoto.com/blogs/fundamentals/difference-between-chefs-knife-and-santoku-knife
武生特殊鋼材株式会社 日本語. (n.d.). Retrieved from http://www.e-tokko.com/v_gold_10.php?lang=en
KAI Europe. (n.d.). Retrieved from https://www.kai-europe.com/kitchen/materialkunde.php?lang=en
Daido 1K6 Knife SteelComposition Analysis Graph, Equivalents And Overview. (n.d.). Retrieved from http://www.zknives.com/knives/steels/steelgraph.php?nm=1k6
Wilkins, B. (2015, April 02). VG-10: The gold standard of Japanese stainless steel (Includes interview and first-hand account). Retrieved from http://www.digitaljournal.com/business/business/vg-10-the-gold-standard-of-japanese-stainless-steel/article/429773
Connelley, L. (1970, January 01). Use of G10 Material for Knife Handles – Handles, Grips, Scales & More. Retrieved from https://www.knifeart.com/g10-knife-handle-material.html
Santoku Vs. Gyuto – What's The Difference? (2020, May 13). Retrieved from https://japanahome.com/journal/santoku-vs-gyuto-whats-the-difference/
Review of AUS 8 Stainless Steel. (n.d.). Retrieved from https://bladeops.com/blog/review-of-aus-8-stainless-steel
Warikomi: a, to the west, unknown ancient japanese manufacturing process. (n.d.). Retrieved from http://japanesehochoknife.com/production-of-knife/
The advancement of AUS-10 steel. (2018, September 12). Retrieved from https://www.knivesandtools.co.uk/en/ct/the-advancement-of-aus-10-steel.htm
Knife Knowledge – Everything About Japanese Knives. (n.d.). Retrieved from https://www.miyabi-knives.com/uk/en/pages/knife-knowledge.html
Benefits of G10 Knife Handles. (n.d.). Retrieved from https://bladeops.com/blog/benefits-of-g10-knife-handles