The Best Sushi Knife for You: Buyer's Guide and Reviews of the Top 7 Sushi Knives
In Japan, the process of making sushi has been elevated to almost an art form. But one of the key ingredients in sushi isn't only the food you put in, but the knife you use to cut it. The best sushi knives use a range of different bespoke techniques to help their knives stand out, and it can be hard to know which features you need. We've produced our buyer's guide to help you understand the features that make these knives unique, and reviewed all of the best sushi knives below.
Buyer's Guide – What makes the best sushi knives special?
The best sushi knives are rooted not only in Japan's long blade crafting tradition, but also Japan's unique cuisine. We've used this buyer's guide to explain not only the knife properties you'll need to know about, but also the styles of cooking which different sushi knives are suitable for. For a more in-depth guide, check out our in-depth kitchen knife guide.
What is a sushi knife?
In Japan, there is no 'sushi knife' – their differentiations between types of knives are even more granular than that. What we understand to be a sushi knife in the West is typically one of several types of Japanese knife designed to make thin slices of raw meat. These knives are largely similar, and designed for similar usage, which is why we group them together as sushi knives, but it is helpful to understand the different types available, and the cooking they are designed for.
Contrary to popular belief, sushi isn't defined by the use of raw fish. Raw fish is indeed a staple of sushi, but the defining element is actually rice imbued with vinegar. Sushi translates roughly to 'it is sour', referring to the taste of this vinegar.(1) This rice is then typically served with vegetables or meat, which can be either cooked or raw. You can rea about the Japanese Nakiri knife here, which is specially designed for chopping vegetables.
Another similar Japanese cuisine is sashimi, which involves thinly sliced raw meat.(2) Sashimi requires a similar type of knife to sushi, and for that reason sashimi knives are commonly used as sushi knives also.
Types of knife
Knives used for sashimi are known as sashimi bōchō, or sashimi knives. There are several types of sashimi bōchō, but the one most relevant to sushi is the yanagiba. Also known as the yanagi, yanagi-ba or Yanagi-ba-bōchō, this knife is designed for making thin slices of meat for sashimi. The name for this blade actually translates to 'willow blade'. These knives use a long, thin blade to slice through raw meat in one long cut, without damaging the delicate texture of your food.
Another type of knife is the kiritsuke. This knife is a hybrid, combining the long length of a yanagiba with the height and profile of the usuba, a thin chopping knife. On the whole though, it's still a similar knife to a yanagiba.
Each of these knives is united by the use of a long blade, typically between 9 and 11 inches long. The blades used tend to be very thin, to help your cuts to glide through meat without causing any damage.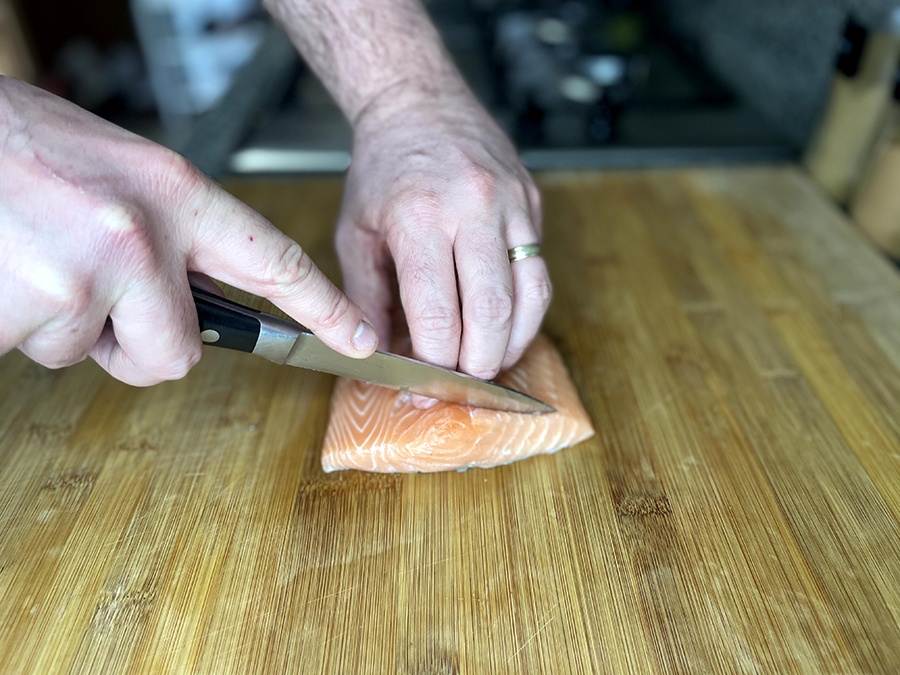 Hardness – is a harder knife better?
Japanese knives are built to a set of unique design principles, which are remarkably different to the majority of knives used in the west. This can surprise some chefs who are unaware of these qualities, sometimes even leading to damage to the knife.
For example, the best Japanese knives, especially sushi knives, are typically harder than western knives. The hardness of a knife is often measured by the Rockwell hardness test, which gives a numerical value describing the hardness of a knife, with a higher number indicating a harder knife.(3) While western knives usually boast a hardness of 54-58, you'll notice that many of the knives we've reviewed below have scores which are well over 60.
A higher hardness has advantages – it gives a blade superior edge retention, which means you won't have to sharpen it as often. It will also be less likely to be permanently bent, making your knives tough. However, what many chefs inexperienced with these blades don't realize is that their hardness also makes them more brittle. This means that you can chip these blades easily if you chop too firmly against hard objects such as bones or a countertop, and especially if you were to drop a blade. This means these knifes require care and it might be worth your while also checking out the best knife sharpening stones.
Chipped blades can be restored by careful sharpening. Yoshihiro Cutlery have produced this video demonstrating how you can restore even a heavily chipped blade:
Why is a knife's bevel important?
Western knives are typically sharpened on both sides of the blade, giving the knife what is known as a double bevel. However, Japanese knives are often only sharpened on one side, giving the blade a single bevel. This can provide razor sharp, smooth cuts through your meat. However, it can cause minor discomfort if you are left-handed – the side of the blade which is sharpened tends to favor right-handed chefs. If you are left-handed therefore, we recommend you find a knife which is either uses a double bevel, or which is designed for left handed users. For this reason, we've included both single and double bevel knives in our reviews.
The 7 Best Sushi Knives
We've selected 7 of the best sushi knives available to showcase their remarkable performance. Check out what makes them so good in our reviews below.
Image
Product
Features
Price

Top Pick

Blade length: 11.8-inch
Handle material: Ebony wood
Knife type: Kiritsuke knife
Bevel: Single

Check Price

Best Budget Pick

Blade length: 10-inch
Handle material: Wood
Knife type: Sashimi knife
Bevel: Single

Check Price

Best Value for Money

Blade length: 9.4-inch
Handle material: Wooden
Knife type: Sashimi knife
Bevel: Double

Check Price

Best Modern Knife

Blade length: 10-inch
Handle material: Perforated steel
Knife type: Sashimi knife
Bevel: Double

Check Price

Most Lightweight

Blade length: 8.5-inch
Handle material: Polypropylene
Knife type: Yanagiba knife
Bevel: Single

Check Price

Excellent Craftsmanship

Blade length: 10.5-inch
Handle material: Shitan rosewood
Knife type: Yanagiba knife
Bevel: Single

Check Price

Most Comfortable

Blade length: 10.6-inch
Handle material: Wenge wood
Knife type: Yangiba knife
Bevel: Double

Check Price
This incredibly ornate sushi knife features some of Japan's most skilled craftsmanship. This blade excels in both aesthetics and performance, justifying its hefty price tag with incredible cutting power.
Upon looking at this knife, our eyes were immediately drawn to the handcrafted steel of the blade. The craftsmen at Yoshihiro have intricately forged the iron in this blade to create a gentle wave-like pattern, which is truly remarkable. The steel itself is a premium alloy blend. Yoshihiro have used Hitachi #1 Blue Steel, which is renowned for its incredible hardness and edge retention, as well as its good looks.(4)
Indeed, this blade features a hardness of 63-64 on the Rockwell scale, which is a very impressive score. This hardness allows the blade to be very thin without sacrificing overall strength, and this thinness in turn lets the blade perform precise cuts without damaging the texture of your sushi.
Every part of this blade feels premium. The detailed etching of a dragon onto the rear of the blade's edge is sure to impress and guests, as is the refined, understated dark wood handle, with matching sheath. The only real catch is the price – this blade might be premium quality, but it also commands a premium price. For a no-compromise sushi knife, this is a great pick.
We understand that not everyone wants to spend that much on a sushi knife, especially if sushi isn't something you intend to make frequently. This budget Lucky Chef knife will still let you prepare your sushi like a pro, just at a lower price tag.
The stainless steel used on this blade makes it very easy to use. This steel provides it with stain resistance, and the polished finish means that a simple wipe should remove any food debris. And the edge is sharp straight out of the box, allowing you to slice through fish with ease.
The knife comes packaged in a very smart gift box, which makes this a great present for loved ones. They have also used a plastic cover to protect the tip of the blade in transport, allowing the knife to reach you in pristine condition.
The wooden handle adds a natural touch, although a wood with a more premium feel could have elevated this knife. Regardless, this knife gives you a great feel in the hand, and is easy to control. This knife is a great pick for the chef who wants a sushi knife on a budget.
Your first impression of this knife might be that it has a few blemishes, but this is no show of poor quality. This is a display of what the Japanese call 'Kurochi', or blacksmith's finish.
These knives are completely handmade, and instead of polishing off the residue from the forging process, it has been retained. This doesn't affect the knife's cutting ability, and can actually help to prevent rust by providing a natural patina.(5) It also allows you to be sure that Motokane is telling no lies when they say these blades are handmade, and gives you a unique, desirable finish to your blade.
The steel itself is something worth showcasing, too. It's Hitachi Aogami #1 blue steel, the same as used in our top pick. This grants the blade incredible strength and edge retention. While it doesn't match the harness of our top pick, a score of 61 on the Rockwell test is still mighty impressive.
We like the traditional wooden handle, which gives the knife a timeless finish. The Kurochi finish on these knives means that no two will be the same, making these truly unique. The Motokane Honmamon Sashimi Hocho is a great value knife for any chef.
Fancy a knife with a more modern design? Renowned Japanese manufacturer Global has designed a Sashimi knife with their signature styling, which can stand out in your kitchen.
Global has used Chromova 18 stainless steel for this blade, giving it dependable strength. At 56-58 on the Rockwell hardness scale, it's not as hard as some of the other blades we've reviewed here, but it's not as brittle either, so you're less likely to damage it. The stainless steel is very easy to clean, too.
The handle is made of steel, just like the blade. Black dimples provide extra grip to this surface however, ensuring you can maintain a firm hold on the blade. This steel handle acts as a counter-balance to the long 10-inch blade, giving you a balanced, controlled cut, and great feel in the handle.
The double bevel design ensures this knife can be used by both right handed and left handed users with ease, making it a versatile product. Global provide the blade with excellent sharpness for your first cut, too. This is a great sushi knife for the modern chef.
Kai Wasabi offer a sushi knife designed with simplicity in mind. This sleek knife gives you all you need to make great sushi, with no excess.

The blade uses Daido 1K6 steel, which provides the blade with ample strength, and also gives it an excellent sheen. This blade is then bead-blasted to provide an even, smooth finish for an effortless cut. Ornate blades can be nice, but there's also something to love about the simple, clean finish to this knife. At the rear of the blade, one figure is engraved – the Japanese character for wasabi.
The handle, too, provides no stress or maintenance considerations. The polypropylene synthetic used is easy to clean, as its dense structure resists any food debris from seeping in, keeping it clean and free of fishy odors; this is a common property you'll find in the best fillet knives and electric fillet knives too. At 8.5 inches, this knife is slightly shorter than most of the other knives reviewed here. This is unlikely to provide a problem, although it does change the handling of the knife, and you may find it to be more controllable to a beginner.
This simple sushi knife offers great performance, sleek aesthetics and a great price. It's an excellent pick for both the beginner chef and the expert.
For a slightly cheaper alternative to our top pick, Yoshihiro offers this beautiful sashimi knife. While it doesn't match the top specs boasted by our top pick knife, it comes pretty close, and still performs above the rest of the competition.
The steel used for this knife is Hitachi White Steel #2, a steel with an incredibly high carbon content.(6) This grants the blade incredible strength and edge retention, but there is a tradeoff. This knife can rust easily, and it will require care to prevent this from happening. If you're interested in investing in premium knives, you'll need to find an interest in caring for them, too.
The name of this alloy, white steel, gives a hint at what is responsible for the aesthetic of this blade. White, mist like patterns can be seen on the side of these knives, which create a mesmerizing effect. We also like the rosewood handle, which provides a confortable and stylish grip to the blade.
The steel is hardened to 62-63, giving the blade excellent strength, but also making the blade brittle. If you're willing to give this blade the care it needs, you will get great performance from it. It's a superb pick for the chef who wants a premium knife.
Japan's blade crafting history dates back to the age of the samurai, the fearsome warriors of feudal Japan. This knife series by Kyoku is inspired by the samurai and the infamous blades they would carry, combining tradition with modern crafting techniques.
This beautiful blade uses a mirror-polished edge to achieve an elegant sheen, which also helps the knife to glide through your sushi. The steel is ice-tempered to increase its strength, allowing it to be both durable and rust resistant.
The wenge wood handle has a comfortable, high grip texture, and also helps to balance the 10.6-inch blade by acting as a counterbalance. On top of that it looks pretty good, too.
The blade is razor sharp, and should stay that way for a while thanks to the hardness of the knife's steel. And if there are any issues with the blade, the lifetime warranty is a welcome feature. This knife might not use the premium steel featured in more expensive knives, but it's more than capable of making some excellent sushi. We recommend this knife to any chef who wants a reliable sushi knife.
The Final Verdict
There was one clear winner from our reviews. The Yoshihiro Aonamiuchi Blue Steel Knife combines incredible performance with elegant aesthetics. The craftsmanship on display in this knife was a cut above the rest, despite some impressive competition. It's a knife that will excel in any kitchen, and against any other sushi knife. For that reason it's a knife we can recommend to any chef.
FAQs
How do I care for my blade?
Firstly, we recommend that you hand wash your knife, instead of using a dishwasher. High performance knives work best when they receive high levels of care, and these knives are no exception. Dishwashers can sometimes chip the edge of a blade, or damage the finish on handles, which is why we recommend hand washing.
We also recommend that you sharpen your knife regularly. These Japanese sushi knives feature hard blades, which means they will need sharpening less often that many other knives, but even the best knives will become blunt over time if they are not sharpened regularly. There are many methods of sharpening, so it's best that you find the method you prefer.
High carbon knives can rust easily, so it's important to ensure that your sushi knife is stored dry, and dried soon after being cleaned to prevent rust.
Are sushi and sashimi knives the same?
Sushi and sashimi are similar but different types of Japanese cuisine. However, the knife most commonly used for sushi is a sashimi knife.
Are Japanese knives better than Western knives?
This is really a question of preference. Western knives have different characteristics: they are typically heavier, with thicker blades, and softer (but less brittle) steel. When it comes to sushi knives, the top spots are held by Japanese manufacturers. But as for the rest of the knives in your kitchen, it depends what style of knife you prefer.
What knife do sushi chefs use?
Most sushi chefs use a yanagiba knife, which is a type of Japanese chef's knife. Yanagiba knives are often used for slicing fish and seafood, making them the perfect choice for sushi and sashimi. Some chefs also use a deba knife, which is similar to a yanagiba but has a thicker blade that is better suited for cutting through bones.
References