The Best Flat Top Grills and Griddles: Buyer's Guide and Reviews (2022)
Grills and BBQs let you get out of your kitchen, and into the outdoors – whether it be for breakfast, lunch, or dinner. We've reviewed a carefully chosen selection of flat top grills to bring you the best flat top grills and griddles for 2020, and organised them so it is easy to find which one is right for you. Check out all of our reviews below.
Best Overall Flat Top Grill – Blackstone 1825
Best Value for Money Flat Top Grill – Royal Gourmet PD1300
Best Budget Flat Top Grill – Char-Broil 2-Burner Tabletop Gas Griddle
Best Flat Top Grill/Griddle Combo – Royal Gourmet GD401C
Best Flat Top Grill for Camping – Camp Chef Versatop
What Makes A Good Flat Top Grill?
Flat top grills are one of our favorite types of grills, smokers, and BBQs as they offer you some truly unique ways to cook outside. Let's go through what they offer, and what you'll need to consider before buying one now.
Griddle or a grate – What's the difference?
The physical difference between a griddle and a grate is simple – a griddle has a smooth, flat surface, like a pan, while a grate uses rows of round bars, like an oven rack. These differences also change the heat profile of each type of grill. Though traditional grate grills can boast a higher temperature, due to the heat transfer through the gaps between the grate bars, this is not guaranteed – it also depends on other factors such as the strength of the burners, and the materials used in the grill. Griddles are also significantly easier to clean, as it is easier to wipe down a flat top than to access every side of each grate bar, making cooking a more relaxing experience.
What can I cook?
The main advantage of a flat top grill is the variety of food you can cook. As well as your traditional burgers and steaks, you can grill eggs, pancakes, and rice dishes, which would otherwise fall through the bars of a grate. A flat top grill presents a great opportunity to expand your cuisine cooking international treats, such as:
France: Crepes
Japan: Teppanyaki dishes
Mexico: Fajitas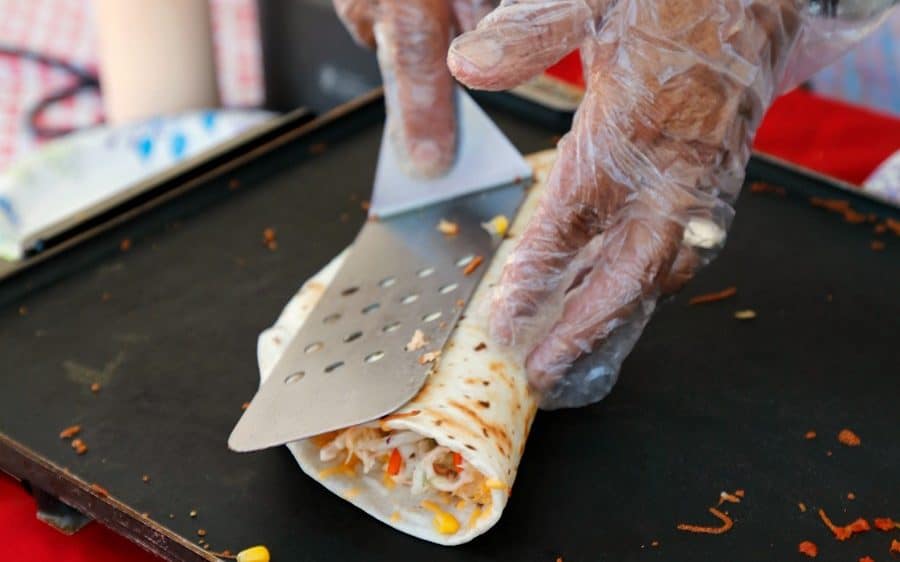 What are BTUs? How hot will my grill be?
Thankfully, the heat produced by grills isn't given in adjectives, but in measurable numbers. Gas grills use propane tanks to provide instant heat, but how can you know that your grill has enough heat to cook for all of your guests? The key is to look for the number of BTUs or British Thermal Units, that a grill can output.(1) On a technical level, it measures the energy needed to heat a pound of water from 39°F to 40°F – but all you need to know is that it measures the volume of heat your grill will be capable of producing.(2) Learn more about heating your grill with Helpful Chef's Ultimate Guide to BBQ Fuel.
Modern grills also do away with the hassle of matches – all of the top grills featured here come equipped with electronic ignition systems, allowing you to light them with the touch of a button, just like a home oven. The electronic ignition sets off a spark, lighting your burners instantly, and without the need for you to dangerously reach inside the grill.
What size grill do I need?
One of the key questions you need to ask yourself before you buy a gas grill is a simple one – how big a grill do I want? Grills can be found in a wide variety of form factors to suit your individual needs.
Maybe you want a typical full-size cart-style grill – you can look at our Best Overall Pick or our Best for Backyard. Maybe you're thinking of taking your grill camping – check out our Best for Camping gas grill. Or maybe, you just want to save a bit of money. Don't worry, we've included a Budget Option award too that will still do a great job of cooking up a storm. If you're on a budget, but not sure if a flat top grill is what you're looking for, why not check out the best gas grills under $200.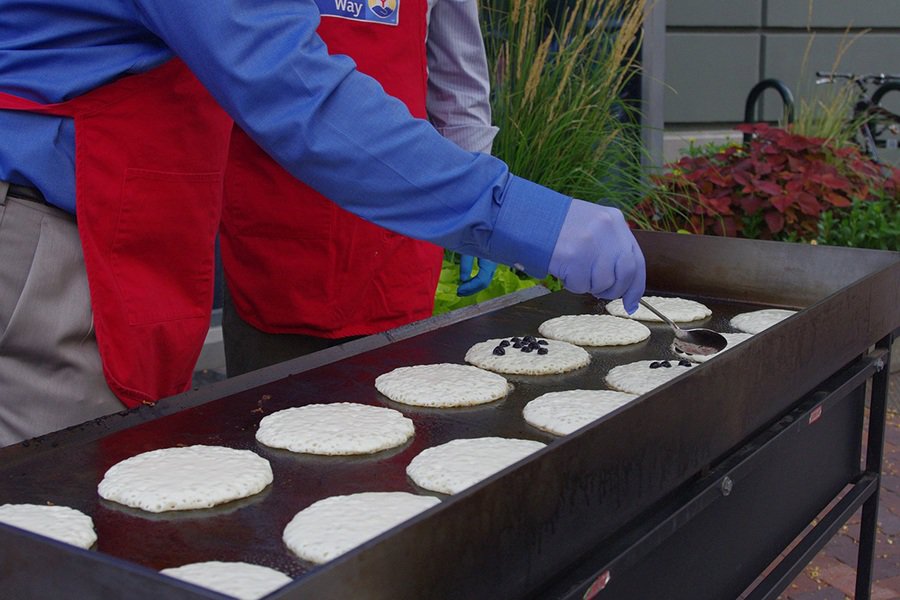 Before you cook – cleaning and seasoning your griddle
Before you start cooking, you will want to consider how you season your griddle. This isn't to do with herbs or flavor though. Seasoning is the term for a process whereby you burn-in a coating of oils to provide both rust-proofing and non-stick qualities to your griddle.(3)
Many still prefer to do this the simple way – by putting on some bacon or other meats on their heated griddle, and letting the natural oils from the meat season the griddle. Others, however, prefer to ensure an even coating by performing a burn-in before they cook. This involves pre-heating the grill, drizzling it with oil, and spreading it across the griddle evenly with a damp cloth, before repeating the process for several coats.(4)
The important thing is to check what the manufacturer of your griddle recommends. Some griddles come pre-seasoned, meaning this process is not required. Others come with a light mineral oil coating, which protects the griddle from rust when it is in transit. You would want to clean your griddle thoroughly before cooking or seasoning if this is the case, therefore. We've put together a comprehensive how to clean your grill guide to help you with this.
Here's Blackstone's (the manufacturer behind our Best Overall grill) guide on how to season a griddle:
The Best Flat Top Grills
We're now going to look at our reviews for the best flat top grills. Naturally, some grills are made to suit different uses to others, which is why we have used a variety of awards to help you choose the best grill for you.
Product dimensions – 62.50 x 36 x 22 inches
Cooking surface – 720 square inches
Number of burners – 4
Power per burner – 15,000 BTU
Blackstone's 1825 flat top grill backs up its impressive power with a wide range of features, making it very easy to use. Four independently controlled 15,000 BTU stainless steel burners give this gas grill a large amount of controllable power. This, combined with the 720 square inch cooking area, gives you enough versatility to cook for groups ranging from small families to large parties.
Blackstone has also thought of the accessories you will need while cooking for your loved ones – the right-side table features hooks for a large garbage bag, so you can easily dispose of food waste and paper plates. It also has a slot for a chopping board, which is removable for easy cleaning, and a paper towel holder – convenient features rarely seen on a gas grill.
It's these quality of life features that make this grill so much more enjoyable to cook with compared to the others reviewed here. Blackstone has also made maintenance easier with a rear grease management system, which works really well at collecting all the grease from your food for easy disposal, keeping your grill clean.
The Blackstone 1825 is able to pack all of these ease of use features without compromising elsewhere. Its powder-coated steel frame inspires confidence, and the cold-rolled steel cooking surface should last you a long time. It is unusual for us to not find any issues in a product, but the Blackstone 36" flat top doesn't put a foot wrong. For a good all-purpose flat top grill, the Blackstone 1825 is a great choice.
Product dimensions – 22.8 x 20.8 x 8.9 inches
Cooking surface – 320 square inches
Number of burners – 2
Power per burner – 9,000 BTU
Not everyone needs the full feature set of the Blackstone 1825 – and if you don't, you can save a lot of money. Char-Broil's compact flat top grill features two 9,000 BTU stainless steel burners at its heart which, though not as powerful as the Blackstone 1825's four independently controlled burners, provide ample heat for its 320 square inch size cooking surface.
The Char-Broil is significantly smaller than the Blackstone 1825, which is fine if you won't be using it to cook for larger groups. At 22.8 inches wide, it is a full 30 inches less wide than our Best Overall grill, with space saved in each dimension. Its compact cooking space would be ideal if you are considering a flat top grill to cook for yourself or a small family.
We like the integrated carry handle, making it easy to pack away after a day's cooking. The integrated grease cup also slides out of the side neatly, making the grill easy to keep clean, and locks into place to prevent spillage.
At 28.6 pounds, it is heavier than more portable options, but this is justified by its sturdy and well-engineered construction. The adjustable legs, for example, are a great feature for cooking on uneven surfaces. The Char-Broil is a great budget flat top grill, therefore, allowing you to get a full gas grilling experience in a smaller package.
Product dimensions – 25.2 × 18.1 × 9.4 inches
Cooking surface – 325 square inches
Number of burners – 3
Power per burner – 9,000 BTU
While the Royal Gourmet PD1300 has the same power per burner as the Char-Broil grill we featured, it has one extra burner, providing great value for money. The stainless steel burners use a ring shape to provide even heat distribution, which can be individually controlled to provide varying heat zones.
We like the porcelain coat applied to the griddle, which retains heat effectively, as well as being non-stick and very easy to clean. The stainless steel control panel is also easy to wipe down, allowing you to spend more time with your friends and family, and less time cleaning.
Like the Chair-Broil grill we featured, the Royal Gourmet PD1300 uses a grease drip cup that conveniently slides out of the side for easy cleaning. The black rubber legs prevent the grill from slipping, allowing you to use it on smooth kitchen countertops safely. At this size, however, you are not limited to using this grill at home – the Royal Gourmet PD1300 would easily fit in the back of your car for picnic use or tailgating.
While this flat top grill does not have the power or size of some of the larger grills featured here, it still has plenty to offer. Considering the features and impressive construction, this is a great value grill for a wide range of cooks to consider.
Product dimensions – 66.1 x 21.7 x 36.6 inches
Cooking surface – 584 square inches (292 x 2)
Number of burners – 4
Power per burner – 12,000 BTU
Why be limited to just one style of cooking? We like to experiment – that is why we had to feature this great combo gas grill in these reviews.
Royal Gourmet has equipped this grill with both a flat top and a grate, dividing the grill space between each evenly. This makes it extremely versatile. The traditional grate lets you cook succulent, seared steaks; the flat top lets you cook eggs, pancakes, and other foods incompatible with grate bars.
The Royal Gourmet GD401C has more than its innovative design to boast about, however. Four 12,000 BTU burners make it extremely powerful. It also features a towel rack underneath, complete with hooks to hang your tools from for easy storage. Its four legs can also fold away, making it an ideal unit for larger tailgating events.
Grooves within the cooker guide grease away from your food and into a removable grease tray, meaning you have less to wipe up after your cooking. We also like the addition of a bottle opener to the side tray, making the grill ideal for party use.
We would be careful with the griddle top, however – its cast iron construction means that if it is not seasoned correctly it may rust. The innovative combo design of the Royal Gourmet GD401C gas grill, combined with the collapsible design, make this a great multi-purpose grill, for the cook who doesn't want to be limited by his equipment.
Product dimensions – 18 x 17 x 8 inches
Cooking surface – 247 square inches
Number of burners – 1
Power per burner – 15,000 BTU
Even when camping out in nature, you don't have to say goodbye to the wonderful sizzling sounds of a well-grilled meal. Camp Chef's Versatop offers a grilling platform for every kind of cook in the great outdoors.
Camp Chef's range of accessories means your cooking style is not limited: their optional Deluxe BBQ Grill Box gives you a traditional grate and hood cooking system, and their Artisan Outdoor Oven accessory allows you to cook perfect stone-fired pizzas.
In its stock flat top configuration, the Versatop does not disappoint either. A 15,000 BTU burner means that despite only having one burner, that single burner will do a lot. The handy oversized dial lets you easily control this heat, and an electronic ignition proves that even while camping, cooking can be a pleasure. Adjustable legs allow you to use this tabletop grill on a range of outdoor surfaces without the risk of wobble, and the Camp Chef Versatop's convenient grease cup system lets you use this grill outdoors, without fear of polluting nature.
This clearly isn't the grill for bigger parties. But the Camp Chef Versatop would make a great outdoor flat top for any camper who doesn't want to leave their culinary skills at home. On top of that, this grill is capable enough that you wouldn't necessarily feel compromised at home – it would make a great mini home tabletop grill, too.
Product dimensions – 40 x 40 x 14 inches
Cooking surface – 706 square inches
Number of burners – 2
Power per burner – 18,000 BTU
We're here to show you the best flat top grills – and that's why we had to include this monster of a grill. At 18,000 BTU each, these are the most powerful individual burners of any of the grills we've reviewed here. Its two circular burners pair with the enormous 30-inch diameter circular cooking surface that eliminates any hot or cool spots, for an even, reliable grilling surface.
Not everyone can have this cooker, it is exclusive. It's designed to be built-in to an outdoor countertop, with a bespoke kitchen constructed around it. For the expert griller, this is the Holy Grail – a giant, circular flat top, with extra durable 304 stainless steel construction.
"The inclusion of nickel in 304-grade stainless steel makes the metal more corrosion resistant"
Thyssenkrupp Materials (5)
The cooking surface spares no expense either: black oil-seasoned steel provides great heat retention and lets you enjoy non-stick cooking from the very first grilling. The circular cooking surface is surrounded by a moat-like stainless steel drip channel, providing total grease capture, and conceals two dishwasher-friendly drip pans for a swift cleanup.
We couldn't give this grill our top award – its built-in design means it doesn't appeal to the general grilling chef. Many will instead want the convenience of the cart-style grill, complete with side tables and accessories, such as you get with the Blackstone 1825. But for the seasoned grilling pro, who wants a durable grill to last him a lifetime? The EVO Affinity 30G could be all you could want.
Product dimensions – 46 x 25 x 32 inches
Cooking surface – 644 square inches
Number of burners – 2
Power per burner – Unspecified
Not everyone has the space (or desire) to keep a grill sitting on their yard all year round. That's what makes the Cuisinart CGG-0028 a great option. The CGG-0028 folds from a freestanding grill into a flat tabletop grill, allowing you to easily store it when not in use.
The folding design means that the cooking space is not compromised: its 644 square inch cooking surface competes with the larger grills we have reviewed. We also like the large shelf underneath the grill, which gives you storage space for plates, sauces, and raw ingredients. If you are looking for a portable grill that still has the capacity to cook for larger gatherings, this is it.
Two easy to remove grease cups slide out of the sides for simple maintenance on this grill, and its fold-out side table makes a great space for food preparation. The two wheels also aid the portability of this grill, letting you adjust the position without exerting yourself.
Cuisinart does not specify the BTU output of this grill – even in the user manual no figure is quoted, which is frustrating, and a needless oversight. Nonetheless, the portable design and no-compromise cooking space means this is a grill that you can use wherever you like – at home, in the park, tailgating, or anywhere.
Product dimensions – 62.50 x 36 x 22 inches
Cooking surface – 720 square inches
Number of burners – 4
Power per burner – 15,000 BTU
You'd be forgiven for asking how this grill differs from the Blackstone 1825, which we ranked as Best Overall. The two are very similar – in fact, the only difference between the two is that the 1554 lacks the 1825's integrated cutting board, paper towel holder, and garbage bag hooks.
That means that if you are happy to forfeit these quality of life features, you can get a great backyard gas grill at an even better price. Like the Blackstone 1825, it has a massive 720 square inch cooking area. And like the 1825, this surface is heated by four burners, each putting out an impressive 15,000 BTU. You still get a large shelf underneath the grill to store all of your cooking equipment, as well as a handy gas canister mount, and two sturdy shelves on either side of the grill.
One issue is that this cooker doesn't feature the excellent revised grease trap used on the Blackstone 1825. The grease trap on the 1554 uses a small hole, which can get blocked up with food waste, and also doesn't guide the grease away effectively – it can sometimes trickle down the legs of the grill, which is unpleasant.
Besides this flaw, the Blackstone 1554 provides great value for money. It would be a great pick as a backyard grill, especially if you want to cook for a larger group of family or friends.
Product dimensions – 17.5 x 18 x 8.5 inches
Cooking surface – 260 square inches
Number of burners – 1
Power per burner – 12,000 BTU
The Blackstone Table Top Grill proves that you can do a lot with one burner. This is the third Blackstone flat top grill to make it onto our list, and each one has made it here on merit.
Though this grill has only one burner, it forms an H-shape to maximize heat coverage over the griddle and avoid hot spots. It also sports many of the same luxuries as you get on a larger grill, such as electronic ignition and a handy grease drip tray.
The griddle is made from rolled carbon steel, providing excellent heat retention and strength, but will need to be seasoned with oil to prevent rust. At 21 pounds, it is the lightest grill featured in this review, 3 pounds lighter than the Camp Chef Versatop, making it another great option for a camping grill. Indeed, the griddle is designed so that it may be placed on top of the grill backwards for more compact storage, making this a very portable contender.
Naturally, with portability comes reduced cooking area, and so this grill should not be considered if you are looking to cook for larger groups. For camping, portability, or simply for small families, however, the form factor is ideal.
Product dimensions – 31.75 x 40.13 x 43.63 inches
Cooking surface – 380 square inches
Number of burners – 2
Power per burner – 15,000 BTU
The elegant, stainless steel dome found on the Cuisinart CGG-888 makes the grill look as if it would be at home in a fine European restaurant. But it serves a function too, allowing you to use this flat top grill to steam, smoke, roast, and warm your food. Two independently controlled burners provide the heat to the 22-inch diameter griddle, with an ample 15,000 BTU each, making this a capable and versatile grill.
Cuisinart has surrounded the flat top with a 360-degree grease pan, creating a simple and reliable method of removing grease. The integrated paper towel holder will also make clean-up easier, allowing you to spend more time with your family and friends. The curved fold-away side table matches the curves of the main flat top, giving this grill extra aesthetic appeal.
The cabinet underneath lets you store your propane tank conveniently and discreetly, and a removable grease drop tray keeps your grill looking clean. The cold-rolled steel cooking surface maintains an even heat distribution, making this a dependable and easy grill to cook with.
If you want a grill that doesn't only cook good food, but also looks good too, then this Cuisinart CGG-888 round grill is a great pick.
Product dimensions – 20.4 x 17.3 x 10.8 inches
Cooking surface – 289 square inches
Number of burners – 2
Power per burner – 15,000 BTU
Tabletop grills tend to strike a great balance between portability and features, and this Pit Boss tabletop grill is no exception. Its size makes it a great option for both home and outdoor use, with a 289 square inch cooking area.
The flat top griddle is made of cast iron and is helpfully pre-seasoned to prevent any potential rust. The two burners provide ample heat for a grill this size, totaling 30,000 BTU when used together. You don't want that heat all the time, however, which is why Pit Boss gives you two dependable control dials in order to subdue the power of the grill.
One small criticism is that the legs of the grill are plastic and therefore don't have the grip that rubber would have on smoother surfaces or tabletops. Also, the burners come in the shape of two narrow lines, meaning heat spots can build up along the grill that you have to be aware of.
We like the grease pan, however, which is shaped like a small coffee cup and is easily removed from the side without any trouble. The simplicity of this Pit Boss grill makes it a great all-rounder, and suitable for all kinds of flat top grill use – as long as you aren't expecting a large gathering.
The Final Verdict
The clear winner from our reviews of the best flat top grills is the Blackstone 1825. The Blackstone 36" combines an enormous griddle with equally impressive burners, and yet still houses more convenient extras, such as the cutting board, to make your cooking experience a delight. If you are after a smaller cooking space, a tabletop grill, or perhaps a super portable camping grill, then check out our other award categories. But for overall grilling convenience and quality, the Blackstone 1825 is the best flat top grill.
Best Overall – Pit Boss 2 Burner Tabletop Griddle
FAQs
How long will my grill last?
The durability of your grill depends on its quality, and also on how you store it. If you are storing your grill outside, consider using a rain cover to prevent rust. Materials such as stainless steel will provide rust protection, which may be important depending on your climate.
"In areas with high humidity corrosion of steel or cast iron plates is hardly avoidable." –Fantastic Cleaners (6)
Rust isn't necessarily the end of a grill, however. As long as it isn't extensive, it can be removed with household tools.
How are gas grills powered?
Gas grills use propane tanks to provide heat to your food. The size of the canister used may depend on your grill. Compact grills use lighter, smaller canisters, while larger home grills may use larger tanks. It is best to check in your grill's user manual to see what type of propane canister your grill needs.
Is a higher number of burners always better?
Not necessarily! More independently controlled burners can allow you to create different heat zones along your grill. This can give you space to simply heat up food, as well as another side to cook. More burners can mean a bigger size and cost, however, and a grill with fewer burners can compensate for its smaller number by using high power burners, which have a smaller area to heat up. As always, therefore, it depends on your use case.
How do I choose a flat top grill?
There are a few things to consider when choosing a flat top grill. First, you'll need to pick the right size for your needs. If you're only cooking for a few people, a small grill will suffice. However, if you're planning on cooking for large groups, you'll need a larger grill. Second, consider the features that are important to you. Some grills come with built-in warming shelves or side burners, while others do not. Decide what features are most important to you and choose accordingly. Finally, read our reviews before making your final decision. By following these tips, you'll be sure to find the perfect flat top grill for your needs!
References
(1) The Units of Measurement Regulations 1995. (n.d.). Retrieved from http://www.legislation.gov.uk/uksi/1995/1804/made
(2) What are BTUs?: Char-Broil. (2020, March 12). Retrieved from https://www.charbroil.com/learn/what-are-btus/
(3) Ross, T. (2019, July 25). How to Season Cast Iron Grill Grates. Retrieved from https://homeguides.sfgate.com/season-cast-iron-grill-grates-38386.html
(4) Easy Steps to Seasoning Grill Grates. (2017, July 05). Retrieved from https://www.sabergrills.com/better-barbecue-blog/easy-steps-to-seasoning-grill-grates/
(5) (4) Difference Between Stainless Steel 304 and 430: Thyssenkrupp Materials (UK). (n.d.). Retrieved from d-430.html
(6) How to Clean a BBQ – The Only BBQ Guide You'll Ever Need. (2020, July 21). Retrieved from https://fantasticcleaners.com.au/blog/how-to-clean-a-bbq/