The Best Santoku Knives of 2022
Originally called 'santoku bocho', meaning 'three virtues' or 'uses', santoku knives can be used to cut three things: vegetables, fish and meat. Much like the Western chef's knife, the santoku is a versatile tool perfect for a range of kitchen tasks from regular chopping and slicing to precise cutting, dicing, and mincing. In this article, we'll learn more about santoku knives, and check out the best santoku knives to buy in 2022.
Santoku Knives – Everything You Need to Know
Before we look at our top choices for santoku knives in 2022, let's learn a little bit about santoku knifes, and the things you need to know to choose the right santoku knife for you.
What is a Santoku Knife?
Santoku knives are multi-purpose kitchen knives similar to a Western chef's knife, perfect for precise cutting, dicing, and mincing. The dropped point and long, slightly tapered blade allows for precise and intricate cuts.
'If you're not super solid with your knife skills this is a great knife to start using, it's a little bit more compact and it works really well at home.'

– Christine Lau, executive chef at Kimika in New York City
Often, santoku blades will feature a Granton edge to help prevent food sticking to the blade.1 Santoku knives are perfect for the following kitchen tasks:
Cutting meat
Chopping and dicing fruits, vegetables and nuts
Mincing meat or herbs
Slicing cheese
Scooping up food with the wide blade
Creating thin slices of fish and veggies, perfect for sushi
Avoid slicing shelled nuts or frozen food as this could damage the blade. You shouldn't try to slice through unbutchered meat bones or joints with a santoku knife either – use your meat cleaver for that.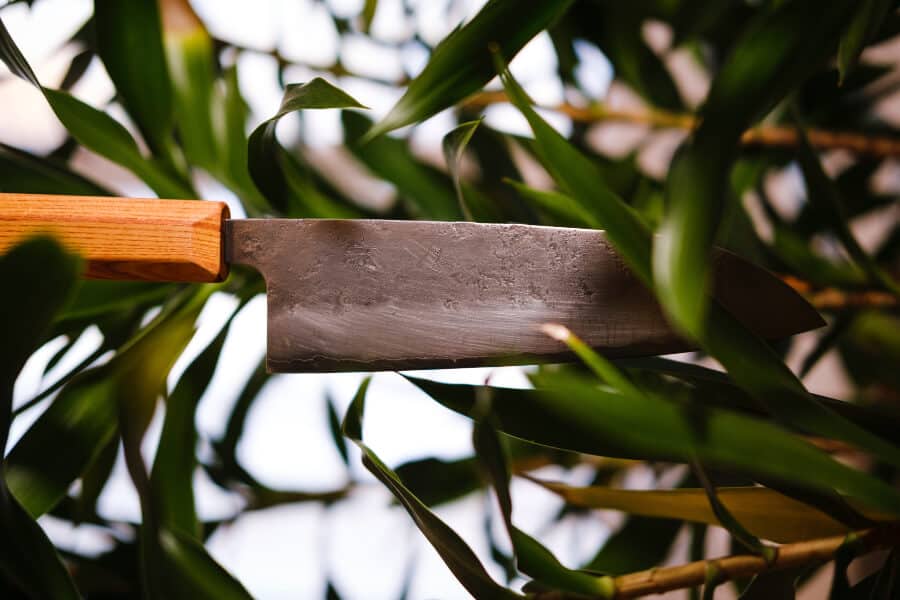 How to Use a Santoku Knife
The sharp, straight edge favors an 'up-and-down' cutting technique, rather than the rock-chop technique more commonly used in Western kitchens. This makes the santoku knife a great alternative to a typical Western chef's knife. This up-and-down' cutting technique is demonstrated in the video below by Christine Lau, executive chef at Kimika in New York City, demonstrates in the video below:
As you can see, Lau uses the up-and-down motion rather than a rocking motion, and she makes use of the taller heel of the blade for cutting thicker food. This chopping motion is perfect for all sorts of cutting techniques such as julienning, mincing and dicing too, and can be used effectively on a range of foods.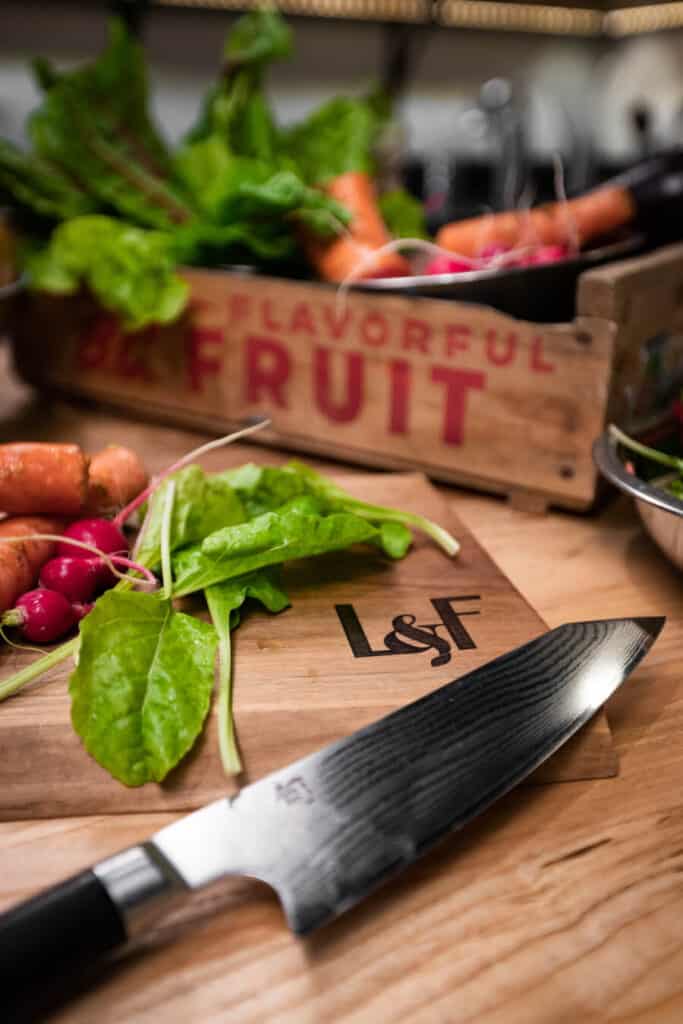 What to Look For When Buying a Santoku Knife
If you're looking to buy a santoku knife, there are a number of factors to take into account to ensure you get a knife that suits you.
Blade
Santoku knives are typically shorter and thinner than Western chef's knives, with blades that are normally between 5- and 8 inches long, with very little curve to the blade's belly. The blade is wide and flat, perfect for scooping up food once you've chopped it. The tip is typically rounded, so santoku knives aren't ideal for piercing.
Like most Japanese knives, the blade will be made from a particularly hard steel with a high carbon content, resulting in a fantastic edge retention.2
'Generally with increased levels of carbon you get a harder steel, improved tensile strength, edge retention and overall resistance to wear.'

– Matt Davidson, Knife Informer
However, this also means that the blade will be more fragile and prone to chipping than a typical Western blade.3 Due to its Western influence, the edge will typically be double-beveled, but some santoku knives will have a single bevel.4 We recommend a double-beveled edge for a santoku knife as this will be more versatile in the kitchen.
Weight
As well as being shorter than a Western chef's knife, a santoku knife should be much lighter. This enables you to maneuver the blade with ease when slicing larger foodstuffs like cuts of meat, and gives you a high level of control when doing delicate tasks like mincing herbs or dicing onions.
Handle
There are two main types of handle you'll find on a santoku knife: Japanese 'wa' handles, which can be octagonal, D-shaped or oval, and Western handles which will be closer to a German knife handle. The handle you choose is just down to your personal preference – choose something that feels comfortable in your hand and lets you use a pinch-grip comfortably.
The handle material is also important. Wooden handles are the most common, but you'll also find lots of options that use synthetic materials like Pakkawood or Micarta. These are highly durable and easy to clean. Finally, the handle can be an aesthetic statement, so go for something that will stand out in your kitchen.
Price
One last thing to consider is your budget. The versatile, multi-purpose nature of a santoku knife means it's worth investing a little to get a high-quality knife, as it can be used for so many different tasks in the kitchen. If cared for properly, good Japanese knives can last for many years, so your santoku knife could be a lifetime investment, worth spending the extra cash on.
The Best Santoku Knives in 2022
Now that we've covered everything you need to know about santoku knives, let's take a look at our top picks for santoku knives in 2022.
Image
Product
Features
Price

Best Budget

Material: High-carbon stainless steel
Length: 7 inches
Weight: 6.9 ounces
Rockwell hardness: 57±1 HRC
Tang: Full tang
Edge bevel: 15-18 degrees

Check Price

Best Value for Money

Material: High-carbon stainless steel
Length: 7 inches
Weight: 6.4 ounces
Rockwell hardness: 55-58 HRC
Tang: Full tang
Edge bevel: 10 degrees

Check Price

Best Hybrid Style

Material: High carbon stainless steel
Length: 7 inches
Weight: 5.6 ounces
Rockwell hardness: 58 HRC
Tang: Full tang
Edge bevel: 10 degrees

Check Price

Most Versatile

Material: High-carbon steel
Length: 7 inches
Weight: 3.2 ounces
Rockwell hardness: 56±1 HRC
Tang: Full tang
Edge bevel: 15 degrees

Check Price

Best Overall

Material: High carbon steel with tsuchime finish
Length: 7 inches
Weight: 10.4 ounces
Rockwell hardness: 61±1 HRC
Tang: Full tang
Edge bevel: 16 degrees

Check Price
'Shun' is a Japanese word used to describe local, seasonal food at the peak of its freshness and flavor.5 The concept of 'shun' is at the very heart of Japanese cuisine; Japanese knife brand Shun attempt to reflect this concept in the high-quality knives they craft, which similarly strive to be at the peak of their perfection.
The first thing you'll notice about this beautiful santoku knife is the eye-catching tsuchime (tsoo-CHEE-may) finish. Each side of the high-carbon VG-Max core is coated in 34 layers of stainless steel, which is then hammered and polished to give the distinctive pattern. And this finish isn't just for visual impact – the air pockets produced by the hammer marks actually act as hollow-ground cavities on the blade, which help to reduce drag and ensure that food doesn't stick to the blade.
The knife is well balanced and lightweight, resulting in excellent maneuverability. The gentle edge belly encourages a rocking motion when cutting and makes it very easy to hone the full length of the blade. An edge bevel of 16 degrees and a Rockwell hardness of 61±1 HRC ensure that the blade cuts effectively and stays sharp for longer periods of time.6 The high Rockwell rating does also increase the chances of the knife chipping though, so be careful when storing and only chop on wood or plastic chopping boards as recommended by Shun.
A sleek gray full tang Pakkawood handle is durable and naturally bacteria resistant, and the embossed end cap adds a nice touch of detail. Left-handers might prefer the symmetrical handle shape compared to the typical D-shaped Shun handles, and it still fits comfortably in the hand.
Overall, this is an effective and great-looking santoku knife – in fact, it's our favorite of the lot. Shun also offers support against manufacturing defects, a way of registering your purchase, and free sharpening (minus shipping) for life, to sweeten the deal even further.
Imarku is a professional kitchen knife brand that manufactures a wide range of cutlery. Inspired by the use of steel in aerospace science and technology, Imarku places an emphasis on quality craftsmanship, aesthetics and detail.
The 7-inch blade is made from high-quality German steel which is rustproof and stain- and corrosion-resistant. A high carbon content increases hardness, and the blade has a Rockwell hardness of 57±1 HRC. The edge bevel is 15-18 degrees on both sides, and a scalloped Granton edge helps to stop thin slices of food sticking to the blade, enabling you to chop faster.
The handle is made from Pakkawood, which is sanitary and resists expansion or cracking unlike regular wood. The shape and texture minimize wrist tension while providing a secure, slip-resistant grip. A widened bolster helps to balance the blade and also keeps your fingers safe. Alongside the full tang construction for strength and durability, the knife has a deluxe steel end cap featuring the Imarku logo.
Despite being a cheaper knife, Imarku has employed a number of design qualities normally reserved for more expensive knives, such as a generous bolster and full tang construction. It even comes in a classy black and red gift box. The main compromise we discovered was that this knife will probably need a hone, or possibly a quick sharpen, on arrival (check our kitchen knives guide for more info) but once sharpened it will hold an edge well. For all its features at a great cost, this Imarku santoku knife is our best budget pick.
Henckels International crafts essential kitchen tools designed for the home chef. Across the range of cutlery, it provides high-quality products at a great value. This santoku knife demonstrates their quality design and ease of use.
The blade is 7 inches long and forged from a piece of stain-resistant high-carbon steel, hot drop forged for increased durability. It is lightweight in typical Japanese style, and the edge is ground to an extremely sharp 10-degree double-bevel. The 55- to 58 Rockwell hardness of the blade is slightly softer than you might expect from a Japanese knife, but helps to stop the sharp edge from chipping. The blade also has a hollowed Granton edge, which prevents food from sticking when cutting.
The fully forged steel transitions seamlessly into the handle, and the triple-riveted, full tang construction further increases the strength of the blade. A generous full bolster protects your hand and helps to balance the blade, reducing strain on your wrist when chopping for longer periods. The black plastic handle is matte which offers some slip resistance, and the shape feels ergonomic in the hand.
Overall, this is a versatile santoku knife that demonstrates 'three virtues'. Despite being constructed from high-quality German steel, this knife is actually manufactured in Spain – Henckels does this to drive down manufacturing costs, resulting in a lower cost for the consumer. Henckels also provide a lifetime warranty. This balance between high quality and cost-effectiveness earns the Henckels Classic santoku knife our award for best value for money.
Wüsthof, one of the most well-known German knife companies, has been crafting traditional German-style knives in Solingen for centuries. Solingen is known as the City of Blades, and the knives crafted there have been honored for their quality and craftsmanship for around 2,000 years.7 With its Classic santoku knife, Wüsthof combine German heritage with Japanese influence, resulting in a versatile hybrid knife perfect for chopping a wide range of kitchen tasks.
The 7-inch blade is forged from a single piece of specially tempered high carbon steel with a stain-resistant alloy. Wüsthof's Precision Edge Technology, also used on their more traditional German knives, results in enhanced sharpness and exceptional edge retention, meaning that you won't need to hone or sharpen your knife as much – great news for such a versatile knife. The hollow Granton edge is employed to help stop your vegetables sticking to the blade. A 10-degree double-beveled cutting edge is sharper than the 14-degree bevel Wüsthof apply to their Western-style knives: this increased sharpness and 58 HRC hardness will increase the likelihood of the blade chipping though, so ensure you store this knife properly!
The full bolster provides a balance of Japanese elegance and lightness and German heft. The full tang handle, made from a highly durable polymer, connects to the blade with a secure triple rivet. Its shape fits comfortably in the hand, and feels reliably unlikely to slip even with wet hands.
Overall, the combination of German- and Japanese knifemaking influences earns this versatile blade our award for best hybrid style santoku knife. Wüsthof also offers a limited lifetime warranty against defects.
As a supplier to over 90% of North American cooking academies, Mercer supplies professional quality kitchen tools, and since moving into the consumer cooking market, Mercer now brings its professional level of quality and cost-effective pricing to the home chef.8
This santoku knife is forged from high-carbon German steel, resulting in increased durability, and the edge is taper-ground and polished by hand to a 15-degree double-bevel for cutting efficiency. The blade is rectangular in classic santoku style, and features a hollowed Granton edge to create air pockets in between the blade and the food you're slicing, ensuring that it doesn't stick.
The black santoprene handle is durable and particularly comfortable, offering slip resistance to ensure safety, even when chopping with wet hands. The substantial bolster also provides safety and helps to balance the blade. It also feels great in the hand, feeling fatigue-free even when chopping for longer periods.
Mercer manufactures most of its German-style and Japanese-style knives in Taiwan due to cheaper manufacturing costs, and this santoku knife is also manufactured in Taiwan using European components and technology. However, Mercer seems to pass these savings on to the consumer. Overall, this boning knife provides everything you need to get started boning meat at a great cost, so it earns our best budget pick award. Mercer's one-year warranty is an additional bonus.
The Final Verdict
That's all of our top santoku knives for 2022. The selection of santoku knives covered should suit a range of needs, budgets and use cases, from home cooks to professional chefs. Our top choice overall is the Shun Premier 7" santoku knife. Its hard and sharp blade is perfect for chopping all sorts of kitchen produce, from fruit and vegetables to meats and fish. Shun has crafted a santoku knife which stays true to the Japanese knifemaking tradition, incorporating a traditional handle and a magnificent tsuchime finish, which provides both style and resistance to foods sticking to the blade. The quality construction will last for years if treated with care, and Shun also offers a free sharpening service and limited lifetime warranty, providing extended care and giving you peace of mind.
FAQs
Q: Can I use a santoku knife for sushi?
A: Santoku knives are versatile, multi-purpose knives, but if you're trying to make sushi from scratch, you might want to invest in a specialized sushi knife – we recommend starting with a yanagiba knife. For more information, check out our guide to the best sushi knives.
Q:  What is the difference between Japanese and German knives?
A:  German knives are heavier and more robust – think of them as workhorses in the kitchen. Japanese knives, on the other hand, tend to be lighter, more easy to maneuver, and great for fine slicing and more delicate kitchen cuts. Just think of the difference between a German chef's knife and a santoku knife. If you're interested in learning more about Japanese knives, take a look at our Japanese kitchen guide.
Q: I've chipped my santoku knife – what do I do?!
A: Don't worry about it! These things happen to the best of us. Japanese blades are far more chip-pone than German knives, so you're fairly likely to chip one at some point. If the chip is only small, you can just sharpen your knife until the chip is removed. For bigger chips, you should consult a professional, and it might be worth checking if your warranty will cover the damage. In future, try to avoid chopping on hard surfaces like glass – wood, plastic or bamboo chopping boards are better for your blade – and remember to store your santoku knife safely – in a knife block or roll bag, on a magnetic strip, or sheathed and in a drawer.
References
1 HDMD (16 December 2021), 'What is Granton Edge?'. Accessed at: https://blog.hdmdknives.com/granton-edge.html.
2 Knife-Life Japan (14 May 2021), 'What is a Blade Hardness for Japanese Knives?'. Accessed at: https://knife-life.jp/blog/what-is-a-blade-hardness-for-japanese-kitchen-knives/.
3 Matt Davidson (15 December 2021), 'Knife Steel Composition Chart'. Accessed at: https://knifeinformer.com/knife-steel-composition-chart/.
4 Hasu Seizo (26 June 2020), 'Single Bevel Knives vs Double Bevel Knives'. Accessed at: https://hasuseizo.com/blogs/japanese-kitchen-knives/single-bevel-knives-vs-double-bevel-knives.
5 Shun (n.d.), 'At the Peak of Perfection'. Accessed at: https://shun.kaiusa.com/what-does-shun-mean.
6 York Saw & Knife (n.d.), 'Guide to Rockwell Hardness'. Accessed at: https://www.yorksaw.com/rockwell-hardness/.
7 Messervertrieb Rottner (n.d.), 'History of the City of Blades, Solingen'. Accessed at: https://messervertrieb-rottner.de/en/wissenswertes/geschichte-der-klingenstadt-solingen/. 8 Mercer (n.d.), 'It's All About You'. Accessed at: https://www.mercerculinary.com/about-mercer/.