Buyer's Guide and Reviews of All the Best Smoker Grill Combos Available to Buy
Smoking gives you a great opportunity to kick back and relax as the scents from your food fill the air but sometimes you might not want to spend hours and hours cooking your food. We've reviewed the best smoker grill combos available in 2021 that offer you that extra bit of versatility.
Top Smoker Grill Combo – Weber 14-inch Smokey Mountain Cooker
Best Budget Smoker Grill Combo – Americana Charcoal Combo Water Smoker
Best Value for Money Smoker Grill Combo – Realcook Charcoal BBQ Smoker Grill 
Most Versatile Smoker Grill Combo – Oklahoma Joe's Combo
Most Cutting Edge Smoker Grill Combo – Camp Chef Woodwind 20 in. Wi-Fi Grill and Smoker
Buyer's Guide and Reviews of All the Best Smoker Grill Combos Available to Buy
BBQ, smoker grill combos can be more complicated than traditional grill designs. But don't worry; our buyer's guide will explain all the features you can expect to see on a smoker grill, so you can decide which grill is right for you.
What is a smoker?
Smoker grills typically use long horizontal or vertical chambers to blanket your food with hot air and smoke.(1) They are typically used to cook your food at lower temperatures, but for longer periods of time.(2) This gives you a relaxed cooking experience, perfect for a slow, sunny day.
Using a smoker grill isn't as easy as a typical gas or charcoal grill. Ideally, you want to maintain a low heat for the duration of your grilling.(3) This can require some adjustment to your fuel throughout your cooking, which can be a challenge for beginners. If you don't fancy learning these new skills, we have included smart grills below, which are able to adjust their temperature themselves. Another key question we can help you with is, what are the best foods to smoke?
Charcoal vs wood pellet smokers
Wood pellets typically burn at a lower temperature, which is why charcoals are more common in regular grills, which aim for higher, searing temperatures. As smoker grills are typically run at lower temperatures too, charcoals are sometimes substituted for wood pellets as a fuel for smoker grills. Wood pellets offer woodier flavors, as opposed to the smoky taste of charcoal-grilled food – which of these you prefer is a matter of personal preference. For more info on the different flavor profiles you can add to your food while grilling and smoking check out our Ultimate Guide to all BBQ Fuels.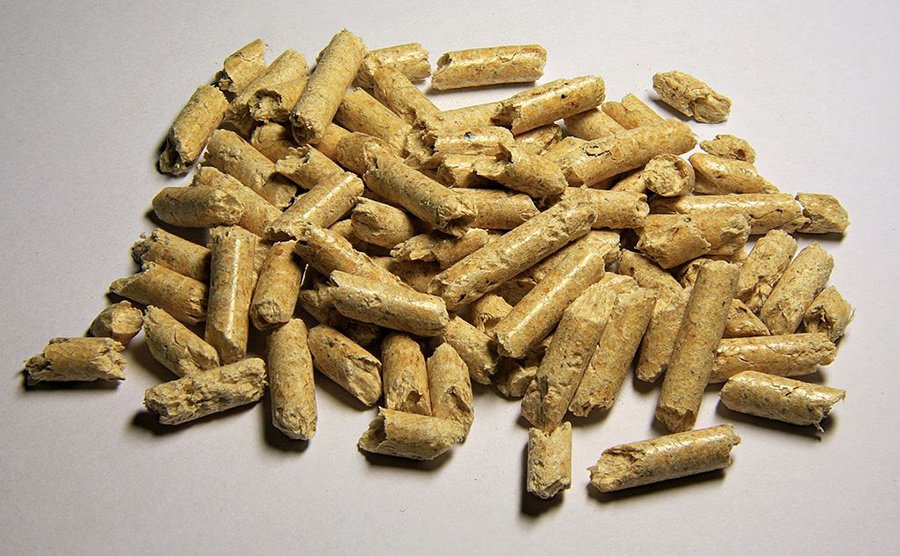 Wood pellet grills typically use electronics, however, to control the temperature. Often, an auger is used to add wood pellets to the combustion chamber from a hopper. Both this auger and an intake fan supplying fresh air to the grill to aid combustion, mean these grills usually require an electric supply in order to operate.
Although this electric requirement can limit the areas in which you use your grill, it can also add functionality. Wood pellet smokers often allow you to specify the desired temperature via controls, which makes the smoking process substantially easier. Some of the latest models even feature Wi-Fi connectivity, allowing you to change the temperature of your grill via an app on your smartphone.
For some grilling purists, this is a step too far and detracts from the skills involved, and fun to be had, from maintaining a grill firebox to the optimum temperature. But this is a personal preference. As such, we recommend choosing a grill based on the flavor and cooking style you prefer.
Where will you use your grill?
Not all grills are suited for every environment. It's best to consider where you want to use your grill before you make a purchase, so you can be sure the grill you buy is suited to this location.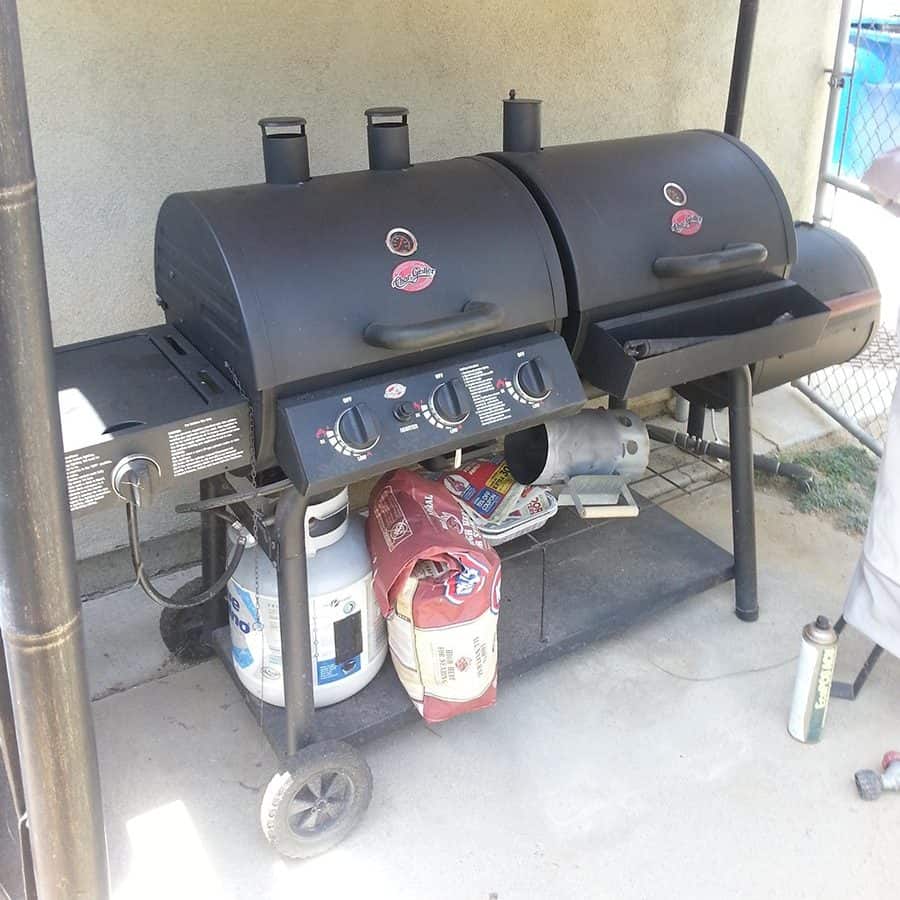 For a yard grill, look out for cart designs with wheels to help you move it. If you intend to leave your grill outside all year round, bear in mind electric wood pellet grills (and all grills, really) should be protected from the rain with a reliable grill cover.
For camping, look for models with a folding design. This will make it significantly easier to pack away your grill for travel. Bear in mind that wood pellet grills may need an electric hookup, which can limit where you can use them. You'll also want to clean your grill regularly if you're going to be travelling with it a lot.
What are the main types of smoker grill?
Modern smoker grills come equipped with a range of features to make your grilling easier. To understand how these features work, let's first look at the most common types of smoker grill.
Vertical water smokers use a tower structure, with charcoals located towards the bottom. Vents underneath the grill, and dampers at the top, allow hot smoky air to flow upwards towards your food cooking at the top of the tower. These often feature a water pan, allowing you to use moist steam, which helps transmit more heat to your food. Best Vertical Pellet Smokers.
Offset firebox smokers instead use a horizontal design. A firebox, containing the charcoals, sits to one side, with the main grill alongside it. Hot air and smoke flow out of this firebox and into the grill, cooking your food. These designs give easier access to your food and fuel, and as such are better suited to beginners. Best Offset Smokers.
Wood pellet smokers use wood pellets instead of charcoal as their fuel source. This imparts a wood-like flavor to your cooking, as described above. However, these pellets are typically fed into the grill via a hopper, which feeds them into an electronically controlled auger. This, combined with an electronically controlled intake fan, allows the grill to manage temperatures by itself. This makes grilling significantly easier, but also means you won't learn any new grilling skills. Check out our list of the Best Pellet Grills here.
The Best Smoker Grill Combos
It's time to review all the best smoker combo grills available in 2020. Check out our reviews below to find out which one is the best for you.
Product dimensions: 31.40 x 14.75 x 14.75 inches
Construction Materials: Steel
Cooking Capacity: 286 sq. in.
Special Technology: Porcelain-enameled bowl, lid, center section, and water pan. Cover included.
For a quality smoker grill, the Weber Smokey Mountain is a great choice. Weber's design lets you slow down the pace, cooking at your leisure to get your grilled food perfect.
The design here is simple, but high quality. The Smokey Mountain is what is sometimes called a vertical water smoker – it uses a tower-style construction, allowing hot air to flow upwards and collect around your food. An included water pan lets you moisten this air with steam, or, if you want to get more creative, you can use a juice of your own choice to add unique flavors and scents to your cooking.
The steel construction uses a porcelain enamel, which prevents the flaking paint often seen on lower quality grills. One criticism we did have is that thicker gauge steel would have helped to insulate temperatures – in winter, you may experience longer cooking times due to the walls of this grill being a touch thin.
However, we love the sturdy aluminum fuel door and dampers, which should resist rust effectively. The quality construction makes this grill easy to use, and a reliable cooker. The Weber Smokey Mountain makes a great smoker grill combo for both beginner and expert level cooks.
Product dimensions: 25.00 x 21.50 x 37.00 inches
Construction Materials: Metal with Wood Components
Cooking Capacity: 351 square inches
Special Technology: Converts into a portable grill
With this versatile water smoker, you can do a whole lot more with your grill. A modular design allows this grill to transform between a vertical water smoker and a mini tabletop grill, giving you the freedom to cook wherever your life takes you.
In its full format, the grill uses a steel tower structure, keeping your food roasting hot inside. If you want a more compact cooker, ideal for camping or tailgating, you can deconstruct the grill, removing the middle piece of the cooker to reveal a useful tabletop grill.
As a full tower, the grill includes easy-access doors to check on both your food and charcoals. The grill also includes a water pan, allowing you to introduce steam to your cooking to aid heat transfer.
"You don't have to fill the water pan with liquid, but doing so will not only hydrate the smoking environment but go a long way toward helping you maintain a consistent smoking temperature"

Steven Raichlen, Barbeque Bible (4)
We like the stylish wooden handles, and a thermometer allows you to know what's happening under your grill at all times. We'd have liked to have seen precise units on this thermometer, however, as opposed to vague terms.
For the chef that wants an easy to use charcoal grill for all occasions, this grill is a great choice.
Product dimensions: 24.80 x 20.67 x 41.34 inches
Construction Materials: Steel with Porcelain Components
Cooking Capacity: 636 square inches
Special Technology: Converts into two separate grills
Realcook has taken its modular design to the next level, allowing you to convert this smoker grill into two separate grills if you so wish. Realcook's grill doesn't limit you to one style of grilling therefore – this grill allows you to have a smoker, a tabletop grill and a larger grill, and even a fire pit. This conversion process is made easy and safe, thanks to locking latches that secure the segments of the grill together, giving you peace of mind while grilling.
Two cooking grates give this grill a tremendous capacity. A mighty 636 square inches of cooking space, split between these two grates, give you enough capacity to cook for all the family. Each of these grates, and the charcoal fuel below, can be accessed via two large access doors, which allow you to monitor and adjust your cooking with ease.
This grill still comes equipped with plenty of other features to make cooking easier. The bottom of the grill features an ash catcher, making grill cleanup a breeze, as well as an adjustable air vent, allowing you to adjust the volume of oxygen fuelling your charcoal's flames. This vent is paired with a second damper on the top of the grill, creating a flow of adjustable heat up through the grill.
We love not only the incredible versatility of this charcoal grill but also the great functionality it has as a full smoker. This is a great value grill for chefs who don't want to be limited in their cooking style.
Product dimensions: 31.5 x 74 x 50.6 inches
Construction Materials: Steel
Cooking Capacity: 1060 sq. in.
Special Technology: Two Cooking Chambers
Oklahoma Joe's combo grill offers every style of grilling you might fancy. Thanks to an offset firebox, a charcoal grill, a gas grill, and a side burner, you don't have to choose what grill style you prefer: you get to use all styles at once.
The other big advantage of Oklahoma Joe's combo design is the whopping 1,060 square inch cooking space. If you're only cooking for your household, you can run just one section of the grill to keep things simple. But if you're hosting a large group of guests, why not use all the different sections of the grill, and let your guests choose which cooking flavor they prefer?
The construction of this grill doesn't disappoint either. We like the metal coil handles, which stay cool to the touch. There's also a handy groove on the bottom of the grill for your gas tank to sit safely in, and we like the large, raised thermometers. The side burner is a little flimsy, however – we would have liked to have seen a more sturdy design for this, but frankly, it's nice to see a side burner included in the first place.
Oklahoma Joe's combo grill offers an incredible amount of versatility. If you're confident about what style of grill you prefer, you may want to focus on a grill that offers solely that style. But if you'd like to experiment in your cooking, you can't go wrong in choosing this grill.
Product dimensions: 35 x 24.5 x 21 inches
Construction Materials: Stainless steel
Cooking Capacity: 501 square inches
Special Technology: Wi-Fi & Bluetooth connectivity
Fancy something a bit more high tech? Camp Chef has brought some of their grills to the 21st century by integrating Wi-Fi into certain models. But why? Well, for ease of use – with Camp Chef's Woodwind grill, you can set the exact temperature you want with a click on your phone.
Simply install Camp Chef's control app on your phone, connect to your grill via Wi-Fi or Bluetooth, and you have easy control over your grill's temperature. You can even sit inside, or bathe in the sun, contented by the knowledge that your grill is managing your cooking for you. Camp Chef has also included an option to control the amount of smoke in your grill, letting you choose the smoke quantity on a scale from one to ten.
To grill purists, this may sound like treason. It's true, this grill takes a lot of the guesswork and control out of grilling – and for many, this was the best part! But others will love the promise of a grill that will stop you from having to fiddle with dampers to get the optimum conditions for your food. If you're a chef who loves technology, or who wants to use technology to make their cooking experience easier, this grill is for you.
Product dimensions: 17.5 x 46.25 x 44.75 inches
Construction Materials: Painted steel
Cooking Capacity: 290 + 140 square inches (430)
Special Technology: Offset firebox
This straightforward offset smoker grill has all the essentials included, making it a great grill for a beginner to hone their skills with. An offset firebox makes it easy to access, stoke, adjust, and add to your charcoals This allows you to see what your grill is doing and helps you learn the right conditions for optimum grilling.
Despite the classic design, Char-Broil has still included all the features a beginner needs to grill like a pro. A vent below the firebox allows you to adjust the amount of oxygen supplied to your charcoal, letting you get your grill to the perfect temperature. Hot air from this firebox flows upwards into the main cooking area, keeping your grill grate warm. You can then adjust the damper on the smokestack to gain more control over the heat and smoke level in your grill.
The handles to the firebox and main grill use a coil, giving them a large surface area which keeps them cool to the touch. A sturdy set of wheels and a handy side table add to the ease of use of this grill, making it a pleasure to cook with.
This grill won't make it easy for you, you will have to work to keep a good smoking temperature, and you will have to keep an eye on the thermometer. But in doing so, you will learn some great grilling skills that will last a lifetime. This is a great grill that we recommend for any beginners looking to get into smoking food.
Product dimensions: 31.75" H x 34" W x 23" D
Construction Materials: 13 gauge steel
Cooking Capacity: 219 square inches
Special Technology: Wi-Fi controllable, integrated fan
Like Camp Chef's Wi-Fi grill, this cooker also uses Wi-Fi integration to give you easier control over the cooking process. Green Mountain's app lets you monitor your grill's temperatures, which are wirelessly transmitted from a built-in thermal sensor.
You can adjust the grill's temperature with precision, choosing any value between 150 and 500 degrees Fahrenheit. Or, if you prefer to stay away from your smartphone when you're grilling, simply use the control panel and screen built into the grill to set your ideal temperature.
Instead of using charcoal like most of the grills on this list, this grill is instead fuelled by wood pellets. This imparts a woodier flavor to your food, as opposed to the smokier tone of charcoal cooked food.
"One of the major benefits of using a wood pellet grill in the first place is the ability to grill and smoke your food with the natural aromas of hardwood pellets. These aromas add delicious flavor notes to your food via the smoke they produce when lit."

Pit Boss (5)
However, the wood pellet system on this grill is powered by a motorized auger and a fan, meaning this grill requires power to be used. This, along with the 68lbs makes us question Green Mountain's claim that this is the "ultimate portable grill".(6) Though the grill requires a 12V or 120V electric hookup, which affects its portability, it does feature foldable legs, making it easier to pack into a trunk.
If you are considering this as a portable grill, therefore, we would consider where you wish to take it, as the location will need to have power available. But as a camping grill for the high-tech chef, this is a great pick.
Product dimensions: 35 x 24.5 x 21 inches
Construction Materials: Stainless steel
Cooking Capacity: 700 square inches
Special Technology: One-click startup
Who said only gas grilling is easy? Z-Grills have equipped this grill with a one-click startup system, letting you start cooking precisely when you intend to. The secret to this speed and simplicity is an advanced electronic control system, which takes care of the difficult parts of grilling, so you can focus on the food, the mouth-watering smells, and your guests.
The advanced electronics inside modern wood pellet grills allow them to match gas grills for speed and simplicity. The large 20-pound hopper, which Z Grills has equipped this cooker with, allows you to fill and forget. Simply dial in the temperature you want on the control pad, kick back, and relax as your food slowly builds in flavor.
Z Grills also offers this cooker with a cabinet beneath the main grill, giving you useful space for storage of tools and cutlery. A cart-style design, complete with two sturdy wheels, makes this grill easy to move around in your yard. Also, a 3-year warranty should offer reassurance to those who are unaccustomed to this level of technology in their cooking.
You won't pick up the same skills as a traditional grill. But be it smoking, grilling, roasting, braising, or baking, this grill can do it. It's a great grill for the cook who wants to keep things simple.
Product dimensions: 40.75 x 25.59 x 43.9 inches
Construction Materials: Powder-coated steel
Cooking Capacity: 700 square inches
Special Technology: Digital temperature control panel
Fancy a digital grill, but don't want to rely on your smartphone? This Pit Boss Classic grill puts the focus on a digital temperature control panel, keeping the grilling process simple.
The control panel features a clear LED readout, giving you a clear picture of your grill temperature. A large control dial makes adjustment easy even when you've got your hands full, too. Prefer the look of analog instruments? Pit Boss has also included a traditional needle-based thermometer on the hood for classic ease of use.
A huge 700 square inch cooking area gives this grill enough room to cook for all the family. Also, the wood chip fuel should give you an effortless flavor, without the need for manual fuel control, and the electronic auger system should automatically give you the fuel you need to maintain your selected temperature.
We love the stylish bronze finish on the hood and the storage rack below the grill. We would have liked to see the option of Wi-Fi control, as on other digital grills, but many may appreciate this as a sign of the grill's simplicity. We think this grill is a great choice for the chef who wants a no-frills cooker, which can cook for all his family and friends.
Product dimensions: 66 x 22 x 45 inches
Construction Materials: Porcelain-coated cast iron
Cooking Capacity: 860 square inches
Special Technology: Offset firebox charcoal grill, plus gas grill and side burner
Smoke Hollow's combo grill has something for every type of griller. This grill focuses on variety, offering a wide range of different cooking options.
Thanks to a half-and-half design, this is a grill that can suit your every mood. On the right side of the grill is an offset firebox, providing an easy way to manage your fuel. This firebox is attached to a large main charcoal grill, complete with dampers. If you need extra space for charcoal cooking, you can use the firebox as an extra cooking area, too.
It's unlikely you'll be wanting for more cooking space, though – once the gas side of the grill is included, this cooker has a mighty 860 square inches of porcelain-coated cast iron cooking space, which should be plenty even for larger parties. The gas side of the grill offers three stainless steel burners, each outputting 8,300 BTU. If you're not familiar with BTU's, this is a respectable heat output. On top of this, a 9,300 BTU side burner lets you prepare sauces and sides without leaving your grill.
Our only criticism of this grill is that the grease management system isn't perfect. You may see some grease dripping from the propane side of the grill. However, considering the number of features on offer with this grill, a small oversight is certainly acceptable. This is a great choice for the cook who doesn't want to choose how he wants to cook – with this grill, you get multiple styles in one.
Product dimensions: 27 x 53 x 49 inches
Construction Materials: Porcelain-coated steel
Cooking Capacity: 884 square inches
Special Technology: Digital temperature control
Under the beautiful bronze hood of this grill, you'll find cooking grates large enough to cook for the largest families and occasions. A porcelain coating on these two cooking grates makes them easy to clean up too, ensuring you can have as much fun as the rest of your guests.
Instead of working hard all day to maintain the right temperature on your grill, you can spend more time with your friends. This is thanks to the grill's digital temperature management system, which allows you to set your desired temperature on the control panel, and let the grill do the hard work.
As a wood pellet grill, it will automatically add fuel to the fire when needed via its hopper and auger. Also, thanks to an 18-pound hopper, you won't need to top it up often, either. We like the sturdy steel construction, and the large carrying bar located on the right side of the grill. At 136 pounds, you'll need the two wheels, too.
There's no smartphone control app, however, which would have been a nice feature to see. Instead, this grill gives you simplicity, with a single control panel offering all you need to get your grill going. This is a great pick for the chef who wants to cook for larger gatherings.
The Final Verdict
We found that the best overall smoker combo grill was the Weber Smokey Mountain. This classic tower design grill makes for a quality smoke on every use. We love the porcelain-enameled finish on the body of the grill, and the durable aluminum dampers and access doors. It's a great pick for all sorts of chefs.
Top Pick – Weber 14-inch Smokey Mountain Cooker
FAQs
Do I need a power supply for a wood pellet grill?
Generally, yes. The exact requirements will depend on the grill manufacturer. Some grills allow both 12V and 120V, for example. The power is used to feed the digital temperature control systems and the auger which supplies the grill with wood pellets. If you're going somewhere off-grid, you could consider using a solar panel system, or a high capacity battery, as long as you make sure they provide enough power (and for long enough) for your specific grill model.
How expensive is wood pellet fuel?
Bags of wood pellets tend to be very affordable, so don't worry. If in doubt, however, check the prices in your area, as prices tend to vary based on location.
How do I use a wood pellet grill?
Wood pellet grills are very straightforward to use. It's best to follow your grill manufacturer's guide to avoid any issues, but as a rough guide, here's what you should do. Make sure your grill has access to power and is powered on. Add wood pellets to the hopper, and select the temperature you want via your control panel. It's as simple as that. 
Are smoker grills worth it?
There are a lot of different types of grills on the market, and smokers are just one option. They're often more expensive than other types of grills, but they're also very versatile. You can use them to smoke meats, bake breads and desserts, and even cook vegetables. If you love to grill and want to be able to do more with your grill, a smoker is definitely worth considering.
References
Hughes, B. (n.d.). Ready for Real BBQ? Time to Master the Smoker Grill. Retrieved from https://www.epicurious.com/expert-advice/how-to-use-a-smoker-grill-step-by-step-article
Riches, D. (n.d.). What Is A Barbecue Smoker? Retrieved from https://www.thespruceeats.com/what-is-a-barbecue-smoker-336208
J. (2020, March 30). How Does a BBQ Smoker Work? 7 types of smokers explained. Retrieved from https://www.lakesidesmokers.com/how-does-a-bbq-smoker-work/
Raichlen, S. (2014, September 18). A Guide to Charcoal Water Smokers. Retrieved from https://barbecuebible.com/2014/09/09/guide-charcoal-water-smokers/
Comparing pit boss wood pellet grills vs charcoal grills (n.d.). Retrieved from
Davy Crockett. (2020, May 13). Retrieved from https://greenmountaingrills.com/products/grills/prime-wifi/davy-crockett-pellet-grill-wifi/