Buyer's Guide and reviews for the best Gas grills under $500
Gas grills give you an opportunity to bring your cooking outside – and who could dislike the smell of a grilled meal in the afternoon or early evening? With such a busy market, however, it can be hard to choose which grill to buy. We've broken the gas grill market down into different price points and if you're reading this article, you'll be thinking about quality build materials and a premium cooking experience. We've reviewed a wide range of the best gas grills under $500 to help you choose which one is the best for your needs.
Best Overall – Weber Spirit II E-310
Best Value for Money – Char-Broil Performance Series 4
Best Budget Pick – Char-Broil Performance Series 2
Best Round Grill – Fuego F21C-H
Most Compact – Weber Q2200
What to look for when buying a grill for under $500
Important note: Although all these grills were under $500 at the time of review, prices do fluctuate so there is a chance some may be a little over $500 when you read this. We've also done guides to the best gas grills under $300 and the best gas grills under $200.
Where will you use your grill?
Each of these grills is designed for different purposes – some are best suited for yard use, some are intended to be taken away camping, and others are versatile, providing great performance in any environment.
Portable grills often use more lightweight materials, smaller gas tanks, and have reduced storage and prep space so you can transport your grill more easily. On the other hand, cart-style grills will often offer more burners, more storage, and more prep space, but come with a much heavier design. There are other grills, however, that make use of folding designs to offer the best of both worlds. It's best to consider how you want to use your grill before you make your purchase.
Heat – What is a BTU?
The terminology used alongside these grills may sound confusing at first, but it's quite simple really. I'm sure you want to know how much heat your potential grill can create, and thankfully there is a simple scientific measure that describes a grill's heat production. BTUs, or British Thermal Units, give you an idea of a grill's heating power.(1) On a technical level, it measures the energy needed to heat a pound of water from 39°F to 40°F – but all you need to know is that it measures the volume of heat your grill will be capable of producing.(2)
So, the higher the BTU, the hotter the grill? Unfortunately, it's not quite that simple. The other main factor is the materials used in the construction of the grill – a thick, well-designed grill body can help retain heat, meaning a high temperature can be reached with a lower BTU rating. That's why our reviews cover both the technical specs of each gill, as well as the physical attributes of the cookers.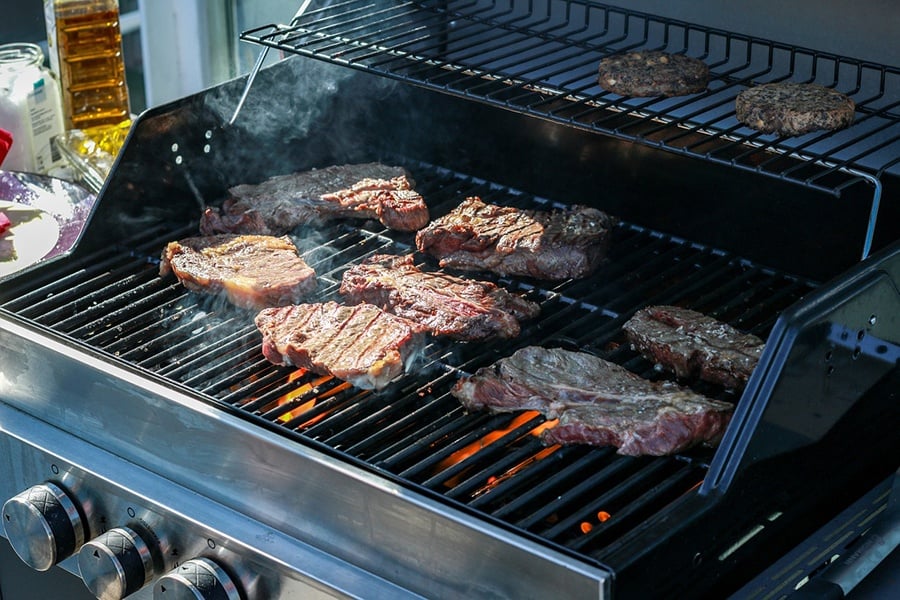 Porcelain, stainless steel, cast iron…what's best for me?
Modern grills make use of a variety of materials to aid both cooking and longevity. For the grate of your grill, ideally, you want a surface that retains heat well, doesn't rust and is easy to clean. But unfortunately, you can't have everything.
Stainless steel offers the best rust protection, and the easiest cleaning, but has weak heat retention compared to other materials, and hence is more likely to develop hot spots. Hot spots are undesirable because they make cooking unpredictable: uneven temperatures across your grill grate make it harder to get reliable cooking results.
Cast iron has excellent heat retention but can rust very easily. That's why manufacturers will often coat it in porcelain, which aids cleaning, and provides rust protection. If you don't have a porcelain coating on your grill, you will want to season your grill grate, a process whereby you burn-in layers of oil onto your grate to provide protection. 
"Porcelain-enameled cast-iron cooking grates typically retain heat better and longer than the other types, making them desirable to those who bold sear marks are a must."

John Burns, Weber Grills (3)
These materials offer the same qualities when used in general grill construction – stainless steel is often used around the controls, for example, because its smooth nature makes it easier to wipe down and clean. The amount of rust protection you require may depend on your climate, and you may want to consider using a rain cover to prevent any long-term damage. We've looked at some of the best grill covers for you here.
How many people do you intend to cook for on your grill?
The grills featured here vary between single-burner portable cookers, and eight-burner behemoths, with a wide range of cooking area sizes. To best choose the grill that suits your needs therefore, you should consider how many people you normally intend to cook for. That's why we've included the cooking surface size in all of our reviews.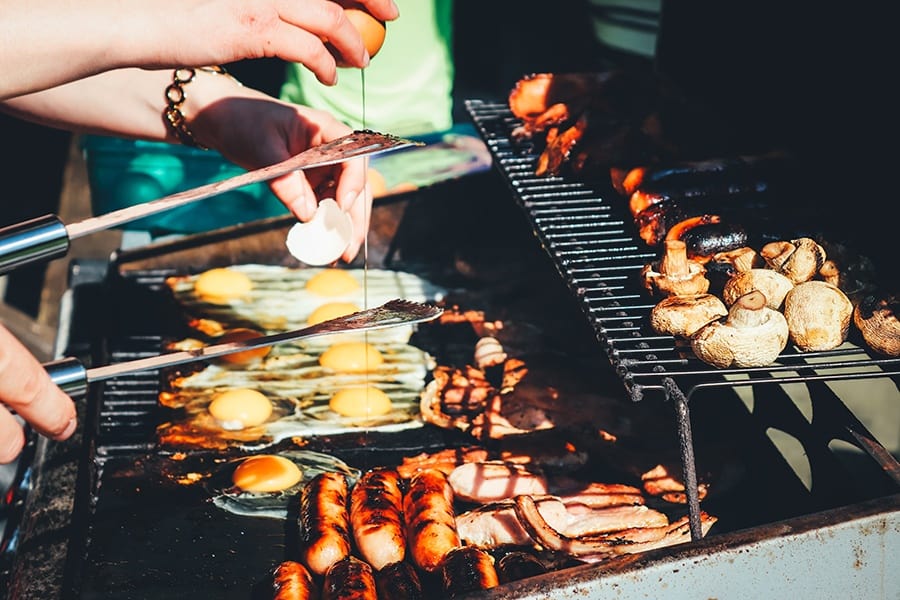 How do I keep my grill clean?
Some grills will be easier to clean than others. As we mentioned earlier, materials such as stainless steel have a smooth, non-stick finish, making it easy to wipe away any food debris after cooking. We've put a detailed How to clean your grill guide together for you here.
Modern gas grills use grease management systems, making cleaning easier, however. These work by using grooves to channel grease away from your cooking, guiding it into a grease tray or drip pan underneath the grill. This pan can then be removed for easy cleaning. Some trays also use stainless steel or porcelain coatings to give them non-stick properties, making it easier to clean these special little devices.
Here's a handy guide for when your grill needs a deeper clean:
The 10 best gas grills under $500
Let's look now at the best gas grills you can get for under $500. We've used a variety of awards to help you see which is the best grill for you. 
Product dimensions – 52 x 26 x 57 inches
Cooking surface – 424 square inches
Grate material – Porcelain Enameled Cast Iron
Number of burners – 3
Power per burner – 10,000 BTU
Weber has elevated the grilling experience with the excellent design of this grill. The key innovation is Weber's aptly named Flavorizer bars, which will introduce an extra level of sizzling smells to your cooking. The bars, seated above the burners, catch drippings to add a great smoky flavor to your food, while any grease that is not vaporized is channeled away into a grease pan.
We also like the reversible porcelain-enameled cast-iron cooking grates, which have a side with thinner bars for more delicate foods, and thicker bars on the reverse to give thick sear marks to your food, and the great flavor that comes with them.
Weber has realized that it takes more than heat to make a good grill. They've included plenty of other features to make your cooking a breeze – the side tables include integrated tool hooks for easy storage, and the open-cart design gives you a broad lower shelf where you can place all of your plates and ingredients.
A handle to move the cart, however, would have been a nice touch – moving the grill by holding the fold-away side table feels clumsy. But this is a small oversight in an otherwise impressive design. The Spirit II E-310 is a great overall grill, which will have the whole neighborhood envious of the smells coming from your yard.  
Product dimensions – 50.4 x 24.5 x 45 inches
Cooking surface – 425 square inches
Grate material – Stainless Steel
Number of burners – 4 +1
Power per burner – 9,000 + 10,000 BTU
Char-Broil has thought of everything with the design of this grill. The stand-out feature is a nifty 10,000 BTU side burner, which is great for cooking sauces to compliment your food as you grill. The side burner also sports a lid that allows you to convert it into a side table when not in use, expanding your prep space.
The grill itself uses stainless steel construction, providing great rust resistance and making it easier to clean. A raised warming rack adds utility, allowing you to heat up food gently without interrupting your grilling. And a cabinet design gives you space to conceal your propane and tools inside the cart, keeping your yard clean.
The grease pan is porcelain-enameled, meaning grease will not stick to it easily, allowing for a quicker clean. We like the dependable feel of the grill – the hood has a large handle, the burners use firm controls, and the stainless steel construction should last you a long time.
One thing to note is that the assembly can be fiddly, so you will want to set aside a couple of hours for construction. But once complete, you will have a dependable grill that can last you a long time. The Char-Broil Performance Series 4-Burner Gas Grill is a great pick for the chef who wants a reliable, well-designed stainless steel grill.
Product dimensions – 24.5 x 42.9 x 44 inches
Cooking surface – 300 square inches
Grate material – Porcelain Enameled Cast Iron
Number of burners – 2
Power per burner – 12,000 BTU
A simple grill – that's all many people want. The Char-Broil Performance Series 2 Burner holds simplicity at its heart, while also housing many features seen in more expensive grills. While the grill only houses two burners, they are each quite powerful, with 12,000 BTU per burner. This heat, combined with the smaller 300 square inch cooking space, make this grill a great choice for smaller families.
The two side tables complement the cooking area by giving you space to prepare your food and stand sauces, and they fold away to keep the compact dimensions of the grill when not in use. There is also a convenient cabinet beneath the grill, ideal for storing your propane and tools out of sight, giving the grill a clean, tidy presentation.
Firm, oversized controls allow you to adjust the independently controlled burners. The burners also sport electronic ignition, so that your cooking is effortless right from the go. A grease management system underneath the grill makes cleaning painless also – simply remove and empty the grease drip pan after your grill has cooled.
This is not the largest grill in the world, so if you're dreaming of cooking for big parties, this isn't the grill for you. But for a simple family grill, this would be a great choice.
Product dimensions – 21 x 21 x 46 inches
Cooking surface – 346 square inches
Grate material – Cast Iron
Number of burners – 2
Power per burner – 11,000 BTU
The cylindrical design of the Fuego F21C-H allows it to boast a 346 square inch cooking area while maintaining a compact footprint. Paired with circular burners, round grills are also less likely to develop hot spots where heat is concentrated, providing a more consistent and reliable sear to your food.
The hinged door underneath the grill allows you to discreetly store a large propane tank without disrupting the clean aesthetics of the unit. We also like the range of accessories available for this grill – an optional griddle, pizza stone, and clip-on side shelf provide you with options to expand your cooking style in the future.
The Fuego F21C-H uses a grease management system, with a removable drip tray catching any runaway grease or food debris. No more losing time with your guests while you clean up- simply remove the drip pan and replace it when clean.
While some will love the modern styling of the Fuego F21C-H, its bold looks won't be for everyone. With the Fuego however, you can be sure that your grill will stand out from those of your friends. The Fuego combines a well-sized cooking space with a compact package, powerful burners, and a striking modern design. If you're looking for a modern round grill to be the centerpiece of your parties, this would be a great pick. 
Product dimensions – 66.1 x 21.7 x 36.6 inches
Cooking surface – 292 + 292 square inches
Grill material – Porcelain Coated Steel
Number of burners – 4
Power per burner – 12,000 BTU
For the cook who doesn't want to compromise, there is the Royal Gourmet GD401C. This innovative grill uses two surfaces, splitting its cooking area in half between a traditional grate grill, and a flat top griddle. It's a great way to experiment.
A griddle uses a flat, unbroken surface, like a pan. This lets you cook foods that would otherwise fall between the gaps in a grate grill, such as eggs, pancakes, or rice dishes, meaning your cooking ambition need not be limited by your equipment.
Despite its large cooking area, you don't have to leave this grill at home. The four legs can be folded away, leaving you with a compact unit that could be packed into the trunk of your car. Like many of the other grills we've reviewed here, it also comes equipped with a grease management system, letting you focus on your friends and your cooking.
We like the hooks provided on the lower bar, allowing you to hang up your tools neatly, and the integrated bottle opener, which makes this grill a pleasure to use. One notable absence however is that there is no hood provided. If you are keen to smoke, steam, or roast with your grill, therefore, this might not be for you. But for a portable grill with unique cooking options, this is a great pick. 
Product dimensions – 90.6 x 24.2 x 38.2 inches
Cooking surface – 950 square inches
Grill material – Porcelain Wire
Number of burners – 8
Power per burner – 13,000 BTU
This next grill is something special. We thought we knew what a big grill was until we reviewed this behemoth of a unit. A whopping 8 burners, each rated at 13,000 BTU each, give you a total output of 104,000 BTU, across an expansive 950 square inch cooking area.
Despite the number of burners, each can still be individually controlled, allowing you to create a wide range of different heat zones to cook every type of food perfectly. There are also two large folding side tables on each side of the grill, though you will likely want extra prep space on top of these to match the extra-large cooking area on this grill.
Four lockable wheels let you transport the grill, and a sturdy two-level shelf system provides ample storage space for propane, plates, and ingredients.
We would suggest that you ask yourself if you really need such a big grill – a grill of this site is designed primarily for large events and commercial use. If you're thinking of using a grill for when you have a few friends over, you might be better served with one of the other grills we have reviewed.
If you are looking to serve a large number of people without being compromised on size and power, this grill is a great option.
Product dimensions – 48 x 28 x 48 inches
Cooking surface – 438 square inches
Grill material – Porcelain Coated Cast Iron
Number of burners – 3 + 1
Power per burner – 13,600 + 12,000 BTU
You may be looking at an old rusted grill in the corner of your yard, and thinking, what will prevent my new grill from meeting a similar fate? Thankfully many modern grills make use of quality construction materials to ensure that they last for longer than their predecessors. The Char-Griller E3001 does so, using powder-coated steel to provide both strength and rust protection, letting you keep it outside in your yard without fear of rapid deterioration.
The primary cooking area is complemented by a 192 square inch warming rack, perfect for gently heating up food from cold. There is also a powerful 12,000 BTU side burner, which is ideal for sides and sauces, as well as a side table to place them on once done.
Simple one-press electronic ignition lights the three 13,600 BTU burners, providing ample heat to the cast iron grill grate. You will want to season the grate thoroughly with oil to prevent future rust and give it more non-stick properties, but otherwise, it will prove to be very durable.
The grill weighs 92 pounds, which demonstrates the heavy-duty nature of the materials used to build this grill. Two large wheels provide maneuverability though, so you won't need to be a wrestler to move it. If you want a grill that can stand the test of time, the Char-Griller E3001 will do the job. 
Product dimensions – 62.6 x 21.3 x 47.2 inches
Cooking surface – 598 square inches
Grill material – Porcelain Coated Cast Iron
Number of burners – 6 + 1
Power per burner – 10,000 + 12,000 + 9,000 BTU
If you want a grill you can really show off, this grill is for you. A whopping 598 square inch main cooking area means that you won't have to worry about how many guests you have over. Storage shouldn't be an issue either – a spacious double-door lower cabinet offers ample space for your gas, plates, tools, and ingredients, and you're likely to have room to spare.
You may have noticed we've listed three different BTU numbers for this grill, which is unusual. Royal Gourmet has used five main 10,000 BTU stainless steel tube burners to provide the majority of the heat to your cooking. There is also an innovative 12,000 BTU sear burner, which is perfect for getting beautiful and delicious sear marks onto your steaks. On top of that, there is also a 9,000 BTU side burner integrated into the side table, giving you a whole range of heat zones for a versatile cooking experience.
As with any grill of this size, you should ask yourself if you will really need such a big grill. If you're intending to cook for a small family or group of friends, this grill will likely be overkill. If you are interested in entertaining a larger group of friends, however, this grill will be able to keep the taste and smell of good food coming. 
Product dimensions – 24.60 x 52.50 x 47.50 inches
Cooking surface – 420 square inches
Grill material – Porcelain Coated Cast Iron
Number of burners – 3 + 1
Power per burner – 9,300 + 12,000 BTU
The Char-Broil Gas2Coal uses an innovative design to allow cooking with either gas or charcoal, without requiring a second cooking area. A key advantage of this design is the ease of ignition. You can light the charcoal effortlessly with the gas burners, which themselves are lit using an electronic ignition system, simplifying the charcoal grilling process. We've also looked at all the other best gas charcoal grill combos here.
To convert from a charcoal grill to a gas grill, you simply have to remove the tray for the charcoals and place it back in its storage slot underneath the grill. You can then use the three 9,300 BTU gas burners to cook your food, giving you a backup option if you run out of charcoal. The grill also features a 12,000 BTU side burner, although it should be noted that this will only run on gas. 
"When the drippings from your steak, chicken, or veggies fall on the hot coals, they turn into flavor-packed steam and smoke that goes right back into the meat, resulting in the amazingly unique taste of charcoal grilling."

Kaila Harmon, Taste of Home (4)
Using both charcoal and gas gives you versatility. With the gas, you can control the temperature, and enjoy a quicker cleanup. And with the charcoal, you will get a smokier flavor and may achieve higher temperatures.(5) If you want the ease of gas grilling, but don't want to say goodbye to the smells of smoky charcoal cooking, then this combo grill is a great pick. 
Product dimensions – 25.1 x 51.4 x 26 inches
Cooking surface – 280 square inches
Grill material – Porcelain Coated Cast Iron
Number of burners – 1
Power per burner – 12,000 BTU
This stylish grill from Weber will mean that you don't have to leave your cooking at home. The compact Q2200 provides 12,000 BTU from a long, rectangular, stainless steel burner, proving that you don't need a full-size cart grill to make some great grilled meals.
The cast-aluminum hood comes with a beautiful ivory-colored finish, and retains heat excellently, despite the size. Two side tables fold down elegantly from above this hood, providing instant food prep space. You'll find all the regular quality associated features on this grill too, including an electronic ignition system, and a thermometer built-in to the hood.
Furthermore, the build quality is excellent on this grill – the glass-reinforced nylon frame is firm and should withstand the elements well. One thing you'll need to consider is the weight, however. At 42.5 pounds, this grill still bears some considerable weight. It's this weight, in areas such as the hood, base, and frame, which not only add strength but also enable the grill to retain heat effectively. It does mean however that you will need two hands to carry it properly – but this should be no issue if you pack it in the car.
The Weber Q2200 would look just as good outdoors as it would at home, and is powerful enough to compete in either environment. It would be a great choice as a compact grill for the cook who wants to cook both at home and away.
The Final Verdict
Despite some stiff competition, the Weber Spirit II E-310 is the clear winner of our reviews. It was hard to find any faults with the Weber, thanks to a very high-quality design. We especially liked the Flavorizer bars, and the versatility offered by the reversible cooking grates. For an all-round high-quality grill, the Weber Spirit II E-310 is a great choice.
Best Overall – Weber Spirit II E-310
FAQs
What do gas grills use as a power source?
Gas grills typically use tanks of propane to provide heat to your food. This propane gas passes through a regulator, to ensure a safe flow of gas, and is ignited by an electronic ignition switch to provide hot flames from your grill's burners.
What size gas canister can I use with my grill?
The size of the canister used may depend on your grill. Compact grills use lighter, smaller canisters, while bigger home grills may use larger tanks.(6) It is best to check in your grill's user manual to see what type of propane canister your grill needs.
Is a higher number of gas burners always better?
This depends. A higher number of independently controlled burners can allow you to create different heat zones along your grill. Heat zones can let you get creative, making one side of your grill nice and hot to give sear marks to your steaks, and another side cooler to gently warm up delicate foods. More burners can mean that your grill has a bigger size and cost, however. Smaller grills will often compensate for their reduced burner count by using higher power burners, which have a smaller area to heat up also. 
How much should I spend on a grill?
There is no one-size-fits-all answer to this question, as the amount you should spend on a grill depends on your budget and what you'll use it for. If you're looking for an affordable option that will be mainly used for backyard cooking, then a basic charcoal or gas grill may be right for you. However, if you plan on using your grill for more sophisticated culinary pursuits, such as smoking or searing meats, then you may want to invest in a smoker-grill combo model.
References