All the best grill covers available in 2022 (What to look for and which to buy)
Of course, you want to keep your grill looking as shiny as the day you bought it. Outside, a grill may face a lot from the elements, but there's no need to let it suffer because of them. The right grill cover can extend the life of your grill dramatically, especially if you're going to keep it in your yard permanently. We've reviewed a selection of covers to find the best grill cover for all weather conditions.
Best Overall – VicTsing Grill Cover
Best Budget Pick – Felicite Home 64 Inch Grill Cover
Best Value – Kingkong Grill Cover
Super Heavy Duty award – Grillman Premium
Best Range of Sizes – Classic Accessories Hickory Grill Cover
What to look for when buying a grill cover
When you're relying on a cover to keep your grill safe, you want to make sure you're putting your faith in a good product. That's why we've produced this buyer's guide to explain the features and specifications that set a good grill cover apart from the cheaper imitations.
Why use a grill cover?
Whether you having a gas or charcoal grill or even a gas charcoal grill combo, one of the biggest enemies your grill will face is rust. A grill stored in your yard can be steadily eaten away by rust, especially if you live in a wet or humid climate. Using a grill cover will help keep your grill dry, preventing any rust and keeping your grill safe.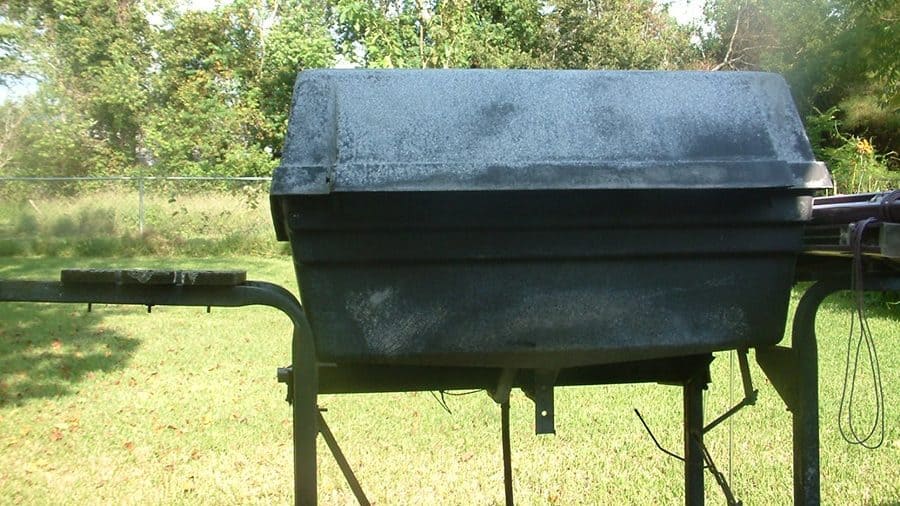 Grill covers will also keep your grill safe from dust, wind, scratches, and damaging UV rays, ensuring you don't have to worry when the time comes for you to cook up your own storm on your beloved grill. What are the best charcoal grills under $200?
What is fabric denier?
The denier of a fabric gives you an idea of how tough it is. The technical definition of a denier is the mass in grams of 9000 meters of fiber or thread.(1) In short, therefore, it tells you how thick and dense the threads used in the fabric are. For instance, a 600D (600 denier) fabric will typically be stronger than a 300D, as it has more mass in its thread.(2)
When looking for a grill cover, therefore, look out for high denier numbers to help you choose a tough and durable cover.
All the features to look for
You might be surprised at the number of features that are available to set apart a good grill cover from a poor one. The best covers use a range of features, specifications, and coating to make them both easier to use, and more resistant to the elements.
UV coatings help grill covers maintain their original color in the sun. Lower quality covers can actually be bleached by the sun, which will turn a black cover to a blotchy grey instead. If you want to use your cover in your yard, we recommend looking for a cover with UV protection to keep it looking presentable all year round.
PVC coatings add water resistance, letting raindrops glide down smoothly without seeping into your cover. This has the added benefit of making your cover easy to wipe down and clean. PVC is also fire resistant, which is useful if you forget to wait for your grill to cool (you should always wait!).(3)
Handles add all the functionality you might expect – they make it easy to apply, remove, or adjust your cover, without having to wrestle with it. These aren't a universal feature, however.
Straps and elastic hems are often used at the bottom of a cover, to allow it to hug the base of your grill. The benefits of this are twofold – it prevents wind from getting under and inside the cover, potentially blowing it away, and also reduces the number of splashes from raindrops that can wet the underside of your grill.
Rip resistant covers use special sewing techniques at the seams to prevent your cover from tearing. This often results in seams that are more water-tight, too.
Some cover will use air vents to help combat any buildup of moisture inside your cover, and hence to reduce the chance of rust. These covers are useful for anyone living in a humid climate.
If you intend to store your cover when not in use, you may also want to look for grill covers with a storage bag for added convenience.
Besides these features, you may also want to consider if your cover has a warranty and to consider the sizes the cover is available in.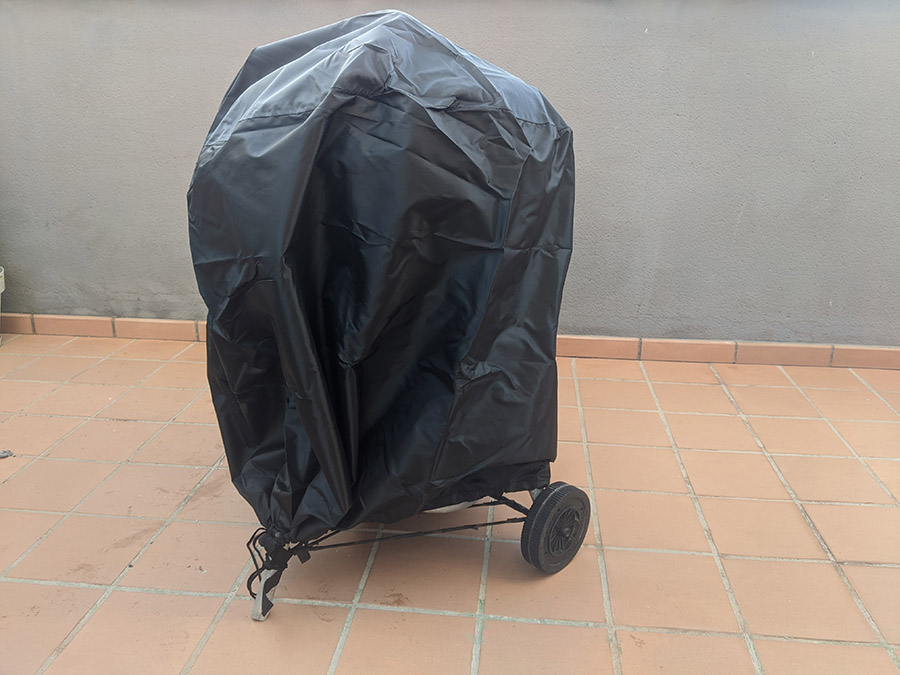 Using your cover safely
Never put your cover on your grill before the grill has cooled! To avoid any fire hazards, you should always make sure your propane gas has been safely disabled, and allow for your grill to cool. You don't want your grill itself to go up in smoke! You can also look out for fire-resistant covers, which can give you extra peace of mind in case you are forgetful. Which is the best flat top grill to buy today?
Other tips to clean & protect your grill
If you're worried about keeping your grill clean, stainless steel is a material to look out for. It's often used by manufacturers for its rust resistance, as well as its smooth, easy-to-wipe finish. (4) It's not as good as cast iron at retaining heat, however.(5) Check out our How to Clean your Grill guide for more information.
The best grill covers in 2020
We've reviewed all of the best grill covers available in 2020, and sorted them into different award categories to help you choose. Check out what's on offer below.
Specifications – Tear-resistant, weather-resistant, dustproof, PVC coating
Fabric – 600D polyester
Suitable for – 30", 54", 60" & 72" grills
Warranty – N/A
VicTsing has created an ultra-durable grill cover that will keep your grill performing at its best all year round. The cover is woven out of heavy-duty 600D thread, providing excellent resistance to tears and damage. The cover also uses exterior-bound seams, encased in high-density stitching, to prevent any leakage and keep your grill safe and dry.
The cover is available in four sizes, giving wide compatibility between different grill units. We also like the inclusion of a drawstring storage bag, letting you pack it away neatly before a weekend's grilling or dry season.
For those living in a wet climate, the waterproof PVC coating gives protection from the elements. Nylon fastener straps allow the cover to fit snugly under the base of your grill to prevent any water seeping in, which also gives the cover a flush, sleek fitting.
We would have liked to see a warranty on this cover, but its ultra-tough construction should hopefully last regardless. Access handles on the sides allow the cover to be removed gracefully, and can also help you move the grill with the cover still applied, which is useful if your grill has caster wheels. All in all, this is a great, tough grill cover that should help your grill withstand all that the elements can throw at it. It's hard to fault.
Specifications – Flame-resistant, weather-resistant, splash-guard skirt
Fabric – 600D
Suitable for – 52", 58", 64" & 72" grills
Warranty – N/A
If you'd rather spend more money on your grill and less on your cover, the Felicite Home is a great budget option. This durable grill cover will extend the life of your grill, letting you buy a quality cooker with confidence.
The tough fabric will help protect your grill from any scratches, scuffs, dirt, or dust that would otherwise come its way. A water-resistant finish will also help to prevent any rust damage, so you can keep that new grill shine all year round.
There's always a chance you might forget to wait for your grill to cool before putting your cover over it. That's why we like Felicite's use of a flame-resistant finish, which should prevent any potentially hazardous situations. We absolutely still recommend that you wait until your grill is cool before putting on the cover, though.
The splash-guard skirt has an easy to use elasticated hem with an adjustable toggle, allowing you to tuck the edges of the cover all the way under your grill, stopping raindrops from splashing the underside of your grill, and hence reducing any chance of rust in these areas.
This cover is available in 52", 58", 64" and 72" sizes, making it a great choice for a range of grills. If you want to extend the life of your grill without breaking the bank, this cover is for you.
Specifications – UV resistant, rip resistant, grill brush, tongs, and cooking thermometer included
Fabric – 100% Polyester
Suitable for – Made to fit various Weber grills
Warranty – 3-year
Kingkong specializes in covers tailor-made to fit Weber grills, so these covers are primarily for Weber grill users, although you may have some luck if your grill is a similar size to a particular Weber grill. Large Velcro straps fit around the base of your grill, giving some adjustability, however. These straps help seal the base of your grill from splashes and moisture, preventing rust and giving a secure fit.
Interlocking seams are used to provide protection against tears and rips, meaning that this cover should last as long as your grill will. We also like the use of UV resistant fabric, which should keep the slick black look of the cover, without the sun bleaching it to a grey. The fabric also has a finish that is easy to clean, ensuring the cover looks good in your yard.
We're also very happy to see a 3-year warranty is provided on this cover, giving you peace of mind with your cover and grill. This is a great, tough, dependable cover for weber grill owners, and at a great value price.
Specifications – UV resistant, rip resistant, grill brush, tongs, and cooking thermometer included
Fabric – PVC-lined oxford fabric
Suitable for – 30", 58", 60", 64" & 72" grills
Warranty – Lifetime
Grillman has so much confidence in their premium cover, they've given it a lifetime warranty. And it's no surprise, considering the extra tough construction of this cover.
Ultra-durable oxford fabric provides excellent strength, keeping your grill safe from damage. A PVC coating gives the cover a waterproof finish, keeping your grill safe from rain-induced rust. The PVC coating also makes the cover easy to wipe down and clean, so that it always looks its best.
This cover doesn't only offer strength. Grillman has included plenty of helpful features, too. Adjustable straps keep the cover tight to your grill, preventing any wind from getting inside the cover and taking it away. And built-in handles help you remove the cover, as well as being useful for adjusting the cover or moving the grill.
The fabric also includes UV resistance, which will prevent the bleaching effect that turns lower quality covers from black to grey. Grillman also offers their premium cover in a range of sizes, starting at 30" and going all the way to 72", ensuring that you can get a good fit no matter what size your grill is.
With great strength and a lifetime warranty for any issues, the Grillman Premium is a great pick for the griller who wants a cover that's as strong as the grill.
Specifications – Leather padded handles & air vents, water-resistant
Fabric – Woven polyester
Suitable for – 44", 58", 64", 70", 72" & 80" grills
Warranty – Limited lifetime warranty
If a black grill cover isn't your style, Classic Accessories' Hickory line of grill covers offers stylish tan-colored covers. In line with their name, this gives this cover a really classic look, letting your grill stand out even when not in use.
The polyester fabric is rugged, with a water-resistant undercoating that lets any raindrops simply glide away to the ground. It's also easy to get a good fit with this cover. Adjustable clips at the base of the cover let you quickly adjust or remove tension, while an elasticated hem with a toggle lets you set a uniform tension along the bottom of the grill, preventing any wind from lifting away the cover.
The tan color is complemented by the darker trim of reinforcing fabric, which also features integrated padded leather handles. This makes the cover easy to pull over your grill so that keeping your grill protected doesn't become a chore. We also like the air vents integrated into the cover, which prevent condensation from building up inside the cover, letting your grill stay dry and rust-free.
The cover even comes in six sizes, making it easy to find a cover that will fit your own grill. That's why this cover is our top pick for a cover in a range of sizes. But this is also a great pick for the griller who wants a stylish cover, too, that will resist all weather conditions.
Specifications – Waterproof, dust-proof, UV-resistant, weather-resistant, rip-resistant, and wind-resistant
Fabric – 600D polyester
Suitable for – 32", 55", 58", 60", 64" & 72" grills
Warranty – N/A
For cooks using a larger grill, Simple Houseware has some great, easy to use cover options. Simple Houseware's heavy-duty covers come in sizes all the way up to 72" wide, providing full protection for even the largest of grills.
Simple Houseware has opted for an extra-strong 600D polyester fabric, which should give your grill ample protection from whatever it may face in the outside world. To this aim, the fabric has been treated with a PVC coating, which gives protection from water and the rain, as well as making the cover easy to clean and wipe down. On top of this, there is also a UV resistant coating, which stops the sun from bleaching the cover.
Double stitching helps prevent any tears, as well as stopping potential leakage at the seams. This cover also features side handles, enabling you to easily adjust the fit or remove the cover, as well as Velcro fasteners to ensure the base of the cover hugs your grill tightly.
This cover stays true to its name, offering a simple and effective way to protect your grill through the seasons. A great range of sizes makes this a great pick for a whole host of grillers, especially those with larger grills.
The Final Verdict
Our overall best pick is the VicTsing Grill Cover. This is an ultra-durable cover, with plenty of features, such as a PVC coating and a tough 600D base fabric. Four available sizes, and an included storage bag, make this a great, versatile grill cover which we'd recommend to any griller to protect their cooker.
Best Overall – VicTsing Grill Cover
FAQs
Can I pack away my grill cover?
Once folded away, these covers will not take up much space. If you're intending to do this regularly, some of the covers we've reviewed come with storage bags, which you should look out for.
Will the wind blow away my cover?
Grill covers come with straps, Velcro, or elasticated hems, which allow them to fit around the base of your grill tightly. This should prevent gusts of wind from getting under and into your cover, and keep it tight on your grill.
How do I know what size grill cover I need?
Grill cover sizes are given as the width of your grill in inches. If you don't know this figure, you should be able to find it via the manufacturer's website, or by measuring your grill yourself. Note that these covers are adjustable – since they use straps and elastic, there is some leeway allowing you to use a cover that is close to your grill's size.
Are covers good for grills?
Yes, grill covers are good for grills. They help to protect the grill from the sun and the rain. This can help to keep the grill in good condition and prevent it from rusting. You don't NEED to have a grill cover but a cover will help your grill last much longer.
References