Reviews and Buyer's Guide for the 7 Best Gas Charcoal Grill Combos (2022)
Why make the difficult choice between gas and charcoal? With a combo grill, you can get the best of both. The instant heat and convenience of a gas grill, combined with the rich smoky flavors of a charcoal cooker – check out all your best options for a combo grill below.
What to Look for When Buying a Gas/Charcoal Combo Grill
Even if you're new to gas grilling or new to charcoal – or both, don't worry, we're here for expert grillers and beginners all the same. We've covered all the terminology you'll need to know when purchasing a new grill, smoker or BBQ in our buyer's guide below. We're here to help you choose the best grill for your needs.
Charcoal vs Gas Grilling: What's the Difference?
Here's an argument you might not want to start in your backyard – which is better? Thanks to these combo grills though, you don't have to.
The key advantage of gas grilling is convenience. All of the grills in this roundup feature electronic ignition, which allows you to light the gas burners with the press of a button. The heat can also be adjusted via hand controls, which reduce the amount of gas flowing to the burners and hence let you instantly control your grill's heat.
"Charcoal barbecues are enjoying a resurgence with consumers who want to expand their barbecuing skills by playing with fire"

Naz Cavallaro, resident chef with Broil King (1)
By contrast, charcoal grills typically have to be lit manually, using kindling to build up a fire, which can take a little time. Heat can still be adjusted in many of our featured grills, with the use of a hand crank that raises or lowers the charcoal tray, but this is not universal. While they are slower to light therefore, they are very simple, which appeals to many.
The reason that many still prefer a traditional charcoal grill is the taste. Charcoal grilling imparts a smoky flavor onto your food, which is revered by many. Charcoal grills will also often reach higher temperatures than gas grills, allowing you to produce rich, heavy sear marks.(2) If you want to learn more, check out our guide to BBQ fuel.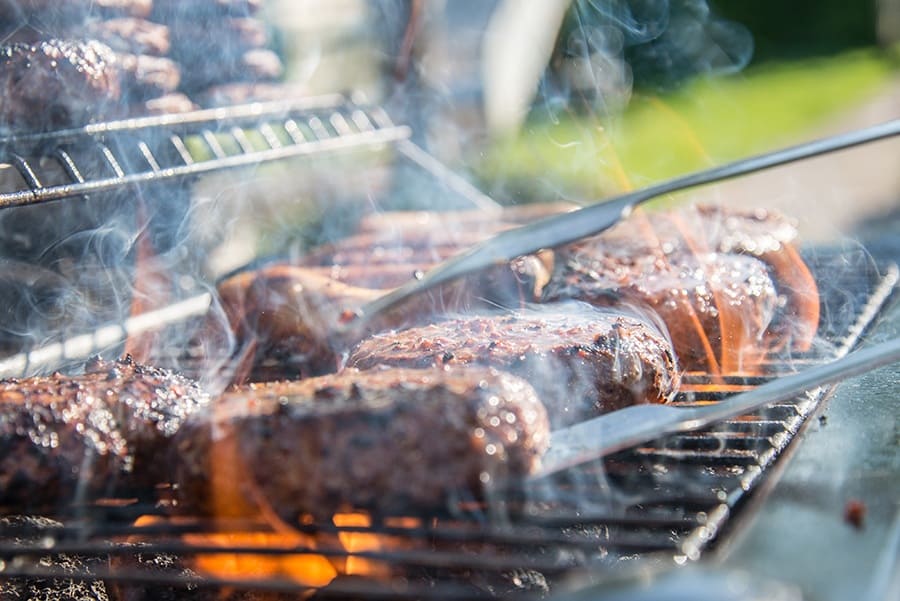 Gas Grilling – Natural Gas vs Propane
One of the grills we have reviewed below uses natural gas, as opposed to propane. So what's the difference?
Natural gas grills use your house's mains gas supply. This means that you will likely need an engineer to hook your grill up to the supply. However, once you are set up, you can forget worrying about running out of gas, changing your tank, or any other fuel-related maintenance. Natural gas is also a cheaper fuel than propane, so you can grill for longer without thinking about your wallet.
However, propane actually burns hotter, and for this reason is still preferred by some. Your overall temperature still depends on your grill's rated BTU though, and the overall quality of your grill's construction, so it's perfectly possible for a natural gas grill to match or surpass the heat of a propane grill.
BTUs…what are they?
For the gas portion of a combo grill, the heat output is usually given in a measured number. This number is the BTU, or British Thermal Unit rating.(3) On a technical level, it measures the energy needed to heat a pound of water from 39°F to 40°F – but all you need to know is that it measures the volume of heat your grill will be capable of producing.(4)
The higher the BTU, the higher the heat from each of your grill's burners. This is not the only factor in your grill's heat, however – high-quality construction materials will help retain heat, allowing a grill with a lower BTU to match more powerful grills in heat.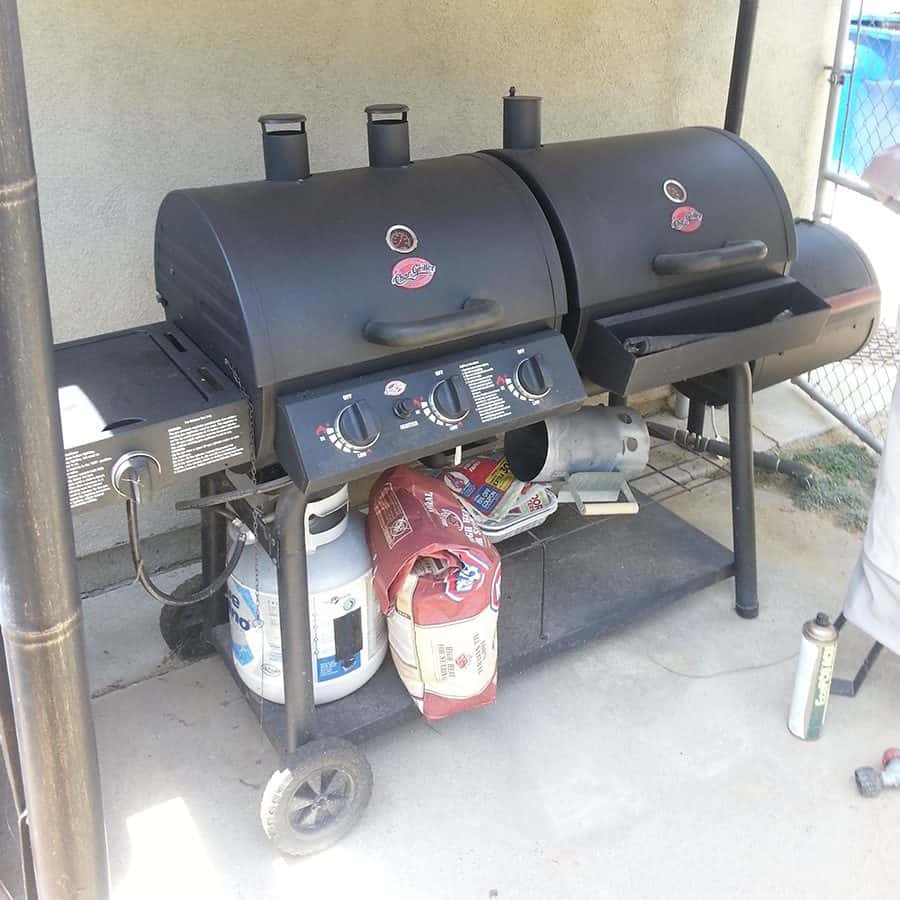 How to Look After your Grill
Many grills will come equipped with grease management systems, which will help keep your grill clean. These work by using grooves to channel grease, oil, and food debris away from your grate, and into a removable drip pan. All you have to do therefore is remove, clean, and replace this pan to keep your grill grease-free. Not all grills have such a system, therefore – so it is best to keep an eye out if you want one. To learn how to clean your grill click here.
The materials used in a grill can also aid both cleaning and rust prevention. Stainless steel has great rust protection, and its polished surface makes it easy to wipe down. However, despite these handy qualities, it is not always favored in grills, because it doesn't retain heat as well as other materials such as cast iron.
Cast iron grates retain heat really well, giving strong sear marks and preventing hot spots on your grate. However, it can rust if not protected. Many grills offer porcelain-coated cast iron for this reason, which makes them easier to clean as well as providing rust resistance. If your grill grate doesn't have such a coat, we recommend seasoning your grate by burning in a layer of oil, which will provide long-term protection.
As always, you may also want to consider using a rain cover to protect your grill, if you intend to leave it in your yard. You'll find all the best grill covers here.
The 7 Best Gas Charcoal Grill Combos (2022)
We're now going to look at the 7 best gas/charcoal grill combos on the market in 2020. We've used several award categories to help you choose the best grill for your specific needs. Check out the quick comparison table below and reviews further down.
This Char-Broil grill gives you the ease of gas cooking, with all the rich flavors of charcoal grilling. A massive 1010 square inch total main cooking area provides ample space to cook for all your family and friends, making your house the most popular destination for a party.
The 505 square inches of the gas-powered grate are heated by three stainless steel burners, each of which is individually controllable. Char-Broil has also fitted thermometers to the hoods on this grill, allowing you to get the perfect smoke or roast with this cooker.
Porcelain-coated cast-iron grates grill excellent heat retention, which will give your food delicious sear marks. We also like the big cabinet-style storage space underneath the grill, which is ideal for hiding away your cutlery, plates, or tools.
You can even adjust the heat of the charcoal grill, either by using the exhaust damper, or the simple hand crank which raises or lowers the charcoal fire pit. One criticism is the gauge of the steel construction – we would have liked to see thicker steel around the lower frame of the grill, to aid longevity. Nonetheless, this grill is a great pick for the chef who loves gas convenience and doesn't want to forfeit that brilliant charcoal grill flavor. 
Char Grill has demonstrated the value you get from a dual fuel grill with this cooker. There is ample space for cooking, with 432 inches for both the gas and charcoal grill sections. On top of that, there is a 154 square inch warming area, adding greater versatility to this unit.
This means you have a wide range of heat zones – the charcoal section provides ultimate heat, while three burners on the gas grill, which can be individually controlled, allow you to create a heat gradient across the grate. On top of all this, you get the warming rack to steadily warm food, and even a 12,000 BTU side burner to use for your sauces and sides. That's a lot of heat sources.
The grill itself is solidly constructed, using powder-coated steel to provide a firm, strong feel to the frame. There is also an easy dump ash pan, to provide quicker cleanup for your charcoal grill, allowing you to spend more time with your friends. Smokestacks above each grill help to provide even heat distribution, providing even sear marks on your food.
With a large cooking space, and plenty of cooking options, the Char-Griller Dual Function Gas & Charcoal Grill is a great choice for the versatile chef.
The RevoAce Dual Fuel gives you a lot of grill for the money. A large 557 square inch cooking space is at the heart of this grill, giving you ample space to cook for your family. Three stainless steel burners provide the gas side's heat, each offering 8,000 BTUs of power, which can be adjusted independently via the hand controls. Equally, the charcoal tray can be raised or lowered via a hand crank, providing simple, reliable heat control.
A 188 square inch warming rack gives you extra heat zones, while the side tables provide space for your food prep. The side tables are also adorned with hooks for your towels or tools, which is a nice touch, and the grill features a bottle opener, too.
The cast iron grill grate will give you excellent heat retention for strong sear marks but will require rust protection. We would have preferred to see a porcelain coating on these grates, but you can provide your own rust protection by seasoning them by burning a coat of oil into the surface.(5)
There is also a long assembly process for this grill, as it features a lot of parts. As long as you take your time, however, there should be no issues, as the grill has a heavy-duty construction. This is a great choice for the budget-conscious griller.
This Char-Broil grill gives you twice the fuel, and twice the simplicity. By combining the gas and charcoal areas under one grate, the whole grilling process is made easier. To light the charcoal, you can simply use the included gas burners. These gas burners can themselves be lit by the electronic ignition system, allowing you to set off the process with the click of a button.
To convert the grill from charcoal to gas, all you have to do is remove the charcoal tray from under the grate, and place it back in its storage slot underneath the grill. This gives you great versatility, allowing you to carry on grilling, even if you run out of one type of fuel source.
The three stainless steel burners are individually controlled and offer a respectable 9,300 BTU each. There is room to keep a propane tank out of sight of guests underneath, and two large, painted side tables provide ample space for food prep. A hood-mounted temperature gauge also makes this a great grill for smoking and roasting.
One complaint we had with this grill was that the grease management system did not work as well as we would have hoped – some food debris did find its way onto the burners. But if you are prepared to spend a few more minutes cleaning this grill up after use, you will be rewarded with a very versatile cooking unit. This is a great grill for the chef who wants convenience, offering both fuel types in a compact package.
The durable, stainless steel construction of this Dyna-Glo grill will give you a cooker you can depend upon. Two commercial-grade, individually controlled stainless steel burners provide the gas power, giving you instant heat when you need it through an electronic ignition system. The large 730 square inch cooking area is divided in two between a gas side and a charcoal side, letting you mix and match your cooking.
The heavy-duty porcelain-enameled cast-iron grates are tough and retain heat really well. We also like the large cabinet-style storage space below the cooker, which gives you ample space for your ingredients, plates, and tools. The folding side tables even feature small hooks, which are perfect for tools and towels.
A temperature gauge on each of the two hoods gives you peace of mind for when you want to smoke or grill your food, allowing you more time to talk to your friends or loved ones. The notably small caster wheels did concern us – this is a heavy unit, after all, at 143 pounds. A 1-year limited warranty, however, would give you peace of mind over these smaller details.
It would take a lot to damage the heavy-duty construction of this grill – this is a great choice for the chef who wants a reliable, dependable cooker.
Smoke won't be the only thing getting in your eyes with this cooker – this grill is eye wateringly expensive. But don't be mistaken, this is one of the most premium cookers money can buy and is worth every cent if that is what you're looking for. 
The grill uses continuously hand-welded stainless steel, giving the grill beautiful and seamless edges. 18-gauge, 304-grade steel provides both strength and rust resistance, as well as being easy to clean.
"The introduction to nickel in 304 makes it a much more corrosion resistant grade"

Thyssenkrupp Materials (6)
A key thing to note is that this grill uses natural gas, although they do produce a propane version. Natural gas is cheaper and more environmentally friendly than propane, but you will likely need an engineer to connect this grill to your gas supply.(2) Although only two burners are used, they are of the highest quality, providing 20,000 BTU each.
On the other side, the charcoal tray's height can be adjusted via a hand crank, giving you simple heat control. Underneath the grill, there are two drawers, and also two cupboards, making this grill feel like part of your kitchen.
With a total 1200 square inch main cooking area, there is enough room on this grill to cook for even the largest events. The obvious barriers to acquiring this cooker are the size, the natural gas, and the size. If these are no obstacles to you, then this is a premium grill choice for the uncompromising griller.
For the griller who is keen to smoke his foods, there is Oklahoma Joe's Charcoal/LP Gas/Smoker Combo grill. The focus is clear with this grill, with all of its design features offering easier and more versatile smoking. 
The grill's two hoods come equipped with thermometers, letting you check on your cooking at a glance, and spend more time talking to your guests. The charcoal smoker uses a chimney with an adjustable damper to allow for temperature control, whilst the gas grill's three burners can be individually controlled to give you the perfect smoked meal every time.
An offset firebox with an independent access door allows you to stoke the fire without allowing heat to escape through the main hood, preserving heat effectively. The handles for these hoods also use a coil structure, which means they stay cool to the touch, keeping you and your family safe from any burns.
We also like the storage shelf underneath the grill, giving you space for your propane and plates. We don't like the wheels, however – while they have a classic look, they feel somewhat flimsy. If you can't get enough of the smoky taste of a charcoal grill, but don't want to forfeit the convenience of a gas grill, this is a great pick.
The Final Verdict
Our clear winner of this review roundup was the Char-Broil Deluxe 1010. A massive cooking area, combined with fully featured grilling areas, makes this a great all-around pick. There are even more premium grills featured on this list, as well as more compact units. But the Char-Broil Deluxe 1010 offers all a griller could want, and at a great price.
FAQs
How long will my grill last?
That's something we can never answer for sure, although there's plenty you can do to aid its longevity. A grill's durability depends on its quality, materials, and how you store it. If you are storing your grill outside, consider using a rain cover to protect it from the elements. Certain materials, such as stainless steel, will provide extra rust protection, which may be important depending on your climate.
"In areas with high humidity corrosion of steel or cast iron plates is hardly avoidable." –Fantastic Cleaners (7)
Rust isn't a death sentence for a grill, however – as long as it isn't too extensive, it can be removed with household tools.
How are gas grills powered?
Gas grills are powered by the burning of propane (or, less commonly, natural gas). Propane comes in canisters or tanks. To check what size tank you need, it is best to consult your grill's manual.
Which fuel is cheaper?
This can depend on the time of year, but on the whole, the prices are similar. Propane prices can be affected by fluctuations in the petroleum market, whilst charcoal often sees seasonal sales. It's best to check your local prices for a clearer picture.
Which is better for grilling charcoal or gas?
There are pros and cons to both charcoal and gas grilling.
With charcoal grilling, you get a smoky flavor that you can't get with gas. You also have more control over the heat, so you can cook your food more evenly. However, charcoal can be harder to light than gas, and it's also messy to clean up.
With gas grilling, you don't have to worry about lighting the grill or cleaning up ashes. The main disadvantage is that you can't get that smoky flavor.
References