Reviews and Buyer's Guide to Help You Find the Best Kitchen Knife Set for Your Needs
Kitchen knife sets allow you to fully equip your kitchen with a range of cutting tools, without having to shop around for every single knife you'll need. Do you need every knife in that set though, and is the quality as good in a knife set as it is when you buy a standalone knife? With so many questions to answer, read on as our buyer's guide and reviews will help you sort the sharp from the pointless.
Best overall – Wüsthof Classic Seven Piece Knife Block Set
Best Value for Money – J.A. Henckels International Statement 20-pc Self-Sharpening Block Set
Best Budget pick – Cuisinart 15-Piece Stainless Steel Hollow Handle Block Set
Best Japanese knife set – Shun Kanso 6-Piece Block Set
Most lightweight – Victorinox Swiss Army Cutlery Classic Knife Block Set
Buyer's Guide – What makes a good knife set?
Choosing the knife set that is best for your needs will require some understanding of the brands available, the tech used in kitchen knives, and the variants on offer. But don't worry; we've created our buyer's guide to explain all of this as succinctly as possible with a lot of the information coming from our Ultimate Guide to Kitchen Knives. Let's find the right kitchen knife set for you.
Knife jargon buster
To help you understand some of the terms used in knife reviews, we've created this short glossary of some of the most common terms used in our reviews.
A knife's bolster is the part of the knife where the metal swells to meet the handle. A full bolster covers the end of a blade, acting as a finger guard. Bolsters also help to balance a blade, pulling the balance of a blade rearward, and making a knife heavier.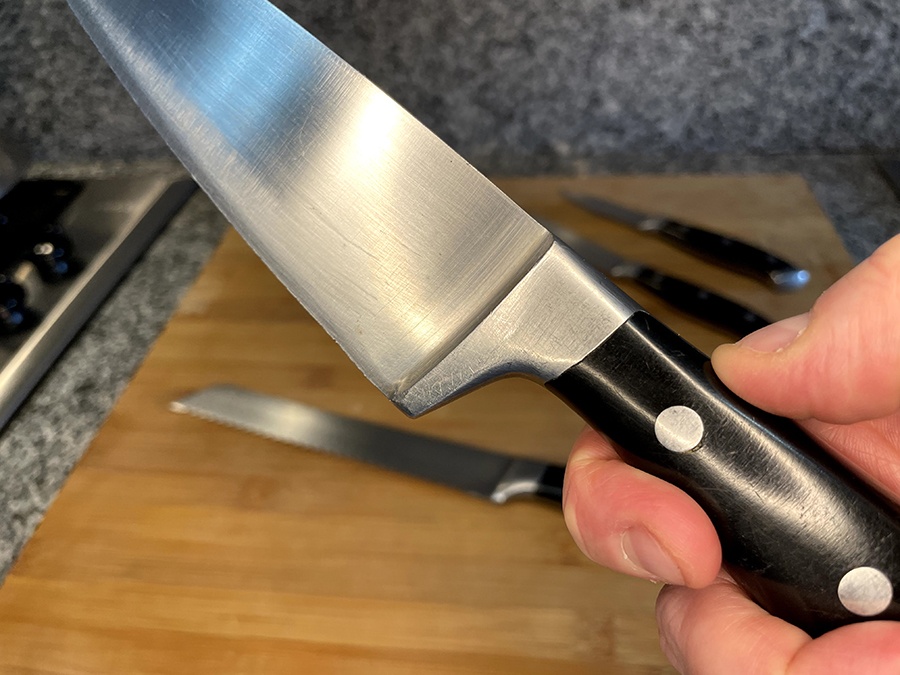 The tang of a blade is the part of the knife's metal that extends into the handle. A full tang, extending into the back of the handle, provides strength and balance to a blade and is also seen as a sign of good craftsmanship.
A hollow edge, also known as a Granton edge, is where a blade has dimples in its edge. These dimples reduce friction in the cutting edge, creating air pockets that help to prevent food from sticking to the blade.
How many knives do I need?
Knife sets can range from small 7-piece sets, all the way up to enormous 20-piece collections. The question is, should you choose a small set of premium knives or a larger set of value cutting tools?
There's no single answer to this question. You don't need a 20-knife set – even a 7-knife set gives you enough versatility to accomplish most cooking tasks efficiently. But this can depend on what sort of chef you are. If you perform a diverse range of cooking tasks, you may want some of the specialist knives that larger sets offer, such as cheese knives, fillet knives, and a large number of steak knives.
Alternatively, you might prefer to rely on the premium knives that a similarly priced 7-knife set can offer you. Versatile knives such as chef's knives, utility knives, and paring knives allow you to accomplish plenty of cooking prep skillfully as these are great knives for cutting vegetables. Moreover, a smaller knife set gives you the freedom to supplement the set with some more specialist knives of your own choosing. You probably have some kitchen knives already, too, which can complement a smaller set. You may also wish to look for sets that offer knife blocks with spare slots if this is the case.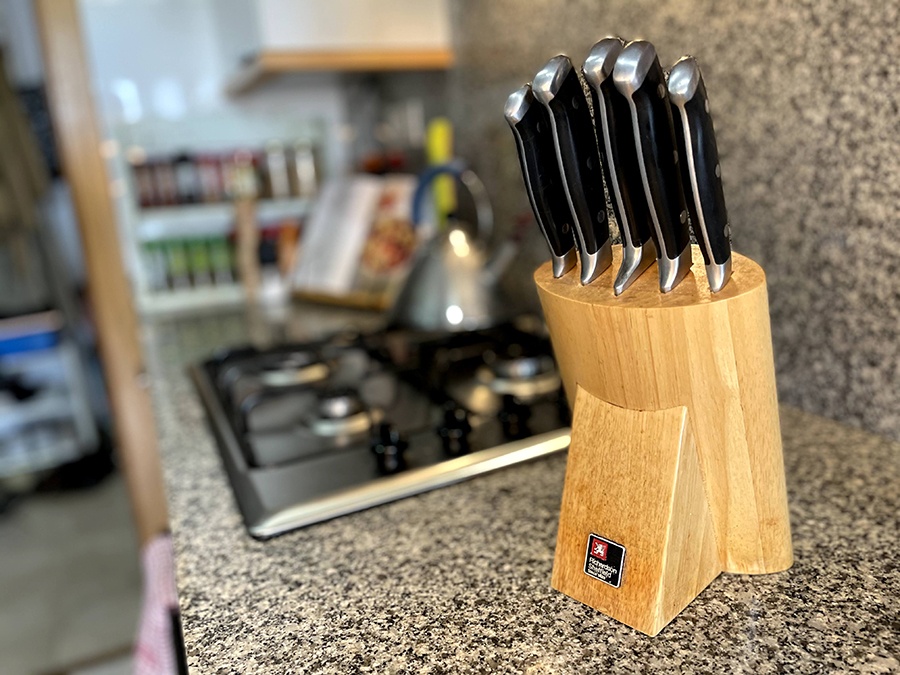 Types of knife – a brief summary
Kitchen knives can largely be divided between general-purpose knives and specialist knives.
A chef's knife is the quintessential general-purpose knife. These knives, typically with an 8-inch or similar blade length, are great all-rounder knives that chefs will reach for when performing a wide range of kitchen tasks.
Similarly, a slicing knife tends to be 7-8-inch and is great for many types of slicing (although they lack the general-purpose appeal of the chef's knife). Smaller tasks are suited to utility knives and the even smaller paring knife, which are good for tasks like cutting sandwiches and skinning fruit respectively.
These knives give you the versatility to tackle most tasks your cooking will present you with, which is why smaller knife sets remain popular. However, specialist knives are unrivaled at specific kitchen work. Bread knives, for example, use a serrated edge to cut bread without crushing it. Soft cheese knives are designed to cut cheese without the sticky inside becoming stuck to the edge of the blade, using cut-outs in the blade to reduce adhesion. And slender boning knives are designed to remove bones without making unnecessary cuts through your meat. A knife you won't find in a set though is the electric knife. Another thing to consider is that although some of these sets may include a honing steel, it could be worth your while also checking out the best knife sharpening stones too if you're going to be using your new knives a lot.
This video goes into greater detail about some of these key knives, and how they are used:
The big brands
Knife sets from respected manufacturers command a premium price. Many brands can boast decades, or even centuries, of high-quality craftsmanship. The skill and precision involved in producing quality knives are passed down in company traditions, which helps some manufacturers stay at the top.
Wüsthof is one such brand. Hailing from 'the city of blades'(1), Solingen in Germany, the manufacturer has been making knives since 1814(2). We've also put together a list of the best Wüsthof knives here too.
The main rival of Wüsthof is Zwilling J.A. Henckels. This international brand hails from the same town of Solingen that Wüsthof is based, and dates back even further, with their first trademark registered in 1731(3).
The other country renowned for its blades is Japan. This is where Shun is based, and the Japanese blade crafting tradition is what they draw inspiration from. Japan's tradition and philosophy for blades has developed independently from the west, focusing on lighter and harder knives.
Another respected Japanese manufacturer is Global. While Shun knives typically use more traditional designs, Global combines Japanese crafting traditions and processes with modern designs and techniques to produce striking and respected blades. Both Global and Shun offer some of the best Japanese knife sets. Interestingly, the Chinese knife brand Kakikoto is also crafting knives following Japanese traditions and we've put some Kakikoto knife reviews together for you here.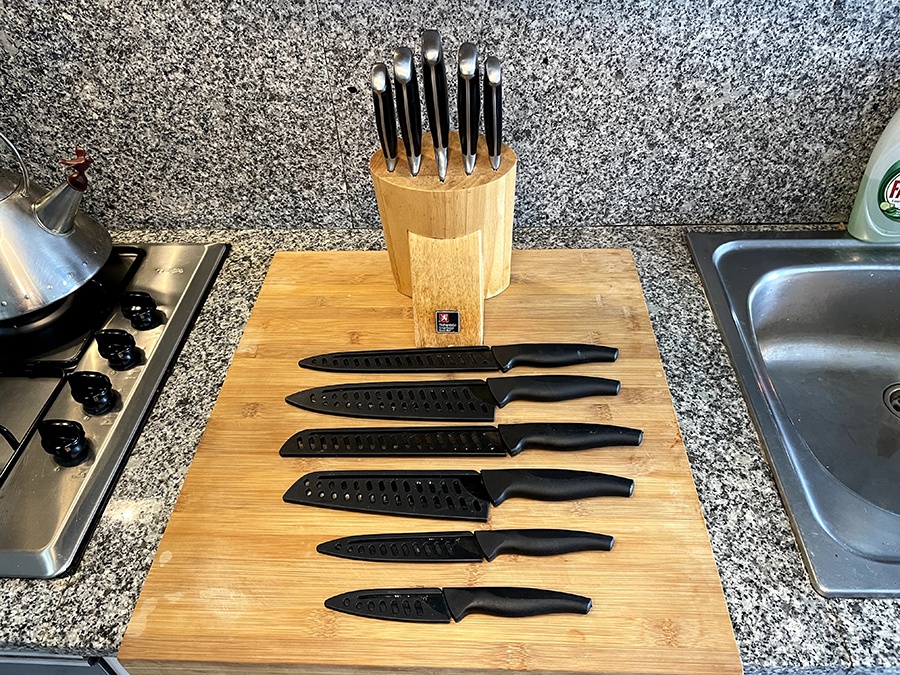 The best knife sets For Your Kitchen
We've chosen a range of different sets to cover every chef's needs. From respected German brands to traditional Japanese craftsmanship, and great value modern picks – check out our reviews below.
● Number of tools: 7
● Knife set includes: 3 1/2″ Paring Knife, 6″ Utility Knife, 8″ Bread Knife, 8″ Cook's Knife, 5″ Hollow Edge Santoku, Come-Apart Kitchen Shears and 6-Slot Studio Block
● Knife block: Wooden knife block
● Knife material: High Carbon Stainless steel
Your food is always safe under the cut of a Wüsthof blade. You've likely heard of them before this guide – Wüsthof has earned the respect of chefs all over the globe.
The knives included in this set are from the Wüsthof Classic collection, which showcases the design principles that Wüsthof is famous for. All of the knives are fully forged from a single piece of stainless steel, granting them excellent strength. They also use full bolsters, which protect your fingers from the blade's edge, and also improve the balance of each knife.
The blade on each knife is sharpened using a technique that Wüsthof has named PETec, or precision engineering technology. This involves using lasers to measure the sharpness of each blade's edge before it leaves their factory in Germany, ensuring no blade is delivered to a customer with a blunt edge.
This Wüsthof gives you a great range of tools for your kitchen and offers no compromise on quality. You could definitely get a larger set for this price, but these are some of the highest quality knives you can buy. It's a great set for the chef who wants the best in quality and is our best kitchen knife set overall pick.
● Number of tools: 20
● Knife set includes: 3″ Paring knife; 4″ Paring knife; 5″ Serrated Utility knife; 5″ Prep knife; 6″ Utility knife; 5″ Boning knife; 7″ Santoku knife; 8″ Bread knife; 8″ Carving knife; 8″ Chef's knife; 5″ Steak knives; kitchen shears
● Knife block: Stained ash woodblock with integrated knife sharpener
● Knife material: German stainless steel
No other single purchase can equip your kitchen as well as this knife set. The price might seem high at first, but you're getting twenty quality J.A. Henckels kitchen knives for that money – that's seriously good value. This is our best kitchen knife set best value pick.
With such a large number of knives in this set, you will likely have every cutting tool that you could want in your kitchen, whether it be paring knives for small fruit, utility knives, your trusty chef's knife, or even kitchen shears. The catch for this value is the construction – these knives use a stamped design, as opposed to the more sophisticated (and more costly) fully forged designs which Henckels also offer. Forged knives are typically favored for their strength and craftsmanship, but the truth is, when produced by trusted manufacturers such as Henckels, stamped knives can provide similar performance. They are lighter than forged knives, too.
Thanks to the ingenious self-sharpening block Henckels have implemented with this set, sharpness will always be within reach. The elegant stained ash woodblock uses ceramic honing wheels which sharpen your blade every time you pull it out of the block, ensuring you never have to worry about sharpness again.
While these knives aren't fully forged, they are still built to an excellent standard. They are a great pick for the chef who wants a large, reputable yet affordable kit and also represents one of the best if not the best kitchen knife set for beginners.
● Number of tools: 15
● Knife set includes: 8″ Chef Knife, 8″ Slicing Knife, 7″ Santoku Knife, 5.5″ Serrated Utility Knife, 3.5″ Paring Knife, 3.5″ Bird's Beak Paring Knife, 8″ Sharpening Steel, All-Purpose Household Shears
● Knife block: Matte black wooden block
● Knife material: Stainless steel
Not everyone wants to spend a fortune on top-end kitchen knives. This affordable knife set still offers great performance, without chopping up your bank balance. You'll find some of the other top-rated knife sets for under $100 here.
The knives in this set are each made from a single piece of stainless steel, producing a flush, modern design. This is extended to the handles, which are made of steel just like the blade. This makes them exceptionally easy to clean, as you can clean a whole knife in a single wipe. We also like the hollow edge used on the santoku knife, which helps to prevent food from sticking to the side of the blade.
With 15 tools in total, this set is a great way to equip your kitchen with all you need. And since this set is at such a great price, you could always supplement it with premium versions of the knives you use most.
These knives can't match premium offerings for construction quality, but for the average chef, they are more than adequate. If you're a fan of their modern design and sleek black knife block, then this set would be the best kitchen knife set for you.
● Number of tools: 7
● Knife set includes: 8″ Chef's knife; 8 ½" bread knife; 8 ½"ceramic sharpening rod; 5 ½" vegetable knife; 3" peeler; 4 ¼ "utility
● Knife block: Wooden knife block
● Knife material: Chromova steel
Global has showcased some of their finest craftsmanship in this elegant knife block set. The set uses a modern knife block with a transparent acrylic window, allowing you to keep your tools on display, and is our pick for the best kitchen knife set for modern craftsmanship.
Global is one of the most renowned Japanese knife manufacturers and has a reputation for producing the highest quality knives. This set is no exception. Each knife is crafted from chromova steel, a unique alloy that provides Global knives with their renowned strength and reliability. The knives are crafted by hand in Global's factory in Niigata, Japan, where they are ice-tempered and hardened to 56-58 on the Rockwell scale.
While this set only contains seven knives, each is made to the highest standards. Global have used their unique hollow handle, filled with ballast, in order to fine-tune the balance of each knife. This results in each knife being perfectly maneuverable, allowing you to make cuts with unparalleled precision.
Not everyone will appreciate the modern handle of these knives or the innovative acrylic knife block. But the sleek aesthetics of these knives is matched by their faultless performance. This is a great knife set for the modern chef.
● Number of tools: 6
● Knife set includes: 3.5" Paring Knife, 6" Utility Knife, 8" Chef's Knife, 5.5" Hollow-Ground Santoku, Kanso Combination Honing Steel
● Knife block: Wooden knife block
● Knife material: AUS10A Steel
As a contrast to the modern Japanese knives of Global is the traditional design of the Shun Kanso knife set. This beautiful knife set combines natural aesthetics with modern steel to give you a set of knives that you will want to use again and again. This is our pick for best kitchen knife set from Japan.
Shun has crafted each of these knives from a single piece of AUS10A steel, which is a high-quality, high-carbon stainless steel. The end result is knives that are hard, rust-resistant, and stain resistant to a premium standard.
"The hardness of AUS-10 steel is mostly caused by the incredibly high carbon content of approximately 1.05. As a result, the knives can easily be sharpened leaving you with razor-sharp results." – Knives and tools(4)
This steel extends into the handle thanks to the full-tang construction of these knives, providing excellent balance. This tang is covered by a wooden tagayasan handle, the 'wood as hard as iron'(5). This tough hardwood provides an elegant, textured finish to the handle, which matches the dark wood of the knife block.
The timeless rustic design of these knives will look good in kitchens for decades to come. And thanks to the resilient AUS10A steel of these blades, they should perform at a top-level for decades, too. The Shun Kanso knife block set is a great pick for the chef who wants a classic design.
● Number of tools: 15
● Knife set includes: 3.25″ straight paring knife, 4.5″ serrated utility knife, Six 4.5″ steak knives, 5″ and 8″ chef's knives, 7″ Santoku knife, 8″ bread knife, 9″ steel rod & shears
● Knife block: Wooden knife block
● Knife material: High carbon stainless steel
Victorinox is best known for producing the internationally adored Swiss Army Knife. The same level of excellence goes into their kitchen knives, too.
This 15-piece set gives you all you need to fully equip your kitchen with cutting tools. The set also comes with a honing steel tool, allowing you to keep all of your new hardware as sharp as it is when new.
Victorinox has crafted these knives from high carbon stainless steel, providing them with ample strength for kitchen work. The blades use a curved design, allowing you to rock the blade along its length for smooth, controlled chopping.
These knives don't use a fully forged design, instead opting for a stamped construction. While stamped designs are typically considered inferior, in this instance it is part of the Victorinox blade philosophy. Stamped knives are typically lighter, and a stamped design has helped Victorinox to achieve an ultra-lightweight blade. This is also achieved by the textured, synthetic Swiss Classic grip, which doesn't have the weight of a wooden grip.
The result is a blade that is noticeably lighter in the hand, allowing you to make deft, precise movements and cuts with these blades with ease. This is our pick for the best kitchen knife set, if you're a chef that prefers a lightweight cut, this Victorinox knife set is perfect for you.
● Number of tools: 14
● Knife set includes: 8″ chef, 8″ slicer, 8″ serrated bread, 5″ utility, 3-½" peeling knife, 4-½" serrated steak knives(6pc) kitchen shears, Sharpening steel
● Knife block: Golden oak wooden knife block
● Knife material: High carbon stainless steel
T.J. Koch has created this great value knife set without major compromises on quality. The knives in this set have excellent performance characteristics and are crafted well enough to last for a long time in your kitchen.
Each knife is forged from a single piece of steel. This grants the knives excellent strength, allowing them to last longer in your kitchen. The steel used is Japanese SUS420 grade steel, which can achieve an incredibly high strength thanks to its high carbon content.
"They have a high carbon content and can acquire extremely high strength if quenched after purchase"-

Tokkin on SUS420.J2 Steel(6)
Much like the Cuisinart knives, the knives in this set use steel handles, making them tough and exceptionally easy to clean. This is a great knife set for the chef that wants low-maintenance kitchen knives, therefore. Unlike the Cuisinart knives, however, T.J. Koch has added a textured finish to the handles, improving grip on these knives.
We like the stylish golden oak knife block, which has a pleasing glow to its color tone. The lifetime warranty is also highly appreciated, especially when you're purchasing a whole set of knives as opposed to a single one. This is a great set for the chef who wants simple, low-maintenance performance.
● Number of tools: 14
● Knife set includes: 8-Inch Chef's Knife, 8-Inch Slicer, 7-Inch Santoku Knife, 5-Inch Boning Knife, 4.5-Inch Utility Knife, Six 4.5-Inch Steak Knives, 3.5-Inch Paring Knife, and Kitchen Shears
● Knife block: Golden oak wooden knife block
● Knife material: High carbon stainless steel
The focus is on ease of use with these Ginsu Kiso knives. Not only are they dishwasher safe, but this set also uses several serrated designs, which will still perform well with less frequent sharpening. This is our pick for the best kitchen knife set that requires the least maintenance.
By providing a mirror polish to each of these tools, Ginsu is able to certify them as safe for cleaning in a dishwasher. Kitchen knives are typically supposed to be cleaned by hand to avoid the handles deteriorating, the edge chipping or the metal rusting. These knives are the exception to that rule, with a design that makes them tough enough for dishwasher cleaning.
The knives in this set, including the chef's knife, use serrated edges to give you a reliable cut. Although straight-edged knives are typically favored by chefs for many tasks, they require more frequent sharpening than a serrated knife. Serrated knives are used more like a saw – you pull the knife back and forth to tear through your food, and this cutting technique is less sensitive to the sharpness of your edge.
With 14 knives in this set, including a sleek black knife block, this set offers great value. It's a great pick for the chef who wants a low-maintenance serrated knife set.
● Number of tools: 17
● Knife set includes: Chef's knife, bread knife, carving knife, utility knife, paring knife, cheese knife, pizza knife, peeler, shears and sharpener
● Knife block: Clear acrylic knife block
● Knife material: Non-stick coated stainless steel
Home Hero is here to save the day. This knife set uses a non-stick coating and a stylish black finish to let you prepare your food with both pleasure and ease. This is our best kitchen knife set for the chef that wants everything looking stylish as well as offering practical advantages.
The knives in this set are made from stainless steel, which is colored in an attractive black finish, giving them a distinctive and uniquely modern style. This finish is displayed perfectly by the transparent acrylic knife block, which, as well as letting you display your knives, ensures you never forget which knife is in each slot. Above this black coating is a handy non-stick coating, which helps your knife to glide through food with less friction, and also makes cleaning up much easier.
We like the inclusion of a simple pull-through sharpener with this set, which makes it easy to maintain the sharp edge on these knives. The steel rod sharpeners that are common in other knife sets require more technique, as you have to control the angle of your blade yourself. A pull-through sharpener is much easier for beginners to use as the angle is preset, allowing every chef to maintain his kitchenware.
These modern blades are a great pick for the chef who wants a simple, sleek set of knives.
● Number of tools: 7
● Knife set includes: 3″ Spear Point Paring Knife, 4 1/2″ Utility Knife, 6″ Serrated Utility Knife, 6″ Cook's Knife, 9″ Steel, Come-Apart Kitchen Shears
● Knife block: 9-slot wooden block
● Knife material: High carbon stainless steel
Want knives from a trusted manufacturer, but don't want to pay premium prices? The Wüsthof Gourmet series is our pick for the best kitchen knife set that offers Wüsthof quality without breaking the bank.
The Gourmet series uses stamped knives, as opposed to fully forged designs. Stamped knives are typically seen as inferior to forged knives, but when crafted by a respected manufacturer such as Wüsthof, they can often come close in terms of strength and performance to their forged counterparts.
And that's exactly what these underdog knives do – perform at a similar level to premium Wüsthof blades, but at a non-premium price. One advantage of their stamped construction is their weight – stamped knives are often more lightweight than forged knives, and that is the case again here. Their lightweight construction makes them perfect for deft, precise cuts.
The knives are balanced with a full tang, and still feature the innovative Wüsthof PETec technique, which uses lasers to measure the sharpness of each blade so that it may be honed to perfection. We also like the wooden knife block, which comes with extra slots, allowing you to expand your knife collection in the future, or to accommodate some of your current hardware.
This knife set is a great way to get your hands on a quality Wüsthof knife set, without paying a fortune.
The Final Verdict
Our pick for the best kitchen knife set overall is the Wüsthof Classic seven-piece set. It's true that other sets offered many more knives, and some had unique features, too. But no knives can really claim to be more dependable, or built to a high standard, than the knives in this Wüsthof set. It's not the only good pick in our roundup – you may prefer to choose one of the other sets we're reviewed, finding them to be better suited to your needs. But the Wüsthof set is certainly a set that we can recommend that every chef consider.
Best overall – Wüsthof Classic Seven Piece Knife Block Set
FAQs
Are German or Japanese knives better?
Both Germany and Japan are home to renowned knife manufacturers who have helped to shape their respective countries' unique blade crafting traditions. German brands, such as Wüsthof and Zwilling J.A. Henckels, tend to produce heavy, hefty knives, with full bolsters, thick blades, and full tangs, for powerful, balanced cuts. By contrast, Japanese blades, such as those produced by Global or Shun, tend to focus on lightness, using harder but thinner steel, for extra precision. Preference between these two styles is personal – different chefs favor different knives, and we can't say for sure which style you'd prefer.
How should I clean my knives?
We recommend hand washing your kitchen knives. Using a dishwasher to clean kitchen knives can sometimes chip the edge on tough but brittle knives. Moreover, the detergents used by dishwashers can often damage the finish on knife handles. If you insist on using a dishwasher, therefore, you should check that your knives' handles are dishwasher safe.
Do I need a knife block?
Knife blocks are a great way to store kitchen knives safely, but they aren't necessary. All of the sets we've reviewed here come with a knife block, but you may want to store your knives in a drawer, use a block you already have, or use a different block. Some of these sets use blocks that have spare slots to accommodate your old knives, or to allow you to expand your collection, also.
What type of knives do professional chefs use?
Professional chefs typically use three types of knives in their kitchens: a chef's knife, a paring knife, and a bread knife.
The chef's knife is the most commonly used type of knife and can be used for chopping vegetables, slicing meat, and dicing onions. The paring knife is smaller and can be used for peeling fruits and vegetables or cutting small pieces of food. The bread knife has a serrated blade that is designed to cut through bread without crushing it.
References
(1) Germany Holidays: Solingen, city of blades. (2020, September 16). Retrieved from https://germanyiswunderbar.com/western-germany/germany-holidays-solingen-city-of-blades/
(2) Company. (n.d.). Retrieved from https://www.wuesthof.com/en-jp/company/company/
(3) ZWILLING history: Modern company since 1731. (n.d.). Retrieved from https://www1.zwilling.com/uk/en/pages/about-zwilling.html
(4) The advancement of AUS-10 steel. (2018, September 12). Retrieved from https://www.knivesandtools.co.uk/en/ct/the-advancement-of-aus-10-steel.htm
(5) A story about wood as hard as iron – know from bokken. (2020, October 06). Retrieved from https://weblog.tozando.com/a-story-about-wood-as-hard-as-iron-know-from-bokken/
(6) If you need precision metal materials, you need Tokushu Kinzoku Excel Co., Ltd. (n.d.). Retrieved from https://www.tokkin.com/materials/stainless_steel/martensite