Buyer's Guide and Reviews for the 10 Best Propane Smokers
Propane smokers are amazing. From meat to sugar, there is nothing you cannot preserve or cook with the right smoker. It helps in the reduction of fat in food and it facilitates a balanced diet. The aroma is better, the taste is divine and you can keep bacteria away from your finished food for a long time.
However, getting the perfect propane smoker can be difficult. That is why, we have prepared a list of the best propane smokers we have come across for your consideration.
Top Pick Overall – Smoke Hollow PS40B Propane Smoker
Best Budget Pick – Masterbuilt MPS 130C Propane Smoker
Most Portable – Masterbuilt MB20050116 MPS 20B Patio-2-Portable Propane Smoker
Most Versatile – Char-Broil The Big Easy TRU-Infrared Smoker Roaster & Grill
Best Looking – Camp Chef Smoke Vault 24″
How to Choose the Best Propane Smoker
Buying a new smoker, grill, or BBQ is a real treat. A little research before you take the plunge, though, will go a long way. When buying a propane smoker, there are certain features you should be looking out for and some of them are:
Material and Construction
In an ideal world, you want a smoker that is built with a material that will resist wear and be able to retain heat no matter the weather. To provide this, most manufacturers make use of cast iron on the inside because of the high level of heat and solid steel on the outside.
An additional porcelain coating can protect your food from sticking to the racks. It can also prevent rust and increase the durability of your equipment.
Another ideal material for smokers is stainless steel. It is durable, rust resistant and sleek which makes it popular among leading brands such as Bradley, Char Broil and Masterbuilt. Instead of porcelain coating, the grilling racks should be coated with chrome.
Remember, the end goal of buying any propane smoker is to be able to use it for a long time. A smoker with bad parts defeats this purpose.
Power Output
The measurement of a smoker's power output is in BTU (British Thermal Units).(1) Technically, it is the amount of power required to raise the heat level of your smoker by 1 degree Fahrenheit.
Since the BTU of your smoker directly affects its temperature range, it can determine how fast or slow you can cook a meal. For example, a propane smoker with a very high BTU can't produce a lower temperature range in degrees F. If you are not used to cooking on high heat and you buy a smoker with high BTU, you may have to change your cooking technique.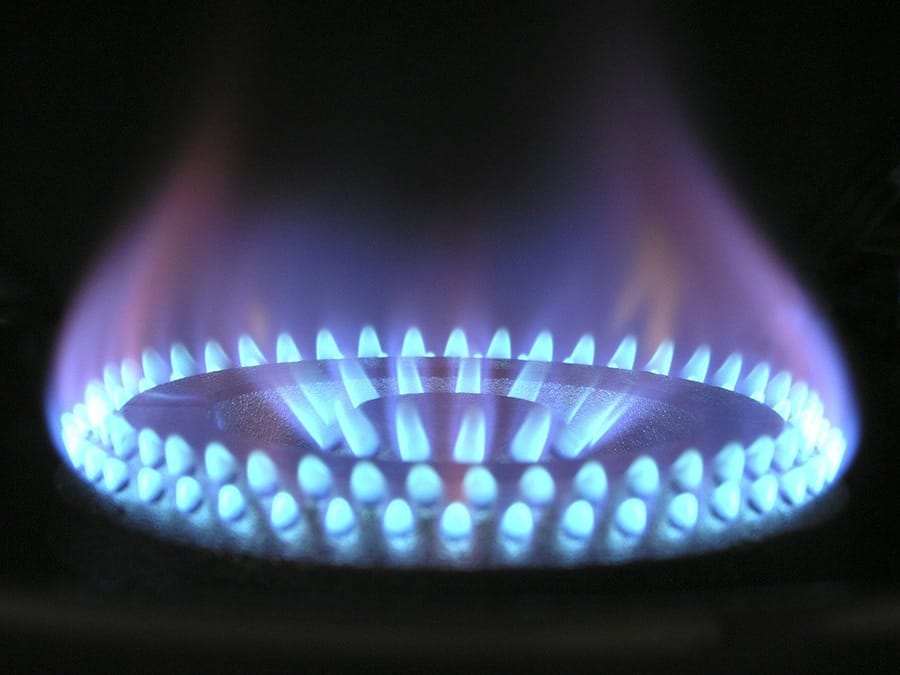 However, how high or low the BTU of a smoker is can depend on a number of things including, but not limited to, size and brand. For example, small propane smokers are usually around the 8,000 BTU range while bigger ones usually have around 30,000 BTUs. The type of smokers with the highest power are the 3-in-1 rigs which can have up to 100,000 BTUs or more in some situations.
For the purpose of cooking effectively with any technique you may want to apply such as cold, hot or liquid smoking, we will advise you to go for a smoker with more than 8,000 BTUs but not less than 30,000 BTUs. This will allow you to go as low as needed for cold smoking and as high as necessary for hot smoking. If you want a straight up grill, check out the best gas grills under $500.
Ease of Assembly
When you are buying a smoker, you want to get one that can be easily arranged without having to call an installation expert. To ensure this, you should go through the user's guide of your propane smoker before you start assembling it. The specification and dimension of the product can also give you an idea on how the smoker will be packaged and whether you'll need to put several parts of it together before it can work.
If you are like us and just want to cook a good meal without having to bother with bolts and nuts, you can explore the options of vertical standing propane smokers which can be put together with the use of a few screws. However, even if you get smokers that you can set up with very few screws, you still have to load the chip tray and plug into the propane line by yourself. The plus side to this is that even as a beginner, most of the smokers are built in such a way that it can be easily set up, used and fallen in love with.
Easy to Clean
Smoking can be messy because of the fat and drippings from the food. It can be worse, if you are using a vertical gas smoker. Hence, you should ensure that the material and the design of your smoker is laid in such a way that you can easily get rid of any mess.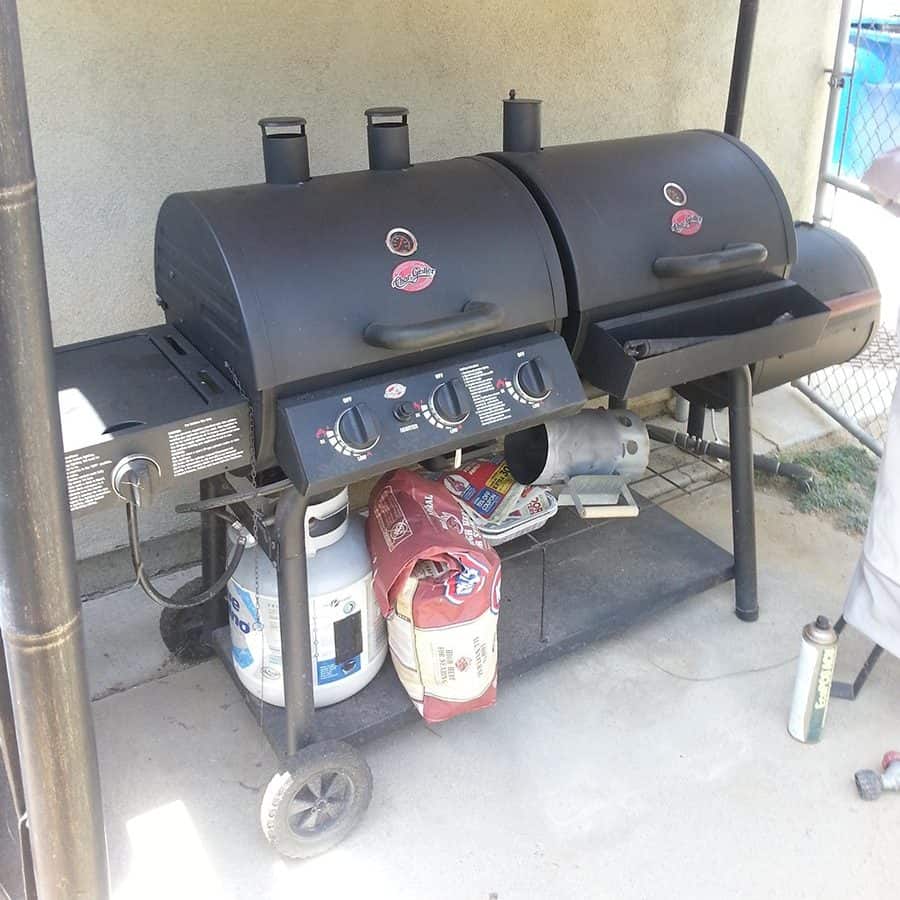 To this end, any propane smoker that's worth considering should have a water pan, drip pan and cooking racks that can be removed. Together, all these little things can add up to make the cleaning and maintenance of your smoker very easy.
Temperature Control and Range
The major selling point of a propane smoker is that it allows you to have complete control over the level of heat you use in cooking. If your smoker does not support this idea, you are better off without it. Hence, the temperature range and control of a smoker matters a lot when it comes to buying one.
Temperature range refers to the lowest and highest level of heat a smoker can possibly reach. For voracious barbecuers, 50 degrees F. to 500 degrees F. smokers is the best.
The heat control is usually in the form of a gauge which measures the temperature level in the gas smoker's chamber. Although in many situations, the gauge is usually off by a couple of degrees, you can easily rectify it by using a grate thermometer.
Benefits of a Propane Smoker
Although there are different options you can explore to achieve the perfect smoking output, none of the give the same benefits as propane smokers
Easy to Use
A propane smoker is very easy to use. Unlike the other types of smokers, you don't need to pay attention to it or constantly add wood to keep the heat leveled. The control does all the work.
If you are able to get a gas smoker with an in-built thermostat, the heat level will remain the same throughout your cooking. The only thing you have to do is to add wood for smoky flavour.
Flavor
One reason why many seasoned barbecuers prefer wood smokers is because they believe it is the best way to achieve the perfect flavour. However, a propane smoker gives almost the same taste as a wood smoker. In fact, blind tests carried out on the subject have proven that most grill masters can't tell the difference.(2) Check out our Helpful Guide to the best foods to smoke.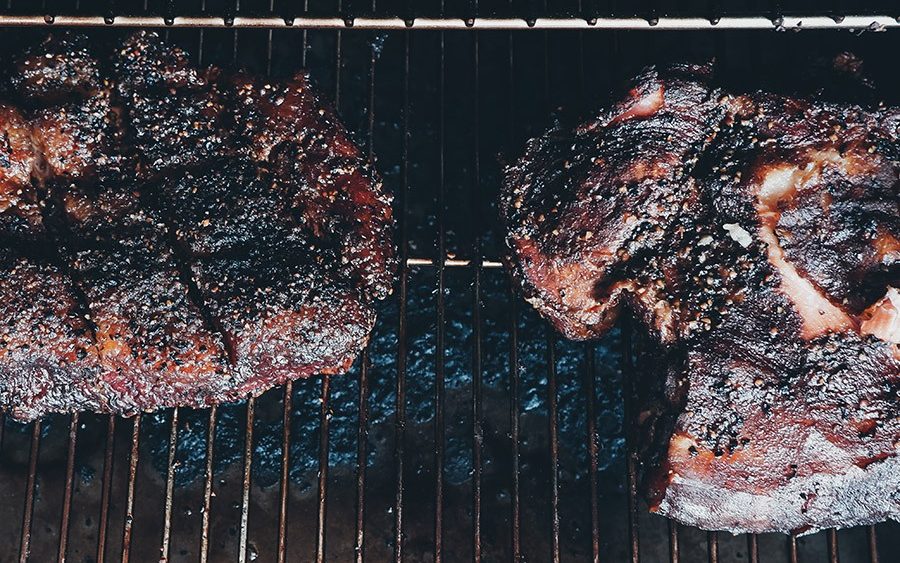 Temperature Control
Propane smokers allow you to choose the perfect temperature for your food. With most gas smokers, you can go from a temperature of 100 degrees to 450 degrees without having to stoke the fire repeatedly.
Easy to Move
While there are some very heavy propane smokers, most of them are portable since you only have to carry a gas tank and a handful of wood with you. This means that you can easily take them camping or to a friend's house for a barbecue party.
Tips for Using a Propane Smoker
Whether you're a seasoned barbecuer or it's your first time using a propane smoker, there are certain tips that can help you prolong the life of your smoker and also keep it clean.
Clean Regularly
The biggest appeal propane smokers have over other types of smokers is that they burn cleanly without flaring up or going through imbalance in temperature. Don't remove this benefit by letting charred food and grime accumulate in your smoker. After you are done cooking, make sure you empty the water pan and clean every surface of your propane
Use the Proper Temperature
Although gas smokers are faster than other types, they still require time to cook. Doing this at the proper temperature can help you get the perfect smoke flavour. It can also help you get the perfect tenderness for meat.
To help you achieve the proper temperature, we advise that you go for propane smokers with inbuilt temperature gauges and thermostat to ensure that the temperature you choose is stable. For precision, you can also invest in a digital meat thermometer.
Experiment With Wood
The only reason propane smokers can go head to head in terms of flavour with wood smokers is because most of them come with wood-burning options. You can learn more about different BBQ fuel options here.
Wood is a necessary ingredient when it comes to smoking. The type of wood you use affects the final taste of your food, which is why you should try to experiment a little bit with it. Don't just throw in the custom marinade, wet brine or dry wood into a chip tray. Try to create your own personal blend that's going to give your meal a novel taste.
While mixing your wood, just make sure you keep in mind the basics of smoking which are: apple does not go with beef, fish tastes better with oak, veggies are great with hickory and pork butt and shoulder do not agree with mesquite and oak.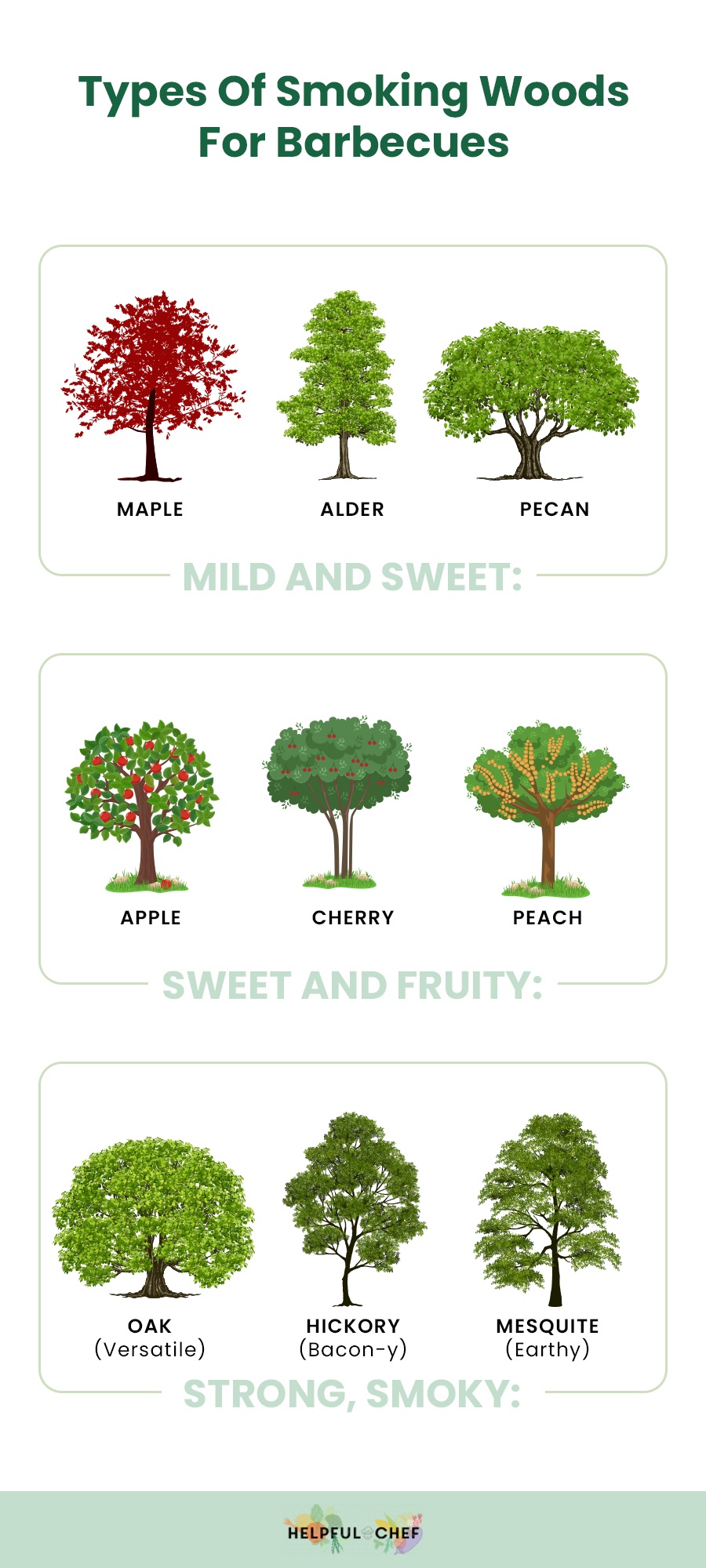 Go for a Smoker with A Lot of Cooking Space
Unless you are specifically looking for a portable smoker, we recommend that you should always go for a smoker with a large cooking area which can prepare your food as well as you want it to in record time. Of course, we are not advising you to buy a smoker that's too big for you to put anywhere. However, you should always keep in mind that a smoker that's slightly bigger is better than a smoker that is too small.
10 Best Propane Smokers Review
You'll definitely find the right propane smoker for you below. We've reviewed the 10 best smokers available to buy now.
Temperature Range: 200 – 400 degrees F

Power Output: 15,700 BTU

Special Feature: Adjustable air damper
This affordable smoker is from one of the most popular brands with highly powered products in the business. This Smoke Hollow edition is very easy to use and by following very simple steps in the manual, you can easily cook the best meal ever.
It doubles as an oven. Its burner is 15,700 BTU and it can get as hot as 400 degrees. You can use it to bake but you have to incorporate it with a sealant to prevent the smoke from escaping. The cooking grates are chrome coated and not likely to rust anytime soon. However, the painting on the inside of the smoker itself is not the best and you would need to buy a high heat spray paint before you start using it.(3)
Although the Smoke Hollow comes with its own temperature gauge, it will be safer to just get your own thermometer. With a personal thermometer, this propane smoker will make you a pitmaster in no time.
It is a heavy duty vertical propane smoker.

It can be used to grill many things at once.

It has an in-built thermostat.

It is very affordable.
This propane smoker is a slightly smaller version of the Masterbuilt 40 inches Propane Smoker with only two chrome coated cooking grates. It is affordable and its burner can go as high as 400 degrees though for the sake of grilling 225-250 degrees is highly recommended. The wood chip tray is made of cast iron and it is very important for you to pay attention to the manual when you are assembling the smoker.
Although the temperature control is not accurate, the heat level does not change at all during cooking. As long as you can get a thermometer, you can cook without having to check on the food every other minute.
Power Output: 5000 BTU

Temperature Range: 140 – 285 degrees F

Special Features: Foldable legs
If you are looking for a compact smoker which works as efficiently as larger models, the Masterbuilt Patio-2-Portable Propane Smoker may be the perfect smoker for you. With a power output of 5,000 BTUs and a minimum heat level of 140 degrees, you are bound to have an amazing smoking experience.
Additionally, the legs are foldable and it only requires 1lb of propane. Its ultra-portability makes it the perfect smoker for camping or any barbecuing event far from home.
However, some people complain that the water pan is small but it does not deter from the effectiveness of the smoker at all. In fact, the small nature of the pan and cooking grills lends to the smoker's position as the most portable on this list.
Smoking Basket: 120 square inch

Temperature Range: 250 – 450 degrees F

Special Feature: TRU-infrared
If you are looking for a gas smoker you can use for different purposes at once, this Char Broil 3-in-1 gas smoker may be the one for you. With its top notch features, you can use it for roasting, smoking and grilling. It certainly will be handy for Thanksgiving and any other outdoor event you may have.
It has a steel smoker box on the side that can be externally accessed if you want to add wood to your cooking. The basket for roasting and smoking is 120 square inch and it has a grill rack on top which uses Char Broil's signature TRU-infrared which distributes heat evenly and prevents your meat from drying up.
You can't use the 3-in-1 smoker for cooking on low heat. It can only go from 250 degrees to 450 degrees. However, by reading the manual and getting your own thermometer probe, you can cook a great meal.
The main advantage of the Char Broil is that it cooks faster than most propane smokers.
Shipping Dimensions: 25″ x 17.5″ x 30.5″

Temperature Range: 160 – 400 degrees F

Power Output: 18,000 BTU/hr

Special Feature: Door thermometer
The Camp Chef Smoke Vault 24″ does more than just smoke your food, it provides an experience that you are going to remember. Although it is not as big as the Masterbuilt 40 inch Propane Smoker, it is still as easy to use and it doesn't take much cooking area.
The gas smoker has three levels of cooking grates along with a wood chip tray for adding a smoky flavour to the meat or fish as the case may be. Above the chip tray is a water pan for adding moisture to the contents of the smoker while grilling. The door is made of stainless steel and it comes with its own temperature gauge to measure the temperature inside the chambers. This gauge can read up to 400 degrees. However, a grill grate thermometer will help you accurately select the heat level you prefer.
The main disadvantage of a Camp Chef Smoke Vault 24″ is that it produces a lot of smoke which can be a little unsightly. But, taking better care of your gas smoker and paying attention to the direction of the wind can reduce the smoke.(4) You can also use this smoker to bake.
Interior Cooking Space: 784 square inch

Temperature Range: 100 – 400 degrees F

Power Output: 15,000 BTU

Special Feature: Electronic push button
The Dyna-Glo DGY784BDP 36″ Vertical Propane Smoker excels in terms of portability and versatility. It is a heavy duty gas smoker with a 784 square inches interior cooking space.
The burner is made of cast iron and it packs a punch of 15,000 BTU with the capacity to maintain an even temperature while you cook. The chip tray is long enough to take as much wood as you'd need to reproduce the signature smoky flavour which comes with a traditional charcoal smoker.
It has a temperature gauge for measuring the heat and smoke level in the oven. However, it is always safer to buy your own independent thermometer. It has an electronic push button, the parts can be easily replaced and the temperature level can go from 100 to 400 degrees. Our opinion is that you can definitely get more than the value of the money you use for the purchase out of this one.
Interior Cooking Space: 785 square inch

Hose Length: 40 inches

Special Feature: Backdoor vent for letting out smoke
This is the best smoker for beginners who are just getting the hang of grilling. It has a temperature control that can be easily adjusted on the door and the wood chip tray is made of porcelain steel tray which holds wood and water.
The propane smoker has 785 inches of cooking space and its cooking grates are 14 by 14 inches. The fire does not directly touch the wood chips. So, it does not produce excessive smoke. You can always remove them for space if you are cooking something big.
Although in terms of power, it is a little lower than other propane smokers, its in-built thermometer is accurate. The temperature control is very easy to maneuver and by opening the rear vent, you can control how smoke stays in the oven.
Temperature Range: 100 -350 degrees F

Power Output – 12,500 BTU

Cooking Space: 887 square inch

Special Feature: Drip tray
The PIT BOSS 77435 Vertical easily beats a lot of propane smokers when it comes to sturdiness, durability and effectiveness. The burner is made with stainless steel and it runs the total 12,500 BTU and its temperature goes from 100 degrees F to 350 degrees.
It has an in-built thermometer which is off by 15 degrees. To get the accurate heat level, you will need to install your own grill thermometer. Once you set your desired temperature, it remains the same until you decide to turn it off.
PIT BOSS allows you to access the water pan, chip tray and a third tray for collecting the drippings from the barbecue externally. The cooking space area is 887 square inches.
Temperature Range: 175 -325 degrees F

Shipping Dimension: 23.268×18.11×32.799

Power Output: 15,750 BTU/hr

Special Feature: Tank fuel level gauge
We believe that if you are going to buy a propane smoker, you should get one with a large cooking space. A small cooking area can mean that you'll be spending more time smoking than actually eating which defeats the whole purpose to begin with.
The Masterbuilt 40 inch Propane Smoker excels in this area. It has 4 smoking racks which are 19.5″ inches wide and 12″ inches deep. With this wide space, the smoker is simply the best for large cooking.
Unlike other gas smokers, this one allows you to pick a temperature without fretting over the fact that it can change at any minute. However, the temperature control is a little off and you have to ensure that you get the right heat level with a probe thermometer
It has a water pan and the parts from the package can be easily arranged although you have to ensure that the flame minder tube seats completely into the burner assembly. To ensure this, a wrench must be used to tighten the nut. Without that, the smoker will keep going off.
Temperature Range: 180 – 500 degrees F

Power Output: 15,000 BTU

Shipping Dimensions: 42.925 L X 46.736 W X 81.788 H (Cm)

Special Feature: Wind resistant burner
Our last choice is one of the best propane smokers for seasoned barbecuers. It has one of the smallest brass burners you'll ever see in a gas smoker for effectiveness during windy days. It also has the power output of 15,000 BTUs and the heat level can go from 180 degrees to 500 degrees. Yes, we're talking about the Smokehouse Standard Gas Outdoor Smoker.
With 4 grill racks and a stable temperature control, you can either decide to smoke your meat quickly or for a long period of time.
Additionally, it has a magnetic seal which will keep the door in place whenever you're cooking and the space makes it
The Final Verdict
Although some of these appliances will suit your needs more than others, the best propane smoker for us is the Smoke Hollow PS40B Propane Smoker. Not only is it affordable, it is also easy to assemble and use. It cooks evenly and is perfect for creating a nice smoke flavoured meal. It also has a high temperature range and the heat level is stable.
Top Pick Overall – Smoke Hollow PS40B Propane Smoker
FAQ
Are Propane Smokers Good or Bad?
That depends on what you are looking for. If you are a smoker purist, then you will probably have a little bit of problem with using gas smokers especially if it's your first time. However, once you get the hang of it, it will be easy to replicate the treasure smoky flavour.
If you are not a purist, a propane smoker is still a very good idea. Unlike with other smokers, you can easily assemble it, regulate the temperature and keep the moisture in what you're cooking. It's not stressful. You don't have to keep adding wood to sustain the flame and it has less smoke.
What Is the Best Way to Clean My Smoker?
The best way to clean your smoker is to start even before you begin cooking. At this point, it is advisable to wipe the door, grills, tray and pan with oil for effective pre-seasoning. You can also wrap a foil paper around the water pan and chip tray to make them easy to clean. Then let the oil heat until it fully seeps into every nook and cranny of the smoker.
With this process, cleaning your smoker will be easier and faster when you're done cooking.
Can I use natural gas instead of propane for my gas smoker
Natural gas is not the same as propane gas. While the former is made of methane and gotten from the Earth, the latter's main component is Liquid Propane Gas(LPG) which is extracted from refining natural gas and is often sold in propane tanks.
Although it is possible to use either natural gas or propane as fuel for your smoker, the two share certain differences. For example, natural gas is supplied by utility companies and using it can render your smoker immovable while the main appeal of using LPG is that it is movable and easy to carry around camping or outdoor events.
Another thing to consider is that propane burns hotter than natural gas.
Should My Wood Chips Be Used Wet or Dry?
Although some barbecue cook books recommend that wood chips and chunks should be soaked for a couple of hours before use, this practice is actually counter-productive. For one, wood can't absorb as much water as cookbooks will have you believe. Also, before wet wood begins to burn, the moisture must be completely evaporated, otherwise, the smoky flavour won't come out.
The only benefit of soaking wood in water is to prevent it from catching fire and destroying your food. However, the likelihood of this happening in propane smokers is very low. Hence, we advise that you use wood chips dry to infuse better flavour onto your meal and also reduce your cooking time.
References
BTU: What does it mean & how many do you need? (2016, October 6). Camp Chef. Retrieved from

https://www.campchef.com/blog/what-is-a-btu/

Derrick Riches. (2019, September 24). How to breathe new life into your grill. The Spruce Eats. Retrieved from

https://www.thespruceeats.com/painting-your-grill-331634

How to use a propane smoker. (2020, January 11). Pioneer Smoke House. Retrieved from

https://www.pioneersmokehouses.com/how-to-use-a-propane-smoker/

Propane vs pellet smokers – Which fits your Bbq style. (2020, May 3). BroBBQ. Retrieved from

Image attribution: Retrieved from https://www.flickr.com/photos/criminalintent/5534053324