Buyer's Guide And Reviews Of The Best Ceramic Knife Set To Buy In 2022
Ceramic knives continue to rise in popularity. They won't rust, don't need frequent sharpening, and are incredibly hard. However, despite their toughness, ceramic knives still need to be handled properly to avoid damage. In these reviews, we're going to show you the best ceramic knife sets that will last, and in our buyer's guide, we'll explain what to expect from them, and how to use them properly.
Top Pick – Kyocera Universal Advanced Ceramic Knife Block Set
Best Budget Pick – TAKIUP 6 Piece Ceramic Kitchen Knife Set
Best Value for Money – Kyocera Advanced Ceramics Revolution Series 3-Piece Ceramic Knife Set
Best Gift Knife Set – Kikusumi 6-Piece Chef Knife Gift Set
Most lightweight – WACOOL Ceramic Knife Set 3-Piece
Buyer's Guide – What you need to know about ceramic knives
Ceramic knives are incredibly effective tools when used properly. Unfortunately, many people use ceramic knives incorrectly, leading to avoidable damage to the blade. The tricks you need to cut properly with ceramic knives are simple, however, and we'll explain them, as well as all the other unique advantages and properties of ceramic, in this buyer's guide.
What makes ceramic knives better than stainless steel knives?
Steel knives, despite using alloys to prevent it, can still rust over time. With the right care, the chances of rust can be reduced, but it is always something you need to watch out for. Ceramic knives, on the other hand, cannot rust, because they don't contain any metal, giving you one less thing to worry about. The best ceramic knife set will last you a lifetime if you look after it properly.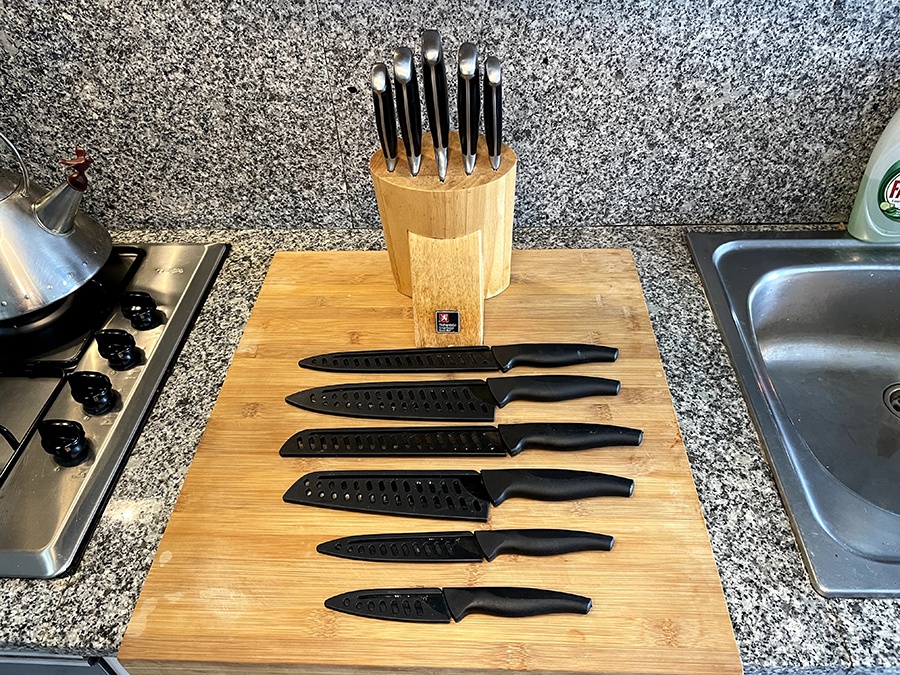 As they don't use steel, they are also considerably lighter than steel knives. This makes them very easy to manoeuver and satisfying to hold.
Despite this lightness, ceramic is very dense.(1) Their high density prevents odors and food waste from entering the blade, as they are less porous than other knives. This makes them significantly easier to clean. The density contributes to their incredible hardness. One study found that "Vickers hardness of ceramic knives is approximately twice the Vickers hardness of metal tools."(2) The Vickers hardness test referenced here is a scientific measure of how easily a material deforms, providing proof to the common consensus that ceramic knives are hard. For more information about the key properties of knives check out our Ultimate Guide to Kitchen Knives and to learn about the best steel kitchen knife set click here.
The hardness of ceramic also guides its key property: sharpness. Thanks to their incredible hardness, ceramic knives hold their edge much longer than stainless steel knives. This means that while steel knives need regular sharpening, the best ceramic knives stay sharp for years if looked after, which makes them some of the best knives for cutting vegetables like tomatoes. Ceramic is such a hard material that normal sharpening tools aren't effective. In fact, the only sharpener you can use on a ceramic blade is a special diamond sharpener, because diamond is the only material hard enough to sharpen ceramic. Your regular whetstone won't work, and neither will ceramic sharpeners – these may be made of ceramic, but they aren't made for ceramics. Most manufacturers will also allow you to send your knives back to them if they need sharpening, allowing you to avoid spending money on a sharpener that you will rarely need.
"It feels as if I've just bought a high-quality, newly sharpened knife. It never goes dull. I feel like a kitchen god."

– Megan Willett, in Business Insider, on using a ceramic knife(3)
Ceramic knives often feature colored edges, allowing you to show your own personal style in the kitchen. You can also get full-color ceramic knives such as a black ceramic knife set. These colors won't affect performance unless they motivate you to cook better. But they sure look good.
While in the world of steel knives you have prestigious manufacturers such as J.A. Henckels and Wüsthof, the respected name in ceramic knives is Kyocera. This Japanese manufacturer specializes in ceramics, and it is widely accepted it produces some of the best ceramic knives available as well as offering some of the best Japanese knife sets you can buy. You'll see some of their knife sets featured in our reviews below.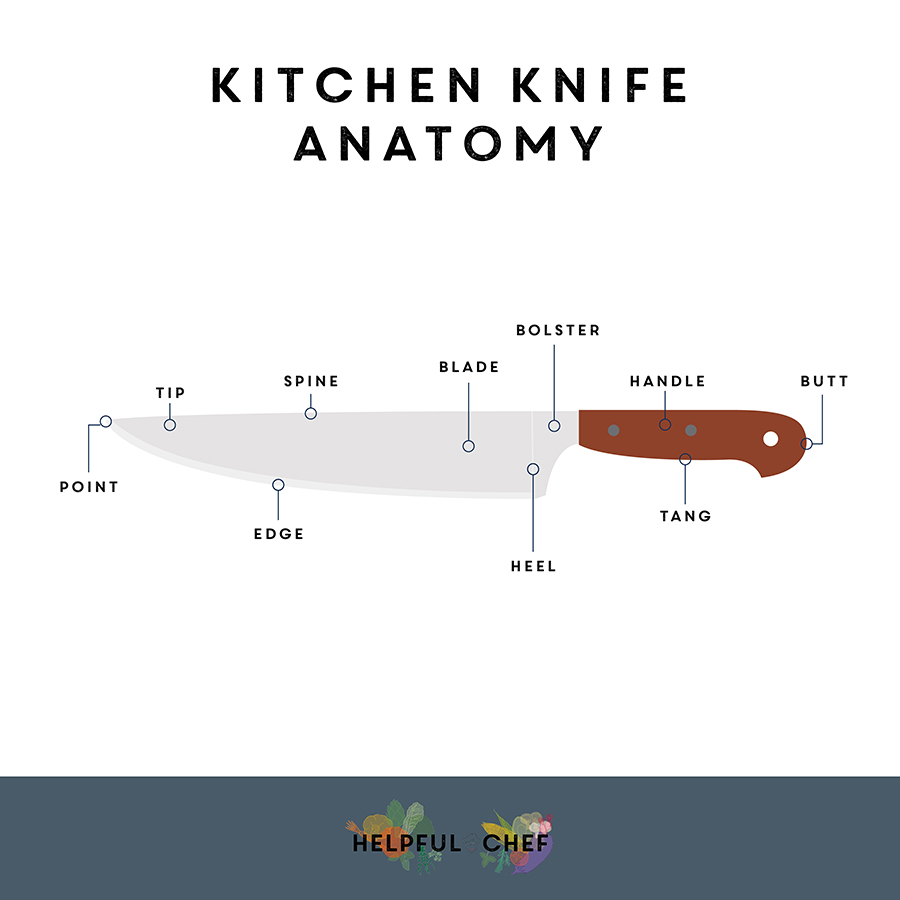 How to use a ceramic knife
It's important not to misunderstand the strength of ceramic knives. Although they are very hard, they are also brittle. This means they are prone to chipping and snapping if exposed to forces they cannot handle. The key, therefore, is to use and care for your knife properly.
When chopping and slicing with a ceramic knife, you should never twist or bend the blade. Doing so risks chipping the edge. Instead, use straight, clean cuts. Thankfully, with the sharpness of ceramic, you shouldn't need to use an aggressive twisting or bending to cut anyway. You should also only use a soft chopping board. Both ceramic and steel knives will be damaged by chopping on hard surfaces, such as marble.
Oh, and this should go without saying, but try not to drop your knife, either.
The key takeaway is that ceramic knives shouldn't be mistaken for zero maintenance, zero care knives. But if you are careful with them, and use them properly, they will need much less upkeep than their steel counterparts.
How are ceramic knives made?
Ceramic knives are made from zirconium, a remarkably strong element. Specifically, they use Zirconium oxide, also known as zirconia, which is ground into an incredibly fine powder. This powder is then placed in a mold and pressed with hundreds of tons of pressure.(4) Several stages of pressure create an incredibly strong and dense blade. Handles are then injected into the mold, and the blade is ground, sharpened and polished. The sharpening tools use diamonds to hone the blade, as normal sharpeners are simply not strong enough to grind down the tough ceramic edge. The blade is then polished to give it a smooth, frictionless edge, is washed, and is then ready for use.
To sharpen your knife at home, you'll need a sharpener with a diamond-encrusted edge or belt, as shown here:
The Best Ceramic Kitchen Knife Sets to Buy in 2022
Below we've collected and reviewed the best ceramic knife sets that we think are worth your attention.
● Blade material: Z212 black zircona ceramic
● Number of knives: 4
● Blade sizes: 4.5-inch Utility, 5.0-inch Slicing, 5.5-inch Santoku, and 7-inch Chef's knife
● Other items: Blade block
You'll pay a steep price for Kyocera craftsmanship, but in return, you'll receive some of the best ceramic knives you can buy. Kyocera, pronounced 'key-o-sarah', is a Japanese company that specializes in ceramics. They have gained a reputation for high-quality ceramic knives, and this set showcases why. It includes some of the best ceramic knives 2021 and is our pick for the best ceramic knife set overall.
This four-blade set contains knives from their Innovation range, named after the Japanese word 'Shin', meaning new, honest, or true.(5) The name is apt – these blades are razor-sharp, and will reliably slice and dice your fruits and vegetables. The ceramic material in these blades is produced by their new Z212 advanced ceramic process. Kyocera hasn't divulged what this process involves, but they claim it will help the knives stay sharp two times longer than their previous method.
Kyocera's chef's knife is likely the knife you'll be using most, and it doesn't disappoint. The 7-inch has an excellent balance and fits comfortably in the palm. Kyocera's santoku gives you a smaller option for chopping work, and the 5-inch and 4.5-inch slicing and utility blades are great for smaller tasks like fruit and sandwiches.
The included blade block has a modern, understated design, which matches the sleek black finish of the knives well. There are spare slots on this block, too, giving you the capacity to expand your collection. Kyocera's ceramic knife set gives you sleek, sharp knives with mighty strength. This is the set for the chef that wants the best ceramic knives.
● Blade material: Ceramic – zirconium oxide
● Number of knives: 5 (plus a peeler)
● Blade sizes: 6-inch Serrated Bread Knife, 6-inch Chef Knife, 5-inch Slicing Knife, 4-inch Utility Knife, 3-inch Paring Knife, and a Peeler
● Other items: Sheaths, peeler
This colorful TAKIUP ceramic knife set gives you all the knives you need to get started in the kitchen, and at a great price. If you're unwilling to make a big investment in ceramic knives, this set lets you experience tough ceramic knives, without the financial commitment. This is our pick for the best ceramic knife set for chefs on a budget.
The colorful handles of these knives let you color-code them. This is perfect for preventing contamination, allowing you to keep the potentially dangerous bacteria from raw meat away from the rest of your cooking, for example. You'll want to keep these away from children, however. Despite the bright colors, these are definitely not toys!
Each blade uses a molded handle, which fits excellently in the palm. As with all ceramic knives, there's very little weight to each knife, making them very easy to maneuver precisely. We like the wide range of knives offered by this set, too. The 3-inch paring knife and 4-inch fruit knife are perfect for smaller tasks such as skinning fruit and chopping vegetables, and the 5-inch utility knife and 6-inch chef's knife are great for larger tasks, such as slicing and dicing. A serrated bread knife and ceramic peeler complete the set, giving you a very balanced selection of tools.
The best way to understand the appeal of ceramic knives is simply by trying them. We recommend this ceramic knife set to the chef who wants to try ceramic knives without breaking the bank.
● Blade material: Ceramic – zirconia
● Number of knives: 3
● Blade sizes: 6-inch Chef's, 5-inch Serrated and a 3-inch Paring Knife; OR 5-inch slicer, 4.5-inch utility knife, and a 3-inch paring knife
● Other items: Lifetime warranty
This great value set of knives allows you to get your hands on some quality Kyocera blades, without spending a fortune. These are blades that will make you forget all about steel knives. This is our pick for the best ceramic knife set offering the best value for money.
Kyocera's incredible ceramic craftsmanship is present in these knives, just as it is in our best overall pick. The difference is in the value: this set offers three knives, instead of four, and it doesn't feature a knife block, or the state-of-the-art Z212 ceramic process mentioned above. However, what you get in return is a much lower price, and you are still receiving three quality Kyocera knives.
These Kyocera Advanced Ceramics knives showcase the merits of ceramic blades. The knives slice through vegetables effortlessly, are super light to hold, and their dense ceramic structure makes them very easy to clean, as no food debris makes its way into the blade.
Kyocera offers this set of knives in two formats, to suit every type of chef. You can either opt for the larger set, with a 6-inch chef's knife and a 5-inch serrated blade, or the smaller set, with a 5-inch slicer and a 4.5-inch utility knife. Both of these sets are finished off with a 3" paring knife for preparing smaller fruits. Which set you choose may depend on what knives you already have in your kitchen. If you're looking to use these knives as your primary cooking knives, however, we'd recommend the set with the chef's knife for maximum utility.
This Kyocera knife set offers incredible value for the price. We recommend this to any chef who wants to expand his kitchen knife collection with some high-quality ceramic tools.
● Blade material: Ceramic – zirconia
● Number of knives: 6
● Blade sizes: 7 inch Chef Knife + 5.5 inch Santoku + 5 inch mini Santoku + 4 inch Paring + 3 inch Paring + 8 inch Bread Knife
● Other items: Gift box
These beautifully presented ceramic knives would be a perfect gift, especially for a wedding. Kikusumi has produced these knives with stylish black blades and handles, giving them a visual appeal that is sure to impress the lucky recipient. This is our pick for the best ceramic knife set to give as a gift.
It's not all about looks with these blades, though. These Kikusumi knives will impress on the chopping board, too. Extra-sharp ceramic edges allow them to slice through your food with ease, making tasks such as chopping and dicing a breeze. What's more, Kikusumi has fired these blades at temperatures of over 2700°F to achieve very high levels of hardness, even for ceramic.
With 6 knives, this set gives you a lot of versatility in the kitchen. We also like the hollow edge used on the two Santoku knives. The scallops cut out of the blade help to prevent food from sticking to these knives, letting them glide through your chopping work with less resistance.
A delightfully ornate gift box finishes the presentation of these knives, truly making them an excellent gift. And a lifetime warranty ensures you won't be getting any complaints. We recommend this as a gift to any couples interested in cooking, or for recipients who need some exciting new tools in their kitchen.
● Blade material: Ceramic
● Number of knives: 3
● Blade sizes: 6-inch Chef's Knife, 5-inch Utility Knife, and 4-inch Fruit Paring Knife
● Other items: Sheaths for each blade
These simple and affordable ceramic blades from WACOOL are great for the beginner chef. The clean, lightweight design of these knives will keep you focused on what's most important: your cooking.
WACOOL has included 3 knives in this set, giving you a good starter selection. The 6-inch chef's knife provides you with a great general-use tool, although some might like to see a larger size for this knife. The 5-inch utility knife is great for smaller slicing tasks, while the 4-inch paring knife is ideal for foods such as herbs, mushrooms, and garlic.
WACOOL provides sheaths for each blade in this set, allowing you to protect the brittle ceramic blades from any accidental impacts. As for the quality of these knives, they are very rigid and offer an excellent sharpness straight out of the box. As long as you use proper ceramic techniques and don't twist the blade, these knives will cut through tough vegetables with ease.
This is a smaller knife set, but it's also at a small price. These knives are comfortable, light in the hand, and easy to maneuver. We recommend this set to any chef that wants to expand their knife collection with some razor-sharp ceramic blades.
● Blade material: Ceramic
● Number of knives: 4 (plus a peeler)
● Blade sizes: 6-inch Chef's Knife, 5-inch Chopping Knife, 4-inch Utility Knife, and 3-inch Paring knife and a peeler
● Other items: Sheaths for each blade, gift box
Knives are the most important tools in your kitchen, and Gayle's Kitchen recognizes this. Their ceramic knife sets are crafted to compliment the chef, in both their performance and their aesthetics. This is our pick for the best ceramic knife set for chefs who want to bring a bit of color into their kitchen.
Gayle's Kitchen offers this knife set in a dazzling number of colors, allowing you to show your personality in the kitchen, or give someone a gift that shows thought. The knives are also presented in a stylish gift box, making them a pleasure to open.
The handles on the blades are injection molded, as opposed to being glued. This creates extra strength, giving the knives greater longevity. And as for the blades, they are well-sharpened and make swift, easy cuts. Each knife is also particularly light, making them easy to maneuver and satisfying to hold.
There's a great range of knives in this set, too. The larger 6-inch chef's knife is an excellent all-around blade and is complimented well by the smaller 5-inch chopping knife. The 4-inch utility knife and 3-inch paring knife give you unrivaled precision for smaller tasks, letting you slice and pare fruits with a new level of ease. The peeler is a nice touch, too – it's a tool that often gets overlooked. This is a great set for one's own kitchen, or also as a gift knife set for a keen cook.
The Final Verdict
Kyocera's Universal Advanced Ceramic Knife Block Set stood above the rest of the ceramic knife sets we reviewed. The knives in this set excel in hardness, sharpness, and comfort, and the included knife block is a bonus, too. It's a set we recommend to any chef who wants the best in ceramic knives.
FAQs
Can I put my knife in the dishwasher?
You can, but it's not recommended. There is always a risk you could chip your blade by using a dishwasher to clean it. Nonetheless, most ceramic knife manufacturers have ensured their handles are dishwasher safe, since using a dishwasher to clean ceramic knives remains popular. For the lowest risk of damage, we recommend carefully hand washing your knives – and this advice applies to steel knives, too.
My blade has a chip in it – what do I do?
Chips can be removed by sharpening the blade. To sharpen a ceramic blade, you can't use the same tools you'd use on steel knives. Whetstones, for example, aren't hard enough to sharpen ceramic. Instead, you must use a diamond sharpener. If you don't want to purchase a sharpener, most ceramic knife manufacturers allow you to send back your knives for sharpening if you get in touch with them. Otherwise, follow the instructions on your diamond sharpener for the best finish.
Can I use ceramic knives on frozen food?
Frozen food, as well as meat with large bones, can chip your blade. We don't recommend using a ceramic knife for these foods, but if you do, cut slowly and carefully, and avoid forcing the blade.
Are ceramic knives better?
There is no definitive answer to this question. Some people believe that ceramic knives are better because they are sharper and harder than other types of knives. Others believe that they are not as good as steel knives because they can chip or break more easily. Ultimately, the decision about whether or not to use a ceramic knife is a personal one.
References
(1) Advantages & Disadvantages with Ceramic Knives. (n.d.). Retrieved from https://finoak.com/articles/ceramic-knives-advantages-and-disadvantages
(2) Geping Bi, Wenhua Tan, Zhe Yang and Aijin Ma (2018, May 20). Study on Standards of Ceramic Knives in Contact with Foodstuffs Part 2: Performance Requirements. Retrieved from https://iopscience.iop.org/article/10.1088/1757-899X/381/1/012169/meta
(3) Willett, M. (2016, March 02). I traded steel knives for ceramic knives – and I'm never going back. Retrieved from https://www.businessinsider.com/differences-between-ceramic-and-steel-knives-2016-3?r=US
(4) The Complete Process of How to Make a Ceramic Knife. (2016, August 10). Retrieved from
(5) Shin Black Series: Ceramic Knives: Kitchen Products: Products. (n.d.). Retrieved from https://europe.kyocera.com/products/kitchen_products/prd/ceramic_knives/shin_series_black.html