The Best Gyuto Knives To Buy In 2022
Before the Meiji era in Japan (around the second half of the 19th century), the Japanese diet consisted predominantly of rice, fish and vegetables. However, with the adoption and integration of Western ideas into Japanese society came the introduction to Western cuisines and cutlery.1 'Gyuto', meaning 'cow sword', was a knife inspired by the Western chef's knife, applying traditional Japanese knifemaking to a new style of knife used for meats and vegetables. In this article, we take a closer look at gyuto knives, and check out the best gyuto knives to buy in 2022.
Gyuto Knives – Everything You Need to Know
Before we look at our top choices for gyuto knives in 2022, let's learn a little bit about gyuto knives, and the things you need to know to choose the right gyuto knife for you.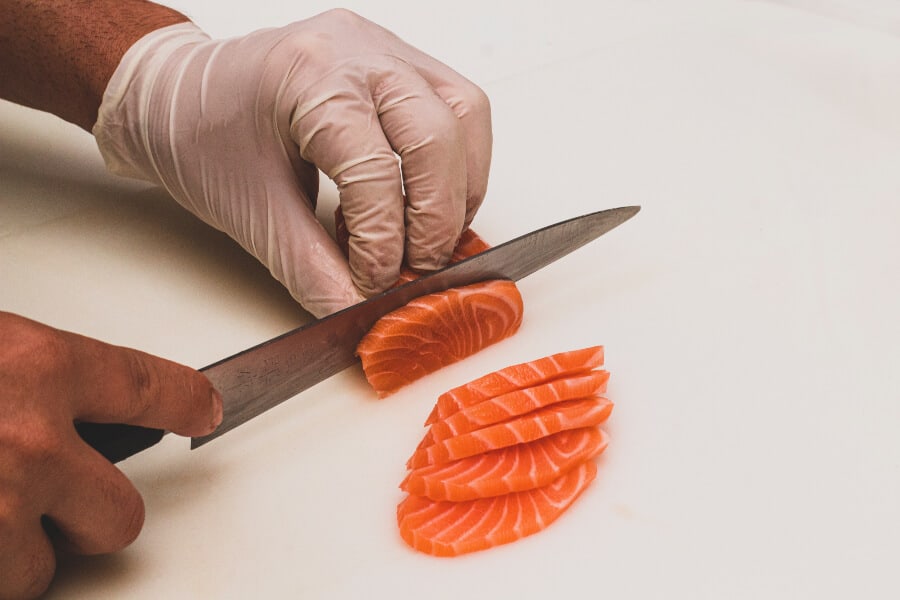 What is a Gyuto Knife?
Despite being a Japanese knife, the gyuto knife originated from Western chef's knives, which were beginning to be imported to Japan at the beginning of the Meiji era. This coincided with the increasing role of meat in Japanese diets at the time.2 The design of the gyuto knife – a large, multi-purpose knife suitable for cutting meat and vegetables – clearly draws from these Western chef's knives. A Western-style curved blade is perfect for rocking back and forth, and unlike most Japanese knives, the gyuto has a double-beveled edge.
'When people ask me what knife you should get, a gyuto 8-inch chef's knife is the place to start – it's the all-purpose knife'

– Christine Lau, executive chef at Kimika in New York City
A gyuto knife is one of the most versatile and essential knives a cook can have, and it's a perfect starting point if you're looking to build a Japanese knife collection. We'd also recommend checking out our best santoku knives and best nakiri knives if you're interested in Japanese knives.
How to Use a Gyuto Knife
Gyuto knives are versatile and can be used for just about every aspect of kitchen work, from slicing and chopping to mincing and dicing. In the video below, Christine Lau, executive chef at Kimika in New York City, demonstrates how to chop with a gyuto knife:
Christine Lau just demonstrates chopping techniques on a red onion, but these same cutting motions are suitable for all different types of foods. As you can see, it's easy to use an up-and-down motion with the blade's tip, and the curved blade shape easily facilitates a rock-chop technique as well. The pointed tip is also perfect for piercing and making delicate incisions.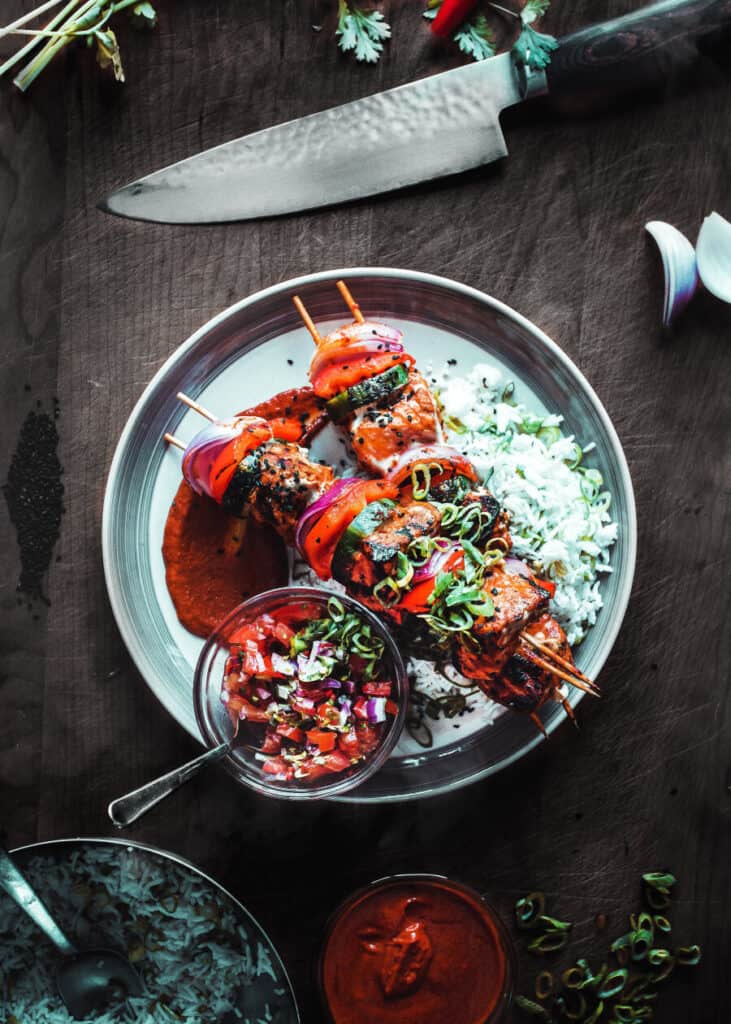 What to Look For When Buying a Gyuto Knife
If you're looking to buy a gyuto knife, there are a number of factors to take into account to ensure you get a knife that suits you.
Blade
Gyuto knives will have a longer blade than most knives, usually between 8- and 12 inches. It's not called a cow sword for nothing! This extra length makes the gyuto knife perfect for slicing larger foodstuffs. Due to its Western influence, the edge will typically be double-beveled, unlike many Japanese knives.3
The profile of a gyuto knife can differ from knife to knife, from large, round bellies perfect for rocking motions to flatter profiles more suited to push-chopping. The best gyuto knives will have a tall, flat heel, and the center of gravity should be closer to the tip of the blade, which is perfect for detailed cutting.
Weight
Despite its size and length, a gyuto knife should be light and easy to maneuver. This makes it perfect for delicate work like mincing herbs or dicing onions as well as being able to make larger cuts and slices through bigger bits of meat or veg. You should avoid using a gyuto knife when cutting through thick bits of meat or bones. The lightness of the blade means you'll have to use extra pressure, possibly damaging the blade in the process – stick to your meat cleaver for these tasks.
Handle
Gyuto knives have two main types of handle: Japanese 'wa' handles, which can be octagonal, D-shaped or oval, and Western handles which more closely resemble the handle of German knives. Neither handle type is 'better' than the other, it's just a matter of personal preference. We recommend going for a handle that feels comfortable in your hand and enables you to comfortably use a pinch-grip (check out our kitchen knife guide if you're not sure what a pinch grip is).
It's also important that you consider the handle material. All wooden handles can look great, but are harder to clean than handles that use synthetic materials, like Pakkawood or Micarta. Finally, the handle can be an aesthetic statement – don't be afraid to choose something that will stand out and show your personality.
Price
One last thing to consider is your budget. A gyuto knife is a versatile, multi-purpose kitchen knife, so it's worth investing more money to get a high-quality blade that can be used for a range of kitchen tasks. Japanese knives are typically long-lasting if cared for properly, so your gyuto knife could be a lifetime investment, worth spending a little extra on.
The Best Gyuto Knives in 2022
Now that we've covered everything you need to know about gyuto knives, let's take a look at our top picks for gyuto knives in 2022. 
Image
Product
Features
Price

Best Overall

Material: High-carbon stainless steel
Length: 8 inches
Weight: 11.3 ounces
Rockwell hardness: 61±1 HRC
Tang: Full tang
Edge bevel: 16 degrees

Check Price

Best Budget Pick

Material: High-carbon stainless steel
Length: 8.34 inches
Weight: 8 ounces
Rockwell hardness: 60±2 HRC
Tang: Partial tang
Edge bevel: 16 degrees

Check Price

Best Value for Money

Material: High carbon stainless steel
Length: 8 inches
Weight: 7.9 ounces
Rockwell hardness: 61 HRC
Tang: Full tang
Edge bevel: 12 degrees

Check Price

Quality Craftsmanship

Material: Ice hardened high carbon stainless steel
Length: 8.25 inches
Weight: 5 ounces
Rockwell hardness: 60 HRC
Tang: Full tang
Edge bevel: 10-12 degrees

Check Price

Professional's Choice

Material: High carbon stainless Damascus steel
Length: 10 inches
Weight: 8.1 ounces
Rockwell hardness: 63 HRC
Tang: Full tang
Edge bevel: 12 degrees

Check Price
The concept of 'shun' – a Japanese word used to describe local, seasonal food at the peak of its freshness and flavor – is at the very heart of Japanese cuisine.4 The Japanese knife brand Shun takes this concept to heart in its quest to craft high-quality cutlery which is similarly at the peak of its perfection.
This particular gyuto knife is from Shun's Classic series, the original series to be sold by Shun in America. The shape of the 8 inch blade is clearly influenced by the traditional Western chef's knife, with the curved blade encouraging a rocking motion when cutting. The steel has a high-carbon VG-Max core sharpened to a 16-degree double bevel, surrounded by 34 layers of Damascus steel cladding on each side, which looks striking and cuts through meat and vegetables with ease.
This knife has a Rockwell hardness of 61±1, so will retain an edge for a long time.5 However, this is at the cost of a slightly more fragile blade, so do be careful when storing your knife, and avoid chopping on hard surfaces like glass chopping boards. The knife's light weight at 11.3 ounces and exceptional balance and maneuverability reflects Japanese knifemaking traditions.
The handle is a light blonde PakkaWood (wood infused with plastic resin), a fantastic choice for a handle as it's waterproof, durable and bacteria-resistant, whilst maintaining a convincing woodgrain effect. The slight D-shaped ridge fits into the curl of the fingers in the right hand. Shun claims that 60% of left-handers find the handle comfortable too, but if you're a lefty, this is unfortunately something to consider.
Shun enables you to register your purchase and protect your knife against manufacturing defects. They also offer a lifetime free knife sharpening service, provided you cover costs to Tualatin, Oregon.
The Dynasty series of knives by Findking have been designed to demonstrate the capabilities of Japanese chef's knives to home chefs, focusing on comfort, efficiency and beauty. This gyuto knife from the Dynasty range is a great example of a high-quality knife at a low cost.
With a Rockwell hardness of 60±2 HRC, the high-carbon stainless steel blade will hold a sharp edge well. However, this is at a cost of increased fragility and a more time-consuming sharpening process. The Granton edge helps to stop food sticking to the blade when slicing.6 The blade is actually slightly over 8 inches long – Findking calls this a 'true 8-inch' blade as you'll have 8 inches of useable blade when you hold the knife with a pinch grip (check out our kitchen knife guide if you're not familiar with the pinch grip!).
The handle is made from durable and sustainable African rosewood, a great choice for a handle, and a small section of ebony wood joins the blade and main handle.7 This complements the blade in both style and balance – the weight of the knife is towards the blade end, making prolonged chopping easier. The octagonal shape is comfortable in the hand. It's a shame that Findking has only used a partial tang, as this would make the knife even stronger.
Overall, this is a great gyuto knife that comes at a relatively inexpensive cost. Despite some clear cost-cutting measures such as the partial tang, this doesn't feel like a budget knife – it even comes with an attractive presentation box – so this knife wins our award for best budget pick.
Enso has been handcrafting Japanese chef's knives in Seki city – one of Japan's most renowned sword- and cutlery-making cities – since 1932.8 Enso combines the knowledge and expertise of traditional Japanese craftsmen with advanced modern knifemaking technologies to deliver the highest quality knives.
The blade is constructed of 37-layer stainless steel with a hammered tsuchime finish, and the VG10 Japanese steel cutting core has a Rockwell hardness of 61 HRC, resulting in excellent edge retention. A gently curved belly encourages a rock-chop motion for mincing or finely chopping. For a stylish and authentic touch, each Enso Hammered Damascus knife features a machine-pressed blade kanji – the first two characters are 'enso', which means 'harmony', and the last three are 'nippon sei', meaning 'made in Japan'.
The handle is made from a black canvas Micarta handle, composite of canvas and a thermosetting plastic, which is particularly strong and sturdy and gives the look and feel of wood without the risk of cracking. It is also comfortable in the hand, and actually feels like it grips better when wet! The three stainless steel rivets, bolster and end cap help to provide strength and durability, which are further reinforced by the enclosed full tang.
Overall, Enso has created a versatile gyuto knife for its Hammered Damascus series. This gyuto knife delivers the full package at just under 150 bucks without compromising on function or style, and Enso also offer a lifetime warranty against manufacturing defects. This knife earns our best value for money award. 
Yoshihiro Cutlery specializes in handcrafted Japanese cutlery. All Yoshihiro knives are hand-crafted in Japan utilizing modern innovation and original Japanese knifemaking techniques. This gyuto knife is a clear example of Yoshihiro's high level of craftsmanship.
The blade is forged from an ice-hardened stainless steel with a high carbon content for increased hardness and molybdenum for further toughness and tensile strength.9 The blade has a maximum thickness of around 2 millimeters while the edge is sharpened to a 10- to 12-degree double-bevel, keeping it thin, lightweight and razor-sharp. The blade is also rust- and corrosion-resistant, but Yoshihiro recommends cleaning immediately after slicing acidic ingredients like tomatoes. This blade is 8.25 inches long, and Yoshihiro also offers a 9.5-inch blade at a slightly higher price too.
The traditional Japanese 'wa'-style handle is handcrafted, and features an ergonomic octagonal shape that feels comfortable to use in either hand. The rosewood material is lightweight and durable, and the water buffalo horn bolster provides balance to the knife overall.
This knife is a clear demonstration of Yoshihiro's attention to detail and knifemaking ability. The magnolia saya and classy packaging help to protect your knife when not in use. Overall, this gyuto knife earns our award for high-quality craftsmanship.
Another knife from Enso, this Damascus gyuto knife further demonstrates Enso's traditional Japanese knifemaking expertise that incorporates advanced modern knifemaking technologies. This knife is over twice the price of the Enso knife reviewed above, but it incorporates a range of features that make it perfect for the professional chef or experienced home cook.
The 10-inch blade has a Japanese SG2 micro-carbide powder stainless steel cutting core, which is corrosion-resistant, and has a massive Rockwell hardness of 63 HRC. The cutting core is surrounded by 101 alternating layers of hard- and soft stainless steel, giving a beautiful Damascus effect, and sharpened to a particularly sharp 12-degree double-beveled edge. The result is an extremely hard, exceptionally sharp blade. The curved belly helps to promote a rock-chop motion for mincing or finely chopping. Again, the blade has a stylish and authentic kanji, but this time it's hand-engraved by a Japanese artisan. The first two characters are 'enso' again, and the last four are 'hyaku ichi sō-kō', meaning '101-layer steel'.
The black canvas Micarta handle has a generous stainless-steel bolster for balance, and a full-tang construction for increased strength and durability. An engraved end-cap provides stability, and a further touch of style.
Overall, this blade has clearly been designed with the professional chef or experienced home cook in mind. The exceptional hardness and sharpness of this knife will serve you well in the kitchen, provided you take good care of it. Fortunately, Enso offers a lifetime warranty to protect your investment. This Damascus gyuto knife from Enso earns our professional's choice award.
The Final Verdict
That covers all of our top picks for gyuto knives in 2022. We've looked at a number of different gyuto knives for a range of different needs, budgets and uses, from home cooks to professional chefs, but the best pick has to be the Shun Classic Blonde 8-inch gyuto knife. The blade is hard and sharp, and retains an edge well, making it the perfect tool for cutting kitchen produce from beef and pork to all sorts of veggies. Shun's Japanese knifemaking philosophy shines through in all aspects of the knife, and the beautiful Damascus finish will stand out in any kitchen. The quality construction of the blade means it will last for years if cared for properly, and Shun also offers a limited lifetime warranty and free sharpening service provided you cover the shipping to Tualatin, Oregon. This blade is our top choice overall.
FAQs
Q: Can I use a gyuto knife for sushi? 
A: Although the gyuto knife is a versatile, multi-purpose knife, if you're looking to make sushi from scratch, you might want to think about a specialized knife designed for the task. Our recommendation would be a yanagiba knife to start with, and for more information, check out our guide to the best sushi knives. It might also be worth checking out our top choices for fillet knives if you want to make nigiri, sashimi, or any other type of sushi with fish. 
Q: What makes Japanese knives different from German knives? 
A:  Japanese knives tend to be light, easy to maneuver, and great for fine slicing and more delicate kitchen cuts. German knives, on the other hand, are heavier and more robust – think of them as workhorses in the kitchen. The differences between Japanese knives and Germans knives are just like the way that a gyuto is more light and delicate than a German chef's knife!
Q: I have a gyuto knife but I'm finding it a bit unwieldy and difficult to use. What can I do?
A: Firstly, don't worry – using a Japanese knife can feel very different if you're used to chopping with German knives. As you get used to the weight and feel of the gyuto knife, it'll become much more natural to use. Just take things slowly and focus on proper cutting technique, and you'll find yourself growing in confidence and getting faster in no time.
Perhaps you could consider getting a santoku knife, another highly versatile Japanese knife that is slightly shorter and easier for beginners to use than a gyuto. Once you're confident with the santoku, then you can move back to the gyuto – you'll probably find it much easier to use!
References
1,2 David Farley (15 July 2020), 'Japan's surprising 'Western' cuisine'. ;
3 Hasu Seizo (26 June 2020), 'Single Bevel Knives vs Double Bevel Knives'. Accessed at: ;
4 Shun (n.d.), 'At the Peak of Perfection'. Accessed at: https://shun.kaiusa.com/what-does-shun-mean.
5 York Saw & Knife (n.d.), 'Guide to Rockwell Hardness'. Accessed at: https://www.yorksaw.com/rockwell-hardness/.
6 HDMD (16 December 2021), 'What is Granton Edge?'. Accessed at: https://blog.hdmdknives.com/granton-edge.html.
7 Quynh Nguyen (n.d.), 'How Sustainable Is Rosewood?'. Accessed at: https://impactful.ninja/how-sustainable-is-rosewood/.
8 Visit Seki Official Guide (n.d.), 'About Seki'. Accessed at: https://visitseki.jp/about.
9 Matt Davidson (15 December 2021), 'Knife Steel Composition Chart'. Accessed at: https://knifeinformer.com/knife-steel-composition-chart/.