Reviews and Buyer's Guide for the Best Gas Grills Under $300
Gas grills let you produce the great smells of a grilled meal at the push of a button. Nevertheless, there's a lot of features and trade-offs that let the best grills stand out from the rest. We've reviewed all of the best gas grills for under $300 we could find, and ranked them into the categories that you will find most useful.
Top Pick Overall – Char-Broil Performance 475
Best Value – Giantex Tabletop Gas Grill
Best Budget Pick – Cuisinart CGG-7400
Best Flat Top/Griddle Combo – Royal Gourmet GD401C
Most Reliable – Weber Q2200
Important note: Although all these grills were under $300 at the time of review, prices do fluctuate so there is a chance some may be a little over $300 when you read this. We've also written guides for the best gas grills under $200 and the best gas grills under $500, feel free to check them out.
What to look for when buying a gas grill for under $300
There's a lot of propane gas grills on offer for under $300. The wide range of features and options made us go for a wide spread of categories – 10 different grill awards are featured in our review section. But what features are worth looking out for? How did we differentiate between these grills? Our buyer's guide below will answer all these questions.
Where do you want to use your grill?
Naturally, many of us will be thinking of an upright yard grill – but modern grills are capable of packing more than enough grilling power even in a portable form. You aren't limited to a freestanding grill – you may also want to consider the portability of a tabletop grill, a foldaway grill, or a fully portable camping grill.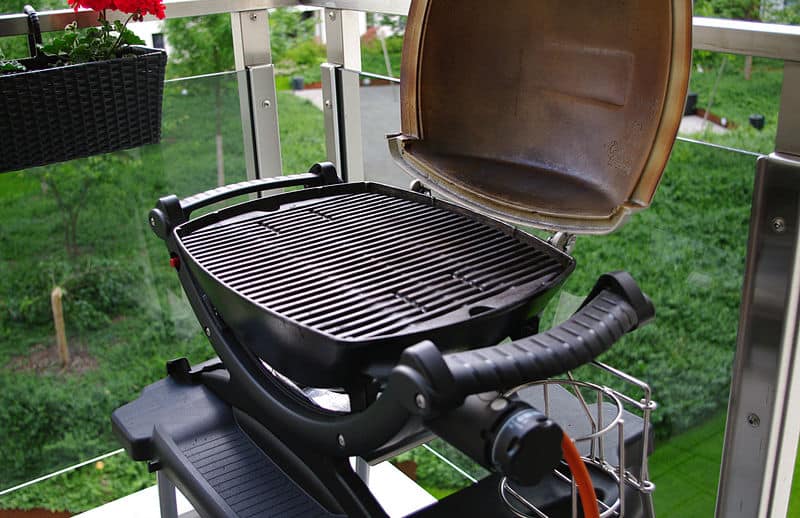 Equally, amongst the freestanding grill carts, there is also a wide range of grills to suit your individual yard space. Perhaps you want an extra wide grill to be the centerpiece of the party, and to feed all the family? Or a more slender model to fill a space in your patio? We've covered a range of sizes to fit all your possible needs.
Some grills achieve a larger primary cooking area by combining their main cooking area with a side burner, side tables, or side shelves. Storage for your propane gas is also available on some models, proving that the square inch size of a grill is not the only metric for performance.
BTUs, electronic ignitions, water pans… what does it all mean?
Gas grills use propane tanks to produce a lot of heat very quickly, but how much heat? The standard measuring unit for the heat of a grill is the BTU or the British Thermal Unit.(1) On a technical level, it measures the energy needed to heat a pound of water from 39°F to 40°F – but all you need to know is that it measures the volume of heat your grill will be capable of producing.(2)
BTUs are not the only factor involved in determining how much heat your grill will be capable of via its burners. A quality grill needs to not only produce heat but also to maintain a high heat level – this is where the quality of construction and materials comes in. A thick, insulated hood will retain heat better than a thin one, allowing you to produce a good even finish on your roasts. Equally, a good seal around the edges of the hoot helps retain heat, allowing you to achieve higher temperatures – a hood thermometer is also helpful here.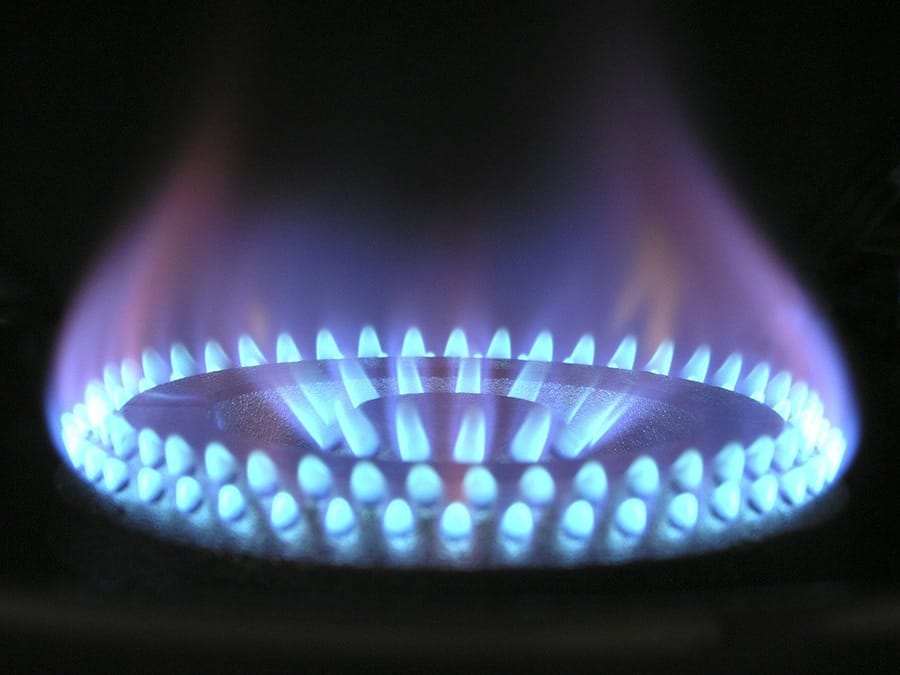 Modern grills do away with the hassle of matches – all of our grills featured here sport electronic ignition systems, allowing you to light them with the touch of a button, just like a home oven. The electronic ignite sets off a spark, lighting your burners instantly and without the need for reaching in dangerously.
Some of our grills feature water pans, allowing you to introduce steam into your grilling. This is a great opportunity for you to experiment with your cooking. Steam can stabilize temperatures in your grill, evening out hot spots for an improved flavor.
Check out this video which explains the benefits of a water pan:
How easy will my grill be to maintain?
You may have an old, rusty grill in your yard that has you asking, how easy is it to keep these grills in good condition? Thankfully modern grills come with a range of features to prevent rust, grease buildup, and other maintenance pests.
Many of the grills featured here use stainless steel for their upper construction and/or cooking grates. Stainless steel is easy to clean, with its polished finish, which lets you get those tricky greases off in less time. It's also highly rust-resistant, which is important if you're looking to leave your grill out in your yard (you may also want to consider purchasing a rain cover along with your grill, depending on your climate). No matter what your grill is made of though, you should look at getting one of the best grill covers if you're going to leave it outside.
Note however that whilst stainless steel is easier to clean, materials such as cast iron hold heat for longer, allowing for a more even grilling, and helping to prevent grill flare-ups.(3) This is where you have to consider the tradeoff that you consider ideal for yourself – are you prepared to sacrifice time cleaning your grill for the best performance, or are you happy to settle for reduced performance in exchange for a shorter cleanup time? Check out our How to clean your grill guide here.
"High-quality stainless steel is resilient and durable […] These grids require virtually no maintenance other than keeping them clean. However, they don't heat up like the cast iron grids will, so the sear marks produced aren't as distinct."

Napoleon grills (4)
Grease can be tackled easily in many of the grills featured below thanks to innovations such as drip cups and grooved construction. Grooves channel the grease into a grease cup concealed below the grill, allowing you to easily dispose of the grease after you have finished cooking.
The 10 best gas grills under $300
It's time to look at our reviews for the 10 best grills your money can buy for under $300. At this price point, there is plenty on offer, so we broke them down into 10 different award categories. Check out all the gas grills below.
Cooking surface – 425 square inches.
Grate material – Stainless Steel
Number of burners – 4 + 1
Total burner power – 36,000 + 10,000 BTU
Char-Broil has made a name for themselves by making high-end grilling features affordable. This is a grill that goes beyond, however. Its four burners put out a combined BTU of a whopping 36,000, with an additional 10,000 BTU side burner, offering grilling power that is hard to match at the $300 price point.(5)
The four main stainless steel burners come with individual temperature controls and an electronic igniter button for easy and versatile cooking. The side burner also offers additional flexibility, allowing you to prepare sauces, sides, or extras while keeping an eye on your main grill. The Helpful Chef guide to pots and pans will tell you all you need to know about what cookware you can use on the side burner.
The swing-away warming rack, stainless steel design, and 7-inch wheels make it easy to tidy away after a pleasant summer meal. One thing to consider however is that the panels beneath the grill should not be mistaken for a cabinet – Char-Broil has not included cabinet storage on this model. Also, the shelving on the sides is made of a thin gauge of steel, and a stronger design here would have been preferred. Overall, however, the cooking space, versatility, and power of this grill make it a perfect option for your family grilling needs.
Cooking surface – 443 square inches
Grate material – Cast Iron
Number of burners – 4
Power per burner – 11,000 BTU
While the Cuisinart CGG-7400 lacks the side-burner of our top pick, it makes up for this with its value and power. Its four burners put out a mighty 44,000 BTU, providing more than enough heat for even the largest of meals. The extra-large cooking area, combined with two 18"x13" side tables, make this grill a great choice for larger families or parties.
The cast iron grill cooking grate gives the grill greater heat retention, providing an even finish to your grilled meals. We also loved the sturdy design of the Cuisinart – the heavy-duty, enameled steel cart provides dependable stability.
The small details accentuate the value of this grill: Cuisinart has included a built-in bottle opener on the side, placing the grill at the center point of your home celebrations. The handy thermometer lets you know at a glance the heat of your grill, leaving you more freedom to talk with your friends and family.
There are still some things to dislike, however, such as the small gap (roughly 1") between the back of the burner and the hood, which allows heat to escape. Also, while the stainless steel hood and controls allow for easy cleaning, the steel is thinner than we would have desired. Nevertheless, the size, stability, and reasonable price make this a great budget grill, leaving you more freedom to talk with your friends and family.
Cooking surface – 266 square inches.
Grate material – Stainless steel
Number of burners – 2
Power per burner – 10,000 BTU
The clean silver lines of the Giantex would make it stand out on any tabletop. The hood and oversized control knobs give it an uncanny resemblance to a retro record player and make it equally deserving of aesthetic praise.
The Giantex does not only look fantastic – with 10,000 BTU from each of its two burners, it packs a punch too. The thick, stainless steel hood gives it a sturdy feel, and helps retain heat within the grill for a more even cook, and gives it good roasting ability.
The Giantex is versatile, too – it's a good choice for those who wouldn't want to leave such a good looking grill at home. Its four legs fold inwards, and although it's not the lightest gas grill we've reviewed at 26.5 pounds, you could still take it camping, to a picnic, or for any outdoor use. One thing to note about outdoor use is that the grill rack and heat deflectors tend to come loose when it is carried – but it is no trouble to put these back in place once you are ready to grill.
The Giantex is priced competitively and is very reliable and easy to use. This is a great option for those who want the flexibility of a home or away gas grill, or simply want a unit that looks good.
Cooking surface – 584 square inches (combined)
Grate material – Porcelain Coated Steel
Number of burners – 4
Power per burner – 12,000 BTU
Simplicity is at the heart of this Royal gourmet liquid propane grill. The innovative 2-in-1 design gives you a traditional grill cooking grate combined with a secondary griddle, perfect for frying your eggs, bacon, and vegetables.
The automatic ignition provides a quick and easy start to grilling, and the tool hanging bar mounted underneath, complete with hooks, could just as easily hold your towels. The four stainless steel burners provide 12,000 BTUs each and can be controlled individually with the control knobs, allowing for the perfect grill every time.(6)
We also like how effective the oil channel system is, with grooves guiding your grease into a removable cup. The folding design makes the Royal Gourmet ideal for tailgating and allows it to be packed away in around 15 minutes.
One glaring feature that this grill lacks over the others featured here however is a hood. If you were interested in slower roasts therefore, this might not be the grill for you. Equally, whilst the griddle combo design provides flexibility, it could compromise your cooking space if you are keener on using the traditional grate-style grill. The lack of a hood also means it lacks the warming rack often integrated into the hoods of similar grills, compromising its ease of use.
The dual design of the Royal Gourmet makes it a unique offering, and alongside its impressive ability to fold away, it would make a great grill to take to a party or meet up.
Cooking surface – 300 square inches
Grate material – Porcelain Coated Cast Iron
Number of burners – 2
Power per burner- 12,000 BTU
The Char-Broil Performance 300 offers much of the same features that we loved in their Performance 475, in a more compact package. Compared to the 475, the 300 will save you 9 inches of space, allowing you to squeeze it in alongside your yard's furniture. This grill also retains its bigger brother's fold-away side tables, further reducing its footprint.
While it only has two burners, each output a noteworthy 12,000 BTUs, allowing you to still achieve the grilling power of a larger unit. Furthermore, it also has one feature which the larger unit lacks – a handy cabinet underneath the grill, perfect for storing your propane plus a few tools.
The swing-away warming rack integrated into the hood provides another 100 square inches of space, allowing you to cook for your whole family without being compromised by lack of space. A heat shield underneath the hood also prevents burns when touching the hood's exterior, making this grill a great choice for cooking around children, and four caster wheels let you move the grill away to reclaim your yard space.
The obvious flaw is the square inches of cooking space. You may need to plan your cooking to make sure your food is ready at the right time, but for smaller families or groups this should be no problem. Despite its smaller size, therefore, the Char-Broil Performance 300 is a pleasure to grill with, with great cooking features and an easy to pack away design.
Cooking surface – 280 square inches
Grate material – Porcelain Enameled Cast Iron
Number of burners – 1
Power per burner – 12,000 BTU
This stylish offering from Weber presents a much more portable grilling experience. Paired with a suitable tabletop, or simply with its foldaway legs, the Weber works well as both a travel and a home grill.
While it only has one burner, it curves around into a large rectangle, providing great grill coverage for an even cook. Moreover, we found that the cast aluminum helps retain heat much more effectively than many portable grill offerings, allowing its 12,000 BTU burner to cook more effectively than many other, lighter units.
It retains many features often absent from portable offerings, such as a hood-mounted thermometer, electronic ignition, and two impressive fold-out side tables, allowing you to simply relax and cook after a day's traveling. The overall build quality is impressive – the glass-reinforced nylon frame inspires confidence, and should well withstand the elements.
The problem with the Weber is its weight: for a portable grill, its weight of 42 pounds isn't exactly portable – you'll need two hands to carry it properly. As long as you're using it near your car, and haven't far to walk, we don't think this should be a problem – but it does limit its use.
Its sleek design would look just as good at home, where it would make a great addition to a smaller patio. Despite its small size, it has a lot to love and would suit those with a more active lifestyle, who don't want to compromise when cooking away from home.
Cooking surface – 154 square inches
Grate material – Porcelain Enameled Cast Iron
Number of burners – 1
Total burner power – 9,000 BTU
Rivaling the Weber Q2200 is an equally stylish grill from Cuisinart. Its smooth curves and red finish give it a strikingly modern look in comparison to some of the more traditionally styled grills featured here, which would let you stand out from other travelers in the great outdoors.
Cuisinart has opted for a modular design, with a removable base concealing a compartment for your propane tank, and revealing a set of sturdy legs for the grill. The sleek wooden lid combines with this base to form a raised chopping board, letting you feel like you're taking your kitchen outside.
At 20 pounds, it is over half the weight of the Weber, and that's a difference that you feel when you hold the two. Its width of 16.25 inches also makes it significantly more compact, making this a true travel grill, rather than a tabletop.
Despite the size, Cuisinart has not skimped on the luxuries: it still packs a burner capable of 9,000 BTUs, an electric ignition system, and fully adjustable temperature control. While it lacks a hood and a thermometer, these absences are justifiable considering the form factor. This is a grill I can absolutely imagine myself taking outside to bring some culinary pizzazz to a picnic.
Cooking surface – 285 square inches
Grate material – Porcelain Coated Cast Iron
Number of burners – 3
Power per burner – 6,667 BTU
It is clear straight from the name what Coleman has designed this grill for, and its design doesn't disappoint. Packed away, the grill functions like a wheeled suitcase, with a latched hood, two sturdy wheels and an easy carry handle to pull it along. Once you unpack it and slide out the two food prep shelves, you suddenly have a 20,000 BTU grill before you. Unfurl the criss-cross legs and you have a sturdy freestanding grill just like that.
The strength and stability of the construction impressed us. However, it comes at a cost: the grill weighs 46.5 pounds. Although the wheels make this effortless on level ground, you may want to reconsider if you live in an upstairs apartment. We also like the inclusion of a water pan. However, the pan is very long and shallow and therefore can spill easily on uneven ground. Of course, a water pan doesn't have to be only for water.
"You can always achieve the temperatures you are trying to smoke at even with water in the water pan. Overfilling or using too much liquid will lead to a steaming effect, so aim for 2-3 liters of water, beer, apple juice, or wine."

Weber (7)
Nevertheless, the grills' 285 square inch cooking area is impressive for a portable design, and equally generous is Coleman's 3-year limited warranty. This grill would be perfect for those who would wish to wheel it out to a nearby park, as a pack-away summer grill, or to put it in the trunk of the car for camping adventures.
Cooking surface – 160 square inches
Grate material – Porcelain Enameled Steel
Number of burners – 1
Power per burner – 6,500 BTU
'Go anywhere' is the promise with this second Weber grill, and to be fair, you probably could. At only 13.5 pounds, it's by far the lightest grill on this list, nearly 7 pounds lighter than the Cuisinart CGG-750. This is a grill that allows you to introduce delicious grilled cuisine to your tailgate party, campsite, park, or your yard.
Its plated steel legs pivot to lock the lid for carrying, helping it to achieve that low weight figure. The handy carry handle is a bonus too, as this is a propane grill you can easily carry in one hand. The gas regulator is hard to remove, however, and by sticking out it negatively affects the portability of the unit.
Though the grill we looked at was a gas-operated unit, it should be noted that Weber also produces a charcoal powered version of the Go-Anywhere grill, providing versatility to those who prefer the smokier taste of a charcoal grill.
"Charcoal gives a feel of the traditional, typical flavor that comes from wood chips, whereas a propane gas grill imparts a bacon-like taste."

American Propane Gas (8)
The porcelain-enameled cooking grates do a great job of eliminating flare-ups and retaining heat effectively, though they will likely need cleaning after every trip. Though this isn't the most powerful unit, it is small, light, and portable – it gives you freedom.
Cooking surface – 577 square inches (262 charcoal, 295 gas).
Grate material – Stainless Steel
Number of burners – 3 (plus charcoal)
Power per burner – 8,000 BTU + 12,000 BTU (excluding charcoal)
This is the no-compromise grill. 577 square inches of cooking space make this by far the largest propane gas grill we've reviewed here, giving enough cooking space for even the largest of occasions. On top of that, it also boasts 188 square inches of warming rack space, allowing you to work with a lot of food at once.
The shelf at the bottom provides a ledge for your propane tank, while the sturdy wheels allow you to cart it across your yard. At 64 inches wide, however, and a mighty 103 pounds, we wouldn't take it far! The real kicker here is the combination of gas and charcoal, which lets you experiment in your cooking.
One complaint we have is that for such a large grill, it could have a higher BTU rating to ensure a good searing. Also, the assembly is difficult. Like, really difficult – you will want to set aside a few hours to complete it; this grill is not for those who are short of patience. Overall, however, this provides a great option to the experienced griller who is willing to invest time and space in a more versatile unit, allowing themselves to experiment in their grilling.
The Final Verdict
Our clear winner was the Char-Broil Performance 475. Its durability, stainless steel construction and excellent performance make it a safe choice for a wide range of use cases. Whilst other grills may win on portability, none can beat the range of features offered by the Char-Broil Performance 475.
Top Pick Overall – Dual Fuel Combination Charcoal/Gas Grill
FAQs
Which gas grills last the longest?
There is no definitive answer to this question as it depends on a number of factors, including build quality, materials used, and maintenance. However, some gas grills are designed and built to last longer than others. For example, those made with stainless steel or ceramic coated materials tend to be more durable and require less maintenance than those made with other materials. Additionally, grills that come with a warranty from the manufacturer are often a good indication that the grill is built to last.
What month is the best to buy a grill?
The best time to buy a grill is typically during or just before the grilling season, which is typically during the summer. However, you may be able to find some good deals on grills during other times of the year as well.
How much should I spend on a grill?
It really depends on your budget and how often you think you'll use the grill. If you're only going to use it a few times a year, then you might not want to spend too much. But if you're planning on using it regularly, then you'll want to invest in a good quality grill that will last. Ultimately, it's up to you to decide how much you want to spend.
References
The Units of Measurement Regulations 1995. (n.d.). Retrieved from http://www.legislation.gov.uk/uksi/1995/1804/made
What are BTUs?: Char-Broil. (2020, March 12). Retrieved from https://www.charbroil.com/learn/what-are-btus/
Cutting Edge Firewood. (2020, May 20). Cast Iron vs Stainless Steel Cooking Grates: Which Is Best? Retrieved from https://www.cuttingedgefirewood.com/news/cast-iron-vs-stainless-steel-cooking-grates-which-is-best/
WHAT IS THE DIFFERENCE BETWEEN CAST IRON & STAINLESS STEEL COOKING GRIDS? (n.d.). Retrieved from https://www.napoleon.com/en/at/barbecues/what-difference-between-cast-iron-stainless-steel-cooking-grids
Performance Series™ 4-Burner Gas Grill: Char-Broil®. (n.d.). Retrieved from
Royal Gourmet® GD401 Premium 4-Burner Folding Gas Grill and Griddle 52,000 BTU. (n.d.). Retrieved from http://www.royalgourmetcorp.com/n/298
Kolman, K. (2020, February 14). Do I Need To Put Water In The Drip Or Water Pan? Retrieved from https://www.weber.com/US/en/blog/burning-questions/do-i-need-to-put-water-in-the-drip-or-water-pan/weber-30266.html
Charcoal vs. Propane Gas Grill: Which Is Better According to a Bon Vivant. (2018, May 08). Retrieved from https://www.americanpropanegas.com/blog/2018/5/8/charcoal-vs-propane-gas-grill-which-is-better-according-to-a-bon-vivant
NB Notes for Brain retraining, how to meditate, and guide to mind-body medicine