Sakai Kyuba Japanese Chefs Knife Review
If your knife is blunt and old and you understand the importance of having a good knife in the kitchen, we hear you and understand where you are coming from.
That is why today we are reviewing the Oishya's Sakai Kyuba Japanese Chef's Knife. The Sakai Kyuba is a 8.2 inches (21 cm) Gyuto blade that is a perfect all-round blade. Read on if you'd like to know more about this beautiful, razor-sharp Japanese chef's knife and to learn if it is the right knife for you.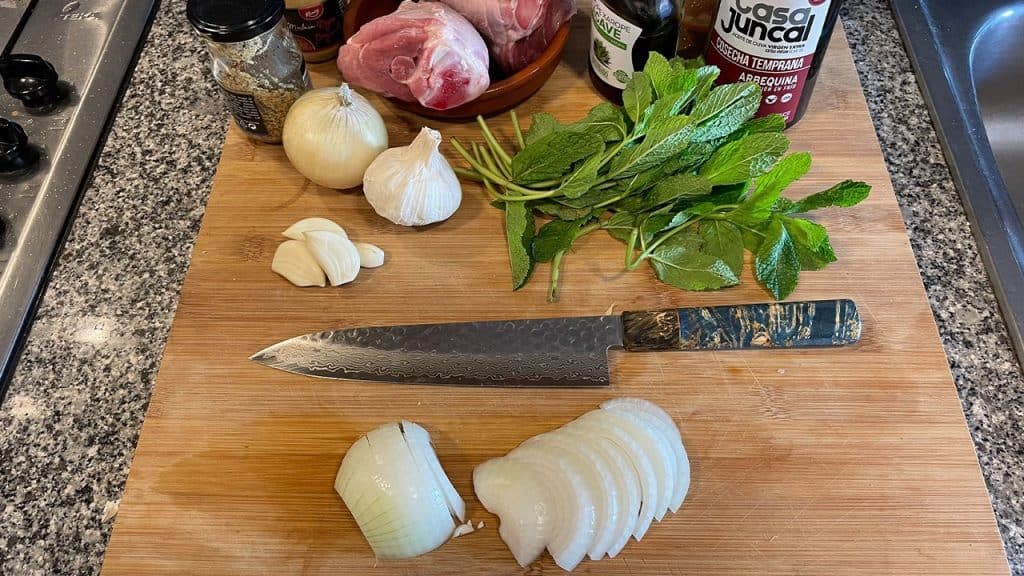 Sakai Kyuba Gyuto Knife Review
Japanese kitchen knives are distinct from their Western counterparts because of the different cooking styles they've evolved from. This doesn't mean, however, that these distinct schools do not often influence each other and the Gyuto knife is a perfect example of this marriage of disparate ideas. The Gyuto is the Japanese version of the classic Western Chef's knife. This means you could easily use a Gyuto as an all-rounder in the kitchen while retaining certain Japanese characteristics that offer something else when required.
The Oishya Sakai Kyuba Japanese Chef's Knife is an excellent example of a Gyuto knife and the company behind it, Oishya, is an excellent example of the mixing of two worlds ethos that birthed the Gyuto style of blade in the first place. Oishya is a Western facing company that deals directly with Japanese blacksmiths. This hybrid company spanning two worlds offers kitchen enthusiasts and home chefs in the US and Europe the chance to own expertly crafted Japanese knives, crafted in Sakai near Osaka in Japan, without having to find and deal with independent blacksmiths.
The Sakai Kyuba 8.2 inches (21cm) Gyuto is Oishya's flagship knife and if you would like to learn more about it, read on for our full review of the Oishya's Japanese Chef's knife.
Click Here And Use Code: helpfulchef for a $25 Discount When You Buy The Oishya Sakai Kyuba Japanese Chefs Knife
Pros
Excellent construction materials
Small batch craftsmanship
Supports independent Japanese blacksmiths
Beautiful aesthetics
Cons
Price tag reflects the artisanal nature of the blade
Knife Construction
When you buy a high-quality kitchen knife you are well within your right to expect it to last for decades, possibly even generations. Japanese knives are no different here with the lightweight philosophy not betraying any sort of drop in quality with the drop in weight. Japanese knives are built for agility and precision and their lightweight nature is designed to prevent the chef's arm from tiring after prolonged use.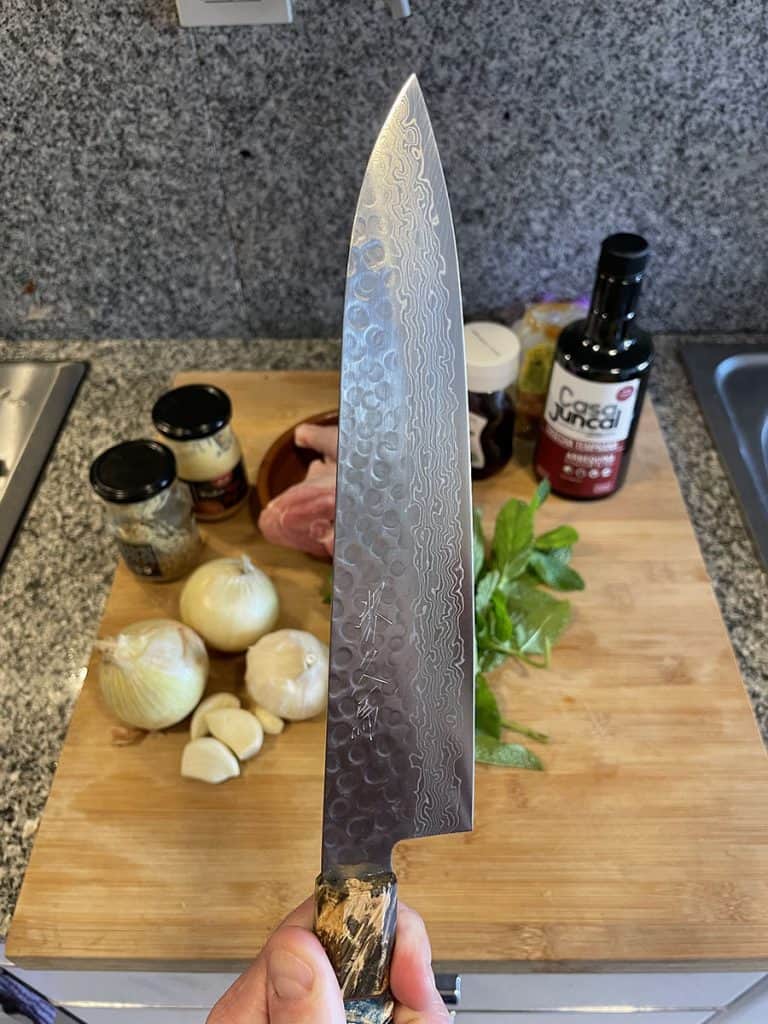 Steel
The Oishya Sakai Kyuba blade delivers on this high-quality yet lightweight philosophy with a VG10 Stainless steel core forged into 46-layer Damascus steel. This gives the blade a Rockwell Hardness Rating (HRC) of 62, which, for the laymen out there, means it is very hard. Practically, a harder blade will hold its edge for longer without needing to be re-honed or re-sharpened. The trade-off, however, is that harder knives will be more brittle meaning they are more likely to chip. This means a knife like the Sakai Kyuba needs to be treated with respect while in use and cleaned carefully and stored appropriately once the cooking is done. However, if you do look after it, you can reliably expect cutting, slicing and chopping with the Oisya Gyuto knife to be an effortless endeavor for a long time to come. It is good to see that the company backs this up with a lifetime guarantee.
Origin and Craftsmanship
"Our mission is to bring beautiful, premium quality and unique handcrafted products that last. In a time of fast-paced technology and disposable fashion, we are proud to support groups of small artisans who pride themselves on vigilance and respect for the craft that no machine can replicate. All Japana products are handcrafted using the finest materials and created in small batches to check for quality and ensure they are made to last. We do not use ready-made materials and we do not mass-produce."

Oishya Website
Oishya is very proud of the traditional craftsmanship that goes into its knives. The Oisyha website claims the design of their knives draws on a 600-year-old Japanese knife making tradition that stems from Sakai, near Osaka which is where the blades of these knives are made today. Impressively, Oishya backs up these claims with videos too, which means you can actually watch Japanese blacksmiths building these knives by hand.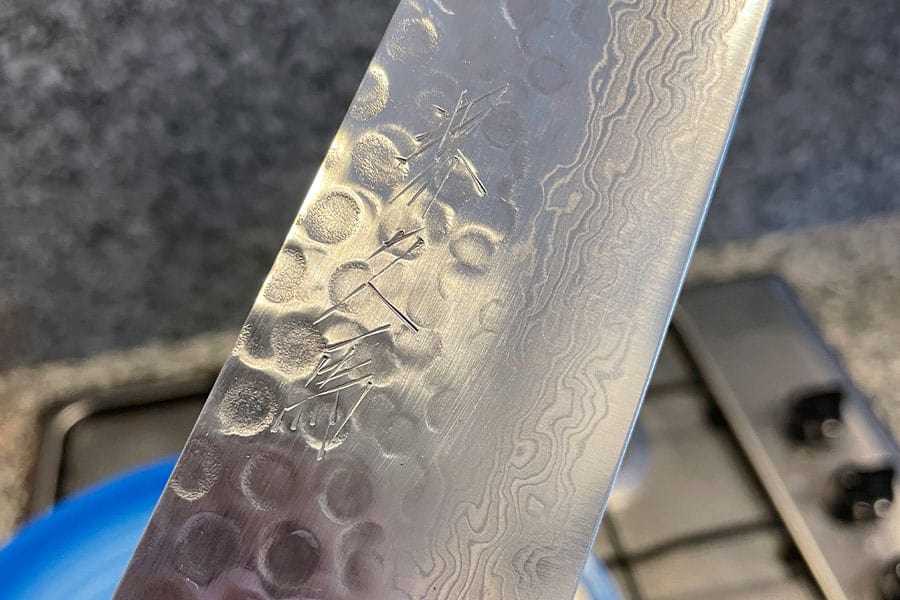 The knives are built in small batches and each Sakai Kyuba knife takes around 3 months to build as the craftsmen have to go through over 220 steps for every blade. Every blade is then engraved with Sakai Kyuba 堺久馬, which, as I'm sure Mary Shelley would approve of, is actually the name of the knife maker, rather than the knife.
Handle
The handles are made in Europe from a European maple burl and stabilized with resin to ensure they are strong enough to hold up to everyday use and waterproof. The colored handle versions of the knife have dye added to the resin, which changes the color of the wood in parts and creates a marble-like effect. The results truly are stunning.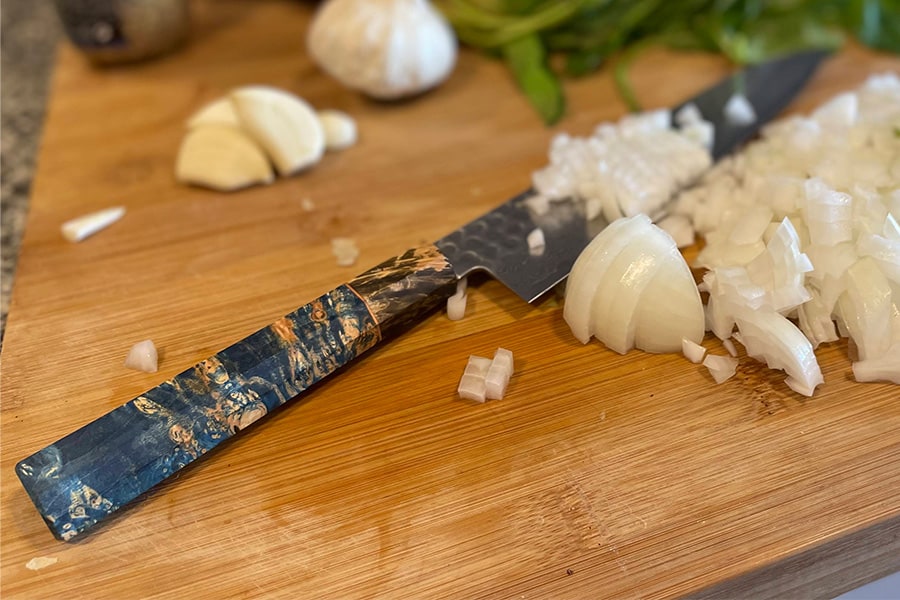 Dimensions
As mentioned earlier, Japanese knives are distinct from Western knives in a number of key ways. The first is weight, they weigh much less than Western knives. Another general characteristic of Japanese knives is extended length, although this obviously depends on the style of knife in question. As an all-rounder and Japanese variation of the Western chef's knife, the Sakai Kyuba falls into this bracket.
Weight
The Sakai Kyuba weighs in at a mere 158g, which is almost 90g lighter than the Western blade I tend to use an everyday chopper. The saving in weight comes from the quality of the VG10 steel allowing for a much thinner blade and the Japanese style of having a smaller tang running through the handle of the knife and doing away with the bolster. The result is a very easy to use and light-in-the-hand that you can use for hours without feeling too much strain.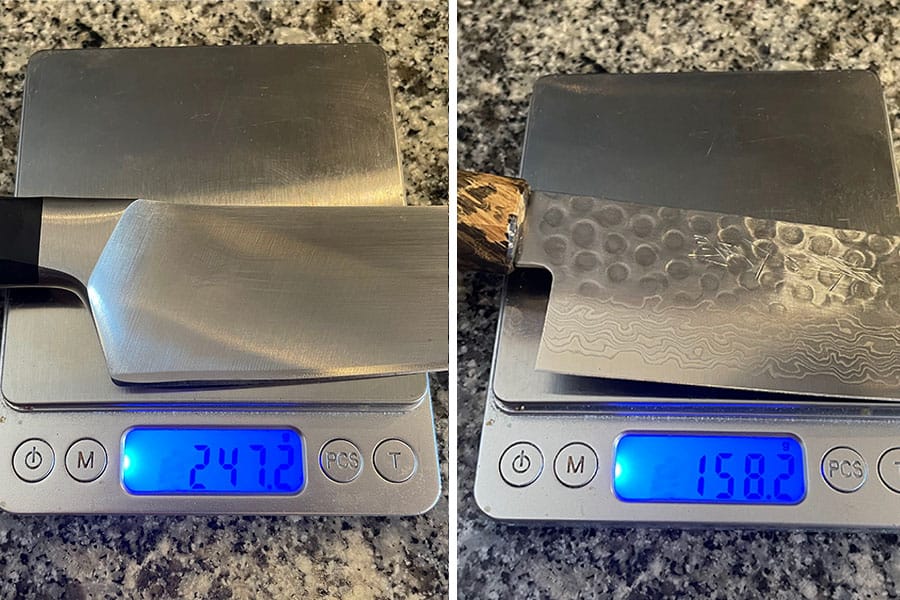 Length
At 8.2 inches or 21cm long the Sakai Kyuba is longer than the Western knife I tend to use as my all-around chef's knife. This increased length is useful for slicing delicate foodstuffs such as fish fillets as it allows for longer and smoother slices rather than having to use a saw-like action, which could cause damage.
Click Here And Use Code: helpfulchef for a $25 Discount When You Buy The Oishya Sakai Kyuba Japanese Chefs Knife
Performance
As I've mentioned a little, I've been comparing the Sakai Kyuba to my everyday chef's knife, which is a 7-inch Arcos Santoku/chef's knife hybrid.
In comparison, the Sakai Kyuba feels incredibly light in the hand and straight out the box, the blade was razor sharp. It has held its edge incredibly well over the last few weeks too, which is a good sign looking forward to the future.
You can feel the hardness in the blade too when comparing it with the steel used in the Arcos blade. Don't get me wrong, I love my Arcos, but the steel used to make the Sakai Kyuba is of a very high quality and it shows.
The balance point of the knife falls about an inch from the butt of the blade. This means to get the most out of it you would be better holding the handle firmly and pinching the blade just above the butt. Our guide to kitchen knives goes into how to hold your knife in more detail.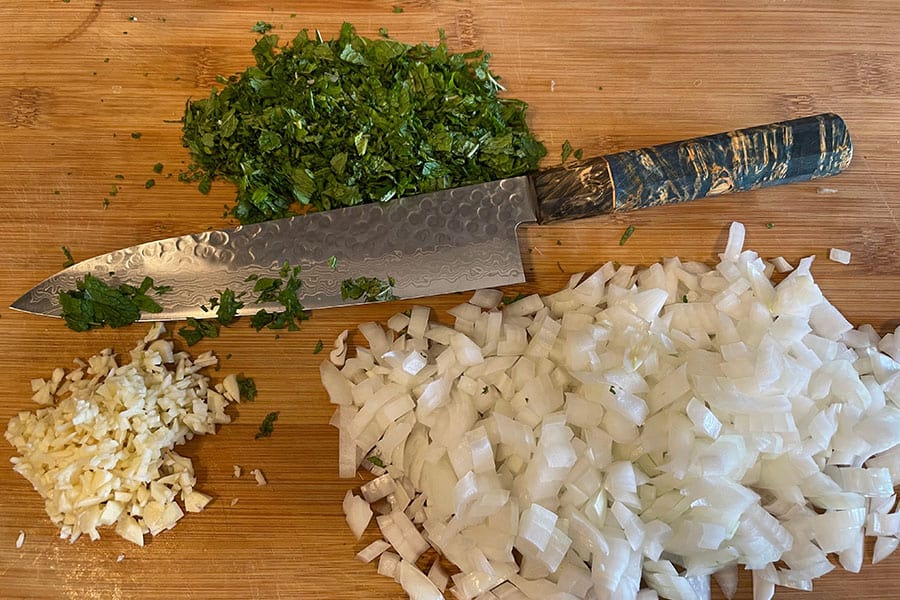 As mentioned, the Sakai Kyuba is razor-sharp and its build makes it able to take on most kitchen chopping, cutting, and slicing jobs without too much hassle. Vegetables like onions and carrots were easy to slice into thin batons and julienne without problems. One thing I noted, however, was the beaten groves to the top of the blade didn't really have any practical effect on the chopping action. I was hoping that these would prevent the vegetables from sticking to the blade, but I didn't notice much of a difference. They do look great, though, it has to be said.
Finely slicing tomatoes is a job that many knives struggle with, but there were no problems for this Gyuto. The blade easily sliced an ultra-fine slice of tomato without me even having to hold the blade in place, a true show of how fine and sharp this blade really is. The Sakai Kyuba effortlessly sliced through a standard piece of A4 paper too, which is another favorite test of the knife reviewer.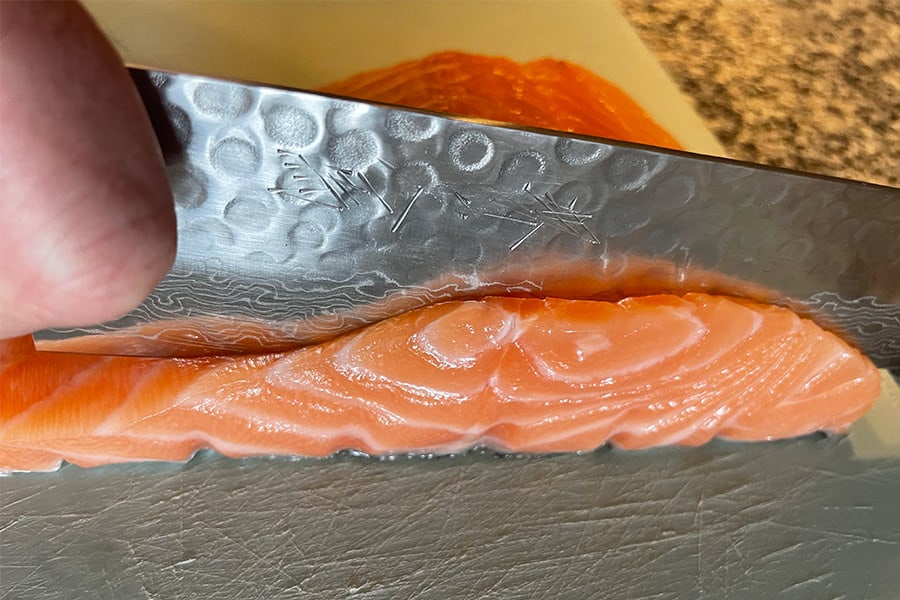 With fish and meat, again the Gyuto was a marvel. I like to cure salmon and often come unstuck when slicing off fine strips of the salty flesh, but with the Sakai Kyuba I was able to make the dish look truly special on the plate, something I was very proud of, I must say.
My only hesitation with this Japanese Gyuto comes to chopping through bones, like with taking a chicken apart for example. This might just be a mental block on my part here, but I felt much more comfortable breaking down the chicken with my Arcos than I did the Sakai Kyuba. The lightweight and very hard blade was always in mind during these jobs, ever fearful of chipping the blade while, in comparison, I wielded the Arcos with abandon. I must say though that the blade held up throughout all my tests, maintaining its sharpness and not chipping at all.
Click Here And Use Code: helpfulchef for a $25 Discount When You Buy The Oishya Sakai Kyuba Japanese Chefs Knife
Other Considerations
The other main things to consider here are the price of the blade and the packaging it comes in. Let's have a look at these details now.
Packaging
Oishya has done a great job packaging their signature Gyuto knife, delivering it in a purpose-built wooden box with a sliding lid. The knife fits almost perfectly and looks fantastic on show. It's not quite perfect, however, and I was quite disheartened to hear the expensive piece of kitchenware banging away inside the package when I took the delivery. You can see in the picture below (I've padded in the blade using a couple of pink pieces of paper) that we are talking about the finest of margins here, but I must admit that it did leave an impression.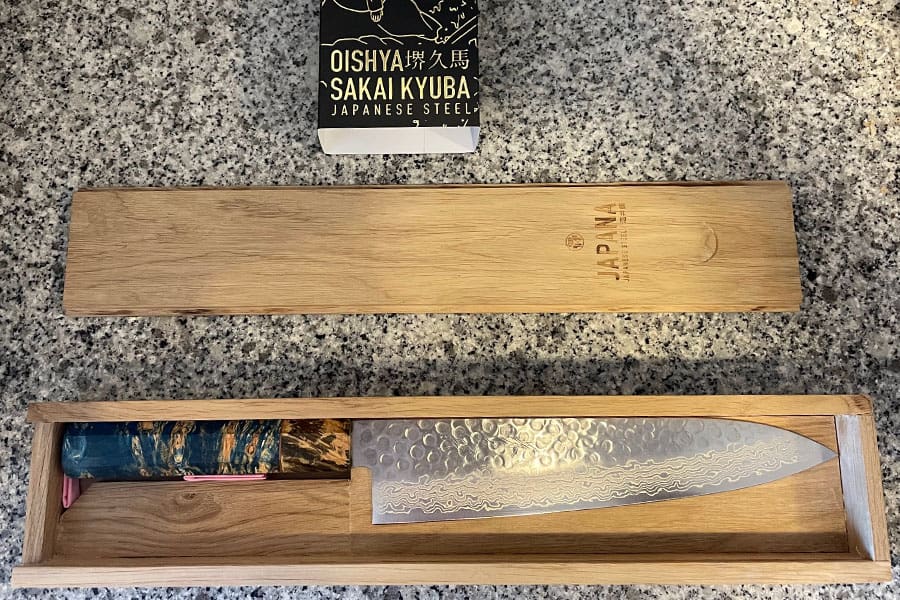 Price
There is no getting around the fact that the Sakai Kyuba comes with a rather heavy price tag that will likely put it out of reach of most home chefs. At the end of the day, however, you can see and feel where that money goes. This is a hand-crafted blade made of some of the best Japanese Steel and adorned with beautiful European wood. Yes, this is an expensive knife but it is a knife that will catch people's eyes when they walk into your kitchen and that will invigorate your cooking passion. Also, if you look after it, this is a knife that you will proudly pass not your children too.
Final Verdict
I have to say that I've thoroughly enjoyed my time reviewing the Oishya Sakai Kyuba Japanese Chef's Knife. Its lightweight strength has made it a real pleasure to use. It does come in at a high price, but its quality holds up and it has everything needed to become a generational piece of kitchenware for your family. Fortunately, we've teamed up with Oishya to bring all Helpful Chef readers a $25 discount when they buy the knife after reading this review.
Click Here And Use Code: helpfulchef for a $25 Discount When You Buy The Oishya Sakai Kyuba Japanese Chefs Knife