The Best Fillet Knife 2022: the Top 9 Knives and Buyer's Guide
Fillet knives are very specialized tools that are built for filleting fish specifically. Therefore, fillet knives require particular qualities. The right fillet knife will make your life easier, but lower quality fillet knives often lack in flexibility, rust resistance, grip, and sharpness. The best fillet knives use advanced construction processes and materials, providing you with a high-quality blade that can last you a long time.
Top Pick – Wüsthof Classic IKON Fillet Knife
Best Budget Pick – Dexter fillet knife
Best Value for Money – Zwilling J.A. Henckels Fillet Knife
Good Craftsmanship – Dexter 8″ White Narrow Fillet Knife
Best Gift Knife – Dalstrong Gladiator Series Fillet Knife
Buyer's Guide – What makes a fillet knife special?
If you're filleting fish yourself you need to be careful when choosing a fillet knife as good fillet knives have certain unique properties and without them, they won't do what they're supposed to. Fish is such a great ingredient to cook with that we should always treat it with respect. As well as simple pan frying, there are many great ways to prepare fish and it is also one of the best foods to smoke. Fillet knives are something you'd usually find in a kitchen knife set either. Let's look further then, at what makes a good fish filleting knife.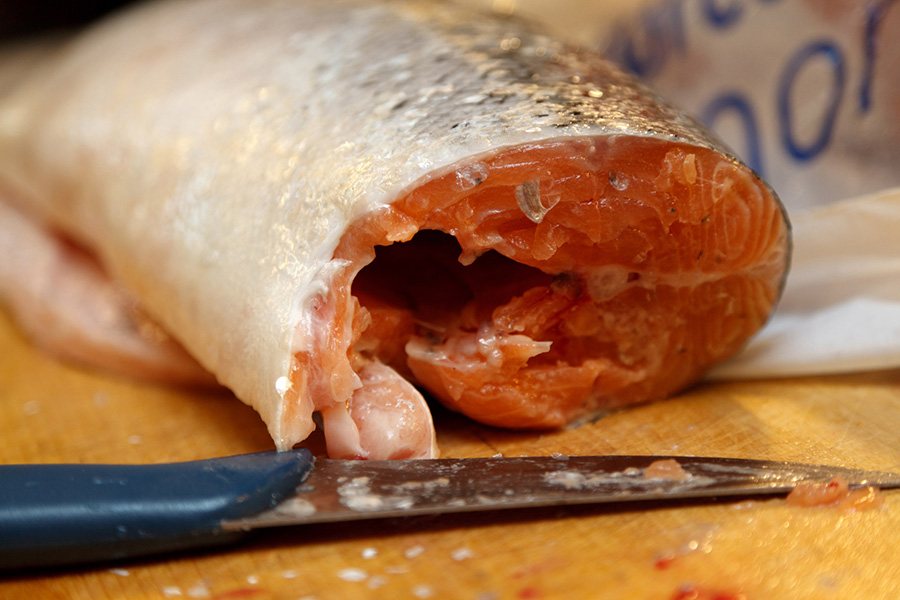 What am I looking for in a fillet knife?
Many who are unfamiliar with fillet knives think their knife must be defective when they find how much they will flex. This flex isn't a flaw, however, it's a feature common to all the best fillet knives. Fillet knives use flexible blades to allow them to bend around the contours of fish, giving you smooth, simple cuts.(1) This is stark contrast to the best boning knives and chef knives, for example, which need to be rigid. Flexibility isn't easy to achieve, however. It requires knife manufacturers to craft knives that can flex to a high degree repeatedly without snapping or bending, and while still maintaining strength. Many manufacturers can pull this off successfully, but not all.
Also, unlike with chef knives, there is no standard size for a fillet knife. They can vary in size from 6" to 9", with some examples even falling outside of that range, but most landing somewhere in the middle. The size you will need depends on the size of the fish you intend to fillet. Larger knives will allow you to fillet larger fish, but smaller knives will be easier for beginners to use.
Finger guards are also useful in fillet knives, as it's good to protect the fingers when making complex cuts around a fish's body. These can be part of the handle or can come in the form of a bolster, which is a metal bulge where the blade meets the handle. Finger guards can help balance the blade, but will also add weight, so they are not universal. The Helpful Chef Kitchen Knife Guide will give you more information about this.
Fishing fillet knives vs Kitchen fillet knives
It's best to also consider where you're planning to use your fillet knife. If you're a keen fisherman looking to buy a knife for your next fishing trip, you may want a different sort of fillet knife to the kitchen chef. Fillet knives designed for fishing use tend to use a lightweight design, which is easy to carry. They will often come with sheaths to keep both you and the blade safe when not in use, and the metal used tends to have extra rust resistance. As fishing knives may be used when wet, the handles often use especially grippy materials, too. Often fishermen will use electric fillet knives too.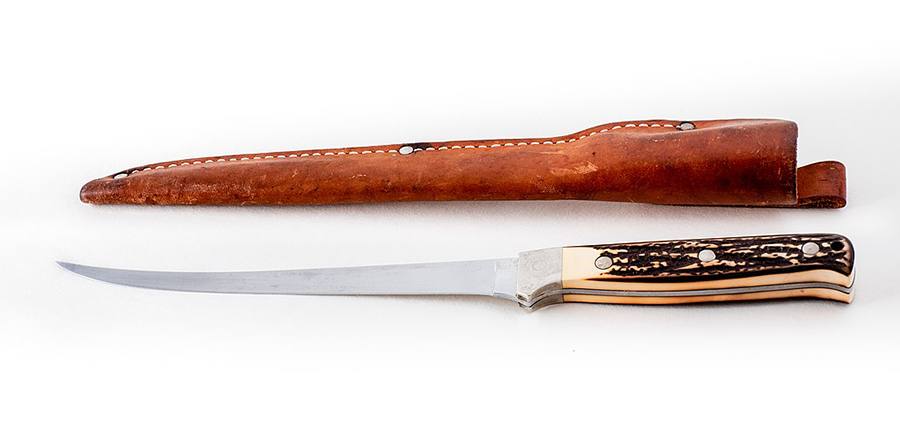 Fillet knives designed for the kitchen are ultimately similar, but subtle differences in design will make them better suited for home use. Kitchen fillet knives come in a range of weights, from the light and precise to the hefty and firm. Their handles, while still providing grip, prioritize cleaning. Some handle materials, such as soft silicone and wood, can absorb some of the unpleasant smells from fish. Kitchen fillet knives often use dense synthetic materials therefore, which won't absorb any food waste and will hence resist smells and require less cleaning.
What's the best way to use a fillet knife with fish?
Understanding how a fillet knife is best used should help you visualize what qualities you need, and what sort of knife will suit your style of cooking. There are many steps to this process that experts may want to include, but for the purposes of this guide, we're going to explain the key steps in the filleting process to demonstrate how these knives are used.
To fillet the fish, you run your knife down the fish's spine, starting at the tail and working up to the head. Your knife should run over the rib cage of the fish, flexing to match the contour of your catch, and maximizing the size of your fillet to avoid wastage. Repeat this for both sides of the fish, and you should be left with two succulent fillets of fish.(2) Read about the best sushi knives here, if you want to turn your fresh fish fillets into sushi.
What are the best materials for a fillet knife?
You'll notice that all the knives in this roundup are made of one thing – high carbon stainless steel. This alloy has become the widespread choice for knife manufacturers, favored for its balance of strength, rust resistance, and stain resistance.(3) However, there can still be differences in how this metal is manufactured.
The cheapest way to produce steel knives is through a process known as stamping. Stamping involves stamping a cut-out of a knife through a steel blank, just as you would cut cookies out from dough with a cookie cutter. Stamped knives can be of high quality, but forged knives tend to be favored for their strength.(4) Forging a knife takes a lot of skill, so forged knives are often a sign of good overall craftsmanship. Either knife can serve you well, therefore, but look out for forged knives as a sign of quality. No matter if your knife has been forged or stamped, you will need one of the best knife sharpening stones to maintain its edge.
The best fillet knives in 2020
But enough talking about the technical details. It's time for us to look at the best fillet knives available in 2020. We've sorted all the finest knives into different award categories so that you can choose the knife that suits you best.
Blade material: High carbon stainless steel
Knife type: Kitchen knife
Handle material: Polyoxymethylene (POM)
Blade type: 7", forged
Dimensions: 12.2 x 1.18 x 0.79 inches
Wüsthof's take on the fillet knife lives up to their reputation. Wüsthof, the legendary German knifemaker, has created this slender blade to glide along the backbone of your fish, resulting in elegant cuts every time.
The blade itself is forged from a single piece of steel, resulting in superior strength. The high carbon steel is strong enough to score an impressive 58 on the Rockwell hardness test, allowing you to use it without fear of damage. The narrow, tapering blade still allows enough flex to match the natural contours of your fish, however.
A full tang design helps spread load across the whole knife, as well as giving you even balance for precise control. We also like how the handle's ergonomic curves mirror the blade's arc, creating a sleek overall design. The handle itself is constructed from a dense synthetic, which prevents unwanted odors from seeping into the handle.
As with any Wüsthof blade, this knife comes with a heavy price tag. But with a Wüsthof, you can be sure that you're getting a blade that will last you a long time. On top of that, all of their knives come with a lifetime warranty, giving you added reassurance. It's a great choice for the chef who wants a fillet knife they can depend on. If you're serious about fish, this is the knife for you.
Blade material: High carbon stainless steel
Knife type: Kitchen or outdoors
Handle material: Polypropylene
Blade type: 7"
Dimensions: 15.3 x 2.5 x 1 inches
If filleting is an uncommon task for you, you might not want to spend so much money on a knife for the job. Dexter knows this, and has produced a knife that provides great cutting power, and at a great price.
The simple, straight 7" blade on this Dexter knife is great for beginners who want to fillet their own fish, without making a big investment. The compact design is also ideal for fishing trips, allowing you to fillet your fish in situ.
The white polypropylene handle helps you spot any food debris, making it easier to keep those unpleasant fishy smells away from your knife. The handle also offers great ergonomic qualities, and a high-grip surface, which will let you get precise cuts through your meat, even if your hands are still wet from the catch.
If we were to make one complaint, it would be that the knife is actually a little too stiff. Flex in a fillet knife is desirable, as it allows the knife to follow the contours of the fish, so you can maximize the size of your fillets. Regardless, this is a great, strong fillet knife, which will allow a beginner to start filleting fish to a high standard.
Blade material: High carbon stainless steel
Knife type: Kitchen
Handle material: Polypropylene
Blade type: 7"
Dimensions: 16.5 x 2.75 x 1.5 inches
Henckels' German-style fillet knife offers that dependable German-knife feel, but with all the properties you need from a fillet knife. Henckels is one of the oldest knife manufacturers in the world, having manufactured blades in Solingen, "The city of blades",(5) since 1731.(6) And today they're renowned as possibly the highest quality knife manufacturer around.
Their blade is forged from a single piece of high carbon steel, and ice-hardened to give the blade incredible strength. The blade also features a full tang, giving the blade excellent balance. This balance, plus the weighting provided by the full bolster, makes the knife easy to glide under your fish's scales.
This knife isn't only tough, it's sharp. Henckels uses lasers to check the sharpness of each blade, ensuring no blade leaves their facility without meeting the utmost standards of sharpness. And you'll notice this, too – it slices through cuts of fish or meat effortlessly.
The handle is bonded seamlessly to the handle, allowing it to rest comfortably in the hand. The price you pay for such quality is, well, the price. You're unlikely to find this knife for cheaper than most of the others featured in this roundup, but you're unlikely to want any other fillet knives after you try this one, too. All-in-all, this knife represents excellent value for money.
Blade material: High carbon stainless steel
Knife type: Kitchen or outdoors
Handle material: Polypropylene
Blade type: 8"
Dimensions: 13.5 x 1.63 x 0.75 inches
If you'd like to spend a little bit more money, you can get Dexter's higher quality fillet knife. This 8" model has an extra inch of length over our budget pick, as well as a more slender design.
Dexter, a specialist in hunting and fishing, has designed this knife to be the perfect outdoor companion. Like Dexter's 7" model, this knife is made of high carbon stainless steel, which provides your blade with the strength it needs to flex around the body of your catches without breaking. The metal also has excellent stain-resistance, making it easy to clean even when you're far away from modern kitchen amenities.
"The use of carbon makes iron, or steel, stronger by shuffling around its crystal lattice. While carbon steel can still stress and break under pressure, it's less likely to occur than with other types of steel… Japanese bladesmiths, for example, produced swords out of high-carbon steel known as tamahagane steel many centuries ago."

Monroe Engineering (4)
The white 'Sani-Safe' handle is easy to keep clean, and the synthetic material resists odors well. The textured handle finish makes a firm grip possible even when your hands are wet, and the integrated finger guard is a great safety feature, too. The Dexter 8" fillet knife is a great option for the keen fisherman or hunter who wants to fillet or skin his fish on the go, as well as the kitchen chef who wants a flexible and reliable blade.
Blade material: High carbon stainless steel
Knife type: Kitchen or outdoors
Handle material: Polypropylene
Blade type: 6"
Dimensions: 5.91 x 1.06 x 0.87 inches
Chef Works have used a contemporary design with this knife with its beautiful full-body curve. Legendary knife designer Ken Onion has lent his experience to the design of this blade, creating a knife you can really depend on.
"Ken is the real deal. The youngest ever inductee into the Blade Magazine Hall of Fame in 2008, he is recognized as one of the most innovative and successful knife designers of all time."

Columbia River Knife and Tool (7)
The knife is named after the Cascade mountains, where Chef Works have their manufacturing workshop located. And perhaps this mountainous location also provided inspiration: the textured synthetic handle provides great grip, even in adverse conditions. The contour of the handle fits well against the palm, making it comfortable to grip too.
The flexible, curved edge makes it easy to slide along the back of your fish. And the sharpness of this blade will allow you to do so without exerting much effort. We would have liked to see a finger guard or bolster on this blade, but this is really down to preference. Regardless, it's a great, durable blade for both the indoor and outdoor chef.
Blade material: High carbon stainless steel
Knife type: Kitchen or outdoors
Handle material: Fibrox
Blade type: 8"
Dimensions: 17 x 3.75 x 1.5 inches
Victorinox is best known for its production of the famous Swiss Army Knife, but that's not all they offer. In this fillet knife, you'll find the same excellent craftsmanship that made the Swiss Army Knife such a success.
The knife is made of high carbon steel, with a sleek, stain-resistant finish. We would have liked to have seen a forged design, as opposed to stamped, but this does keep the cost down. The thin, flexible blade is great at separating flesh from the bone, providing the agility you need to get clean, precise cuts.
The lightweight, utility-focused philosophy of the Swiss Army Knife is visible in this fillet knife, too. At only 3.2 ounces, it's very light in the hand. Victorinox's patented fibrox synthetic handle provides strength and grip, with a textured finish aiding this further. This makes it well-suited to use on fishing trips and other adventures where being light and easy to grip are paramount.
The amount of flex in this blade is definitely on the higher side, which may make it trickier for beginners to get the most out of it. Expert chefs, however, are likely to enjoy the precise cuts that this flexibility enables. This knife is a great pick for both adventure and kitchen use, therefore.
Blade material: Forged high carbon German stainless steel
Knife type: Kitchen
Handle material: Pakkawood
Blade type: 7"
Dimensions: 12.68 x 0.79 x 0.06 inches
The substantial feel of this refined German-style knife makes it a great gift for any budding chef. Not only is this knife crafted well, but it's also very stylish, and comes with accessories to help complete the lucky recipient's kitchen.
The construction of Dalstrong's knife leaves little to be desired. A fully forged design, using high carbon German steel, gives this knife a very dependable strength. The full tang gives the knife an excellent balance, and the overall weight of this knife gives it a satisfying heft behind its cuts. Some may prefer a knife with a lighter feel, especially if you want to take it with you fishing, but the knife still flexes well around your fish's body.
The full bolster acts as a finger guard, making it a great, safe choice for any beginner. We also like that Dalstrong has included two knife sheaths with this knife, encouraging the user to look after their knife.
The pakkawood handle gives this knife a stylish wooden aspect, while the resin prevents any unwanted stenches or stains from working their way into the handle.
"Pakkawood is impregnated with an epoxy resin which makes it highly water- and weatherproof. At the end of the production process, Pakkawood is ground and polished to achieve a silky sheen."

Böker (8)
The hefty, durable design, combined with the stylish finish and accessories, make this a knife with a visual and physical impact. It would make a great gift to complete a chef's kitchen.
Blade material: Forged high carbon German stainless steel
Knife type: Kitchen
Handle material: Pakkawood
Blade type: 7"
Dimensions: 12.68 x 0.79 x 0.06 inches
Some chefs still can't resist the natural feel and aesthetic of a wooden-handled blade, and who can blame them? Achieving fine cuts isn't all about how sharp your knife is. It's also about feeling comfortable using your blade and having the control you need to slice with precision. This Chicago Cutlery fillet knife has both. It feels great, and ships with a sharp edge too.
A full tang pulls the balance of the knife towards the handle, allowing you to keep control of the knife within your palm. This tang is secured to the handle with three brass tangs, adding strength and style.
The blade itself is made of high carbon steel, as you would expect, and the slender design flexes well to follow the natural contours of the fish. The steel resists stains and rust well, which means that as long as you take good care of it, this knife should last you a long time.
The richly colored walnut handle has a classic look to it, but there is a reason most modern fillet knives have moved to synthetic handles. Wood may need more careful cleaning to avoid the odors associated with fish from seeping into the material, which is something to consider.
That being said, wood has been a faithful choice for knife handles for hundreds of years, and quality knives like this go to show that it won't disappear anytime soon, either. This knife is a great pick for the chef who wants a timelessly styled knife.
Blade material: High carbon G4116 stainless steel
Knife type: Outdoors
Handle material: Polymer
Blade type: 9"
Dimensions: 16.7 x 3.2 x 1.3 inches
Why not finish off this roundup with something modern? KastKing has used contemporary styling with this knife, dying the blade itself black. Make no mistake though, the emphasis when crafting this blade is on performance.
The blade itself is made from high carbon German steel, specially selected for its strength, rust resistance, and stain resistance. KastKing also includes its own sheath with this knife, allowing you to look after your knife and extend its lifespan.
The handle also has a modern design, with a beautifully etched polymer grip. The soft polymer provides ample grip, allowing you to make clean cuts even if the knife gets wet.
KastKing also produces this knife in 6" and 7" blade size, so it's easy to choose the knife that matches the size of fish you tend to deal with. The blade itself is razor sharp straight from the factory, which lets it glide through your fish with ease. Our only concern is that the polymer handle could allow food debris to seep in, and as such may need more careful cleaning.
On the whole, however, this knife is a great pick for the chef or fisherman who wants a sharp and contemporary fillet knife.
The Final Verdict
It doesn't surprise us to find that our top fillet knife pick is a Wüsthof. The legendary German knife manufacturer has crafted another excellent blade in their fillet knife. A dependable balance of sharpness, strength, and good handling make this a straightforward and easy to use blade, which we recommend to beginners and experts alike.
Top Pick –Wüsthof Classic IKON Fillet Knife
FAQs
How do I care for my knife?
If you look after your knives, they can last a long time. And by a long time, I mean family heirloom long. Despite the excellent rust resistance of high carbon steel, it's still best to store your knives dry to prevent any rust from forming. Furthermore, to protect the edge of your blade, you should only chop on soft cutting surfaces. This is why we use wooden chopping boards: it protects the blade from being chipped. Cutting on marble worktops or chopping boards is a big no-no, therefore. You should also make sure to follow the cleaning guidance issued below.
Can I put my knife in the dishwasher?
It's definitely not recommended, but many people do. Dishwashers can actually be too abrasive and can chip the edge of your blade. However, knife manufacturers know that many users can't resist the convenience. Manufacturers will often state that their knives' handles are specifically dishwasher friendly, for example. Despite this, you always put your knives in the dishwsher at your own risk – there's always a chance it could get damaged. To keep your knife in the best condition, we recommend carefully handwashing it, and drying it afterward.
My knife doesn't cut as well as it did when it was new.
Don't worry, this is perfectly normal. Even the best knives will lose their edge over time. But this doesn't mean it's the end for your knife – you only need to sharpen it, and it will be as sharp as new. There are two main ways to do this. Whetstones will give you the sharpest edge, but only if you are skilled with them. They can be difficult to use, as they require you to hold the right angle edge yourself. Manual sharpeners are available which will do this for you, however, but you should check the angle of your blade before using one, as blade angles can vary.
Are boning and fillet knives the same?
No, boning and fillet knives are not the same, althoug they are similar. Boning knives are designed to separate meat from bones, while filleting knives are meant for cutting fillets from fish. The main difference is fillet knives tend to be more flexible as fish tends to be much more delicate than meat.
References
(1) M. (n.d.). Types of knives: A guide to kitchen knives and their uses. Retrieved from https://www.allianceonline.co.uk/blog/2018/04/types-of-knives-a-guide-to-kitchen-knives-and-their-uses/
(2) How to fillet a round fish. (n.d.). Retrieved from https://www.bbcgoodfood.com/videos/techniques/how-fillet-round-fish-video
(3) Steel types for kitchen knives. (2017, October 31). Retrieved from https://www.knivesandtools.co.uk/en/ct/steel-types-for-kitchen-knives.htm
(4) Forged vs. Stamped Kitchen Knives Comparison Guide and Differences. (2018, February 18). Retrieved from
(5) Solingen, Germany – The Centuries-Old City of Blades. (n.d.). Retrieved from https://www.benjaminarms.com/research/famous-cutlery-swordmaking-cities/solingen/
(6) The history of the ZWILLING J.A. HENCKELS brand. (n.d.). Retrieved from http://www.j-a-henckels.com/en-WW/Company-profile–company_profile/Chapter–kapitel/The-history-of-the-ZWILLING-J.A.-HENCKELS-brand–401.html
(7) Ken Onion. (n.d.). Retrieved from https://www.crkt.com/knife-design/designers/ken-onion/
(8) Pakkawood: P : Lexicon. (n.d.). Retrieved from https://www.boker.de/en/lexikon/pakkawood/