The 8 Best Charcoal Grills Under $100 to Buy in 2022: Reviews and Guide
Get your parties cooking, without grilling your wallet in the process. There's nothing quite like the smell of a charcoal grill on a sunny afternoon. This list of the 8 best charcoal grills under $100 is here to help you get those classic BBQ smells and flavors into your backyard.
Top Pick – Weber Original Kettle Grill
Best Budget Pick – Kingsford Charcoal Kettle Grill
Best Value for Money – Americana Charcoal Combo Water Smoker
Best charcoal tabletop grill –Weber Smokey Joe
Best Hibachi Grill – Lodge Pre-Seasoned Cast Iron Sportsman's Grill
Important note: Although all these grills were under $100 at the time of review, prices do fluctuate so there is a chance some may be a little over $100 when you read this. We've also put together a list of the best charcoal grills under $200 too.
What to look for when buying a charcoal grill for under $100
You know you want a grill, but which one is best for you? We've broken down all the key decisions and features you should look at to choose the right grill for you. Check out our buyer's guide below.
Charcoal vs Gas grilling – what's the difference?
Despite the advent of gas grilling, many still favor the flavor of a traditional charcoal grill. Why is that?
Even American Propane Gas has to admit that "charcoal gives a feel of the traditional, typical flavor that comes from wood chips."(1)
"When the drippings from your steak, chicken, or veggies fall on the hot coals, the drippings turn into flavor-packed steam and smoke that goes right back into the meat, resulting in the amazingly unique taste of charcoal grilling."

Kaila Harmon, Family Handyman(2)
The higher radiant heat achieved by charcoals enables faster cooking, stronger sear marks, and strong, smoky flavors.(3) There's also simplicity in charcoal grilling – there's no gas hose, no regulator, no burners: just a grate, some charcoal, and a lot of heat.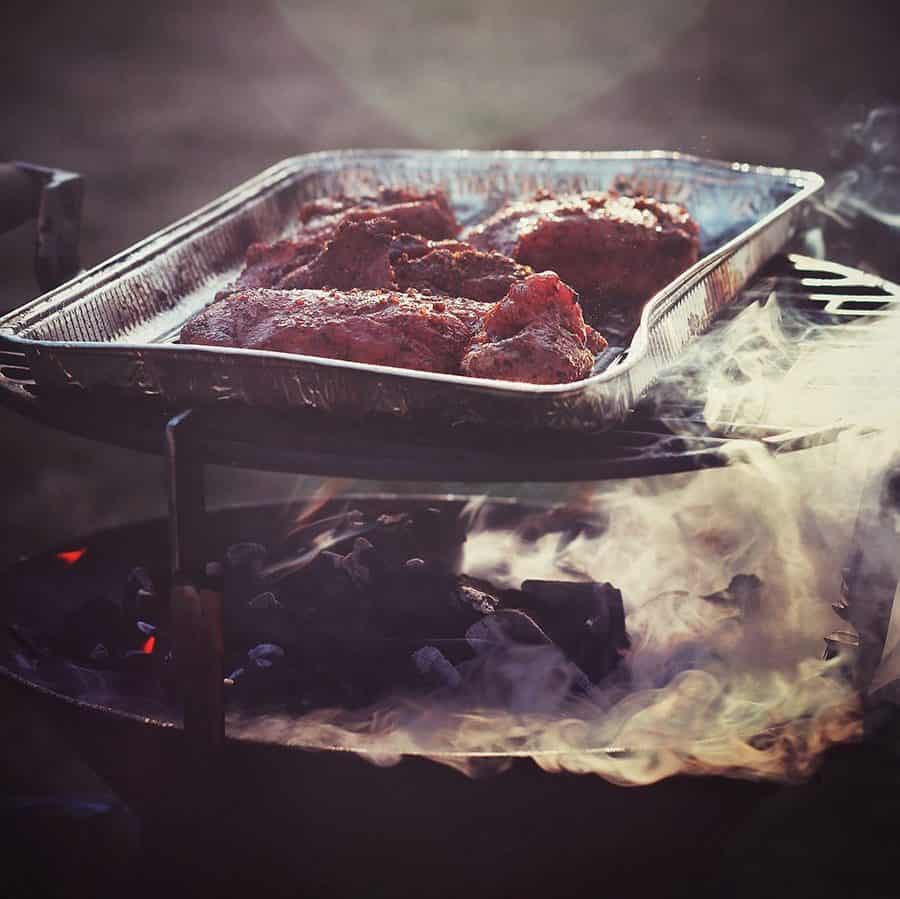 Gas grilling, on the other hand, offers easier versatility and control. Gas burners can be individually controlled, providing easy temperature control. Electronic ignition allows you to start a gas grill instantly too, whereas a charcoal grill can take some time to start.
Temperature control with a charcoal grill is often achieved by placing lit coals along only half of the grill so that you can create two distinct cooking zones. Another way to control heat on a charcoal grill is raising or lowering either the cooking grate or charcoal grate, but this is not a universal feature. If you're keen to get precise temperature control over your grilling, this is a feature to look out for. Learn more about this with our Ultimate Guide to BBQ Fuels.
What's the best material for a grill?
A variety of materials are used in grills to achieve different effects, and the materials you may desire in a grill will depend on the area of the grill in which they are used, and the type of chef you are.
For example, stainless steel is a great material for keeping your grill rust-free, and is also very easy to clean grease from due to its polished nature. If you are particularly concerned with rust and clean-up, then a stainless steel grill is for you. Click here to see the top-rated stainless steel grills. There are also different grades of steel construction to look out for. For example, 304 stainless steel is a more rust resistant alloy than 430, thanks to a higher amount of nickel.(4)
However, stainless steel is not the best material when it comes to heat retention. A thick cast iron grill will hold heat well, giving you strong, succulent sear marks.(5) However, cast iron can be particularly vulnerable to rust, and hard to clean. These issues however can be solved with a porcelain coating, which provides both rust resistance, as well as making it easier to clean.
Where do you want to use your grill?
The type of grill you want can depend a lot on how you want to use it. You may want a large, dependable grill for yard parties – in this case, a large cart-style grill should suit you well. Or perhaps you want a smaller grill you can pack away into your garage or a tabletop grill you can take tailgating or camping. Check out the best smoker grill combos for some added cooking versatility.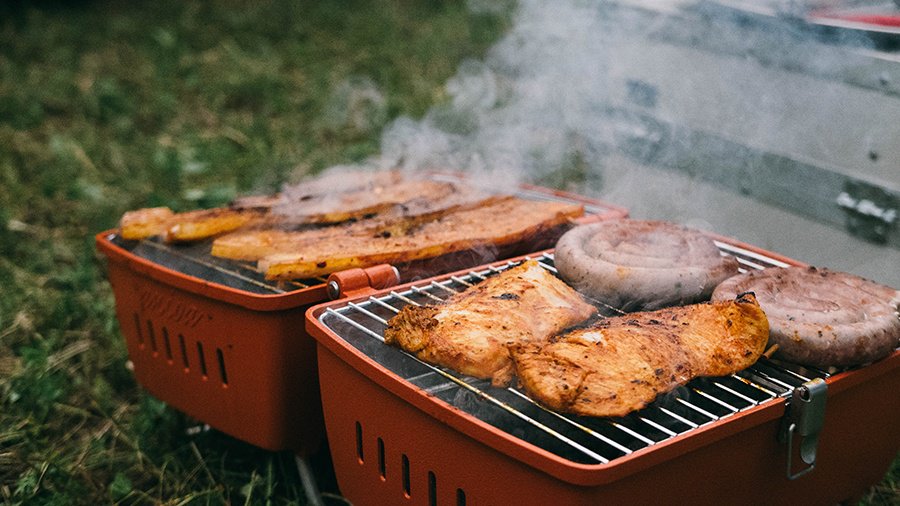 We've included a range of different size grills in our reviews below, collecting the best grills under $100 for a range of different use cases.
How easy will my grill be to maintain?
A grill's lifespan can depend upon how well you look after it, as well as the quality of the grill itself.
One of the main enemies of a grill is rust. Consider keeping your grill in a shed or garage when it's not in use, or using a grill cover if you wish to keep it out in your yard, especially if you live in a wet climate.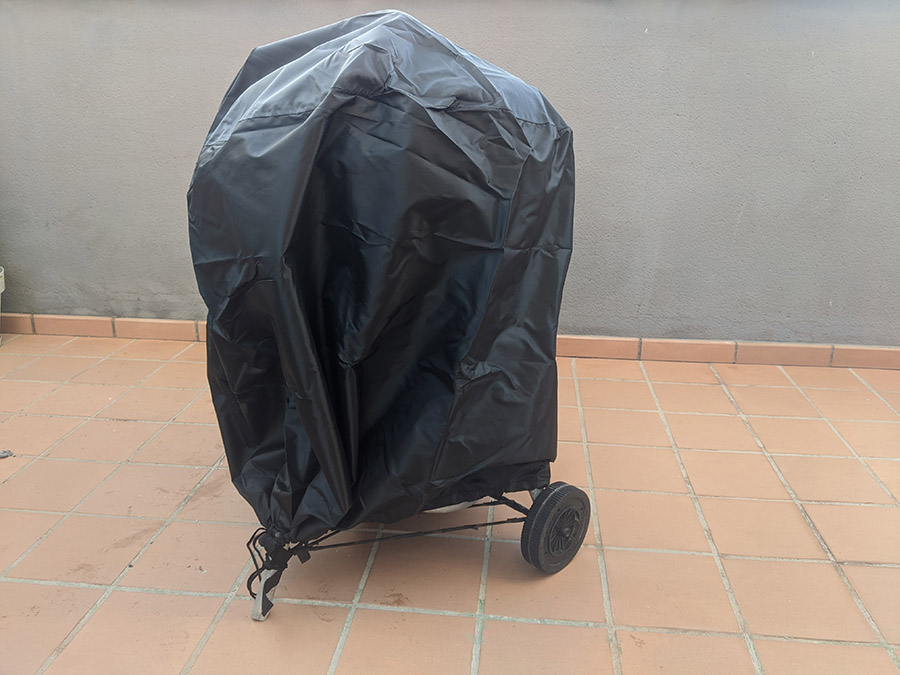 Many of the grills featured below also use ash catcher trays, which hook under the main body of the grill and allow you to easily remove a tray or bowl to dispose of ashes and other debris. Features such as this are great for speeding up cleanup times, and helping you keep your grill pristine.
The best charcoal grills under $100
Now that we've explained the features to look for in our buyer's guide, it's time to look at the best charcoal grills under $100. Check them out below:
Product dimensions – 25 x 22.5 x 39.5 inches
Cooking surface – 363 inches
Construction material – Porcelain-enameled steel
Grate material – Plated steel
Special tech – Hinged grate, one-touch cleaning system
Weber has included a host of features with this grill to make it as easy to cook with as possible. Though this is Weber's classic design, they have housed lots of new quality-of-life features while still staying faithful to the simplicity of the original design.
Our favorite feature is their one-touch cleaning system, which lets ash and food debris fall easily into the ashtray beneath the grill. This makes cleaning up a quick process, so you can focus on your food and your guests instead.
The lid and bowl of the grill are coated with a porcelain enamel, which prevents both rust and grease from sticking to the surface. The cooking grate also contains a hinge, which allows you to replenish your grill with fuel safely without disrupting your cooking.
A damper system lets you adjust the heat for when you are smoking or roasting your food, so you can get the perfect cooking temperature every time. We also like the heat shield attached below the handle, which stops the handle from getting too hot.
It's hard to fault this grill. It combines simplicity with effective design features, leaving little to complain about. The only thing you need to consider with this grill is that, despite this costing less than $100 at the time of writing, sometimes the price drifts north of $100. Apart from this, for a grill you can rely on, this is a great pick.
Product dimensions – 22.63 x 25.8 x 37.7 inches
Cooking surface – 354 square inches
Construction material – Porcelain-coated steel
Grate material – Chrome plated steel
Special tech – Hinged lid, ashtray, tool basket
Kingsford has done an excellent job at taking on the classic kettle grill design, producing an all-around performer. This grill has the effectiveness of a premium grill but at a great value price point.
The main body of the grill is porcelain coated steel, which is a great choice for strength, rust protection, and preventing grease buildup. It has all the features we look for in a charcoal grill, too. A 162 square inch warming rack complements the large cooking area, providing ample space to heat up food gently. A removable ash catcher makes it easy to clean up after cooking. And an adjustable air vent lets you control your grill's temperature with ease.
They haven't just focused on functional features, however – there's also a basket underneath the grill for your tools, adding a great deal of convenience, as well as a bottom rack. The two legs provide a sturdy cooking platform too, combined with two large wheels, which make it easy to move around your yard.
The range of features found on this grill makes it hard to fault. A large cooking area, a large range of features, and a great value price make this a great all-around yard grill for a range of chefs.
Product dimensions – 25.00 x 21.50 x 37.00 inches
Cooking surface – 351 square inches
Construction material – Steel
Grate material – Chrome plated steel
Special tech – Converts into a portable grill
The innovative design of this grill allows it to function both as a home grill, a steamer, and a portable grill without compromise.
In its full configuration, this grill makes great use of steam. The tower design allows smoke and steam to travel up towards your food, creating a constant flow of heat and flavor. The grill uses a removable water pan, allowing you to introduce more steam and enhance the flavors of your food. A built-in thermometer lets you monitor the progress of your cooking, although one criticism is that we would have liked to see the actual temperature, as opposed to simple language like 'hot'.
If you're traveling, however, this grill can be converted into a much smaller grill, adding a great deal of versatility. The base and hood of the grill come apart from the main body of the grill, fitting together to create a mini grill which is ideal for camping and other leisure activities.
We also like the finish on this grill, with its wooden handles a particularly nice touch. The versatility provided by this innovative grill make it a great value pick, providing several options within one compact unit.
Product dimensions – 17.5 x 46.25 x 44.75 inches
Cooking surface – 290 + 140 square inches (430)
Construction material – Painted steel
Grate material – Porcelain wire
Special tech – Offset firebox, adjustable smokestack dampers
If you want a grill that can keep on cooking for as long as you can, then this cooker is for you. Char-Broil has opted for an offset firebox with this grill, which means you can easily stoke, adjust, and replenish your charcoals even while you cook. This is aided by a large, hinged hood over the firebox, which comes complete with cool-touch handles.
If you need extra cooking space, however, you can even use the firebox as an additional grilling surface, adding another 140 inches of cooking space to the 290 from the main cooking area. There is also a handy side table, providing prep space for your ingredients and sauces.
We were impressed by the number of dampers: as well as the adjustable dampers on the smokestacks, there are sliding vents on the side of the fire pit, giving you great temperature control options. We like the sturdy wheels too, which make it easy to move around your yard, and the convenient ash removal door for the fire pit, which means you won't have to spend all evening cleaning.
The design on this grill gives you great versatility for cooking and lets you adjust your heat with impressive ease. This is a great pick for the chef who doesn't want to be limited by his grill.
Product dimensions – 14.20 x 14.50 x 17.00 inches
Cooking surface – 147 square inches
Construction material – Porcelain-enameled bowl and lid, Heavy-gauge steel charcoal grate
Grate material – Plated steel
Special tech – Aluminum ash catcher & dampers
Weber's Smokey Joe gives you all the reliability and ease you get with the classic Weber kettle design, but in a more compact format. At 14 inches wide, this makes a great tabletop, camping, and leisure grill.
Despite its small size, it still packs many of the features seen on premium Weber grills. An aluminum ash catcher sits underneath the grill, for example, allowing you to easily dispose of all your charcoal debris. The Smokey Joe also includes aluminum dampers, allowing you to adjust the heat of your grill for optimum smoking, as the name suggests.
A plated steel cooking grate will make cleanup much easier, although it won't have the heat retention of a cast-iron surface. There are also some features we would have liked to see which are still absent, however, such as a thermometer integrated into the hood. But as this is a portable model, and is otherwise very well equipped, we can forgive these small omissions.
The size of this grill means you can take the great smells of charcoal grilling just about anywhere. And the price is so reasonable that you wouldn't feel bad about doing so. If you're interested in taking your cooking on the road with you, or even just to a local park or beach, this is a great option.
Product dimensions – 19 x 8.25 x 10.25 inches
Cooking surface – 142 inches
Construction material – Cast iron
Grate material – Pre-seasoned cast iron
Special tech – Coal door
Grill with style. A hibachi grill, with cast-iron construction, can last for decades if treated with the right care. And this grill has a design that will still look good decades from now, too.
Lodge has started this care themselves, pre-seasoning the grill so that you can use it right away. That's not the only ease-of-use feature found with this grill: a flip-down door allows you to adjust or add coals with ease, without interrupting your cooking. Lodge has also included a draft door, which allows you to regulate heat, ensuring you don't overcook any of your food.
Lodge really has included an impressive number of features for such a small grill. But it is a small grill, and you should consider that before buying. With only 142 inches of cooking space, you may find yourself limited in how much you can cook. If you're looking to cook for larger groups, this isn't for you. At its heart, however, this is a simple grill that takes care of business.
"The hibachi is more than a nostalgic icon. It reminds us how uncomplicated and elemental grilling can be, requiring little more than a vessel to hold and channel the fire, and vents to control the airflow, and thus the heat."

Steven Raichlen, HuffPost(6)
When cast iron gets hot, it stays hot. You can be sure of even heat distribution with this grill. And with such a compact size, this grill is perfect for camping, tailgating, or simply as a tabletop grill. If you want a stylish, portable grill that will last, then this is for you.
Product dimensions – 12.20 x 21.00 x 14.50 inches
Cooking surface – 160 inches
Construction material – Porcelain-enameled cast iron
Grate material – Plated steel
Special tech – Foldaway legs, ultra-lightweight design
The name doesn't lie – this really is a grill you can go anywhere with. Weber's Go-Anywhere grill uses an innovative design to minimize its size once packed away, enabling you to cook for your family or friends even when you're in the great outdoors.
The plated steel legs fold away when not in use, acting as a latch to hold the lid in place. This makes this grill very compact when you need it to be, whilst also providing stability when you're grilling.
A porcelain enamel coating helps prevent grease buildup and rust, and a cast iron base material ensures that heat is retained effectively in the grill, despite the small size. The plated steel cooking grate should be easy to clean, too – grease won't stick easily to its polished surface.
Dual dampers on the hood give you quick heat control for roasting or smoking and handles on both the sides and the hood make this easy to carry. At only 14.5 pounds, this is an incredibly light grill.
Naturally, a grill of this size has both an expanded and limited use. Though the small cooking space means you can't cook for large numbers, you can cook in a much larger number of spaces. We recommend this grill for the adventure-loving chef, who wants to take his cooking everywhere.
Product dimensions – 14.20 x 14.69 x 16.00 inches
Cooking surface – 150 square inches
Construction material – Steel
Grate material – Porcelain-coated steel
Special tech – Adjustable dampers
Get cooking without spending a fortune. Char-Broil has created a grill that lets you get involved in the charcoal grilling experience at a great price. To do so, Char-Broil has used the simple, time-tested kettle grill design. A heavy-gauge steel construction, combined with a black powder-coat, makes the grill's dome structure extra robust.
Despite the affordable price, this grill still packs all the features you need to grill with ease. A removable lid lets you access your cooking quickly, and adds versatility in heat control. Adjustable dampers on this lid facilitate this further, allowing you to fine-tune the amount of heat escaping your grill. Char-Broil has also included a removable ash tray on this grill, letting you clean your grill effortlessly.
While this is not the largest grill with only 150 square inches of cooking space, it is very portable. At only 6 pounds, this is a grill you could use anywhere – as a home tabletop grill, a tailgating grill, or even a camping grill.
The ash catcher can sometimes present a problem on this cooker however – it can sometimes interfere with the airflow to the grill, requiring adjustment to allow a good flow of oxygen to your coals for optimum temperatures. However, if treated with care, this is a great budget grill that is suitable for a wide number of uses. 
The Final Verdict
Our overall winner from this roundup was the Weber Original Kettle Premium Charcoal Grill. By improving on their classic kettle design with a host of new features, Weber has produced a grill design that can again stand the test of time. This is a great grill for any chef looking to cook with charcoal.
Top Pick – Weber Original Kettle Grill
FAQs
When do I open grill vents?
Grill vents at the bottom of your grill are useful for controlling temperature. Opening these apertures will give your fire more oxygen, allowing it to burn hotter. Vents in the top, however, are often designed to reduce temperature, providing a space for hot air to escape.
When should I put the lid on?
The hood of a grill is useful for controlling the heat of your grill too. If your hood has no vents (or closed vents), it's likely that putting on the hood will lower your temperatures, by restricting the flow of oxygen to your burning charcoals. However, if your hood has vents, it may help retain hot air without restricting the combustion of your fuel significantly. We recommend that you experiment with your grill therefore, to find the balance that works for you.
Are charcoal grills expensive to run?
Not at all! Though charcoal prices vary depending on your area and time of year, for the vast majority of people it is very affordable. The other expenses you should consider is your food, tools, and a grill cover, but these should not set you back too much. If in doubt, check the prices in your area.
What kind of charcoal is the best?
The best types of charcoal to grill with is lumpwood charcoal and charcoal briquettes. Lumpwood charcoal is made from hardwood that has been burned in a low oxygen environment, which gives it a higher carbon content and makes it better at holding heat. It also lights more easily and burns more evenly than other types of charcoal, making it the perfect choice for grilling. Briquettes are made from compressed sawdust and they burn evenly and slowly, which also makes them ideal for grilling.
References
(1) Charcoal vs. Propane Gas Grill: Which Is Better According to a Bon Vivant. (2018, May 08). Retrieved from https://www.americanpropanegas.com/blog/2018/5/8/charcoal-vs-propane-gas-grill-which-is-better-according-to-a-bon-vivant
(2) Harmon, K. (2020, May 20). Battle of the BBQ: Charcoal vs. Gas Grill. Retrieved from https://www.familyhandyman.com/article/charcoal-grill-vs-gas-grill/
(3) Williamson, M. (n.d.). Which barbecue should I buy – gas or charcoal? Retrieved from https://www.bbcgoodfood.com/howto/guide/which-barbie-best
(4) Difference Between Stainless Steel 304 and 430: Thyssenkrupp Materials (UK). (n.d.). Retrieved from https://www.thyssenkrupp-materials.co.uk/the-difference-between-stainless-steel-304-and-430.html
(5) Appliance Analysts Carbon Steel vs. Cast Iron Pans – What's Worth The Money? (2020, August 11). Retrieved from https://applianceanalysts.com/carbon-steel-vs-cast-iron/
(6) Raichlen, S. (2014, September 24). Essential Pros, Cons, And Tips For Hibachi-Style Tabletop Grilling. Retrieved from https://www.huffpost.com/entry/pros-cons-and-tips-for-hi_b_5620286?guccounter=1