How to Choose the Best Knife for Slicing Brisket: Buyer's Guide and 9 Reviews
You've been cooking your brisket all afternoon, with those succulent smells teasing you, and it's finally ready. Well, almost. First, you have to rest it and slice it and if you don't do it right, you could easily tear your brisket to shreds. You should treat your treasured meat right by using the best brisket knife for the job. We've collected the 9 best knives for slicing brisket in our reviews below, and created our buyer's guide to help you sort the sharp from the pointless.
Top Pick – Wüsthof 14" Brisket slicer
Best Budget Pick – Rada Cutlery Ham Slicer Knife
Best Value for Money – Wüsthof 10-inch Beef Slicer
Most Durable – Hammer Stahl 10-Inch Carving Knife
Best Serrated Brisket Knife – Jero Pitmaster Series Serrated Concavo Slicer
Buyer's Guide – How to choose your ideal brisket knife
Brisket is one of the best foods to smoke and it's important, after many hours slowly cooking on your grill, not to spoil the texture of your meat with a sub-par knife. Using a well-designed brisket knife will let you cut through your brisket smoothly, without affecting the slice or overall quality of your piece. We've explained how the best knives achieve this below.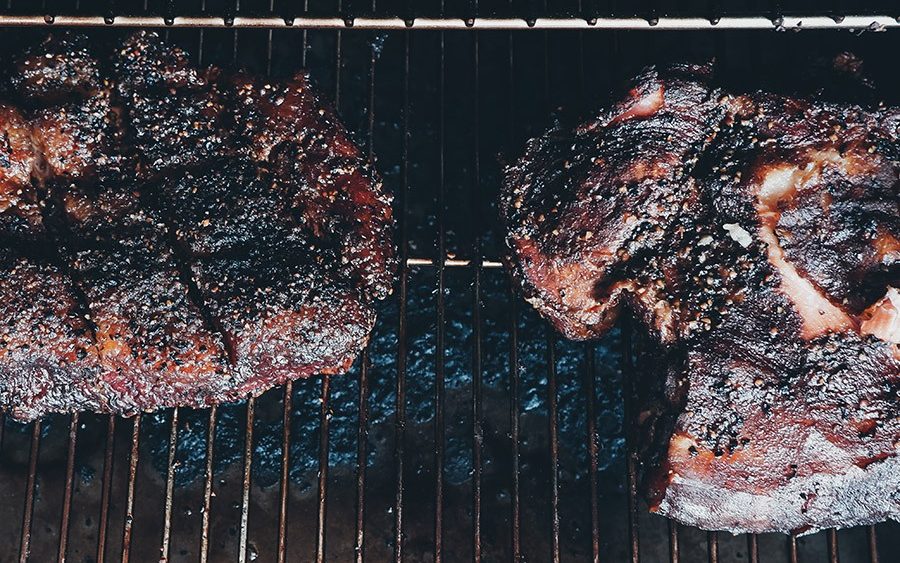 What is a brisket slicer?
There's no formal definition of a brisket slicer – in reality, it is any knife that is well-suited to cutting through meats such as brisket. But over the years certain qualities have become favored in such knives, allowing us to differentiate between the best knives for cutting meat generally and the knives that are best for slicing brisket.
The typical brisket slicer uses a long blade, anywhere between 8 and 15 inches, much longer than a boning knife, for example. Brisket knives tend to be straight, with a hollow edge (we'll explain what this means later) and a rounded, blunt tip. The tip can afford to be blunt, as you won't be using it to cut. Instead you should secure the meat with a fork in one hand, and gently cut through the brisket using the middle of your blade, sawing slowly.
You will often see these knives sold under different knife categories, such as carving knives, ham slicers or beef slicers. These are often the same style of blade, however. And though we are referring to them as brisket slicers, they are great for cutting other large meats such as roasts, too.
Bolsters and tangs… what are they?
You'll see us using these terms in our reviews, so it's best you understand what we mean. A knife's tang is the part of the blade metal that extends into, and usually inside, the handle. A knife with a large steel tang theoretically has better strength and is more rigid, although designs with short tangs can sometimes match them with good craftsmanship. A full tang also helps balance a knife, which is especially important with long brisket knives. The tang acts as a counterbalance, pulling a knife's center of gravity closer to the handle, and providing more neutral handling. This can reduce strain on the wrist. On the other hand, many manufacturers use short tangs in order to reduce the overall weight of the blade. Handles are often secured to the tang of a blade with metal rivets, which are like pins that run through both the handle and tang to secure them.
A blade's bolster is located at the point where the knife's blade meets the handle. A large bolster, much like the tang, can help balance the blade. Bolsters also act as finger guards in some blades, keeping your hands safe from the sharp end of the blade.(1)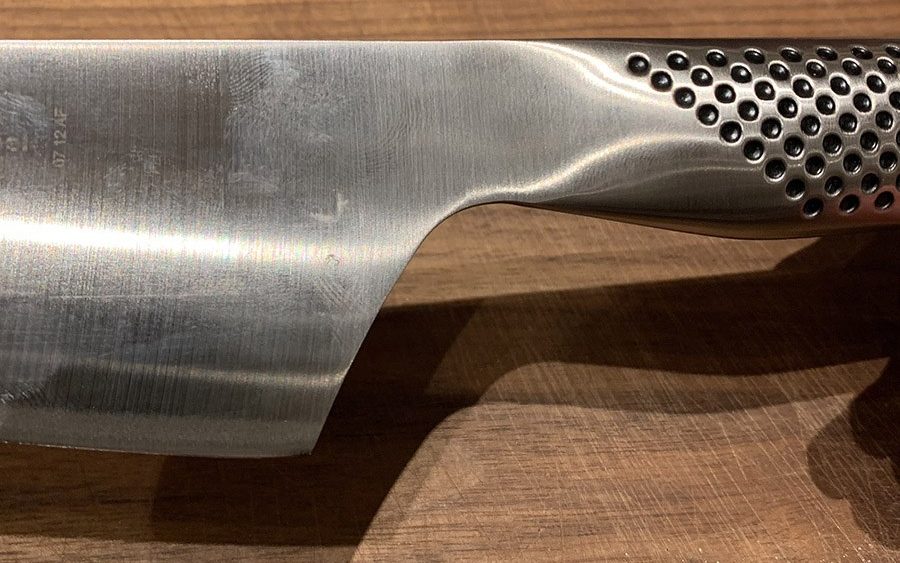 Both bolsters and tangs can also be useful indications of the way in which a knife has been crafted. The two features are much more common in forged designs. Forged blades are produced from a single piece of steel, which is heated and hammered to produce a dense, tough blade.(2) Stamped blades, by contrast, are simply cut out from a sheet of steel, and heat-treated for strength. Forged blades are typically preferred, therefore, although it should be noted that stamped blades are often lighter, and high-quality stamped designs will often surpass lower-quality forged knives. To learn more about how knives are constructed and more you should check out the best kitchen knife guide on the internet.
What material is best for a brisket knife?
You'll notice that the vast majority of kitchen knives are made of steel. This metal combines many of the qualities desirable in a knife: it is tough, can maintain a sharp edge, is rust-resistant, stain-resistant, and is practical to craft from. The difference between the quality of one knife and the next is often in the type of steel used.
Different alloys of stainless steel are used in knives for varying effects. For example, chromium is often added to steel to improve stain resistance.
"With an increasing proportion of chromium in the alloy, the resistance to corrosion also increases."

Borinox, stainless steel specialists (3)
Most manufacturers use a steel alloy with high carbon content, also known as high carbon steel. Carbon increases the strength and hardness of steel, making it perfect for durable kitchen tools.(4)
One last feature we should explain is hollow edges, also known as a Granton edge. Knives with a hollow edge use cut-outs, or scallops, removed from the side of the blade to reduce friction, and prevent the meat from sticking to the side of your blade. This makes it easier to get a smooth, seamless cut through your meat, without destroying its rich texture.
Thanks to all of these features, you should be able to glide through your brisket like the chef in the video below.
The Best Brisket Slicers in 2022
The level of competition in the market is high, and that means there's a great range of excellent knives to choose from. This also means it can be hard to find the best knives among all the imitations. But don't worry, we have sorted through the market to find the best brisket slicers in 2020 and ranked them into award categories to help you choose.
Blade size: 14-inch
Blade material: High carbon stainless steel
Handle material: Polypropylene
Other features: Full tang with a triple rivet, finger guard
Wüsthof is a brand you can trust with your briskets. The famed knife manufacturer has been forging blades in Solingen, "the city of blades" in Germany since 1814.(5), (6) Their blades have become the world standard in knife quality, and this brisket slicer is no different.
This huge 14-inch blade is honed to perfection all along its long edge, thanks to Wüsthof's advanced PEtec technique. This process involves using lasers to measure the sharpness of their blades, which means that no blade leaves their factory without a high level of sharpness.(7) In practice, this means that this knife will easily glide through your brisket, revealing the succulent meat hidden inside.
PEtec is just one of the techniques Wüsthof has perfected in their illustrious history. This knife also uses a fully forged design, giving the knife superior strength. They have also equipped the knife with a full tang, extending this forged metal into the handle. This improves the balance of the knife, providing a counterweight for the long blade.
This blade uses what is known as a hollow edge, with scallops carved out of the side of the blade. This helps to prevent your meat from sticking to your blade, letting the knife glide through and out of your brisket.
This Wüsthof blade is a true example of fine craftsmanship. We recommend it to the chef who wants a perfectly sliced brisket.
Blade size: 9 1/2-inch
Blade material: T420 High carbon stainless steel
Handle material: Brushed aluminum
Other features: Full metal design
Rada Cutlery has used a simple, clean design with this slicing knife to provide a great budget product. A 9 ½-inch blade is large enough for small to medium-sized briskets, but you'll need a larger knife for bigger cuts of meat.
The blade uses T420 steel, which has a high carbon content for strength, and high chromium content for excellent stain resistance.(8) Despite the metal handle, however, this blade is not fully forged and does not use T420 throughout. The handle instead is brushed aluminum, likely a cost-saving measure. The handle still gives the blade a comfortable grip though and lets you guide the blade expertly through your delicious brisket.
The high chromium content of the blade has the side effect of giving the blade a beautiful silvery sheen, complementing its sleek all-metal design. This high-quality knife will stand out at any dinner party, allowing you to impress your guests with a ceremonial cutting of your ham, roast, or brisket.
One thing to watch out for is that this knife isn't dishwasher safe. Cleaning this knife in the dishwasher will damage the protective satin finish on the handle. Instead, we recommend you carefully hand wash this blade (this is something we recommend for all knives, however, even those which are certified safe for dishwashers). But if any other damage does occur, Rada Cutlery has provided a lifetime warranty on this knife, so you can slice away without worry. For a simple, no-nonsense brisket knife, this is a great pick.
Blade size: 10-inch
Blade material: High carbon stainless steel
Handle material: Polypropylene
Other features: Hollow edge
Wüsthof quality, but at a lower price. This 10-inch blade is smaller than our top pick, but if you aren't cooking the biggest briskets, you can save some money with a more compact blade.
Just as in our top pick, this blade uses fully-forged high carbon steel, giving this knife excellent strength. It also features their laser-guided sharpening technique, giving this blade an edge that will glide through your brisket without tearing or roughing the edges.
The synthetic polypropylene handle, reinforced by three rivets from the blade's full tang, has excellent stain resistance, as well as being tough and easy to clean. A finger guard adds to the comfort of this handle too, making the knife easy to use even for beginners.
"Polypropylene's characteristics make it ideal for tough, robust products ranging from protective car bumpers to life-saving medical tools to cold-weather gear for our soldiers."

Plastics Make It Possible (9)
The hollow edge, just as on Wüsthof's larger 14-inch blade, helps the rich meat inside your brisket to smoothly separate from each side of the knife. While this isn't as big as their larger knife, it's a great value option and will provide great brisket cuts for the chef who doesn't need the largest knife for his kitchen.
Blade size: 10-inch
Blade material: X50CrMoV15 Forged German High Carbon Steel
Handle material: Steel with pakkawood trim
Other features: Hollow edge, forged design, full tang
This is one of the most ornate knives we've had the pleasure of reviewing. This mighty 10-inch blade uses a hefty construction to provide you with a firm, confident slice through your brisket.
Hammer Stahl has used a fully forged design for this blade, which adds to the blade's sturdy appeal. Even for a forged design, this knife uses a lot of metal. The large handle uses a hefty amount of steel, letting you hammer through your briskets. This handle is finished with two pieces of carved pakkawood, which is fixed by four rivets. Elegant construction, paired with a full bolster, makes this high-quality knife a pleasure to hold.
The edge itself is tested for sharpness using lasers, ensuring it will provide a fine first cut. There are also a generous number of scallops removed from the blade with its hollow edge design. While a 10-inch blade is enough for many users, Hammer Stahl also provides this design in a 14-inch format, perfect for those looking to cut larger briskets. And an included lifetime warranty is a great reassurance for any chef, too. This hefty brisket knife is a great pick for the chef who wants a firm, heavy cut.
Blade size: 12-inch
Blade material: Carbon Steel
Handle material: Fibrox
Other features: Hollow edge
Victorinox, makers of the legendary Swiss Army Knife, know a thing or two about other knives too. Founded in 1884, they have over 130 years of crafting fine steel blades, and this one is no exception.(10)
Nobody wants to embarrass themselves in front of their family by hacking at their brisket with an old, small, or chipped knife. Victorinox has honed their edge with precision, giving you a blade that will gracefully slice through your juicy roast beef, turkey, brisket, or any other meat. Its hollow edge, also known as a Granton edge, uses cut-outs in the blade to reduce friction, introducing air pockets that prevent the meat from sticking to the blade, resulting in easier cuts.
Their ergonomic handle, made from fibrox, provides a finger guard and is comfortable to hold. Unlike the Hammer Stahl, Victorinox has focused on making their knife lightweight. The thin blade and synthetic handle cut down on the knife's overall weight, making it easy to maneuver, and reducing strain on the wrist.
[fibrox] is a synthetic, clean man-made vitreous fiber made from the by-products of high-purity metal ores and converted through multiple manufacturing processes into specialty fibers that serve as the base material in a variety of products"

Fibrox.com (11)
Victorinox's unique brisket knife offers simple, lightweight cuts from a trusted manufacturer. It's a great pick for chefs who want a minimalist, understated knife.
Blade size: 12-inch
Blade material: German Stainless Steel
Handle material: Injection molded polymer
Other features: Hollow edge
When you've spent hours carefully cooking your brisket to perfection, you don't want a blunt knife to spoil your cooking. Thankfully, the sharp edge on the Jero Pitmaster Series brisket slicer will carve through your briskets without tearing the delicate meat.
A 12-inch blade gives you ample length for slicing larger roasts and briskets, without having to hack at the meat with several imprecise cuts. The blade also uses a hollow edge, like many of the knives featured here, which lets the meat detach from your blade cleanly, and reduces the fiction of your long blade through the meat, for an easier slice.
Jero has opted for a synthetic, injection-molded handle, which grants superior strength to cheaper non-injection synthetic handles. The grip features a finger guard, and its ergonomic shape is comfortable to hold. A touch of red is nice to see among a sea of black knife handles, too.
The sheath that comes with this knife feels a little cheap, but this protector was an unexpected bonus anyway, so we don't mind. The knife itself is sharp enough to cut through meat like you're cutting through butter, and German steel should ensure it does so for a long time in the future. It's a great pick for the chef who wants an effortless cut.
Blade size: 12-inch
Blade material: High carbon steel
Handle material: Plastic
Other features: Hollow edge
The Stanton Straight Edge Slicer gives you a firm grip on your blade, letting you deftly cut through your meat like a pro. This is a budget knife and makes a few compromises, but the overall value offered by this knife is still excellent.
The simple, straight edge on this Stanton blade is honed well, allowing you to glide through your meat without any unnecessary sawing, pushing, or tearing, which harms the quality of your briskets. What's more, the Stanton is equipped with a Granton edge, also known as a hollow edge, using cut-outs in the side of the blade to reduce your blade's friction.
Our favorite feature on this knife though is the handle – the durable white grip is easier to keep clean thanks to its light tone, and the molded shape sits comfortably in the palm. But as we said, this is a budget knife. As such, the side of the blade doesn't have the reflective sheen that more expensive knives often feature. But this is largely cosmetic since it still slices through meat smoothly.
On the whole, it's a great value knife with a simple, robust design. We recommend it to the chef who wants a simple, easy to clean knife.
Blade size: 8-inch
Blade material: X55CrMo14 German High carbon steel
Handle material: Polymer
Other features: Curved edge
Ultimately, a brisket knife can be anything that cuts through your brisket well. The popular choice for such a knife is the long, straight, carving-style knives we've featured throughout this roundup, but some chefs prefer different designs for the task. That's why, for the sake of variety, we've included this curved breaking knife in our roundup too.
While this is a shorter blade than many of the other blades featured in this roundup, it has a sharp tip, instead of a blunt, rounded end. This allows it to cut well when the full length of the blade is submerged in your food. The curve of the blade is designed to grant you extra leverage when cutting through tough bones or cartilage, and the smaller length is intended to allow you to cut meat into smaller portions perfect for sharing a meal with your family. In short, cutting with this knife requires less effort.
Despite the slender, curved design, this shouldn't be mistaken for a fillet knife. It won't offer the same flex that a fillet knife does, and we would still recommend that you use a dedicated fillet knife for your fish. Nonetheless, if you're a chef that wants a smaller, more nimble knife for breaking up roasts and briskets into smaller cuts, this is a knife we can recommend.
Blade size: 12-inch
Blade material: German Stainless Steel
Handle material: Injection molded polymer
Other features: Serrated edge, hollow edge
We've already reviewed one Jero Pitmaster Series in this roundup, and were impressed by its sharpness. We've also included this knife, which is a serrated version of the knife we reviewed above, perfect for the tough exteriors on smoked briskets and grilled meats and barbeques.
While straight edges are the current trend for large slicing knives, many still prefer a serrated knife. What's more, they are ideal for some types of cooking. Many knives will struggle to cut through the thick skin on a Texas smoked brisket, for example. The sharp serrated teeth on this Jero knife slice even thick meats open with ease.
We like the dense, injection-molded polymer handle, which resists staining well. It's a large handle, which is great for keeping a grip when those serrated teeth bite into your meat. You may struggle to keep a firm hold on the knife if you have smaller hands, however.
Like the straight-edged version of the knife, Jero has used a tough German stainless steel for the blade, providing a rigid, tough edge to the knife. We recommend this knife to any chef who works regularly with tougher meats such as Texas briskets.
The Final Verdict
There's one knife that came a cut above the rest. Wüsthof's 14-inch brisket slicer proves to be an excellent slicer that balances high performance with great durability. An extra sharp blade, combined with tough steel construction and a riveted handle makes it a knife that you can enjoy for a long time to come. We recommend it to any chef looking for a trusty brisket knife to serve in their kitchen. 
Top Pick – Wüsthof 14" Brisket slicer
FAQs
Should I choose a serrated knife or a straight-edged knife?
Straight-edged knives have become the popular choice for chefs, as they are the gentlest on your meat's texture. What's more, modern knives are excellent at holding a sharp edge, meaning they fare well even on tougher meats. Nonetheless, many prefer serrated knives for tougher meats such as long roasts and Texas briskets, as the teeth on a serrated knife are great at breaking through the tough skin. If you're concerned that your cooking may be too tough for a straight-edged knife, a serrated knife is a great choice.
How do I care for my knife?
If you look after your knife, it can last a long time. We recommend hand-washing your knife, as opposed to cleaning it in a dishwasher. Dishwashers can damage a blade's edge, although many users will still use them. If you do opt to clean your knife in a dishwasher, check your manufacturer's guidance – not all knife handles have dishwasher-safe finishes (although most do).
After cleaning, it's best to store your knife dry to avoid rust. Although stainless steel is highly rust-resistant, it can still rust if exposed to water for an extended period of time.
Lastly, we recommend that you only cut on soft surfaces. If the edge of your blade meets a hard marble worktop, for example, it can blunt or even chip the blade. For this reason, we recommend you use a soft chopping board.
My knife doesn't cut as well as it did when it was new – what should I do?
The first thing you should do is not worry – this is absolutely normal. Even the best steel knives will need periodic sharpening to perform at their best, making sharpening an essential skill for every chef. The technique required depends on the type of sharpener you opt for. Whetstones provide the best edge, but only if used correctly. They can be difficult to use, as they require the user to hold their blade at the correct angle themselves. You can also purchase sharpeners that use grooves to hold your blade at the correct angle, however. With these sharpeners, it's best to check what angle they will sharpen your blade to, as different manufacturers use different blade edge angles.
How long should a brisket knife be?
The ideal length for a brisket knife is 10-12 inches. This allows you to easily slice through the thickest parts of the meat without having to saw back and forth.
References